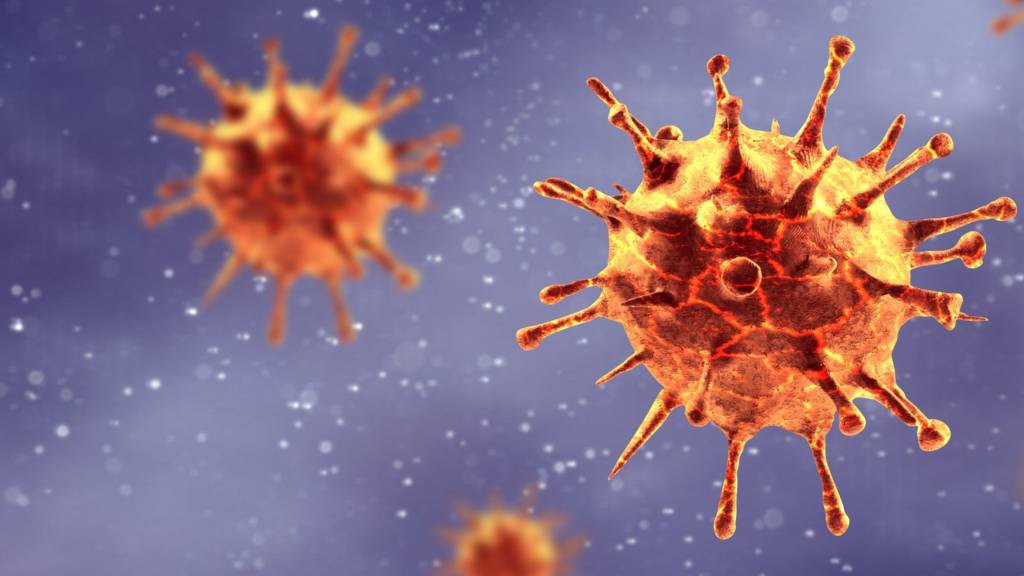 By The Visual and Data Journalism Team

BBC News

By Rachel Schraer

Health reporter

Our live coverage across the day

We'll be back with the latest news on coronavirus in the West Midlands from 08:00 tomorrow.

Primary school to go ahead with 'celebration of learning'

A Herefordshire primary school is still planning to go ahead with its "celebration of learning" tomorrow, but will broadcast it on Facebook, because of the coronavirus.

When children broke up last week, the headteacher at Weobley Primary, Stephen Warrell, promised pupils it would go ahead.

A number of awards are due to be given out at the "golden assembly" and children will also have the chance to nominate a family member for a new award to celebrate the "new teaching army".

Round-the-world couple stuck in Istanbul car park

A Shropshire couple who set off on a round-the-world trip in a camper van now find themselves trapped in a deserted public car park in Istanbul, Turkey.

Chris and Marianne Fisher left in January and have thousands of people following their Tread the Globe exploits online.

You can learn more about their predicament in this video.

Police chief thanks people for staying at home

It's been another beautiful day, but West Mercia Police Ch Sup Tom Harding was impressed to see people staying at home and not gathering in groups.

He's one of a number of senior officers who have left their desk jobs to reinforce numbers out on the streets.

Park closed to stop young people gathering

A park in Shrewsbury has been closed after the town council said too many young people are gathering in it.

The authority said it didn't want to shut Dark Lane Recreation Ground, "but if people don't take government directions seriously you leave us with no alternative but to close".

Copyright: Shrewsbury Town Council

Hotel becomes collection point for food supplier

A Ludlow hotel has turned itself into a collection point for people buying food from a national restaurant supplier.

Wellocks is offering people the chance to click and collect the produce which would have gone to commercial customers around the country.

Fishmore Hall, which normally serves meals and afternoon teas in its restaurant, said it would allow people to do their food shopping while avoiding busy supermarkets.

Bin collectors raise concerns about protective equipment

Local Democracy Reporting Service

The GMB union says bin collectors in Birmingham need face masks, protective gloves and hand sanitiser.

Its members in the city have also complained about having to sit in bin lorry cabs together and about the amount of un-bagged waste being left outside homes since the coronavirus outbreak.

Birmingham City Council said it was aware of the concerns and agreed the bin collectors don't have adequate protection, but pointed out there is a national shortage of masks.

It also asked people who have displayed symptoms to tie and double-bag their waste and wait 72 hours before disposing of it in their household bin.

Warning over coronavirus scam

West Mercia Police are warning people about a text scam:

Around the web: Third patient dies at Royal Stoke

Here are three of the stories from the Stoke Sentinel's website today:

University drone experts 'have a part to play'

A businessman who has been working with China to disinfect large areas of the country believes the drone experts at Harper Adams University in Shropshire can help.

Robert Pearson, director of Chinese Investment Connections, said: "A drone can spray 600,000 square metres a day, the equivalent of 100 workers equipped with knapsack sprayers."

Scientists at Harper Adams have been carrying out research into the use of drones in agriculture and, if Government approval is given, it will offer drone sprayer training to qualified emergency services drone pilots.

Your photos: Sunshine and flowers

You really couldn't have chosen a better day to be stuck in your garden.

These photos were taken by BBC Weather Watchers in Southam, Solihull and Ludlow.

Copyright: Shropshire Lass

By Hannah Richardson

BBC News

'I'm stuck in isolation with my homophobic parents'

With the UK on coronavirus lockdown, some young people have been forced to isolate alongside parents who don't accept their sexuality.

After the coronavirus outbreak suddenly ended a UK tour he was performing in, Sam, 23, a dancer, from Birmingham, says he had "no choice" but to move back to his "strict" Christian family home.

"I saw the career I love disappear overnight, and now I'm stuck in isolation with homophobes."

How is self-isolating affecting you? Study needs your help

It's only been a matter of days, but everyone is having to adjust to this new normal: social distancing and self-isolation at home.

Public health experts at Anglia Ruskin University (ARU) and Ulster University are conducting research on how closing ourselves away is affecting our health and behaviour.

It focuses on how individuals are adapting, whether it's changing their diet and exercise - or rethinking smoking and drinking habits.

Dr Lee Smith, reader in Public Health at ARU, said: "During this global pandemic, it is important to investigate the impact of self-isolation on health, behaviour and well-being.

"This will help us to understand the health implications of this current outbreak, separate to the effects of Covid-19 itself, and ensure that governments and health bodies are better informed if a similar event was to happen in the future."

Anyone in the UK aged 18 or over who is self-isolating, or displaying symptoms - can take part in the 15-minute survey.