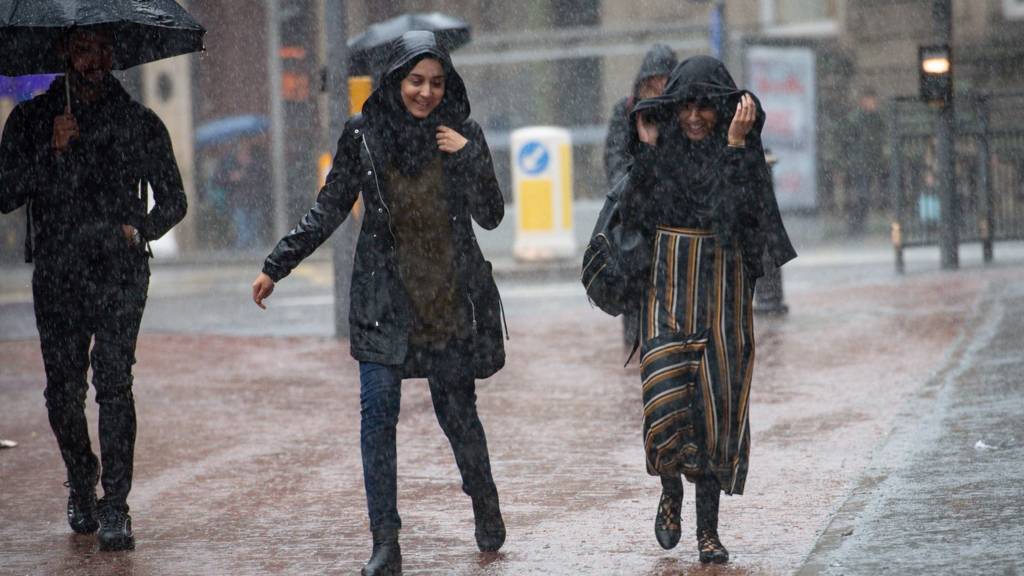 Severe weather: Our coverage across the day
Our live coverage across the day

We're ending our coverage of today's severe weather here.

There will be more updates on our BBC Midlands Live page tomorrow from 07:00.

Watch: A month's worth of rain in 12 hours

Peter Wilson

BBC Midlands Today Special Correspondent

Heavy rain and flash flooding have been causing major disruption across much of the Midlands - almost a month's rain fell in just 12 hours.

Rush hour commuters faced long delays on the roads and some bus and rail services were cancelled.

In some parts of Birmingham the rising water also caused dozens of homes to flood.

Environment Agency continues to warn of flooding

The Environment Agency still has a number of flood alerts in place for Staffordshire and parts of Birmingham after a day of rain.

And it is warning that with more rain forecast over the coming days, river levels are likely to remain high.

Your photos: Sunshine after the rain

The rain will be back tomorrow, but this evening and overnight we'll get a brief respite.

These photos were taken by BBC Weather Watchers in Walsall and Kingswood.

Lidl store reopens after flood damage

The Lidl store in Handsworth had to close earlier today after flood water came through the ceiling of its entrance.

The company said the leak has now been fixed and the shop has reopened after safety checks were carried out.

Rail services returning to normal after flooding

The situation on the railway lines appears to have improved and West Midlands Railway said it is no longer affected by flooding, but there are a number of delays around the region.

Work is continuing to clear a tree off the line between Worcester and Kidderminster and there's a signalling problem at Small Heath.

National Rail isn't reporting any major problems on the railway lines in the West Midlands.

Flooding leads to extra demand on emergency services

Flooded roads have been causing problems for the emergency services today.

Hereford and Worcester Fire and Rescue Service said it had seen increased demand on its call centre, with people calling in with reports of flooded properties and crashes caused by surface water.

Group commander Stewart Crebbin, from the fire service, said it was also difficult for his crews to get to incidents because they were dealing with flooded roads too.

Weather: 'Autumn has most certainly arrived'

John Hammond

Weather forecaster

The rain is starting to ease up, but a lot more is expected over the coming days.

Here's a look at the forecast.

Home hit by flooding in part of Birmingham

Floodwater has entered at least one property in the Balsall Heath area of Birmingham.

Rasheed Campbell called BBC WM to say there was at least six inches of water at his parents' home on Brighton Road.

"They're 76 years old and are at their wits' end," he said.

"It's like a river," he added, "all the drains are blocked in this area".

Your photos: Rain continues to fall

There's no sign of the rain letting up for the time being and the BBC Weather Watchers have been showering us with wet weather photos.

These ones were taken in Bromyard and Hanbury.

Car swept away and stuck in deep water

Some roads have become impassable, even for four-wheel drive vehicles like this one.

West Midlands Fire Service said it had attempted to cross a ford on Hawkesley Mill Lane in Northfield and was swept 20m away.

Crews were called out at 13:28 to reports there were two occupants clinging to the roof, but when they arrived the pair had gone.

They were later found safe and the vehicle will now be recovered.

Frozen food store flooded

The Iceland store in Market Drayton is flooded and firefighters are helping staff to clear stock off the shelves.

They were called out to the store on Cheshire Street at 13:24 and are still there.

Two rescued from flood water

Fire crews rescued two pensioners who had become stuck in flood water in Birmingham.

Russell Dale from West Midlands Fire Service said crews helped push the stranded vehicle in Alum Rock.

"They were completely soaking wet," he said.

"We made sure they were all alright before police closed the road off."

In pictures: Heavy flooding causing travel disruption

Here are some more images from the flooding in Birmingham today.

Copyright: @Kevinmcgphoto

Fallen tree and flooding on roads

In Worcester, water is still causing problems on a number of roads, including Hylton Road, Tybridge Street, and The Butts.

Some bus services have been diverted and the junction of Hylton Road and Henwick Road has been blocked by a fallen tree and wall.

Worcestershire County Council said things should start to return to normal when the rain eases up.

Watch: Flooding affects traffic around Longbridge

Heavy rain and flash flooding have been affecting roads in the Longbridge area of Birmingham, with rain forecast to continue there until at least 18:00.

Play due to resume in Worcestershire match

Play is due to resume at 15:00 in the cricket match between Sussex and Worcestershire at Hove.

Unless they have any more rain, of course.

Sussex were 150-5 at the end of yesterday's play.