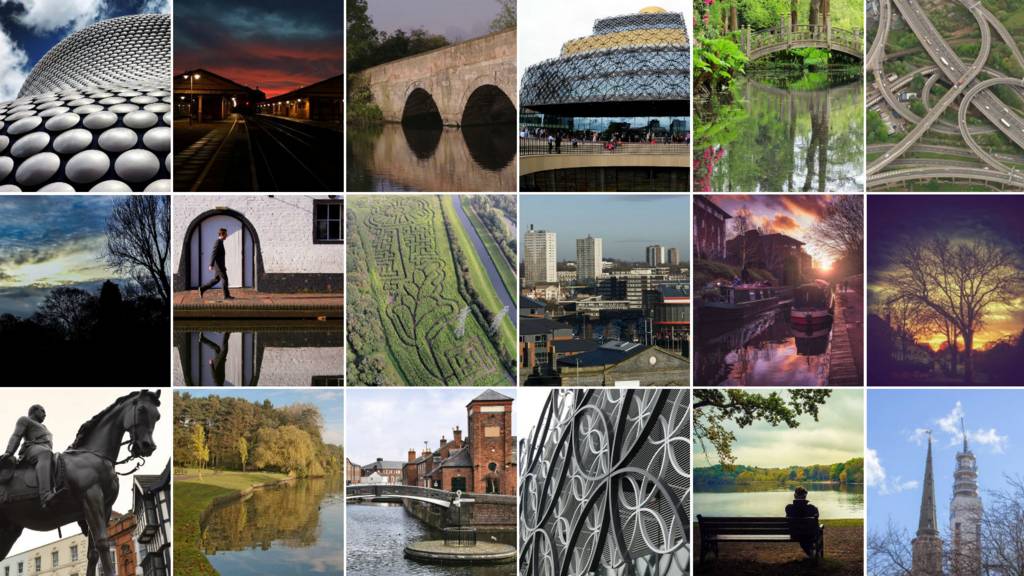 BBC Local Live: Birmingham & the Black Country
Summary
Police's 'failings' over custody death
Terrorism suspect arrested
Sandwell could follow Birmingham in seeking remedy for ailing children's services
PC who rang 999 with fake terror kidnap plot is sacked by force
Updates on Thursday 9 June 2016
Latest weather for the West Midlands

Good evening from Local Live for Birmingham and the Black Country

We're back at 08:00 on Friday with our usual mix of news, sport, travel and weather, but keep an eye out here for updates through the evening and into the morning.

Nick Owen

Presenter, BBC Midlands Today

We will be counting the costs of damage caused by monsoon-like downpours in the region last night.

A soldier from Birmingham has received an MBE today for trying to build bridges between the armed forces and Muslim community. 

And we will find out how for two Brummies, the Peaky Blinders TV show has become not just essential Thursday night viewing but a way of life. 

Join us for the Midlands Today on BBC One at 18:30.

Watch: Latest weather for Birmingham and the Black Country

Shefali Oza

BBC Midlands Today

Travel: M42 southbound delays

There is slow traffic on the M42 southbound between J4 for Shirley and J3a for the M40 because of an earlier crash even though all lanes have been re-opened, drivers are warned.

Latest: Custody death 'failings'; plan for 'inadequate' children's services; Syria 'terror' arrest

Ransacked cricket club now has 'impenetrable' security

A Black Country cricket club that was once broken in to seven times in eight weeks has been given £3,000 of criminals' cash to improve its security. Netherton Cricket Club had doors ripped from the hinges and windows shattered as thieves fled with sporting equipment, two flatscreen TVs, a microwave and bar stock. The Office of the West Midlands Police and Crime Commissioner (OPCC) has now gifted the club a grant of £3,000 from the Proceeds of Crime Act fund, which uses criminals' ill-gotten gains for good. Since then, after one more failed attempt at a break-in, there have been no further attacks on the clubhouse.

Dennis Lewis, President of Netherton Cricket Club, said: "The extra security measures we bought with the cash stopped the problems we were having back in late 2014. The crooks now find the clubhouse impenetrable."

Knife crime: Almost half of repeat offenders spared jail

Almost half of repeat knife offenders were not immediately jailed, despite new legislation requiring judges to impose a prison sentence.

Some 55% of the 1,161 adults sentenced under the first eight months of the new law were given a custodial sentence.

A further 22% were given suspended sentences, figures reveal. An undisclosed percentage received community sentences.

Labour's West Midlands Police and Crime Commissioner David Jamieson said the figures raised questions for the government.

Watch: Walsall FC boss on 'biggest challenge'

The Saddlers' new head coach Jon Whitney says his biggest challenge will be dealing with expectations after the club "over achieved" last season.  

Mystery Birmingham canoeist revealed as hero who saved a driver from her submerged car

Plans submitted for new Wolverhampton railway station

Plans have been submitted for a new railway station for Wolverhampton, according to the city's council.

The proposal is to demolish the existing station and replace it with a new one.

Work is due to begin on the new railway station next year following the extension and refurbishment of the associated multi-storey car park, which is expected to be completed by Christmas 2016.

It forms part of a £120m interchange project that will also see a Metro line extension, including a new stop at the station.

Copyright: City of Wolverhampton Council

Disgraced PC jailed for false terror kidnap claim is sacked from force

A disgraced policeman who claimed terrorists were going to kidnap a fellow officer has been dismissed without notice for gross misconduct, after he received a seven-year jail term last month.

Amar Tasaddiq Hussain, 29, made a hoax 999 call in which he claimed an officer with the West Midlands force would be abducted by a radical Muslim with links to the so-called Islamic State.

Copyright: West Midlands Police

A special case hearing was held today at Tally Ho - the police training centre - and Hussain, whom the force said did not attend proceedings, was sacked.

Dismissing Hussain, the force's chief constable Dave Thompson said: "This was grotesque behaviour which horrified the public, staff in West Midlands Police and other people, including myself. It was one of the most disgraceful acts committed by an officer in the history of the force."

Breaking

Sandwell could follow Birmingham in seeking a remedy for its ailing children's services

"Inadequate" children's services in Sandwell could follow the example of Birmingham and be run as a voluntary trust, the council has revealed.

In June 2015, Ofsted said children remained at risk of harm in the borough and the authority "did not fully understand the scale and prevalence of child sexual exploitation".

The rating echoed a report in April 2013, which prompted a boss and a council cabinet member to quit.

This afternoon, the council said proposals to either move children's social care to a voluntary trust or to appoint an executive commissioner to oversee services had been passed on to the Department for Education for consideration.

Custody death probe finds 'failings' by West Midlands Police

An investigation into the death of a woman who fell ill in custody has found there were some failings by West Midlands Police in following correct procedure. 

Sharmila Ullah, who was 30, became unwell after she was arrested in July 2014 and was later found unresponsive in her cell at Bloxwich station. 

The Independent Police Complaints Commission (IPCC) says that one officer documented that he had made checks on her, when in fact he had not. The officer has since been dismissed from the force after a gross misconduct hearing.

An inquest at Smethwick Coroner's Court concluded that her sudden death was in association with long-standing alcohol misuse and the effects of alcohol withdrawal. 

Football: New man in the Walsall saddle

The new Walsall manager Jon Whitney says he is confident the club can compete for promotion again next season. 

Whitney became the temporary manager in March and led them to within a point of automatic promotion in League One. They then missed out in the play-offs. 

But Whitney has now signed a three-year deal as manager and says the Saddlers will remain competitive.

Flash flooding: About 5,000 pupils affected by school closures

Terry Goodwin

BBC West Midlands

About 5,000 pupils are affected by school closures in the West Midlands today following yesterday's flash flooding.

They include:

- Hamstead Hall Academy - closed to all pupils except those who have exams - 1,076 pupils in total 

- Wellford Primary School, Handsworth, closed - 478 pupils in total 

- Saint John Wall Catholic High School, Handsworth - closed to all pupils except for Years 11 and 13 who need to attend exams - 621 pupils in total 

- Holyhead School, Handsworth - closed to all students except Years 11, 12 and 13 whose examinations and lessons continue as normal - 1229 pupils, except its sixth form

- St. Teresa's Catholic Primary School, Handsworth Wood - closed to all children - 206 pupils in total

- West Heath Primary School, Rednal Road, West Heath - closed - 380 pupils in total 

- Heathfield Primary School, Birmingham - closed - 450 pupils in total

- Phoenix Collegiate, West Bromwich - closed to Year 7, 8 and 9 students - around 750 pupils affected

Flash flooding: This man stuck his oar in

Video captures the moment a man stuck his oar in - literally - to navigate flooded West Midlands roads.Talia Dewhurst filmed the canoeist as he paddled along Thornbridge Avenue in Great Barr.