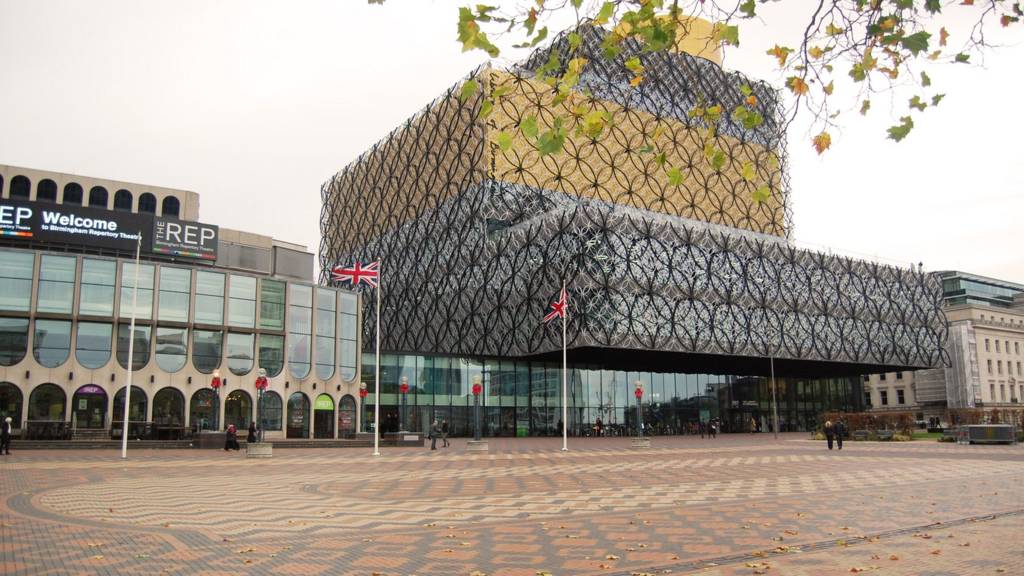 BBC Local Live: Birmingham & the Black Country
Summary
Updates on Thursday 1 January 2015
That's all from BBC Local Live today. We'll be back from 08:00 on Friday.

Anna Church

Weather Presenter, BBC Midlands Today

It's fairly blustery out there at the moment. There'll be some heavy rainfall tonight before clearer conditions. Lows of 4C (39F).

More information about the next few days is here.

Watch: Health snacks for hospitals

Nicola Beckford

Journalist, BBC Midlands Today

Watch students from University College, Birmingham, compete to create new healthy snacks to be sold in hospital vending machines, in this video.

The number of overnight calls received by West Midlands Ambulance Service on New Year's Eve was 1,436 - far fewer than last year's figure of about 1,600.

The service said the public was heeding advice not to make non-emergency calls.

Chief executive Anthony Marsh said months of planning had meant the service was able to cope. Read the full story.

Phil Neville told us: "When I heard West Brom had appointed Tony Pulis I thought that's their Premier League survival guaranteed."

Aston Villa 0-0 Crystal Palace

Prospective Crystal Palace boss Alan Pardew was in attendance to watch the London club claim a goalless draw in a turgid encounter at Aston Villa.

There was precious little excitement during 90 largely chanceless minutes at Villa Park.

Villa created more opportunities, with Christian Benteke and Alan Hutton both testing Julian Speroni with shots.

New manager Tony Pulis watched West Brom produce a gutsy performance to pick up a deserved point at West Ham.

Despite taking a seat in the stands, Pulis appeared to relay instructions to the players and also visited the dressing room at half-time.

A New Year reveller welcomed in 2015 with no concerns whatsoever about his heavy weight.

Copyright: West Mids Safari Park

Eight-month-old baby elephant Sutton is now a decidedly healthy 44 stone.

Man found with head injuries

Call for radical devolution thinking

Abandoned and neglected horses

"Parts of the Black Country have a real problem. There are lots of really good owners in the area, but a few have horses on tethers, on wasteland, on council land, and it's a bit of bravado."

The RSPCA is bracing itself for a big influx in the number of abandoned and neglected horses.

Equine rehoming officer Gareth Johnson said the charity had been "very lucky" with the weather but was preparing for the worst from January.

One horse waiting for a new home is three-year-old Polo (pictured), who was rescued in an emaciated state from a garden shed in a small yard at a home in Dudley.

The Belfry entrance reopens

Jennifer Scott

BBC News Online

A spokesperson for the Belfry, which has famously hosted golf tournaments such as the Ryder Cup, said its main entrance had now reopened after it was cordoned off following the nightclub disorder.

Read the full story.

Officers 'showed bravery'

Supt Adrian McGee, of Warwickshire Police, said his officers had showed bravery tackling the disorder.

He added the management at the Belfry were helping officers with the investigation and asked anyone with information to call police on 101.

Rob Mayor

Journalist, BBC WM

Problems continued even after police arrived at the scene, both inside and outside the nightclub.

That saw a further five people sustaining injuries, believed to be stab wounds.

The 21-year-old injured before police arrived was taken to hospital suffering a suspected stab wound to the chest. He has undergone surgery but is not thought to be in a critical condition
Four others stabbed while police were there were taken to hospital and one went at a later time
One of these men, a 28 year-old, is in a critical condition
The others, aged between 20 and 27, have been treated and three have been released from hospital

Rob Mayor

Journalist, BBC WM

Officers also arrested a 22 year-old from Birmingham on suspicion of assaulting another man, who suffered minor injuries and did not require hospital treatment.

A 20-year-old man, from the Birmingham area, has been arrested on suspicion of violent disorder.

Three arrests over stabbings

Rob Mayor

Journalist, BBC WM

A man is fighting for his life after six people were stabbed at The Bel Air nightclub at The Belfry, including five who were wounded after police arrived at the scene.

Warning of strong winds and rain

The Met Office has put a yellow warning in place for rain and wind in the West Midlands, which is valid today until 23:55.

Off-duty policeman 'ambushed'

Aston Villa v Crystal Palace

Aston Villa midfielder Fabian Delph is suspended for today's match against Crystal Palace, but Gabby Agbonlahor and Kieran Richardson are available after bans.

Copyright: chris brunskill

Tom Cleverley and Ciaran Clark are doubts with respective foot and back problems, while Joe Cole returns from a hamstring injury.

Range Rover sightings appeal

Det Insp Warren Hines says it's thought Baljit Singh disappeared from Smethwick High Street on the afternoon of 23 December after having a drink in the Red Cow pub and leaving in his car, a grey 58-plate Range Rover.

He appealed for anyone who was in the area yesterday, New Year's Eve, between 13:00 and 16:00 who may have seen Mr Singh or his car to get in touch.

Two others released on bail

Two other people arrested on suspicion of car theft - a 28-year-old man and 23-year-old woman from Kingswinford - have both been released on bail pending further inquiries, West Midlands Police says.

A 32-year-old man and 27-year-old woman arrested on New Year's Eve in connection with Baljit Singh's disappearance are now being questioned by detectives on suspicion of his murder.

The pair, both from Birmingham, were arrested from an address in Kingswinford at about 16:30 yesterday initially on suspicion of stealing the 50-year-old's Range Rover.

Baljit Singh (pictured), a 50-year-old from Meadow Road in Harborne, was last seen on 23 December when he left his home to collect a birthday cake for his son.

He failed to arrive and the alarm was raised later that day.

At about 09:00 this morning officers found his body in the basement of an address in Beeches Road, Rowley Regis.

West Brom are likely to be without forward Victor Anichebe, who is nursing a groin injury, for today's match at Upton Park.

Georgios Samaras could feature at West Ham after being again left out of the squad for the 2-0 defeat at Stoke for personal reasons.

Belfry entrance closed off

Rob Mayor

Journalist, BBC WM

The front entrance of the Belfry hotel in north Warwickshire is cordoned off after an incident there last night.

Management at the hotel near Sutton Coldfield say they cannot say any more at the moment but are helping with police inquiries following the incident at the Bel Air nightclub

They say the main entrance is currently closed but the hotel is open as normal and visitors should use the back entrance on Tamworth Road.

Driver fled without daughter

Fundraiser spreads festive cheer

Royal Sutton Coldfield Observer

A 25-year-old woman who was questioned by West Midlands Police on suspicion of Syria-related terror offences has been bailed pending further inquiries, after her arrest at Luton Airport.

Pedestrian struck by tram

A man in his 20s was airlifted to hospital after he was struck by a tram in Wolverhampton this morning.

It happened in Bilston Road, Ettingshall, at just after 08:30. The man was "found to be unconscious at the scene but didn't appear to have suffered any obvious external injuries", according to a spokesman from West Midlands Ambulance Service.

Pulis to bring Baggies 'unity'

Tony Pulis has been appointed head coach of Premier League strugglers West Bromwich Albion.

Pulis, 56, has agreed a two-and-a-half year deal with the Baggies and will take charge after today's Premier League game at West Ham.

The ex-Stoke and Crystal Palace manager, the club's fourth head coach in a year, said: "Every successful club is built on unity and that is what I shall strive to help bring to Albion."

Jennifer Scott

BBC News Online

I've just been speaking to West Midlands Ambulance Service about their callout figures for last night.

Despite the service receiving record numbers of calls on days throughout November and December, they were happy to report they received around 200 fewer calls on New Year's Eve - traditionally their busiest night of the year.

"The message seems to be getting through that we are here for life-threatening calls," said a spokesperson.

A signalling problem is causing delays for services by several different train operators between Birmingham New Street and Birmingham International.

Find out more from BBC Travel.

Jo Tidman

Journalist, BBC WM

Anyone caught drinking and driving or driving after taking illegal drug faces up to 14 years in jail. That's the warning from West Midlands Police.

The force will also publish the names of anyone convicted of doing it - in the hope it will act as a deterrent.

Copyright: West Midlands Police

Officers, including the Central Motorway Police Group, will also be using a new testing kit which can tell if drivers have been using cannabis.

New Cross parking crackdown

Pulis appointment confirmed

West Bromwich Albion has officially confirmed the appointment of Tony Pulis as the club's new head coach.

Healthier school meals begin

Are you thinking of a January diet? New rules for healthier school meals in England come into force next week too, at the beginning of term.

Copyright: Science Photo Library

Meals must include one or more portions of vegetables or salad every day and no more than two portions of fried foods or pastry-based foods each week.

Birmingham commuters face gridlock on the city's roads as the big return to work on Monday coincides with the start of a series of major repair works.

West Midlands Police is spending more than £1m a year catching shoplifters.

Shop theft now accounts for 13% of all recorded crime in our region and most of the proceeds end up in the hands of drug dealers, the force says.

A total of 126 jobs will be lost from City Link depots in Birmingham and the Black Country after rescue talks for the delivery company failed.

London Midland tweets: #BirminghamNS - Services between Bham & Lichfield cannot run at present. Please use buses as per prev tweet. Bham-Redditch side able to run.

It's an exceptionally mild start to 2015 and will be largely cloudy with some patchy light rain at times.

The rain will become heavier this afternoon with a strengthening south-westerly wind, gusts of 40-50mph and highs of 13C (55F).

More information about the outlook for the next few days is here.

Aston Bridge is closed in both directions between Dartmouth Circus and the A5127 Lichfield Road junction because of maintenance work.

Traffic is being diverted via Thomas Street, warns BBC Travel.