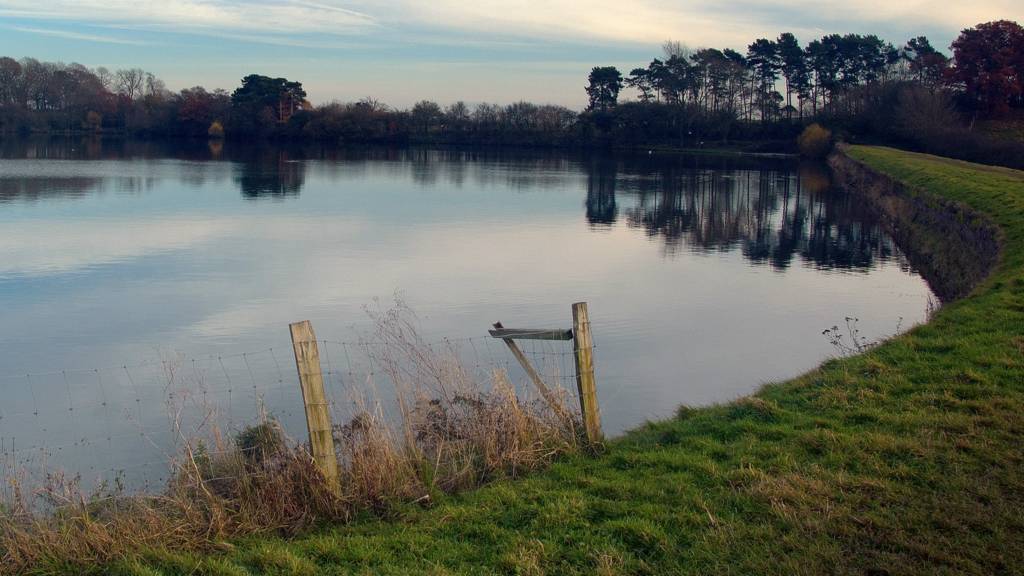 BBC Local Live: Birmingham & the Black Country
Summary
Updates for Monday 8 December 2014
News, sport, weather and travel from 08:00 Tuesday
Today's Local Live updates have now come to an end. We will be back at 08:00 tomorrow.

Mary Rhodes

Presenter, BBC Midlands Today

Hospitals and GPs are under pressure from flu outbreaks, with extended hours and additional staff to cope, but what should you do if you come down with flu? We'll have advice from a doctor.

We meet the 99-year-old (pictured) who was forced to climb stairs on her hands and knees to reach her second floor flat because the lift was broken.

All that, plus a roundup of the weekend's footballing action. Join me at 18:30 on BBC One.

CCTV released in phone theft probe

British Transport Police has released CCTV images of a group of men they want to speak to after a woman had her mobile phone stolen at Smethwick Galton Bridge railway station on 13 November.

Copyright: British Transport Police

Jennifer Scott

Journalist, BBC News Online

Earlier I spoke to St Brigid's Primary School, in Birmingham, where staff are very proud of pupil Chelsea Parkinson.

Chelsea, 10, was shortlisted in a national competition run by the Football Association and the British Council to design a memorial for the World War One Christmas truce football match.

The school says Chelsea believes her great-great grandfather may have played in the famous football match.

"We know he was in the war at that time," history co-ordinator Jenny Taggart told me.

Dudley Council tweets: Our gritters are treating the roads and motorists still need to drive carefully Visit our Weather Watch pages dudley.gov.uk #wmgrit

£10m for science students

About £10m is being ploughed into addressing the shortage of young people studying the so-called STEM subjects - science, technology, engineering and maths - at Birmingham City University.

The money will be spent in a bid to remedy the shortfall of 80,000 skilled workers predicted in industry within the next two years.

An illustrated story of Birmingham

A stop-motion video showing two artists create an illustration telling the story of Birmingham's past, present and future has been released.

Copyright: Marketing Birmingham

The video, created by local artists, was commissioned by Marketing Birmingham for its annual general meeting.

Chris Blakemore

News editor, BBC WM

In the news at 17:00 on BBC WM: Police in Wolverhampton are appealing for anyone who's had a memorial stolen from Bushbury Crematorium to get in touch with them.

It's after a 47-year old man was arrested on suspicion of theft and about 32 items have been recovered..

Watch: Crackdown on drink-driving

Nicola Beckford

Journalist, BBC Midlands Today

More than 30 drivers have been charged with drink or drugs offences in the first week of the annual Christmas crackdown by West Midlands Police. Watch the piece on the Midlands Today Facebook page.

One lane is closed on the M5 southbound between J3, for the A456 in Halesowen, and J4, for the A38 in Lydiate Ash, warns BBC Travel.

A man has been charged with wounding after a 36-year-old woman was left with broken bones and a fractured eye socket when she was assaulted in her home in Sandwell on Friday.

Watch: Tonight's forecast

Anna Church

Weather Presenter, BBC Midlands Today

Beware a widespread frost overnight. Watch the latest forecast on Facebook.

Birmingham buskers banned

Buskers were banned from parts of Birmingham city centre over the weekend because of the number of shoppers.

Leaflets from Birmingham City Council were given to buskers on Saturday banning them from the High Street, New Street and four city squares.

The decision was taken after "a significant increase in footfall" on previous weekends, the council said.

Chris Blakemore

News editor, BBC WM

In the news at 16:00 on BBC WM: There are fears a flu epidemic could be under way with some doctors saying appointments have doubled.

We'll hear from a GP in Kings Norton in the news bulletin.

Grumble over loss of free parking

Ornaments 'stolen' from crematorium

These items are suspected of being stolen from memorials at Bushbury Crematorium and police are trying to reunite them with their owners.

Copyright: West Midlands Police

The officers' appeal comes after a 47-year-old man was arrested on suspicion of theft following a number of reports over the past six months about ornaments being stolen from the crematorium.

Thirty two items were recovered from an address in the Scotlands area of Wolverhampton - searched as a result of the arrest - and officers are currently trying to establish where they may have come from.

Birmingham bin collections reminder

Residents are being reminded, as is normally the case, there are no bin collections on Christmas Day or Boxing Day.

Anyone due a collection of general household waste on those days will instead have their collection on 1 or 2 January, says the city council.

Av a loff at this Black Country version of 'A partridge in a Pear Tree' - 'A Bostin cuppa Tay', tweets the Black Country Living Museum.

Witnesses are being asked to come forward after a sexual assault near a church in Birmingham on Saturday night.

St Nicholas' Church, in Kings Norton, was sealed off as officers from West Midlands Police carried out their investigation.

We've introduced BBC Local Live to bring you the latest news, sport, weather and travel updates in one place. What do you make of it? Let us know.

Workshops 'to stop pupils being radicalised'

Clark's Blackpool beat Blues

Chris Blakemore

News editor, BBC WM

In the news at 14:00

Police in Wolverhampton are appealing for anyone who's had a memorial stolen from Bushbury Crematorium to get in touch with them.

Explosion triggered by roadworker throwing spade at flare

Sue Roberts, chair of Wolverhampton Homes, says she was offended by the card saying why Santa lives on a council estate.

She's told BBC WM "I've been a council tenant for 37 years and I'm sorry but I'm fed up of being stereotyped and this is just another example."

Joanne Malin

Presenter, Midlands Today

More than 30 people have been charged to appear before the courts, accused of being under the influence in the first week of West Midlands Police's drink and drug driving crackdown.

Join us for more on this and other stories on Midlands Today on BBC One at 13:30.

Chris Blakemore

News editor, BBC WM

In the news at 13:00.

The parents of a nine month old girl alleged to have died of pneumonia because of malnourishment in Wolverhampton have denied causing her death.

West Midlands Fire Service tweets: "Just over 200 ppl completed the first steps of applying to be a firefighter in first 20 mins of online applications opening this morning! "

Aston Villa's Ashley Westwood will have a knee scan today after being carried off on a stretcher during yesterday's 2-1 win over Leicester.

Goals from Ciaran Clark and Alan Hutton secured the win for Villa which has taken them up to 11th in the table.

Parents deny baby killing

Both Brian and Precious Kandare were remanded in custody to face trial at Birmingham Crown Court on 15 April next year.

Their daughter died shortly after being taken to Wolverhampton's New Cross Hospital on 6 January.

The parents of a nine-month-old girl alleged to have died of pneumonia as a result of malnourishment have denied causing her death.

Brian Kandare, 32, and Precious Kandare, 36, of South Avenue in Wednesfield, denied the murder of Rebecca Kandare during a plea hearing at Wolverhampton Crown Court.

The couple also entered not guilty pleas to alternative charges of manslaughter and causing or allowing the death of a child.

Steve Hermon

Newsreader, BBC WM

A new offence to tackle domestic abuse which covers psychological as well as physical harm will be announced today and has been welcomed by a Birmingham victim.

More on this and other stories in our 12:00 bulletin.

Tom Bradshaw is back in the squad for the Johnstone's Paint Trophy tie at Tranmere tomorrow night after a hamstring injury. Sam Mantom is to have growth hormone injected in his knee as he looks to return to full fitness.

Controversial Christmas card

A Christmas card that's been removed from sale for mocking people who live on a council estate is being criticised.

The card was being sold by Clintons.

Copyright: Clintons Cards

It has a picture of Santa in front of a block of flats on it - and lists 10 reasons why he must live on a council estate - including that he only works once a year and drinks alcohol during working hours.

Sue Roberts, the chair of Wolverhampton Homes - which manages 23,000 social homes in the city, said: "It's disrespectful."

Robber blew up cashpoints

Steve Hermon

Newsreader, BBC WM

Our top local story: Birmingham mother Majida Sarwar went to the police when she found out her son was missing and he was arrested on Syria-related terrorism charges when he returned to Britain in January.

She says she's appalled by his lengthy sentence. More on this and other stories in our 11:00 bulletin.

Apology over referee confrontation

Ian Winter

BBC Midlands Today

Wolves chairman Steve Morgan has apologised for confronting referee Mike Jones on the touchline after two Wolves players were sent off in their defeat to Bournemouth at Molineux.

Although the club will be appealing against , Morgan acknowledged that he was in the wrong.

Pete Morgan

Presenter, BBC WM

National Express has announced that from January 2, an adult single will go up from £2.10 to £2.20, a day-saver goes up from £4 to £4.20, and a monthly travelcard rises from £51 to £52.50. Some child fares have been frozen.

Will the changes affect you? Will you be glad to see investment in the buses? Tell us what you think over email, Twitter or Facebook.

Mother says she was 'misused'

Phil Mackie

News Correspondent

Last year, Majida Sarwar found a letter from her son, in which he said he had gone to "do jihad". He was in Syria with a group allied to al-Qaeda.

Mrs Sarwar told police, who arrested her son Yusuf (pictured) and his childhood friend, Nahin Ahmed, when they returned to the UK.

But she says police have let her down and claims her son had travelled to Syria with good intentions.

She's told the BBC: "If I had known they would put my son behind bars I would not have told them about the letter."

Steve Hermon

Newsreader, BBC WM

A Birmingham mother tells us she feels betrayed by the authorities as her son was jailed for nearly 13 years after she came forward to police with information about him.

We hear from her at 10:00 in our bulletin.

Wolves slipped to a fifth straight defeat after leading at half-time against Bournemouth.

Kenny Jackett's side had gone ahead through Danny Graham before Rajiv van La Parra's second-half red card proved the turning point in the game. They eventually lost 2-1.

Mother 'betrayed' by terror sentence

Phil Mackie

News Correspondent

A mother who co-operated with police after her son travelled to Syria to "do jihad" says she feels betrayed by the length of the jail sentence he received.

On Friday, Yusuf Sarwar was jailed for 12 years and eight months for conduct in preparation of terrorist acts.

His mother Majida, pictured here with her son, told the BBC she believes the sentence will discourage other Muslims from helping the police.

Steve Hermon

Newsreader, BBC WM

Our top story at 09:00: A mother from Birmingham, who alerted the police after her son went to Syria to fight, says she feels betrayed by the authorities after he's been jailed for nearly 13 years.

Listen live to our bulletin.

Wolverhampton couple with baby complain over mould-filled house

A damp, smelly, mould-filled house has forced a Wolverhampton couple and their 10-week-old baby to sleep in their lounge.

Carl Price and his partner Lisa Reilly live in the Rowan House property, owned by Midland Heart, with their daughter, Kacey-Mae.

The impact of an earlier broken down vehicle is still being felt on the M6 northbound - there's traffic there between J4a for the M42 and J5 for the A452 Castle Bromwich even though all the lanes have re-opened.

Check the latest information from BBC Travel.

Baggies draw ends losing run

West Bromwich Albion ended a run of four straight losses against Hull but a goalless draw left them one point clear of the relegation zone.

The home side's goalkeeper Allan McGregor saved a ninth-minute penalty by the Baggies' Graham Dorrans.

Aston Villa secured back-to-back Premier League wins as Alan Hutton's first goal for the club added to bottom side Leicester City's troubles.

Ciaran Clark was Villa's other goal scorer in the win, which takes Paul Lambert's side up to 11th in the table.

Anna Church

Weather Presenter, BBC East Midlands Today

A mostly bright day with plenty of sunny spells but feeling cold in the brisk north-westerly wind. A few showers are likely across the northwest Midlands, giving sleet or snow across the Peak District, but these will clear later.

Highs of 5C (41F). More on the rest of the week's outlook here.