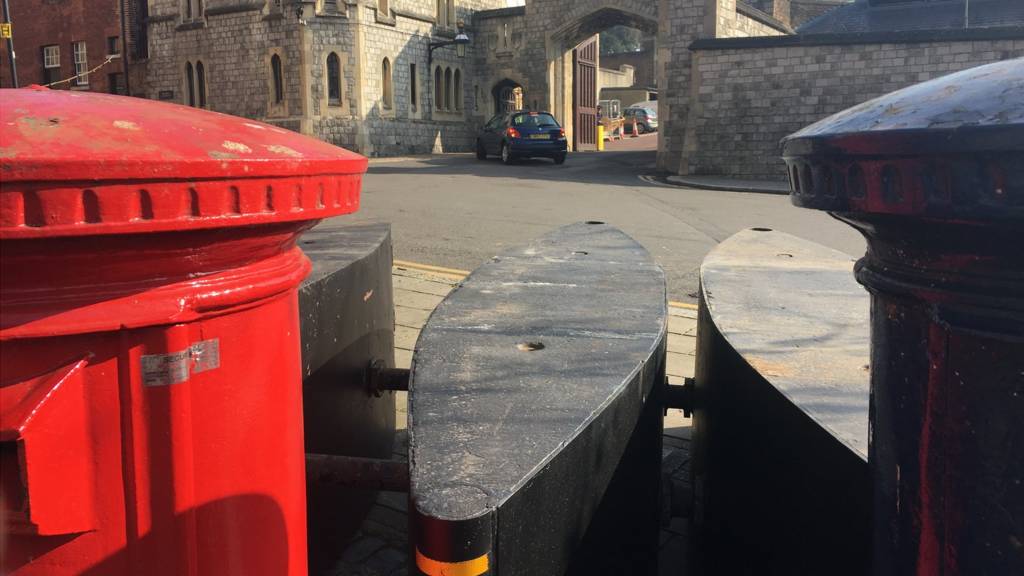 Berkshire live: Windsor security increased
You can get in touch by email, on our Facebook page or on Twitter @BBCBerkshire.
Summary
Security barriers increased at Windsor Castle following terrorist attack in London.
Barriers 'ugly', locals say
Theale Station funding diverted to electrification of the line.
More than half a billion pounds will be invested in Slough.
Crime Commissioner prioritises counter-terrorism

Tara Maxwell

BBC Radio Berkshire newsreader

Thames Valley's Police and Crime Commissioner says all vulnerable sites are being examined after last week's terror attack in Westminster. 

Security barriers have been installed around Windsor Castle overnight for tomorrow's Changing of the Guard ceremony. 

The commissioner, Anthony Stansfeld, has released his priorities for policing, including tackling terrorism and serious organised crime. 

Delay-hit rail project makes progress

Twelve miles of railway between Maidenhead and London was electrified at the weekend as part of an ongoing £2.8 billion Crossrail project. 

Mark Langman, a Network Rail director, said the progress was a "major milestone". 

"From May this year more passengers will see immediate benefits with brand new, cleaner, quieter electric trains operating between Maidenhead and Paddington," he said. 

The project has previously been hit with delays, and was described as a "stark example of how not to run a major project" by MPs  earlier this month. 

Man assaulted with 'bladed article'

A man has been "assaulted with a bladed article" at a house in Reading. 

The attack, which left the victim needing hospital treatment, happened at about 23:30 last night inside an address in Prospect Street. 

A 32-year-old man, of no fixed abode, has been arrested in connection with the incident. 

Thames Valley Police said officers have remained at the scene today, and are making door-to-door inquiries. 

WATCH: Windsor anti-terror barriers branded 'ugly'

Severe disruption: M4 Berkshire westbound

BBC News Travel

M4 Berkshire westbound severe disruption, between J14 for A338 and J15 for A346 Marlborough Road.

M4 Berkshire - One lane closed on M4 westbound between J14, A338 (Hungerford) and J15, A346 (Swindon East), because of vehicle tyre change. Traffic is coping well.

To report traffic and travel incidents dial 0330 123 0184 at any time

Temperatures to hit 21C by Thursday

Muggers target man talking on phone

Two muggers targeted a man in Windsor as he walked down an alleyway while talking on his phone yards from a busy street. 

After grabbing the victim, who is in his 20s, the pair threatened him and emptied his pockets.

They took his wallet and phone before during the robbery which happened off Dedworth Road at 19:35 on Sunday 19 March. 

Both of the offenders were wearing dark clothing, and one was described as white and the other black. 

Councils 'face funding gap' to fix roads

One in six roads across England and Wales, including many in Berkshire, are in such a bad state they must must be repaired within the next five years, according to local authorities.

The Annual Local Authority Road Maintenance survey (ALARM) found that 17% of roads were in "poor" condition.

The government is planning to invest £1.2bn in roads this year, which includes repair and maintenance.

But authorities say it will take an average of 12 years and £12bn to bring the local network "up to scratch".

Live: Windsor Castle barriers reaction

The body of a woman has been recovered from a river in Datchet. 

It is believed to be 52-year-old Ann McGloin, who had been reported missing from her Slough home on 1 March.

Police say the death is being treated as "unexplained and not suspicious". 

Ms McGloin's next of kin have been informed and a file passed to the coroner. 

Weather latest: Dry afternoon ahead

After yesterday's unbroken sunshine, things are not looking quite as bright today. 

There will be some bright spells and it will remain mild, but areas of low cloud will arrive by this evening and isolated showers are forecast overnight. 

Severe disruption: M4 Berkshire westbound

BBC News Travel

M4 Berkshire westbound severe disruption, between J14 for A338 and J15 for A346 Marlborough Road.

M4 Berkshire - One lane closed on M4 westbound between J14, A338 (Hungerford) and J15, A346 (Swindon East), because of a broken down vehicle and recovery work. Traffic is coping well.

To report traffic and travel incidents dial 0330 123 0184 at any time

'Ugly' castle barriers anger residents

New security barriers around Windsor Castle have been branded "ugly" by some locals.

They were installed overnight to afford extra protection at Wednesday's Changing of the Guard ceremony in the wake of last week's attack in Westminster.

Police asked the public to understand why the barriers were "necessary".

But some residents in the Royal Borough have reacted angrily to the "over-the-top" measure.

Residents react to Windsor anti-terror barriers

Windsor Barriers: Analysis

Peter Cooke

Home Affairs Correspondent, BBC South Today

The police and security services face a constant balancing act of doing all they can to protect the public from acts of terror - whilst at the same time trying to maintain our civil liberties so we can continue to live in a free and open society.

No security infrastructure can ever remove all the risks. But the new barriers in Windsor are effective methods to stop vehicle attacks and to protect public spaces.

However some of these in-your-face barriers aren't always popular with the public.

But as we continue to face this low tech and lone wolf form of terrorism it's likely we'll see more obvious and also more subtle security measures being put in place in public spaces around the country.

Anti-terror barriers appear around Windsor Castle

Nick Johnson

BBC Berkshire reporter

Theale Station to remain inaccessible for disabled people for two years

People with mobility problems or mothers with prams and buggies will have to wait at least another two years before ramps or lifts are installed at Theale Station. 

The station has stairs leading up to the ticket office, then more steps onto the platform. 

Those trying to board a train will find the station has no ramp to help people in wheelchairs get aboard, and staff are only around to help at certain times of day. 

Plans for new lifts and footbridges to the platforms have been around since 2011, when First Great Western, as it was called then, built a new ticket office that still hasn't opened. 

Then work ground to a halt.

In 2013, the station was one of 26 nominated for the Access for All programme - a government funding scheme to improve disabled access at stations all over the country. 

Now that money has been withdrawn and diverted to other projects such as the electrification of the Great Western main line. 

Travel: Accident at Basingstoke causing delays on M3

M3 Northbound at J6 (Basingstoke), accident now on hard shoulder, causing delays back to J7

Weather outlook: Sunshine and showers