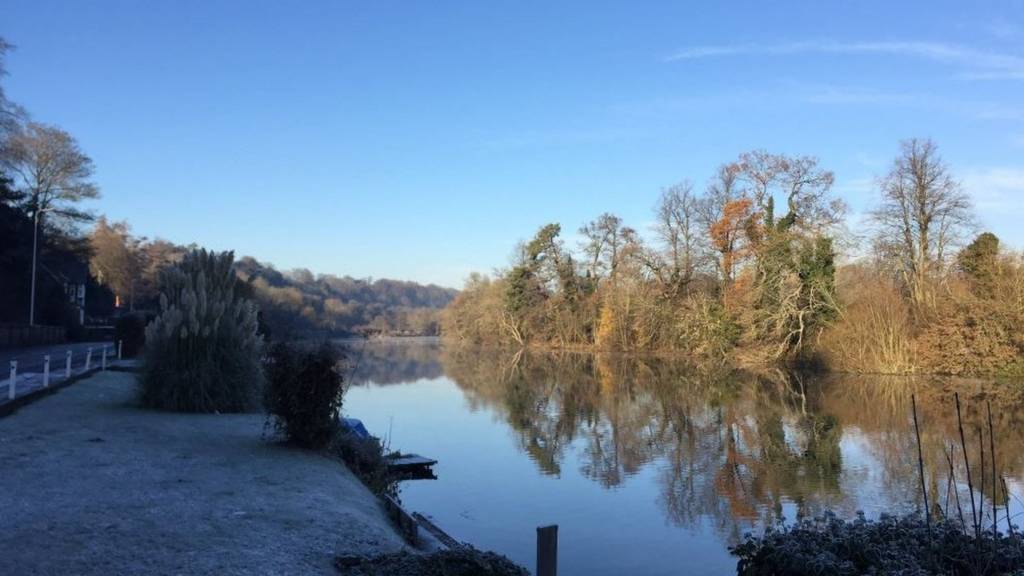 Berkshire Live: Tuesday 24 January
You can get in touch by email, on our Facebook page or on Twitter @BBCBerkshire.
Summary
Updates for Tuesday 24 January
Fears over school expansion after two five-year-olds were hurt in Earley
Freezing fog expected to cancel more flights at Heathrow for second day
People living in flood-hit areas of east Berkshire let down by government, committee concludes
Restoration work to start at Reading Abbey next month

A £3m scheme to reopen the ruins of Reading Abbey to the public has moved a step closer to reality after a contractor was appointed.

CRL Restoration will begin conservation work at the 900-year-old site in February. 

The project, called Reading Abbey Revealed, is expected to be completed in 2018.  

The plans received £1.77m of Heritage Lottery funding in 2015, with Reading Borough Council also confirming it would contribute £1.38m. 

Reading defender Niall Keown joins Partick Thistle on loan

No sign of fog ahead of tonight's Reading v Fulham match

Is Morris Dancing dying out?

Not according to these dancers from the royal county.

BBC Radio Berkshire's Sarah Walker was joined by Morris Men and Women to discuss the future of the age-old tradition. 

Reading boss: 'It's about the mentality'

Reading manager Jaap Stam is looking for his side to return to winning ways when they play Fulham tonight. 

He told BBC Radio Berkshire: "Sometimes you lose a couple of games in succession, that's football. But it's about the mentality in the team. Are you mentally strong to turn it around and start winning games again?

"Fulham have got a great team, play very good possession football as well and we know that and everyone else is aware of it.

"We need to make sure we play well and try and make it difficult for them.

"There's a lot of games coming up at the moment, but after a loss, it's good to play again quickly as you have a chance to redeem yourself."

New Zealand international joins Reading Women

Women's Super League One side Reading Women have signed New Zealand defender Anna Green on a deal until June 2018.

Green, 26, has represented her country at two World Cups and has also been part of three Olympic squads.

The left-back has made more than 60 appearances for the Football Ferns, scoring seven goals.

"I've only heard good things about Reading and the professional environment here," Green said. "I'm excited to be involved."

A local lad for Eurovision?

Earlier BBC Radio Berkshire's Andrew Peach was joined by former UK Eurovision representative Alex Larke (one half of Electro Velvet) to discuss the chances of Reading's Danyl Johnson and Slough's Nate Simpson.

They're both taking part in Eurovision: You Decide on BBC Two this Friday. 

British Gas Business pays £9.5m penalty

Kevin Peachey

Personal finance reporter

British Gas Business, which is owned by Windsor-based Centrica, will pay a penalty of £9.5m after its customers suffered billing and complaints issues. 

Inaccurate and delayed bills were given to business customers after the provider put in a new £40m computer system in 2014, energy regulator Ofgem said.

The penalty will be paid as compensation and in a charity payment.

British Gas Business apologised and said good quality customer service had been restored.

Students 'too busy working' to do Morris dancing

Berkshire Morris dancers have reacted to the news that an Essex group has appealed for "fit, mildly, eccentric men" to join them in order to keep going. 

Brian Jones, who started Morris dancing at Reading University, bemoaned the fact there was no Morris dancing society currently in place there.

Copyright: Chelmsford Morris

He told BBC Radio Berkshire's Sarah Walker: "We were going out and dancing, because we wanted to do something else rather than study. Students these days have to go out and work."

The member of the Kennet Morris men, said there was still lots of country dancing going on at weddings and celebrations. 

Hillary Tindall of the Shinfield Shambles, said: "It's enjoyable, social". 

Minister urged to intervene over AWE pensions row

Tara Maxwell

BBC Radio Berkshire newsreader

The government is being urged to intervene in a row over workers' pensions which has sparked strike action at the Atomic Weapons Establishment in Burghfield and Aldermaston. 

Leaders of the Prospect union are meeting defence procurement minister Harriet Baldwin today over the closure this month of the defined benefit pension scheme at the company. 

But Unite said it will not attend the meeting because it has "different goals".

Air pollution remains high

Gritters out in Reading tonight

Severe accident: A34 Berkshire northbound

BBC Travel

A34 Berkshire northbound severe accident, at Stanmore Road affecting Graces Lane.

A34 Berkshire - A34 in World's End closed and queuing traffic northbound at Beedon Turn Off, because of an accident earlier on and accident investigation work. Congestion to the Graces Lane junction.

Check local traffic and travel reports for:

Rolf Harris will not testify at sexual assault trial

Former TV star Rolf Harris will not give evidence at his second trial, his defence team has said.

The 86-year-old, who used to live in Bray, denies seven charges of indecent assault and one of sexual assault on victims aged between 12 and 42, from 1971 to 2004.

Copyright: JULIA QUENZLER

Opening the defence case at his trial at London's Southwark Crown Court, Stephen Vullo QC said Harris did not have much evidence to add.

He also said the jury that convicted Harris of assaults in 2014 was wrong.

Reading v Fulham: Latest team news

Reading will be without left-back Jordan Obita for tonight's encounter with Fulham. 

He is suspended following his sending off against Derby County.

Boss Jaap Stam has no new injury worries but may make changes after the Royals suffered back-to-back league defeats to drop to fifth in the table.

The Whites travel to the Madejski Stadium six points behind Reading and five points off the play-off places.

The fixture has been rearranged after the original meeting on 30 December was abandoned because of fog at half-time, with the score 0-0.

Attempted kidnap and robbery in Slough

Three men attempted to stab and kidnap a motorist sitting in a parked car opposite Chicken Delight in Farnham Road in Slough, police have said. 

A 25-year-old man from Slough, was arrested and charged with attempted kidnap and robbery on Monday, but police are still looking for witnesses. 

The incident happened on Saturday 14 January at 14:45 GMT. 

One man reached into the car and took the keys from the ignition, while the driver was sitting at the wheel. 

He was forced into the front passenger seat as the alleged kidnapper tried to drive off with his car.

The victim tried to escape the vehicle but was met by two additional men who assaulted and attempted to stab him.

A witness intervened and the three men jumped into a silver coloured car, which drove off in the direction of Sheffield Road. 

The victim received minor injuries as a result of the assault and his car keys were stolen.

Weather latest: Bright afternoon ahead

After a foggy start, the sun has come out and it is expected to remain bright for the remainder of the afternoon. 

However, fog is forecast to return by this evening with temperatures dropping to 0C overnight.