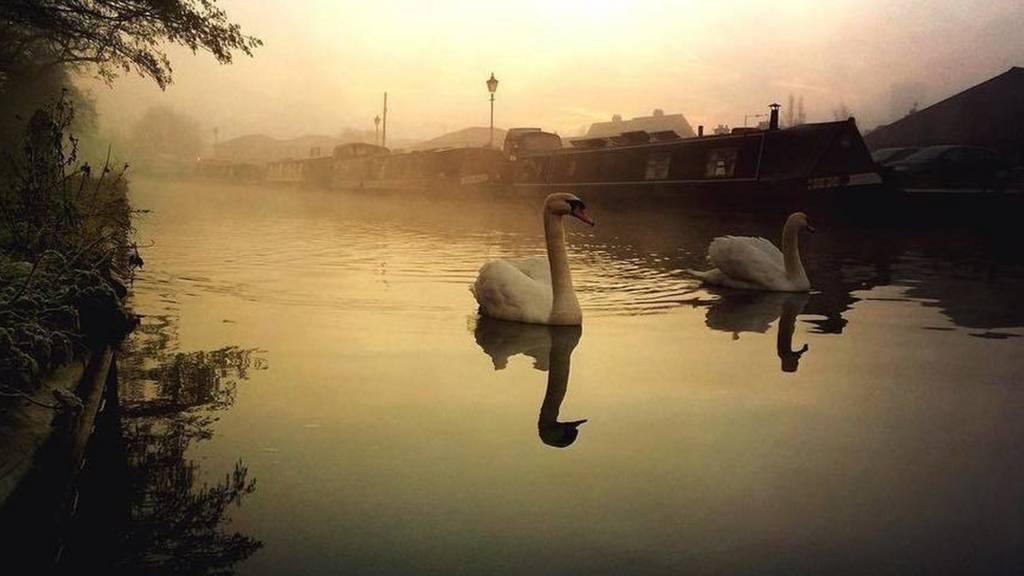 Berkshire live: Thursday 19 January
You can get in touch by email, on our Facebook page or on Twitter @BBCBerkshire.
Summary
Updates for Thursday 19 January
Government bid to block Heathrow legal challenge
Reading police station to move out of town centre
Caversham street cordoned off by police

Jake Cooper leaves Reading on loan

Jack Winstanley
BBC Berkshire Sport Reporter
Reading FC centre-back Jake Cooper has joined Millwall on loan until the end of the 2016-17 season.
The 21-year-old academy product made his debut in August 2014, but has fallen down the pecking order since the arrival of Jaap Stam as manager.
The news comes a day after Tiago Ilori joined the Royals from Liverpool.
Millwall re-sign Wallace & add Cooper
League One side Millwall re-sign Wolves midfielder Jed Wallace and bring in Reading defender Jake Cooper on loan.
Read more
WATCH: Warehouse worker who was sleeping rough
A businessman who discovered one of his own workers was sleeping rough has set up a scheme to help homeless people get work and accommodation.
Adrian Smith, based in Newbury, is to meet his local MP about the scheme.
He found out employee was homeless after "Joe" was taken ill at work.
"Joe", who Mr Smith helped get accommodation, said that at the time he was sleeping rough he was doing "what you have to to survive".
Police investigate after 11-year-old approached by strangers
A family is being supported by specialist officers after an 11-year-old girl was approached by two men she didn't know outside a school in Caversham. 
Part of Hemdean Road near Caversham Primary School was cordoned off by police following reports of the incident, which happened at about 15:30 yesterday.
The youngster's movements after interacting with the men are unclear and she did not sustain any injuries, Thames Valley Police said in a statement released to the school. 
The force said the incident was "very concerning" and that a "thorough investigation" is being undertaken. 
Black Lives Matter Heathrow protesters found guilty
Nine Black Lives Matter protesters who blocked a road to Heathrow Airport have been found guilty of wilful obstruction of the highway.
The group chained themselves together across the M4 southbound spur road to the busy airport in August 2015.
A court heard the protest caused "utter chaos" leading to "a huge amount of stationary traffic" southbound.
The nine protesters each denied the charge. They were ordered to pay between £261 and £523 each.
Bin collection days changing
Drink-driving down in the Thames Valley

Arrests for drink-driving in the Thames Valley have fallen slightly from this time last year.
In total, 316 arrests were made between 2016 and 2017, down from 326 in the previous year.
Across the Thames Valley Police and Hampshire Constabulary forces, however, there was a 63% rise in arrests for drug-driving across Thames Valley, up from 49 incidents to 80.
The figures were released after the forces' Christmas campaign, targeted at reducing drink-driving over the festive period.
Rolf Harris trial: Ex-TV star 'grabbed woman's breasts'

Rolf Harris pushed a woman against a wall and grabbed her breasts in a "quick opportunistic grope", his trial has heard.
The woman, a BBC employee in her 40s at the time of the alleged assault in 2004, told Southwark Crown Court the former TV star looked "vacant" after he thrust his crotch against her.
Giving evidence by video link, the woman said she was "so embarrassed" by the alleged incident.
She told the court no-one else in the room appeared to notice the interaction.
Mr Harris, who used to live in Bray, denies seven charges of indecent assault and one of sexual assault.
Thursday's sport headlines

Chris Browning
BBC Berkshire sport journalist
· Reading's new signing, Portuguese defender Tiago Ilori, says he wanted to come to the Madejski so he could work with manager Jaap Stam.
· Ilori added that it's a chance for him to re-start his career; he has only made 26 appearances in the last four years.
· Reading Womens midfielder Lauren Bruton has signed a contract extension, keeping her in Berkshire until October 2019.
· Kingsclere trainer Andrew Balding and Lambourne's Nicky Henderson both enjoyed winners yesterday as they warm up for Sunday's meeting at Ascot.
Stam unsure on how club bought Ilori

Jack Winstanley
BBC Berkshire Sport Reporter
Reading FC manager Jaap Stam says he does not know where the money has come for two big deals this week.
The club broke its transfer record to sign Tiago Ilori from Liverpool for a fee understood to be around £3.75 million, and renewed winger Garath McCleary's contract.
Negotiations have been under way to sell the club since November to businessman Dai Yongge and his sister Dai Xiu Li, with the current Thai owners wanting to sell up. 
They are currently awaiting Premier League approval to complete the deal.  
Maidenhead used as example of 'unfair' pharmacy funding changes
An MP has used Maidenhead as an example of wealthier areas benefiting from a new funding model for pharmacies which she claims is unfair.
Speaking in Parliament, Labour's Diana Johnson said: "I was really surprised to see that in the prime minister's constituency, 37% of her pharmacies will be able to apply for that additional funding.
"In the three Hull constituencies, only 1% of pharmacies will be able to."
In reply, leader of the house David Lidington said: "Even after the recent announced changes the community pharmacy budget is going to be 30% more than it was a decade ago.
"I think the government is demonstrating that it remains very committed to community pharmacies and their importance."
Reading Women midfielder Lauren Bruton agrees an extended deal with the Women's Super League One club.
Read more
Drivers caught eating and shaving at wheel

Drivers have been caught eating cereal and shaving behind the wheel, in an undercover police probe in Berkshire.
It follows a five-day joint operation between Thames Valley Police and Hampshire Constabulary, targeting drivers on the A34, M40, M4, M27 and M3 in 2016. 
Of 151 people stopped, one driver was eating his breakfast cereal while driving on the M27 and another was shaving on the M4. 
The use of a 'HGV Tractor Unit' has been credited with helping spot more offenders.
The height of the unit allows officers to see drivers holding their devices below the steering wheel, looking at the screen instead of the road ahead.  
A total of 137 drivers were caught using their mobile phones. 
Sergeant Paul Diamond, who led the operation, said: "Sadly, we have seen many examples over the last 12 months of lives lost unnecessarily because a driver has not had their full attention on the road."
Weather latest: Cold and bright afternoon ahead
After another bright and dry start to the day it is expected to remain sunny for the remainder of the afternoon. 
It will also stay cold with temperatures dipping to freezing overnight. A sharp frost is forecast for the morning. 
Bruton agrees to extend Reading deal

Reading Women midfielder Lauren Bruton has signed an extended contract with the Women's Super League One club. 
She was named the club's players' player of the year in their first season in WSL1.
"The club's ambition to progress and push on in the WSL made it an easy decision for me," Bruton said.  
Kelly Chambers' side achieved WSL1 survival last season, having been promoted in 2015.
Bruton agrees to extend Reading deal
Reading Women midfielder Lauren Bruton agrees an extended deal with the Women's Super League One club.
Read more
WATCH: Police at 'ongoing' incident in Caversham

An epic 7,500 mile train journey
The first freight train to travel directly to the UK from China arrived in London yesterday. It's taken more than a fortnight to get here, but that's around half the time the journey would take by sea.  
BBC Radio Berkshire's Phil Kennedy found out more from Andrew Grantham, the News Editor of Railway Gazette International. 
Reading Police Station 'should' move
This morning BBC Radio Berkshire revealed plans to replace Reading's Police Station, and join it with another police facility in Three Mile Cross. 
These listeners gave our reporter Bridgitte Tetteh their thoughts on the proposal.
Slipstream caused girl's wheelchair to strike passing train
A train's slipstream, combined with a gust of wind, caused a teenage girl's wheelchair to roll into a passing train, a report has concluded. 
The wheelchair was stationary and parallel to the tracks before it came into "multiple glancing contacts" with a passing freight train at Twyford station on 7 April, 2016. 
The Rail Accident Investigation Branch (RAIB) said the wheelchair brakes were released by an "aerodynamic force". 
The girl suffered a minor foot injury. 
The slipstream, combined with a gust of wind, caused the wheelchair to roll into a passing train, a report concludes.
Read more
Investigation into possible Caversham abduction

Faye Harland
BBC Radio Berkshire news editor
I have spoken to local people on Hemdean Road in Caversham, where the lay-by has been cordoned off by police tape this morning.
This hasn't been confirmed by the police, but local residents have been told by officers on the ground that they are investigating a possible abduction.
We understand a young girl was taken at around 15:00 GMT yesterday.
Reportedly, the girl has now been returned to her family, so this is not an ongoing situation.
The area is taped off is to allow CID search for evidence later.
We are waiting for an update from Thames Valley Police.
Windsor gets a deep clean
Windsor Castle is undergoing a two week "high clean" before it is re-opened to the public.
Expert staff ensure the castle's state apartments are cleaned from floor to ceiling and that the Royal Collection is protected and conserved. 
Chandeliers dating from 1862 and commissioned by Queen Victoria are carefully dusted along with suits of armour on the Grand Staircase. 
The castle re-opens to the public on Saturday.  
Police investigating incident in Caversham

Police are currently investigating an incident on Hemdean Road, Caversham, Reading.
The street is currently cordoned off from the junction with Queen Street to Caversham Primary School. 
A cordon has been in place since 21:30 GMT on Wednesday in order to allow forensics to examine the incident, police said.
More information to follow. 
Today's weather: Foggy start but to turn dry and bright
We've had clear night over the course of the evening which means a frosty and foggy start for most.
This will dissipate though and it will be bright and dry with highs of 5C
Severe accident: M25 Hertfordshire anti-clockwise

BBC Travel
M25 Hertfordshire anti-clockwise severe accident, between J17 for A412 and J16 for M40.
M25 Hertfordshire - Queuing traffic on M25 anticlockwise between J17, A412 (Maple Cross) and J16 M40, because of an accident earlier on.
Check local traffic and travel reports for:
Reading police station to move out of town centre
Reading Police Station is to move out of the town centre, a document accidentally posted online reveals. 
Plans to move the station to a base in Three Mile Cross were mistakenly posted to Slough Borough Council's website. 
The police station will also merge with the Whitley Wood Fire Station. The time scale has not been revealed.
Thames Valley Police said Reading station was "too big" for the force's needs and that the building required up to £9m worth of maintenance. 
"Replacing the station with a smaller more efficient building will save the Force an estimated £327,000 a year", the force said.
Government bid to block Heathrow legal challenge

Campaigners against a third runway at Heathrow are facing a government bid to block their legal challenge getting off the ground. 
Windsor and Maidenhead Council teamed up with Hillingdon, Richmond and Wandsworth councils to bring a judicial review at London's High Court. 
The group claims the government's October decision to back plans for the runway frustrates the legitimate expectations of councils and residents who have received clear promises from ministers over the years that it would never be built. 
Lawyers for the secretary of state for transport will ask Mr Justice Cranston to strike out the case today. 
They say a judicial review should not be heard until after the consultation on the National Policy Statement (NPS) on aviation is published in 2017/18. 

Good morning from all of us here at BBC Berkshire.
It dropped as low as -5C in the South last night, and today is going to be cold and bright with sunny spells. 
We'll be bringing you the local news from our region today on our live page.
You can contact us with your stories on our Facebook and Twitter pages.