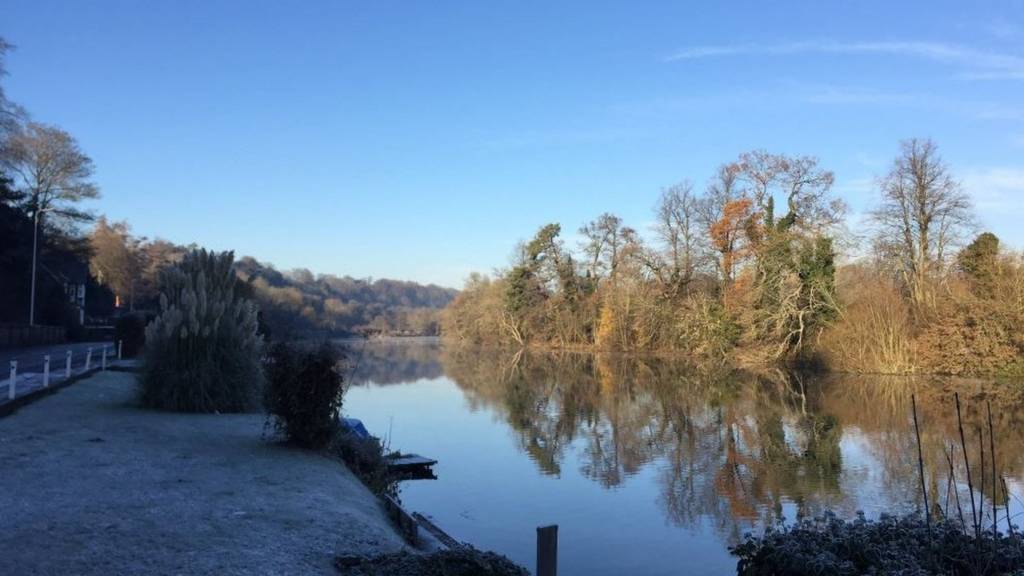 Berkshire live: Wednesday 7 December
You can get in touch by email, on our Facebook page or on Twitter @BBCBerkshire.
Summary
Sport: Stam "I don't think we were good enough"
PM urged to help resolve AWE pension dispute
Fire stations put at risk of closure
Third place for Bulmershe Ensemble on BBC TV show
Planning decision on Reading's After Dark nightclub will be made tonight
""He ordered a double espresso and a blueberry muffin"

The Barista who served Hollywood actor Tom Hardy at a coffee shop in Thatcham has been telling BBC Radio Berkshire's Phil Kennedy all about his visit. 

New Ofsted figures are 'great', says MP

New figures from Ofsted show that 9 more schools in West Berkshire have been judged good or outstanding in their most recent inspection compared to 2015.

In total, 13 schools in West Berkshire were rated 'Outstanding' by Ofsted at their last inspection, and 57 were rated 'Good'. 

Quote Message: It's great news that the latest figures show that 70 schools in West Berkshire are now rated good or outstanding. We are working to make sure every child can access high quality education, so that they have the opportunity to go as far as their talents will take them, regardless of their background." from Richard Benyon MP

Men injured after scaffolding collapses in Reading

M4 lanes closed due to accident

Queueing traffic and two lanes closed due to accident on M4 London bound at J6 A355 (Slough / Windsor), congestion to J8/9 A404(M) / A308m Maidenhead. 

Tree marks final stage of Slough regeneration

A tree has been planted in Britwell as part of the final phase of a major regeneration scheme that has provided new homes, shops and community facilities in Slough.

The tree is one of more than 200 being planted as part of an ongoing project by Slough Borough Council to re-landscape Kennedy Park and Monksfield Recreation Ground.

The work also involves putting in more than 1km of new footpaths to improve accessibility, an outdoor gym and natural play spaces, as well as more than 10,000 seasonal bulbs and 5,000 native plants.

Copyright: Slough Borough Council

Man has car stolen after assault in Datchet

Thames Valley Police is appealing for witnesses following a robbery in Datchet.

The incident took place in Horton Road at about 6.45am on Tuesday.

The victim, a 72-year-old man, was driving his car, a white Volkswagen van, towards Colnbrook when he was struck by another vehicle close to the junction with Stanwell Road.

The victim got out of his van and was then assaulted by a number of men from the other vehicle, a blue four by four.

The men then drove away in the victim's vehicle.

He sustained injuries for which he required hospital treatment. He has since been discharged.

The victim's vehicle was later recovered in Crown Meadow, Slough.

Severe accident: M4 Wiltshire eastbound

BBC Travel

M4 Wiltshire eastbound severe accident, between J15 for A346 Marlborough Road and J14 for A338.

M4 Wiltshire - Queuing traffic and one lane closed on M4 eastbound between J15, A346 (Swindon East) and J14, A338 (Hungerford), because of an accident involving two cars.

Check local traffic and travel reports for:

WW1 medals awarded to Zena Dare to be auctioned

Toby Wadey

BBC Berkshire Online

Medals awarded to a West End actress who nursed injured soldiers during World War One have been put up for auction.

Zena Dare was 29 when she left her home in Ascot, Berkshire, and joined the French Red Cross in 1916.

Dare, who worked with English actors John Gielgud and Noel Coward during her career, was awarded three medals honouring her service.

They are being sold on Thursday with an estimate of £1,000.

How close are we to working with robots? 

The Bank of England boss, Mark Carney, believes it won't be long until they take our jobs. Just this week he said that robots will replace 15 million of our jobs.

Sir Cliff Richard: BBC disputes compensation claim

The BBC has said it should not pay Sir Cliff Richard the damages he is seeking as a result of the coverage of a police raid on his Berkshire home in 2014.

The singer is suing the BBC and South Yorkshire Police and is seeking "very substantial" compensation because he says the coverage invaded his privacy.

He was investigated over historical sexual assault allegations, which he denied. The case was dropped in June.

The BBC has apologised but is now disputing his compensation claim.

Sir Cliff 'sells Berkshire home due to distress'

Lawyers representing Sir Cliff say he has sold the apartment which was raided because the prospect of living somewhere which had been "so publicly violated" distressed him. 

They say the furore threw his "creative and business plans" into disarray - and forced him to delay the release of an album of "rock 'n' roll classics". 

And they say he has run up more than £1m in lawyers' bills. Sir Cliff's lawyers have filed written "particulars of claim" at the High Court. 

Paperwork shows that the 76-year-old singer is suing the BBC and South Yorkshire Police in the wake of a raid at his apartment in Sunningdale, Berkshire, in August 2014. 

He is alleging that his privacy was invaded and wants "very substantial" damages. 

Lawyers say the BBC broadcast a "major story" on the day of the raid after making an agreement with South Yorkshire Police. They say South Yorkshire Police contravened guidance on "relationships with the media". 

Actor Tom Hardy stops for coffee in Thatcham

Spotted by Newbury Today, well done to the folks at the paper!

We called Costa in Thatcham and they tell us that it's not the first time he's popped in.

Local people on Twitter are just a little bit excited.

PM urged to help resolve AWE pension dispute

The Prime Minister's being urged to step in to help resolve an industrial dispute at Berkshire's Atomic Weapons Establishment. 

The nuclear weapons factory is responsible for making Britain's Trident warheads - but staff there have been walking out and working to rule over changes to their pensions. 

In Parliament Kit Malthouse, the Conservative MP for Hampshire North West, defended the workers - and called on Theresa May to help them.

Stam: "I don't think we were good enough"

Stam's Wednesday chat on Wednesday

Reading v Sheffield Wednesday (Saturday, 15:00 GMT)

Reading will hope to bounce back from a 5-0 trouncing at Fulham when they play Sheffield Wednesday on Saturday.

Reading defender Liam Moore returns from suspension, while Joey van den Berg is continuing to improve his fitness and is available for Saturday.

Image caption: Jaap Stam at the Reading FC press conference

A lot of focus this week has been on a certain upcoming FA Cup tie against Manchester United, but the Dutchman is ignoring any current media excitement.

"Hopefully this press conference will be the last time we talk about this game until we play," he tells me. 

What if you have nowhere to go this Christmas?

Spare a thought to the hundreds of young people who can't be at home this Christmas. The charity "Step By Step" are rehousing over two-hundred struggling young people in Reading and Basingstoke in special "host" homes.

BBC Radio Berkshire's Andrew Peach caught up with Chris from Thatcham who has been a host on the "Step By Step" programme for a number of years.