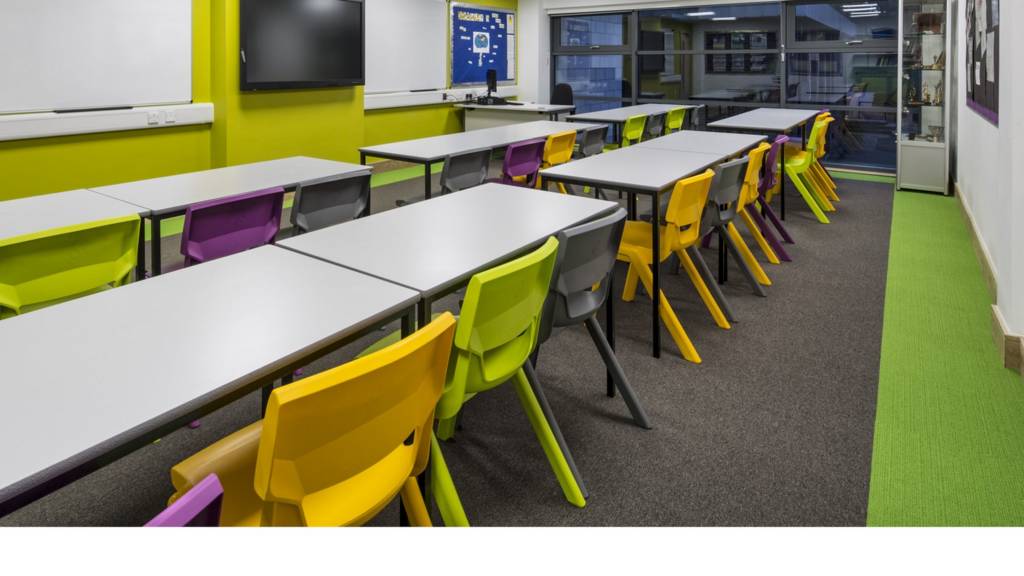 Our coverage across the day

That's it for our coverage today.

We'll be back from 08:00 on Monday with the latest on the coronavirus outbreak in the West Midlands.

Engineering firm designs ventilator

BBC Hereford and Worcester

An engineering company has revealed it's designed a ventilator that could be used in the fight against coronavirus.

Gtech, based in Worcester, has designed a prototype that bosses say can be made by almost any engineering firm.

The company says it could produce about 100 per day within a week, providing machining companies are willing to make the parts.

Gtech has been in talks with the government this afternoon.

Christmas decorations 'light up a gloomy world'

Christmas lights have been put up at a garden in Coventry "to brighten up the gloom a bit".

Copyright: Paul Burbidge-Grant

Copyright: Paul Burbidge-Grant

Paul Burbidge-Grant from Coundon in Coventry said: "I was sitting here and looked out of the window and saw how dark and gloomy the world looked.

"I thought I can't do much," he said, "but anyone walking by I can put a smile on their face, and make them feel better, even for a couple of minutes."

The response has been "phenomenal" he added.

"Christmas is what pulls us together, families come together, it's that time for supporting each other."

Bin workers 'need to be protected'

Centres closing in Staffordshire

Staffordshire County Council says children's centre activities, libraries, the archive and heritage service and many day centres for older people will close.

Stoke-on-Trent City Council has suspended garden and food waste collections.

The council leisure centres, children's centres and community centres will all close at the end of today. But gyms at Fenton Manor and Dimensions leisure centre will stay open.

Council leader Abi Brown says the decision on closures hasn't been an easy one.

Quote Message: We don't take any decision to close our council facilities lightly. We've got to ensure that we are prioritising the health and welfare of our staff, but also the people who use those facilities. So I think this is a proportionate response around that." from Abi Brown Stoke-on-Trent City Council leader

Laboratory coronavirus testing 'doubled'

Kathryn Stanczyszyn

Political Reporter, BBC WM

The coronavirus testing capacity of laboratories in the West Midlands have been doubled, said Public Health England.

Staff are working "flat out" to try and increase that even more, a briefing of the joint agencies looking at the crisis has heard.

Nick Page, Solihull chief executive and lead for the region's combined authority on coordinating council efforts against coronavirus, said it was facing three major considerations:

How to support increasing capacity in acute care settings like hospitals and primary care.
How to coordinate services for the most vulnerable.
And how to maintain services like schools and other essential public provision.

Councillor Paulette Hamilton said Birmingham City Council was issuing daily updates on its website in terms of services that may have to be reduced.

She said there was no plan as yet to give council tax payment holidays but that the local authority would take a more relaxed approach to enforcement.

She also thanked Birmingham University for using one of its labs to make hand sanitiser that's being donated to the council.

Military helicopters in emergency training

Military helicopters are conducting training exercises around Birmingham Airport as part of emergency planning for transporting patients to hospital.

As part of a contingency programme to cope with pressure on the health service linked to the coronavirus outbreak, helicopters could be called upon to help see that people are rapidly taken to the region's accident and emergency units.

Coronavirus hotspots 'urgently looked at'

Kathryn Stanczyszyn

Political Reporter, BBC WM

Health bosses say they are urgently looking into coronavirus hotspots in the West Midlands.

Earlier Health Secretary Matt Hancock said he was looking "very, very closely" at the situation.

There have been 28 deaths in the region - more than anywhere else outside of London.

The joint agencies involved in dealing with the pandemic in the West Midlands have given their latest briefing.

The group said there were hotspots particularly in Wolverhampton and Dudley, in terms of the number of deaths, and would be investigating the reasons.

All of the deaths have been older people with underlying health conditions.

Dr Helen Carter, deputy director for Public Health England in the West Midlands, said it may be a statistical issue or possibly to do with the demographics of the areas.

'Thank you for keeping us safe'

A video posted on social media shows schoolchildren thanking workers on the front line of the coronavirus outbreak.

Year two students at St Bernadette's Catholic Primary School, Yardley, Birmingham have been filmed holding up handwritten signs.

NHS workers through to delivery drivers are all praised in the video which has been posted to help boost morale.

In the post on Twitter, it said: "In times of uncertainty and worry, we would like to remind you don't worry, be happy".

Hays Travel cutting 880 jobs

Hays Travel, which bought Thomas Cook when it went bust has had to cut 880 jobs because of coronavirus.

The travel agent took on 2,330 former Thomas Cook employees across the country, including branches across the West Midlands, when the firm went bust in October.

But now owners John and Irene Hays said they had been forced to cut 880 of its 5,700 staff as holidays are scrapped in the face of coronavirus.

Coventry's Ikea store may close its doors for the last time today.

All the stores will close temporarily at 18:00 the company has announced.

However, the Coventry city centre store was set to close permanently this summer - the company's first big closure of a UK outlet.

The Swedish flat-pack furniture giant said the store had made "consistent losses" since it opened in 2007, with fewer people visiting it than expected.

Weddings hit by coronavirus closures

People who have booked marriage or civil partnership ceremonies at some venues from now until July will be contacted by the Wolverhampton Weddings team to discuss the implications of closures.

City council venues including Bantock House and Coach House, Wolverhampton Art Gallery, Wolverhampton Archives, Bilston Town Hall and The City Suite (in the Civic Centre) will be closed until further notice.

Marriage and civil partnerships booked in the register office will continue as planned, Wolverhampton Arts & Culture said.

Marriage and civil partnership ceremonies booked at external venues will continue as planned, providing the venue is still open, but "the number of guests permitted to attend the ceremony will be four, this includes the bride and groom".

Vélo Birmingham & Midlands says it is "with a heavy heart" that it is cancelling the 2020 cycling event, which was due to have taken place on 21 June.

Copyright: Ian Baker Photography

Up to 18,000 cyclists were expected to have taken part in the ride starting in Birmingham city centre and taking in parts of Coventry (pictured), Warwickshire and the Black Country.

It stated even if it was possible that the situation may have improved "by 21 June 21st (which seems far from certain), working restrictions and self-isolation recommendations mean" it was "simply unable to complete the work necessary in the next few weeks to ensure that the event could proceed safely".

Organisers said "refunding participant entry fees now is not something our business could absorb".

They said in addition "to losing our forecast revenue for the next three months, over the last 10 months we have already committed a huge amount of pre-paid staging, logistical and staffing costs towards this year's event which are now unrecoverable".

Call for businesses to explain challenges

Birmingham City Council is appealing to firms to get in touch by Tuesday so it can better understand their challenges in order to help.

Government considering 'tougher measures'

Health Secretary Matt Hancock told BBC Breakfast earlier that tougher measures could have to be brought in if people do not follow the Government's advice about "social distancing".

We reported earlier that the government was assessing why there seemed to be a coronavirus "hot-spot" in the West Midlands, after it recorded the highest number of deaths outside London.

Mr Hancock told the BBC: "What I can say is that if people follow the advice, stay home, which saves lives, and if they keep apart from others - more than two metres, more than six foot - then we can tackle this and we can turn the tide.

"The scientists advise that we can turn the tide in 12 weeks if people follow the advice. If people don't follow the advice, then it'll be longer and we might have to bring more and tougher measures."

Refuse workers 'still getting job done'

Wolverhampton City Council says its waste collection teams are still out and about.