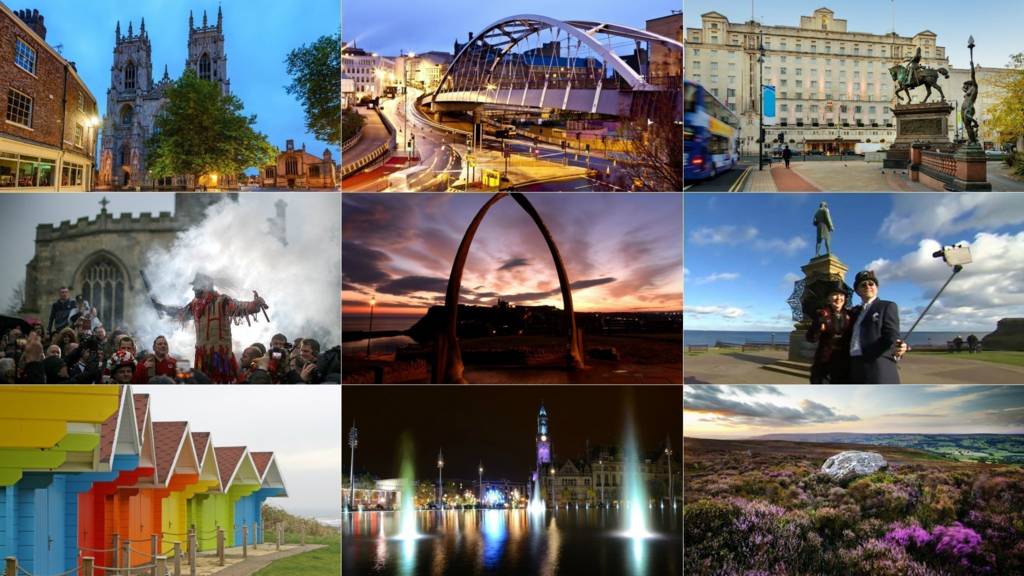 Our top five stories today

That's all from us for today.

We'll be back on Monday from 06:30 with all the latest news, sport, weather and travel for Yorkshire.

But before we go, let's look back at some of our top stories from today:

See you on Monday

Severe accident: M1 South Yorkshire northbound

BBC News Travel

M1 South Yorkshire northbound severe accident, at J36 for A61 Birdwell.

M1 South Yorkshire - M1 lane closed on exit slip road and heavy traffic northbound at J36, A61 (Birdwell), because of an accident.

To report traffic and travel incidents dial 0330 123 0184 at any time

Listen: Fears for local economy over mine jobs threat

People living near a potash mine in North Yorkshire where 230 jobs are under threat say they're worried about the impact on the local area.

The owners of Boulby mine, Cleveland Potash Limited, say they're going to switch production at the site to polyhalite in about six months time.

Many of the mine's workers live half a mile away in the village of Staithes, near Whitby, and residents there say they fear the impact on the local economy will be severe:

Watch: South Yorkshire supercar factory gets into gear

Supercar firm McLaren is pushing ahead with plans which it says will put South Yorkshire at the heart of the automotive industry.

Its new composites technology centre in Sheffield is expected to be completed soon, with production set to begin later this year.

A total of 40 people have already started preparatory work and a further 160 jobs are expected to be created at the site in the next 12 months:

Severe disruption: M1 Derbyshire northbound

BBC News Travel

M1 Derbyshire northbound severe disruption, between J30 for A616 and J31 for A57 Sheffield.

M1 Derbyshire - One lane closed and slow traffic on M1 northbound between J30, A616 (Worksop) and J31, A57 (Sheffield), because of a broken down vehicle.

To report traffic and travel incidents dial 0330 123 0184 at any time

Twelve years for rapist who 'thought he got away with it'

A 73-year-old man from Leeds has been jailed for 12 years after being convicted of a rape he committed in the city more than 40 years ago.

Copyright: West Yorkshire Police

Kevin Hazelwood, of Sandywood Court, Horsforth, pleaded guilty to a charges of kidnap and historic rape against a then 14-year-old girl in 1976.

West Yorkshire Police say they used modern forensic techniques to examine files and exhibits from the time to identify Hazelwood.

He was arrested in August last year and was sentenced at Leeds Crown Court today.

Speaking following the sentencing, Det Supt Jim Dunkerley said: "These offences have had a profound effect on the victim's life and routines over the past 41 years."

Quote Message: Given the amount of time that has elapsed since he committed this heinous crime, he clearly thought that he had got away with it." from Det Supt Jim Dunkerley West Yorkshire Police

Private hire drivers hold meeting over go-slow plan

Private hire drivers in Leeds are due to hold an emergency meeting tonight over a planned go-slow on Monday after police ruled they could only hold a protest outside of the rush hour.

The drivers had wanted to stage their protest between 06:00 and 12:00, but now they will only be allowed to hold their go-slow between 10:00 and travel in single file. Previously, drivers had driven in both lanes.

The new conditions also limit the number of cars taking part to 100.

The drivers are due to meet later to talk about what they'll do next.

If the go-slow takes place, it'll be the third time they've protested on the city's roads over a number of issues including attacks on drivers and being unable to use bus lanes.

Quote Message: We have very real concerns about the impact on public safety, as well as the safety of the drivers themselves, that this further protest may bring as I'm sure members of the public are already finding the regular disruption very frustrating." from Cllr James Lewis Leeds City Council

£4,000 of cocaine found by side of Bradford road

A bag containing £4,000 of cocaine has been found by the side of a road in Bradford.

Copyright: Science Photo Library

It was found by a member of the public in Idle inside a small money bag which was "full of white powder".

West Yorkshire Police say they took it back to the station where it tested positive for the Class A drug.

An officer tweeted: "Interesting day today, small money bag full of white powder found by member of the public at the side of the road in Idle. Enquiries ongoing, if it's yours I'd like a chat please."

Man jailed for rape of 12-year-old girl in Rotherham

A 25-year-old man from Rotherham has been jailed for eight years for the rape of a 12-year-old girl.

Copyright: South Yorkshire Police

Brett McLaughlan, of Lister Avenue, Rawmarsh, was sentenced at Sheffield Crown Court after a trial in October last year.

McLaughlan was on trial alongside 20-year-old Benjamin Chivers, from the Gleadless area of Sheffield, who was jailed for 11 years in November.

The pair raped their victim in Rotherham in 2015 and used social media to target her.

Temporary Det Sgt Gareth Gent said: "This is an incredibly serious sexual offence that has a devastating impact on the victim's life.

"The fact that he committed this appalling crime against a girl of only 12-years-old is horrifying and, quite rightly, he is now behind bars for a lengthy period of time."

McLaughlan was also handed a Sexual Harm Prevention Order and placed on the Sex Offenders Register for life.

Quote Message: I hope this sentence offers his victim some small reassurance that her abusers are both now behind bars where they can cause no further harm." from Temporary Det Sgt Gareth Gent South Yorkshire Police

National Trust seeks volunteers at Beningbrough

Sick of your day job? Longing to get out of that stale office with all those annoying people you work with but can't because of the small fact you have to pay your mortgage?

Don't worry, this isn't the start of a resignation letter to my boss. It's about volunteer jobs at the National Trust in North Yorkshire.

Copyright: David Dixon/Geograph

Staff at Beningbrough Hall (above) are looking for people who would be willing to give up their spare time to help visitors at the attraction.

A number of roles are on offer - welcoming visitors, telling people about the hall's history, helping out in the shop and showing round school parties.

If you fancy having a pop at it, you can see the full details here.

Quote Message: I get a great deal of personal satisfaction from volunteering. The main reason is I get to meet and have conversations with a wide range of people of all ages." from Ken Thompson Volunteer, Beningbrough Hall

Couple held at knifepoint while raiders ransacked home

Police want to speak to these men after a couple were forced to sit on their bed at knifepoint while robbers searched their house.

Copyright: West Yorkshire Police

Officers have released CCTV pictures today of the attack which happened last month in Batley.

It was just after midnight when three men broke into their house on Howley Mill Lane and threatened the couple with knives.

The men told them to sit on their bed as they searched the house and took mobile phones, jewellery and car keys.

The couple were uninjured during the incident but were left distressed and shaken.

Now police are looking for their stolen car, a white Audi convertible with the registration RP04 DAN, and a white van also used by the suspects.

Fugitive drug dealer appears before York court

A fugitive drug dealer who evaded capture for 10 years has appeared in court in York following his extradition from Spain.

Michael Walsh, 75, fled the UK in 2007 when he was released part way through a sentence imposed in 2005 for drugs offences.

Walsh, formerly of Leeds, was arrested in Malaga last month and extradited to the UK.

He appeared at York Magistrates' Court earlier to be sentenced for an offence of remaining unlawfully at large after recall to prison.

However, the court deemed the offence to serious for it to deal with and referred the matter to the Crown Court where he is due to appear on 2 February.

Severe disruption: M1 South Yorkshire southbound

BBC News Travel

M1 South Yorkshire southbound severe disruption, between J37 for A628 Barnsley and J36 for A61 Birdwell.

M1 South Yorkshire - One lane closed on M1 southbound between J37, A628 (Barnsley) and J36, A61 (Birdwell), because of Vehicle having a tyre changed. Traffic is coping well.

To report traffic and travel incidents dial 0330 123 0184 at any time

Man jailed for filming women on hidden cameras

A man who set up hidden cameras to secretly film women at private addresses in Sheffield, Nottinghamshire, Bristol and Hampshire has been jailed for three years.

Edward Parker, 29, of Pitville Circus Road in Cheltenham, installed cameras to film women in bedrooms and bathrooms.

He admitted 16 charges, including 12 of observing a person doing a private act, three of making an indecent or pseudo photograph of a child and one of possessing a prohibited image of a child.

Parker was sentenced at Bristol Crown Court and was also made subject of an indefinite sexual harm prevention order and placed on the sex offenders' register indefinitely.

Breaking

Leeds private hire drivers to hold new go-slow

Private hire drivers in Leeds are to hold a third go-slow on Monday.

More details to follow...

Why not follow us on Instagram?

Julia Bryson

Journalist, BBC Local Live

Are you on Instagram? Why not follow our account @bbcyorkshire for some of the best views of the region?

If you have an image you would like to share, feel free to tag us #bbcyorkshire to be featured on our feed or on the BBC website.

Arrest over York sex assault

A man has been arrested in connection with a serious sexual assault on a woman in York earlier this week.

The attack happened on the evening of Tuesday 2 January near St Peter's school. The victim was also robbed during the attack.

A man in his 30s was arrested this morning and remains in custody, police have confirmed.

Bingley Grammar School's music GCSE charge criticised

A West Yorkshire school has been criticised for making pupils pay to study for a music GCSE.

Bingley Grammar School charges students £5 a week to take after-school music theory classes, a decision the Incorporated Society of Musicians (ISM), the professional body for musicians, calls "shocking and deeply troubling".

Head teacher Luke Weston said it was not a result of funding issues and that the number of students studying music at the school had increased since the classes began.

Year 7 and 8 pupils at the school are still taught music during school time and the extra classes are only for those wishing to take the subject as a GCSE.

Deborah Annetts, ISM chief executive, says: "Music is at risk of becoming the preserve of those who can afford it and the Government must act now to ensure it is available to all."