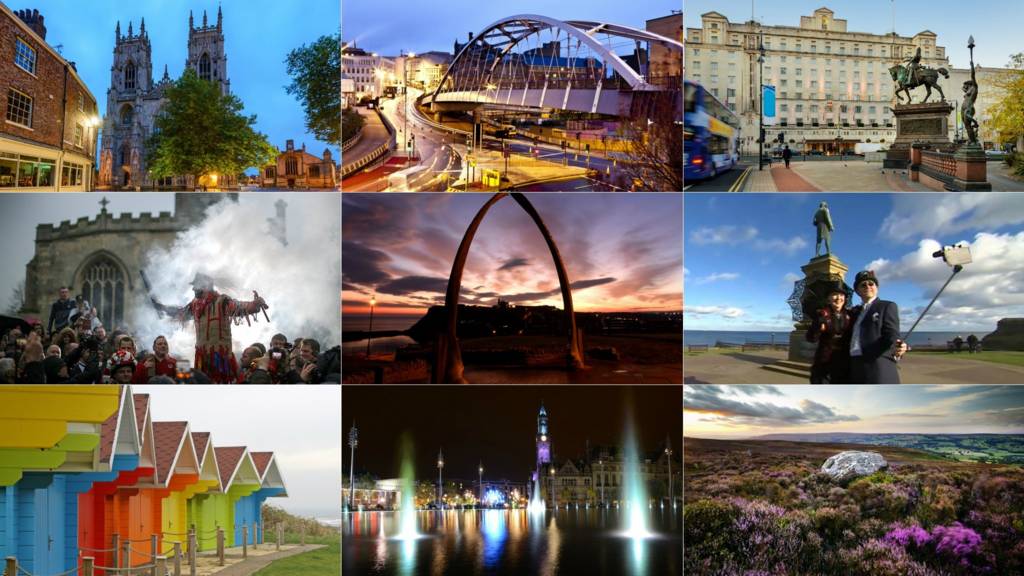 Yorkshire breaking news: Latest updates
Listen live to your BBC local radio station in West Yorkshire, South Yorkshire and North Yorkshire.
Summary
Murder arrest over teenager's death in Rotherham
Claudia Lawrence investigation to be scaled back
Gomersal death: Woman charged with murder
Woman left 'belittled' by 'fat shaming' pair at Harrogate gym
Large hole appears in Sheffield city centre car park
Elland Bridge re-opens to pedestrians and cyclists after 2015 flood
Sea defence repairs continue in Scarborough after storm surge
Updates on Tuesday 17 January 2017
Severe accident: A1(M) North Yorkshire southbound

BBC Travel

A1(M) North Yorkshire southbound severe accident, between J47 for A168 and J46 for B6164.

A1(M) North Yorkshire - Two lanes closed on A1(M) southbound between J47, A168 (Allerton Park) and J46, B6164 (Wetherby), because of an accident involving a lorry.

Check local traffic and travel reports for:

Blackpool forward Bright Osayi-Samuel scores a 120th-minute winner as the League Two side shock hosts Barnsley 2-1 in their FA Cup third-round replay.

Severe disruption: M62 West Yorkshire eastbound

BBC Travel

M62 West Yorkshire eastbound severe disruption, between J24 for A629 and J25 for A644.

M62 West Yorkshire - One lane closed on M62 eastbound between J24, A629 (Ainley Top) and J25, A644 (Brighouse), because of a broken down vehicle.

Check local traffic and travel reports for:

Severe accident: M621 West Yorkshire westbound

BBC Travel

M621 West Yorkshire westbound severe accident, at J3 for A653.

M621 West Yorkshire - Slow traffic and one lane closed on M621 westbound at J3, A653 (City Centre), because of a multi-vehicle accident.

Check local traffic and travel reports for:

Top stories across Yorkshire today

Nick Wilmshurst

BBC Local Live, Leeds

Well that's all from us for today, we'll be back live tomorrow from 06:30 but updates of our news, sport, weather and travel for Yorkshire continue this evening and overnight. 

Let's look back at some of our top stories from today: 

Weather: Forecast across Yorkshire

Keeley Donovan

Weather presenter, BBC Look North

Remaining overcast with hill fog and some occasional light rain or drizzle possible overnight. Staying frost free with lows of 4C (39F) 

Remaining mostly cloudy tomorrow, though later across North Yorkshire there could be a little sunshine. Highs of 9C (48F)  

York City need assistant groundsman

David Ward

MatchDay Live presenter

It's not everyday you get the chance to go and work for your favourite football club.

But if you like cutting grass and painting white lines, this could be the perfect job for you!

Dog shot by police in Barnsley

A dog that bit a man in Barnsley was shot by police, who are now appealing to find the animal's owners.

The incident happened on Sunday afternoon on New Street in Darfield. 

The brown and white Akita bit the 37-year-old man, seriously injuring his arm and hand.  

Dog handlers were bought in, but the dog became very aggressive and officers were then authorised to shoot the animal. 

South Yorkshire Police say the dog had no identification and no owner has come forward.

Police pursuit in Leeds after Morley car break-in

A man has been arrested after police pursued him following reports of a car being broken into at Morley near Leeds. 

The driver failed to stop and armed police were involved but only as they were in the area. 

One of West Yorkshire police's patrol cars was damaged in the incident. 

Andrew Chalmers and Graham Lowe named new Bradford club owners

Former New Zealand Rugby League chairman Andrew Chalmers and ex-Wigan coach Graham Lowe have been confirmed as the new owners of the Bradford club to replace the liquidated Bulls.  

The pair were selected by the Rugby Football League from a number of potential bidders.

The new club will retain the Bulls' place in the second-tier Championship division, with a 12-point deduction.

Their season begins at Hull KR on Sunday, 5 February.

Smelly washing is not a 999 call

West Yorkshire police have got very good at sending these tweets out, this is a corker:

Futurist theatre demolition plan latest

Mike Kemp

Reporter, BBC Radio York

Senior councillors have approved the next step on the way to demolishing the Futurist Theatre in Scarborough. 

They've appointed a company today to draw up more detailed plans.  

Last week councillors voted by a narrow majority to spend up to £4m on knocking down the Futurist on the South Bay seafront - despite a campaign to save it. 

Demolition is expected to take place towards the end of the year.

Some prescriptions in Huddersfield to stop

NHS managers in a part of West Yorkshire have banned patients getting access to branded medicines on prescription and drugs that can be bought in chemists or supermarkets. 

The NHS North Kirklees and NHS Greater Huddersfield Clinical Commissioning Groups (CCGs) say that they're looking at using their funding "in a different way".

The Health Service Journal (HSJ), which first reported the story, said the plans were intended to save £1m. 

Council leader looking ahead as Grosvenor House Hotel comes down

Sheffield Council's leader has urged residents to look to the future, as the hotel she chose for her wedding reception disappears from the city skyline.

Copyright: Sheffield Star

Children's heart surgeon guilty of misconduct

A surgeon who claims he was made "a scapegoat" for "shortcomings" at the child heart unit in Leeds has been found guilty of misconduct.  

Dr Nihal Weerasena committed various failures in his care of five children some of whom died while employed by Leeds Teaching Hospitals between 2008 and 2012. 

The tribunal will now decide whether his fitness to practise is impaired.