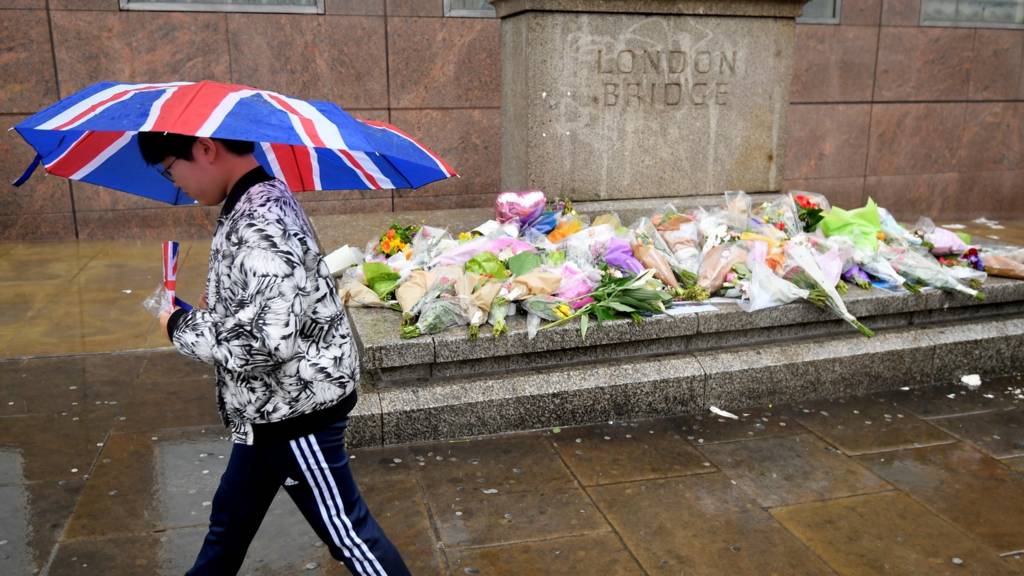 Live
Latest updates: London attack
Wednesday's papers: 'Wars provoke terror, say voters'

The digital version of tomorrow's Independent...

Stars give their support to London

Apple 'co-operating' with police after attacks

The boss of US tech giant Apple says the company is working with the government to help its investigations of terror attacks.

Tim Cook told Bloomberg that his firm had been providing information to UK authorities when requested.

"We have been co-operating with the UK government, not only in law enforcement kind of matters, but on some of the attacks," he said.

"I cannot speak on detail on that. But in cases when we have information, and they have gone through the lawful process, we don't just give it but we do it very promptly."

Parties respond to PM's promise to 'change the law'

The BBC's political editor tweets...

Theresa May: We will change the law to combat terror threat

Theresa May has promised to bring in longer sentences for terrorism offences and to deport foreign suspects as she seeks re-election as prime minister.

Mrs May, who was home secretary for six years, said she would ensure police and intelligence agencies have the power they need to face evolving terror threats, even if it meant "changing the law".

She told a Conservative rally that work would begin to enact these changes on Friday if she is elected on Thursday.

Speaking in Berkshire, she said:

Quote Message: I mean longer prison sentences, for those convicted of terrorist offences, I mean making it easier for the authorities to deport foreign terrorist suspects back to their own countries and I mean doing more to restrict the freedom and movements of terrorist suspects, when we have enough evidence to know they are a threat, but not enough evidence to prosecute them for in court. And if our human rights laws stop us from doing it, we will change the law so we can do it."

Manchester bomber 'may have stored bomb parts in his car'

Police have shared pictures of a car used by Manchester suicide bomber Salman Abedi for "repeated trips" in the days leading up to his deadly attack.

Greater Manchester Police tweeted pictures of the Nissan Micra, as well as a black and white holdall.

Detective Chief Superintendent Russ Jackson said forensic examination had revealed "significant evidence" inside the car.

However, in a tweeted statement, he said they were hoping people may be able to help the police to further their investigations.

Abedi killed 22 people when he detonated a bomb outside an Ariana Grande concert in Manchester last month.

Read more here.

Borough Market to remain closed on Wednesday

The market, home to more than 100 traders, tweeted on Tuesday afternoon:

Police appeal for missing Frenchman

Police are appealing for help finding a French man who eyewitnesses feared may have been knocked into the Thames during Saturday's attack.

Xavier Thomas, 45, was walking over London Bridge with his girlfriend when the white van driven by the three extremists began knocking into people.

Mr Thomas's girlfriend was seriously injured after being hit by the van, but he has not been seen since.

A search of the river has been ongoing since Saturday.

Anyone who was on the bridge at the time and has not yet spoken to police, or anyone who has seen Mr Thomas since, is being urged to contact officers on 0800 0961 233.

Dr Usama Hasan was accused by London Bridge killer Khuram Butt of being a non-believer who was spying on his fellow Muslims for the government at a family event to mark Eid last year.

Butt, 27, also attacked Dr Hasan, who works for the anti-extremist Quilliam Foundation, for "believing in gay marriage".

Dr Hasan told the BBC:

Quote Message: He ran at me with an expression of hatred in his face. A scuffle broke out, and at one point I helped wrestle him to the ground. He was full of hate."

He said he reported Butt to the police, telling them he believed he was part of a banned Islamist group and needed to be monitored.

The BBC has asked to police to respond.

Tributes and tea in London Bridge

Pictures from London Bridge show life returning to normal amid tears, tea and growing tributes to the seven killed and dozens injured by three extremists on Saturday night.

'Few cancellations' following attacks

London's leading visitor attractions have said "very few" people have pulled out of visits to the capital in the wake of Saturday's attack.

Bernard Donoghue, director of the Association of Leading Visitor Attractions, acknowledged that some school and family groups had changed their plans in favour of other UK cities, but added:

Quote Message: There's a recognition that London has a proud, safe history and people are not taking the sort of knee-jerk reactions they they would have done at the height of the IRA bombing campaign."

Paris saw a million fewer visitors in the first half of last year, following the December attack which left 130 people dead.

Listen: Police are 'spinning lots of plates'

A former head of the UK National Counter Terrorism Security Office has defended the police for dropping a 2015 investigation into one of the London attackers.

Chris Phillips told reporter Andrew Bomford the police were "spinning lots of plates" and "there's going to be one that falls or one that actually gets thrown in from the side that no one has foreseen".

He said "someone has to make a decision", adding that the attackers could have decided "two hours before the attack happened to do this, what chance would the police have had then of stopping it?".

A French victim killed in the attack is understood to be waiter Alexandre Pigeard.

Read more about the victims of Saturday night here.

London attacker's uncle: I feel ashamed

Khuram Butt's uncle, Nasir Dar, offered his sympathy to the victims of the London Bridge terror attack and said he didn't know what had driven his nephew to kill people.

London Bridge attacker 'a normal person'

Youssef Zaghba was a "normal person", according to his mother's neighbour.

Franco Bortolini, who lives in the same building has Zaghba's mother in Italy, told the BBC:

Quote Message: Yes, I met him. He was a normal person. The few days that he was here we would say 'hi', 'good morning', 'good evening' and that's it."

So how does a "normal person" become radicalised? Professor Peter Neumann and Dr Shiraz Maher, of King's College London, have looked at how can happen in the UK here.

Muslim women 'spat on' since London attack

Copyright: Press Association

Muslim women in east London have been subjected to physical and verbal abuse since Saturday's attack, a community leader has said.

Ash Siddique, the secretary of the Al-Madina Mosque, in Barking, said "a number" of women had gone to the mosque saying they had being grabbed around the neck, spat at or abused in the street.

Mr Siddique told the Press Association he "would not describe it as a backlash", but added:

Quote Message: Perhaps that's to be expected after a major event like this but it's still disconcerting for those individuals involved. To be honest with you, it's par for the course of being a Muslim in the UK today."

Killer 'left Italy to find work in London'

Youssef Zaghba told his mother he was moving to London to find work, a relative has said.

Franca Labertini revealed he originally moved to London for "two or three months" before returning to Bologna, in northern Italy.

But a month later, he told his mother he was "leaving because here there is nothing, and in London I can work", Ms Labertini told BBC News.

Listen: We shouldn't 'dump it all on Islam'

The World at One

BBC Radio 4

In the aftermath of the attacks in Manchester and London, there has been much debate about what role Islam has played in the radicalisation of the men who carried out the atrocities.

Karen Armstrong is considered to be one of the world's leading writers on religion and has won the Princess Asturias Award for Social Sciences. She told Martha Kearney: "We have to reassess things, not just jump for an easy scapegoat like Islam."

She added: "What we're seeing is a ghastly, perverted form of Islam. Just as you see a perverted form of Christianity in the Ku Klux Klan."

Does Facebook Safety Check really help in an emergency?

Facebook's Safety Check feature allows users to mark themselves as 'safe' during an emergency.

But is it a vital tool, or over-amplifying the danger?

The BBC takes a closer look at the arguments for and against here.

'Even when injured, he was trying to fight'

A British Transport Police officer who was stabbed in the eye during Saturday's attack told his colleagues to chase after the killers rather than help him.

The officer, who has not been named, was also slashed on his left thigh.

But when his colleagues arrived to help, he was more concerned with stopping the three men.

Fellow BTP officer Alfred Iswa told the Press Association:

Quote Message: I was trying to help him and he pointed to his baton towards the attacker and said 'get him'. Even when injured, he was trying to fight."