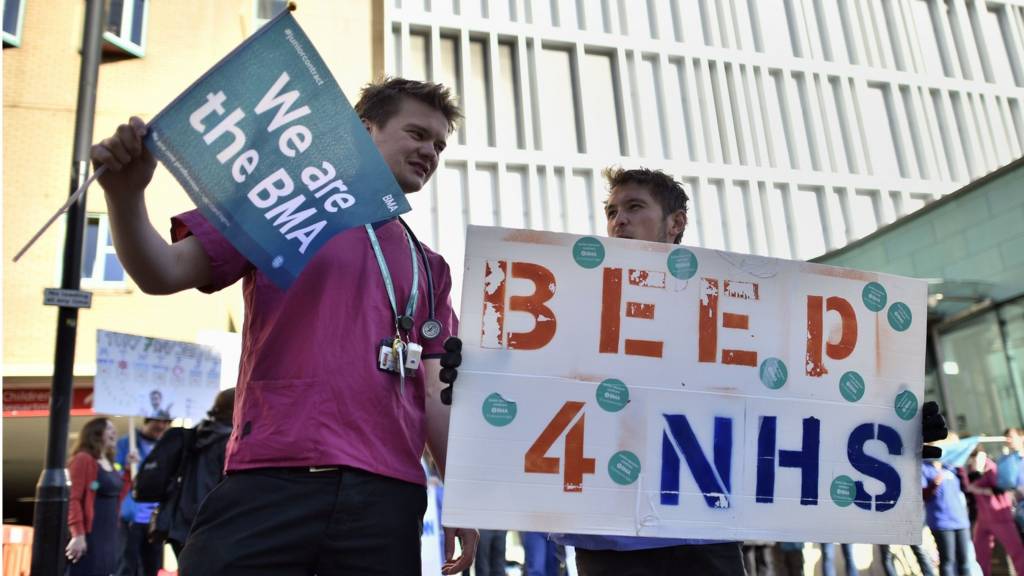 By Owain Clarke

BBC Wales health correspondent

That brings our live page coverage of the junior doctors strikes to an end. 

The two walk-outs on 26 and 27 April were the first time in the NHS's history that junior doctors have taken part in all-out strikes.

But as our health correspondent Nick Triggle says, with the government and BMA unwilling to give in, the dispute is certain to continue.  

What next in junior doctor contract dispute?

Nick Triggle

Health Correspondent

Now the second all-out strike has ended, attention turns to what happens next. 

Both sides remain adamant they will not give in. 

The government is maintaining nothing will stop it introducing the contract from this summer. 

But sources at the British Medical Association said while they will spend the coming days and weeks considering their options, they are determined not to give in. 

So what could happen? 

Within the BMA everything from a rolling series of strikes to refusing to do paper work is being talked about. 

Some doctors have even talked about encouraging mass resignations from the health service.

This dispute will certainly rumble on.

First all-out junior doctor strikes come to an end

The second day of the first all-out junior doctors strikes in NHS history has just come to an end.

The doctors were striking over the imposition of a new contract.

Here's a recap of what happened during the two strikes, which took place from 08:00 BST to 17:00 on 26 and 27 April. 

Junior doctors across England took part in two all-out strikes 
The health secretary and prime minister both criticised the walkout, with David Cameron calling the withdrawal of emergency care "quite wrong"
The British Medical Association described the strikes as "incredibly sad" and called for Mr Hunt to return to the negotiating table
Most hospitals reported a smooth service with consultants covering for the junior doctors

Listen: What it's like to be a junior doctor and patient during strike

Medical student: 'Complete solidarity' with junior doctors

A fourth-year medical student has told the BBC medical students still want to become junior doctors despite ongoing dispute with the government. 

He said students felt a "plethora of emotions", including "anger and frustration" at the government, but were in "complete solidarity" with junior doctors. 

NHS England: 78% of junior doctors absent on day two of strike

NHS England has released updated figures on today's junior doctor strike. 

It said 78% of junior doctors who were expected to be working have not reported for duty today, but it said this figure includes other forms of absence such as sickness. 

The figure is the same as yesterday. 

It added that NHS analysis of the last industrial action - covering the period 6 to 8 April (when emergency cover was provided) - showed that on each day of the last strike 14,600 junior doctors were not at work, with about 12,800 of those (88%) actually on strike and the remainder absent for other reasons.

Sue Perkins: 'Love and respect to those making a stand'

TV presenter tweets...

In pictures: Doctors on the picket line

Image caption: Junior doctors sit down in a silent protest outside Bristol Royal Infirmary

Image caption: Placards were held by junior doctors during their strike outside Chase Farm Hospital in London

Image caption: The picket line at King's College Hospital

'Astonished Corbyn didn't ask PM about junior doctors'

Liberal Democrat leader tweets...

Watch: Junior doctors 'really sad' at strike action

'Honks in support of junior doctors'

BMA tweets...

'The strain is starting to tell'

Kevin McGee, the chief executive of East Lancashire Hospitals Trust, told the BBC the effects of the strikes were starting to be felt. 

Quote Message: This is the fifth action that we've seen. Over this last couple of days, we've cancelled in excess of 100 planned, elective procedures. If you put that on the back of the activity that we've already cancelled, it's getting to the point where it's becoming quite difficult going forward. So absolutely the strain is starting to tell with the level of activity that we've had to cancel over the previous strikes and this one."

Louis Theroux and Sue Perkins pictured with junior doctors

Junior doctors tweet...

'Only brief passing reference to junior doctors at PMQs'

BBC health editor tweets...

Corbyn: 'When will government trust other people to run services?'

House of Commons

Parliament

Labour leader Jeremy Corbyn compares the government's plans to turn all schools into academies with Jeremy Hunt's imposition of a new contract on junior doctors during Prime Minister's Questions.

Mr Corbyn said: "He has a health secretary that's imposing a contract on junior doctors against the wishes of patients and the public and the rest of the medical profession, he has an education secretary imposing another Tory top-down reorganisation no one wants.

"When will his government show some respect and listen to the public, parents and patients and indeed professionals who have given their lives to public service in education and health and change his ways, listen to them and trust other people to run services rather than impose things from above?"

In response, Mr Cameron said 1.9m more people were now being treated by the NHS. 

He added a strong economy was leading to investment in public services. 

Junior doctors' dispute: Who will break first?

Both sides seem determined to fight to the bitter end. But the dispute can't go on forever. Do the government or doctors have the upper hand?

SNP MP 'supporting junior doctors in England'

SNP's parliamentary group leader tweets...

Tim Farron: PM should take charge of contract negotiations

'Consultants have got our back here'

Junior doctor Richard Lee, speaking outside St Thomas' Hospital in London, told the BBC he was "very reassured" that in his hospital consultants have covered for each of the junior doctors who are striking. 

He said the hand-over of work from junior doctors to consultants had been "very robust" and there had been "no issue" with patient safety.

He added: "It's very reassuring that the consultants have got our back here and they have said all along that they've been behind us. They were in early this morning and were very encouraging that we were out here on the picket to get our message across."