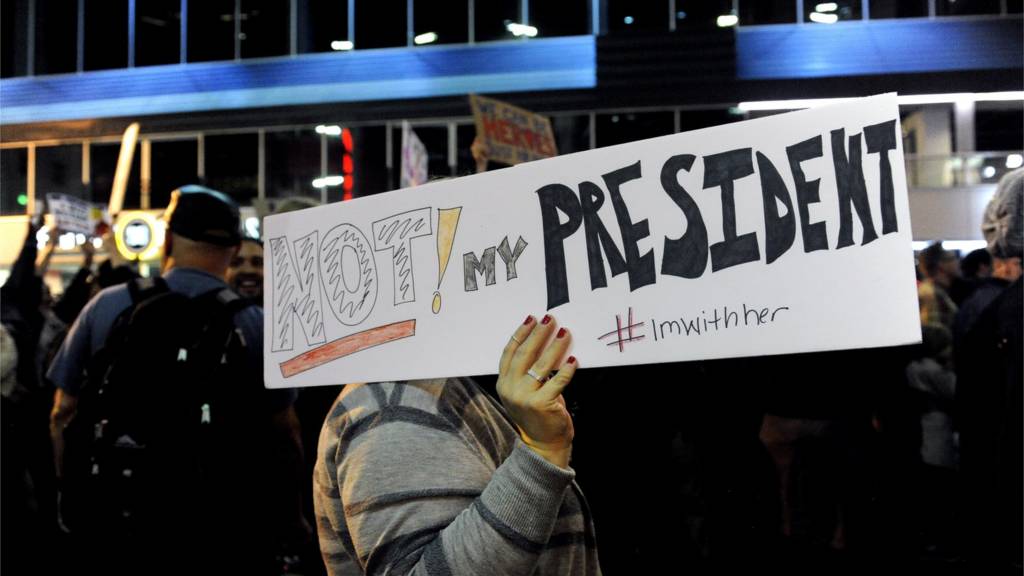 As it happened: Trump in Obamacare U-turn
Trump's transition team stats

We're bringing our live coverage to a close for now, but here's a recap of today's developments:

President-elect Donald Trump announces transition committee and staff appointments
Vice President-elect Mike Pence will replace New Jersey Governor Chris Christie in leading the handover team
Hundreds were arrested overnight in protests over Trump's election 
President Obama urges Americans to "forge unity from our great diversity" in Veterans' Day speech
President-elect Trump said in an interview with WSJ he will consider keeping two key parts of Obamacare after vowing to dismantle it during his campaign

GrubHub CEO: Resign if you support Trump's ideals

In an email to his employees, GrubHub chief executive Matt Maloney railed against President-Elect Trump, the Chicago Tribune reports.

"While demeaning, insulting, and ridiculing minorities, immigrants, and the physically/mentally disabled worked for Mr Trump, I want to be clear that his behavior - and these views, have no place at GrubHub," wrote the online food delivery boss. 

"Had he worked here, many of his comments would have resulted in his immediate termination."  

New Trump team a family affair

Trump has named three of his children and his son-in-law to the transition team's executive committee, raising questions about a potential conflict of interest with his business, the Trump Organization. 

Obama to speak to leaders of doomed trade pact countries

President Obama will travel to Greece, Germany, and Peru, the White House has announced. 

During the visit to Peru, Obama will meet China's Xi Jinping, as well as leaders of countries who are parties to the pending Trans-Pacific Partnership treaty (TPP).

The deal, which Trump has called a "disaster", is now highly unlikely to be approved despite the advocacy of the Asian countries which sought to counter China's growing economic clout.

Australia, Brunei, Canada, Chile, Malaysia, Mexico, New Zealand, Japan, Peru, Singapore and Vietnam are all parties to the treaty, which Japan has already approved. 

The TTP pact would have affected nearly 40% of all global trade.

Reaction to Trump's u-turn on Obamacare

Reporters react to Trump's startling announcement that he is considering keeping two key elements of President Obama's healthcare reform law. 

Was the Obama-Trump conflict the worst ever?

"He's a good man," said Mr Trump, the soon-to-be 45th president, during his meeting with Obama in the Oval Office on Thursday.

But that compliment belied years of clashes between the two men. Mr Trump has referred to Mr Obama as the "worst president" in the country's history and led a challenge to the legitimacy of his presidency by questioning where he was born - sparking the so-called birther movement.

Image caption: Ronald Reagan's election made Jimmy Carter a one-term president

Founding Father John Adams had a terrible relationship with his successor, and even fled the capitol before Thomas Jefferson's inauguration ceremony.

Herbert Hoover once described the man who beat him, Franklin Roosevelt, as a "chameleon in plaid", while FDR called his predecessor a "fat, timid capon".

Read more about the bumpiest White House transitions

Image caption: Hoover and Franklin insulted each other throughout the 1932 campaign.

USA vs Mexico football has extra edge

The BBC's Laura Bicker, Sally Heptonsall, and Olivia Lace-Evans are in Columbus, Ohio for a World Cup qualifier match between the USA and Mexico.

The match has taken on extra significance given the results of the presidential election, with USA captain Michael Bradley saying on Wednesday: "I certainly think given the way everything has gone the last few months there is an added layer to this game." 

Trump has made incendiary comments about America's southern neighbour since the start of his campaign. With many Latino-Americans due to attend tonight's match, they'll likely have some very interesting analysis to to give our team.

Follow Laura Bicker, Sally Heptonsall, and Olivia Lace-Evans for all the latest.

Breaking

Trump tells WSJ - I would keep parts of Obamacare

In his first interview since the election, Donald Trump tells the Wall Street Journal that he may be willing to leave in place two key elements of President Obama's healthcare reform law.

The provision allowing children to stay on their parents' healthcare plan until the age of 26, as well as the prohibition against insurers denying coverage because of pre-existing conditions may remain in place, he said.

"I like those very much," Mr. Trump said about those two elements of the law, which he had previously vowed to "repeal and replace".

Green Day 'fully support' protests

Image caption: Songs on Revolution Radio address drug abuse, civil rights protests and mass shootings

"I don't think any of us were prepared for Donald Trump to be president," Green Day singer Billie Joe Armstrong told the BBC.

"I think there's going to come a time when the protests get larger and larger - and that I fully support," he said about protests that have broken out across the US after the election of Trump.

The rock star, who has been an outspoken critic of Trump, said he felt like his "country is being set on fire".

Speaking to the BBC on Friday afternoon, 44-year-old Armstrong said the news was still sinking in - but refused to criticise Green Day fans who voted for Trump. 

"If there's anybody who, because of this election, feels like marginalised in any way, those are the people I feel the most sympathy for.

"So whether you're black, brown, white, gay, straight, trans, Muslim - those are the people I want to rally with."

Giuliani 'just giving advice'

Image caption: Giuliani made some extremely brief remarks to the press

Minutes after the campaign transition team was announced, the former New York City mayor spoke to reporters briefly.

Asked about what is taking place upstairs at Trump Tower, he twice said "just giving advice".

Asked about his personal role, he said: "I have no expectation. All I do is give my advice."

"Donald has been my friend for 28 years, all my work on behalf of him is done out of great loyalty and friendship to him.

"I can see already how he is going to be a great president and I'm glad I can play a small role in it," he said in his comments, which reporters said lasted about 35 seconds.

Will Trump appoint Ivanka?

As Trump begins considering his cabinet, some in the media are beginning to speculate that Ivanka Trump, the president-elect's eldest daughter, will transition from campaigning to governing.

Back in August, Donald Trump was asked by First Coast News which women he would put in his cabinet if he were to become president.

He replied: "We have so many different ones to choose from.

"Everybody would say, put Ivanka in, put Ivanka in."

She has no political experience, but neither has Mr Trump, so it's a possibility she could end up in his White House inner circle.

When asked by Cosmopolitan magazine if she'd ever run for president herself, she said she wouldn't rule it out.

"I do not think so, but I have learned in life to never say never. It is too limiting."

Another brick in 'the Wall'

The New Yorker magazine has just unveiled the cover of their next issue.

The simple design alludes to Trump's vow to build a wall on the US-Mexican border.

Trump tried to curry favour, says Megyn Kelly

Fox News anchor Megyn Kelly's new book, Settle for More, revealed that Trump allegedly tried to curry favour with her before announcing his presidential bid, according to the New York Times.

He sent her notes, including one with her picture in the New York Times Magazine emblazoned with the phrase: "attagirl". 

Kelly said she and her husband declined an invitation to his Mar-a-Lago estate in Palm Beach, Florida, as well as repeated attempts to pay her tab for a weekend she spent with two friends at the Trump SoHo Hotel in New York. 

"This is actually one of the untold stories of the 2016 campaign," Kelly wrote. 

"I was not the only journalist to whom Trump offered gifts clearly meant to shape coverage. Many reporters have told me that Trump worked hard to offer them something fabulous - from hotel rooms to rides on his 757."

Breaking

UN Secretary-General confident Trump won't pull climate deal

UN Secretary-General Ban Ki-moon said he does not think Trump will pull out of the landmark international agreement to combat climate change.

"He has made a lot of worrying statements, but I am sure that he will understand the whole importance and seriousness and urgency," he told AFP news agency. 

Trump has called climate change a "hoax" and threatened to remove the US from the Paris accord.

'Not a moment for calm' - Schama

Watch as historian Simon Schama and writer Melanie Phillips lock horns as they discuss the implications of Donald Trump's victory in the US presidential elections with BBC Newsnight's Evan Davis.  

Michelle Obama: 'You slowly start losing touch'

In the December issue of Vogue, First Lady Michelle Obama spoke about her time winding down in the White House. 

"You know, there are little... moments. Even today I was looking out at this view here." She gestures to the windows. 

"Looking out on the South Lawn and the Washington Monument and it had just rained and the grass was really green and everything popped a little bit more. It's soooo beautiful. And for that moment I thought, I'm going to miss waking up to this, having access to this anytime I want." 

"But on the flip side...  it's time. I think our democracy has it exactly right: two terms, eight years. It's enough. Because it's important to have one foot in reality when you have access to this kind of power. The nature of living in the White House is isolating. And I think Barack and I, because we're kind of stubborn, we've maintained some normalcy, mostly because of the age of our kids. I go out to dinner with my girlfriends; I go to Sasha's games; Barack has coached a little basketball with Sasha's team. But at the same time, when you can't walk into CVS?

"When you're not engaged in the day-to-day struggles that everybody feels, you slowly start losing touch. And I think it's important for the people in the White House to have a finger on the pulse."

Breaking

Pence takes over Trump transition team from Christie

Vice President-elect Mike Pence will take over the role of leading Trump's transition team from New Jersey Governor Chris Christie, the Trump team announced in a press release.

Trump reportedly wants to use Pence's extensive Washington experience for a swift transition. 

Christie, along with former New York Mayor Rudy Giuliani and retired Lieutenant General Michael Flynn, will serve as vice-chairmen of the transition, according to the sources. 

The New Jersey governor has been mired in controversy since two of his former aides were convicted in a political revenge plot involving the closure of parts of a key New York area bridge. 

Listen: Will May/Trump be anything like Thatcher/Reagan?