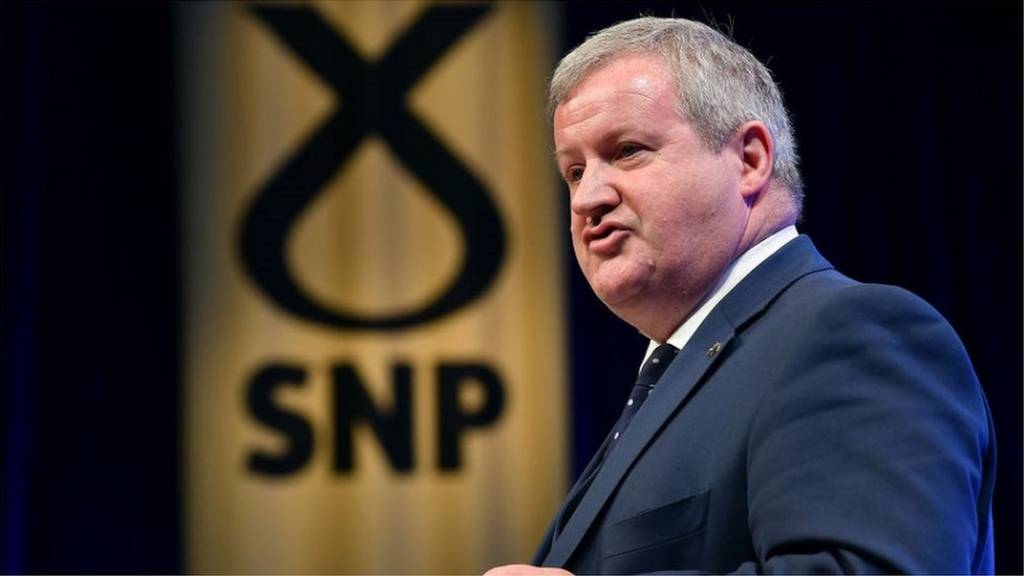 Ian Blackford answers your questions on the election
That concludes our coverage of the Call the Leader series.

Blackford calls for more resources for NHS

Andy from Glasgow says the NHS is under the full control of the Scottish Parliament, so why doesn't the SNP take responsibility for its performance.

Ian Blackford says we do take responsibility for it, going on to highlight health services around the world are facing enormous pressures.

We are improving performance in seven out of eight key areas, he adds.

He also says funding is an important issue and calls for spending on the NHS in England to be brought up to Scottish levels, which would lead to an additional £4bn coming to Scotland.

Andy explains he has just finished a night shift at hospital here the situation is "horrific" for some patients, and "getting worse".

He insists the SNP does not seem to be responding to pressures faced by the NHS any differently to the rest of the UK.

Mr Blackford briefly has time to praise NHS staff before the call-in comes to an end.

How will an independent Scotland pay for benefits system?

Gordon in Fife says the Scottish government are taking on eleven benefits and he asks where, if Scotland becomes independent, the rest of the money will come from for the rest of the benefits.

For example for disabled children and families that look after disabled children, asks Gordon, who explains both his children are disabled.

Mr Blackford replies his party should be judged by how it looks after its most vulnerable, pointing out the SNP talks about social security, rather than at Westminster where they call it welfare.

He says the right decisions must be taken to ensure there is a progressive tax system which will support those that need it.

There is a lack of compassion in the way Westminster looks at this and compassion will be at the centre of everything the SNP does, he argues, adding he is confident the money will be there in an independent Scotland.

Why is leaving one union a disaster but leaving another beneficial?

Sean texts in to ask why leaving one union is a disaster but leaving another is beneficial.

Mr Blackford says it is about the opportunities we would have as an independent country and trading with the rest of the UK will not change fundamentally, while it would protect us against Brexit.

Caller raises concern about higher LBTT

Sam calls to highlight he had to pay higher taxes when buying a larger house, which was needed due to his grandson's muscular dystrophy.

Mr Blackford insists Derek Mackay was right to bring in changes to Land and Buildings Transaction Tax (formally stamp duty).

He says the caller's grandson must get the right support through health and social care services, but LBTT is a separate matter.

Should cyclists have to display number plates?

Sheila in Glasgow asks what the SNP is going to do to make sure cyclists ride responsibly and obey the rules.

She explains last Tuesday she was hit by a cyclist and thrown into the path of oncoming traffic and calls for cyclists to have to display a clear number plate for identified purposes.

Mr Blackford says what Sheila has gone through is completely unacceptable, however cycling must be encouraged and there are laws that protect the public already.

The SNP Westminster leader pledges to talk to Scotland's transport secretary about this issue.

Would an independent Scotland face further austerity?

James in Lanarkshire asks what the SNP's response is to reports that austerity would be necessary in an independent Scotland.

The Institute for Fiscal Studies (IFS) said the SNP's manifesto set out plans to increase spending while also setting out a list of tax-cutting measures, which could lead to more austerity.

Mr Blackford says austerity is a political choice and insists it would not be the case if Scotland became independent.

We would take our responsibilities for fiscal management to make sure we have a sensible position in relation to debt, he adds.

He says Scotland would make efforts to increase the growth rate similar to that of other small European nations, which is about 22% ahead of where Scotland is now.

"I don't accept any of that," replies James, adding is it just "political speak".

Caller concerned SNP will misinterpret her vote

Shannon in Bridge of Allan says she is an undecided voter in a marginal constituency.

She asks for reassurance that if she votes for the SNP that it will not be misinterpreted as a vote for independence, as it would not be for her.

Mr Blackford says he absolutely understands that and again calls for everyone to lend the SNP their vote to lock Boris Johnson out of Number 10.

The SNP Westminster leader does say Scotland should have the right to decide their own future and in that debate people can speak against independence if they wish.

Shannon is still not reassured that the SNP use votes secured in the general election to call for another independence referendum.

Blackford expresses concern about end to freedom of movement

Martin texts in to ask why Nicola Sturgeon is not taking part in this morning's programme.

Kaye asks if the UK audience is more important to her than Scottish audiences.

"Good grief, no," replies Ian Blackford, pointing to Ms Sturgeon's duties as first minister plus that fact she has been on "countless" programmes in Scotland.

Ian from Bathgate calls in to ask why the SNP is using his vote to remain "against my will" to try to get independence.

Mr Blackford says he is trying to ensure we are not separated from the European Union.

I am very concerned about the impact of an end to freedom of movement and how that will effect the economy, he adds.

What can the SNP do if Boris Johnson blocks indyref2?

Image caption: Boris Johnson and Nicola Sturgeon don't see eye to eye over indyref2

Mr Blackford says it is right that the next prime minister recognises the power over indyref2 should be devolved to Holyrood.

Kaye Adams asks if there is anything the SNP Westminster leader can do if Boris Johnson blocks this.

The Conservative leader has "guaranteed" there will not be a Scottish independence referendum if the Conservatives win the forthcoming general election.

Ian Blackford replies that if the prime minister says no he will be saying to the people of Scotland that their votes don't count.

Caller says SNP have not respected EU or independence referendums results

With a chorus of dogs in the background whose location we are not sure of, Susan in Elgin says the SNP didn't respect the result of the 2014 referendum or the 2016 Brexit referendum.

"How can you go on about respecting democracy when you haven't respected either of those democratic results?"

The SNP Westminster leader insists he does respect the result of the 2014 independence referendum, but points out the fundamental point is Scotland was told it would be staying in the EU if it remained in the UK.

The circumstances have changed, he explains and he points out the people of Scotland voted overwhelmingly to remain in the EU, with 62% voting to stay.

Johnson and Corbyn must recognise mandate for indyref2 says Blackford

Derek in Ayrshire asks what can be done to fight the "bitterness" regarding a second independence referendum.

Our opponents have the right to oppose independence but they do not have a right to stand against democracy, replies Ian Blackford.

He insists that Boris Johnson and Jeremy Corbyn have to recognise there is a mandate for indyref2 from the outcome of the 2016 Scottish Parliament elections.

Winning this election would be winning a majority of Scottish seats which would reinforce this mandate, he says.

Kaye asks if Brexit does not happen, would the SNP go back to respecting the result of the 2014 referendum.

Mr Blackford says the last few years has shown how Scotland is disrespected.

Background: The fight against changes to women's state pension age

Millions of women have been caught up in government efforts to cut the costs of paying for the state pension and to equalise the age at which men and women receive the state pension.

That effort goes back decades.

Women Against State Pension Inequality (Waspi) emerged to campaign for those who felt they had not been given time to adjust to the new retirement age and also that the changes in 1995 and 2011 had not been clearly communicated.

Issues around second home tax payments and pensions raised

Mary in Beauly asks why in Scotland it takes 18 months to claim back the second home tax payment and she asks if there are any plans around the right to appeal.

Mr Blackford replies he is not personally aware of this and if it is taking longer for people to shift homes then that must be looked at.

Mary say nearly £10,000 is involved with her case which is a lot of money when you are retiring.

The SNP Westminster leader agrees people retiring must be treated with respect and he pledges to speak to Scotland's Finance Secretary Derek Mackay.

Ian in Ayrshire has texted in saying pensions in Scotland are much lower than the rest of Europe.

Mr Blackford accepts there is an issue that too many people are struggling in old age and he is confident that could be addressed in an independent Scotland.

He raises the issue of the Waspi women and argues the SNP have had fully costed proposals to compensate the women since 2015/16.

Background: MPs call for decriminalisation of personal use drug possession

Image caption: Proposals to introduce drug consumption rooms in Glasgow have been blocked

The possession of illicit drugs for personal use should be decriminalised, a report by MPs, published last month, has said.

The Scottish Affairs Committee also recommended the UK government should back safe consumption rooms in Scotland in a bid to tackle drug misuse.

Drug-related deaths in Scotland reached an all-time high of 1,187 last year.

The Home Office said it had no plans to decriminalise drug possession and that doing so would not eliminate crime associated with the illicit drug trade.

All UK drugs misuse legislation is currently reserved to Westminster.

Is the SNP too focused on Brexit and independence?

The first caller is Anne from Edinburgh, who reveals her son died last year from a drug overdose and she has not had the response she expected from that.

Do you feel you have concentrated too much on Brexit and independence instead of looking at everyday aspects of what is going on, she asks.

Mr Blackford says he is sorry for Anne's loss and drug deaths are an important issue.

We have to take an evidence based approach in tackling drugs, he says, adding it is a public health issue.

If you haven't had what you deserve to get, then I apologise he tells Anne.

Regarding the question of Brexit, Mr Blackford insists the Scottish government has got on with the day job, which he says contrasts with south of the border where the UK parliament has been consumed by Brexit.

How effective has the SNP campaign been so far?

Mr Blackford says this election is about making sure Scotland has the right to choose its own future.

Kaye Adams points out those who are against indyref2 will vote Tory to try and stop it.

The SNP Westminster leader argues there is a stark choice to stop the threat of Brexit, with independence the best way to do that.

How effective has the campaign been so far? Let's wait until we count the votes on Friday morning, replies Mr Blackford.

He calls for Labour and Lib Dem supporters to lend their vote to the SNP to help stop Brexit.

'For us it's about making sure we can escape Brexit'

Ian Blackford is in place of Nicola Sturgeon and joins Kaye from his home in Skye.

Kaye Adams asks what this election is all about for the SNP's Westminster leader.

"I guess really the big shadow over this election is Brexit."

He says there is the risk we will leave the EU by the end of January if Boris Johnson gets a majority, so "for us it's about making sure we can escape Brexit".

Kaye Adams welcomes Ian Blackford to the last Call the Leader

Kaye Adams welcomes SNP Westminster leader Ian Blackford to the last of the Call the Leader phone-ins.

Call the Leader is next: Your chance to quiz Ian Blackford

Image caption: SNP Westminster leader Ian Blackford

You can call in with your question for SNP Westminster leader Ian Blackford on 08085 92 95 00 or text on 80295.