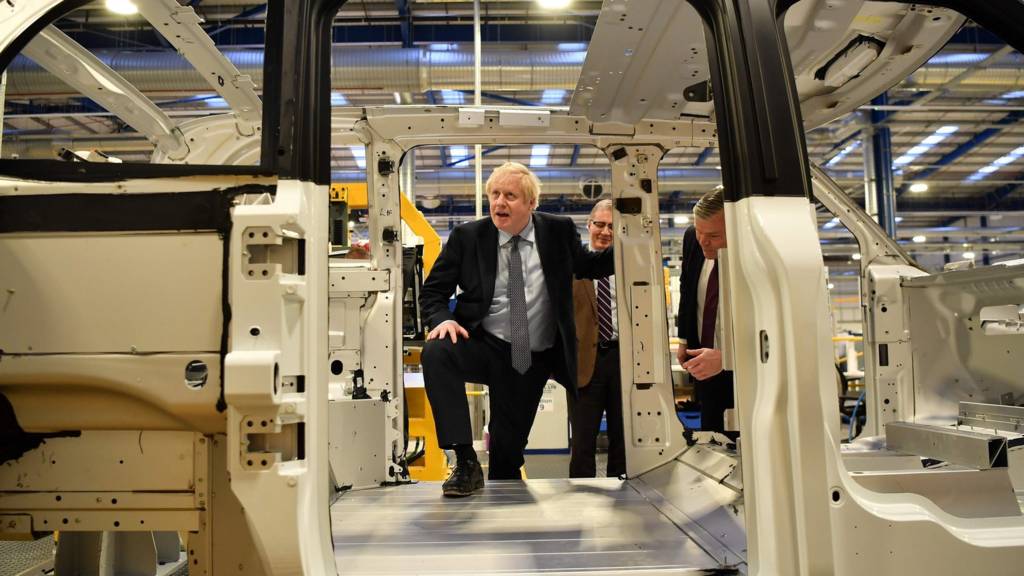 Latest headlines

So what's been happening today?

It's been another busy day on the campaign trail.

If you're trying to catch up tonight, here's a re-cap of what's been happening:

Thursday's i: Tory wife's revenge

Thursday's Express: PM - Brexit deal will unlease Britain's potential

UK 'won't nominate EU commissioner'

Britain's representative to the European Union, Sir Tim Barrow, is to write to the EU to say the UK will not nominate a person to attend the European Commission, despite repeated requests from Brussels to do so.

The BBC's Laura Kuenssberg says Sir Tim will write that the government cannot make a decision due to election guidelines.

Boris Johnson previously said he would not nominate someone to represent the UK at the commission.

Labour pledges to close gender pay gap by 2030

The Labour Party has vowed to close the gender pay gap by 2030.

The difference between men's and women's average pay would take another 60 years to close under a Conservative government, the party said.

But the Conservative Party said that Labour was "over-promising something it could not deliver".

The Tories said the pay gap was at a record low and that there had been "huge progress since 2010" in terms of the number of women in work.

The gender pay gap is the percentage difference between average hourly earnings for men and women.

Thursday's Times: Labour split over 4-day week for NHS staff

Thursday's Telegraph: Tories offer Farage eleventh-hour deal

Thursday's Guardian: Backlash as union chief calls for Labour to curb free movement

Thursday's Daily Mail: Fury over Corbyn Isis chief gaffe

Thursday's FT: Swinson rules out helping Corbyn into No 10

Watch: 'Oh my god, my eyelash'

Young voters watch paid-for political Facebook adverts...

Tusk: Don't give up on stopping Brexit

Outgoing European Council President Donald Tusk has urged British voters not to "give up" on stopping Brexit.

As campaigning ramps up ahead of next month's general election, he warned that leaving the EU would leave the UK a "second-rate player".

In a speech, he also said Brexit would likely mark the "real end of the British Empire".

He is due to step down from his role next month, having held the post for five years.

Corbyn: 'Would have been right' to arrest Baghdadi

Jeremy Corbyn has said it would have been the "right thing" to arrest the Islamic State leader Abu Bakr al-Baghdadi if it had been possible.

Baghdadi killed himself during a US military operation in Syria last month.

Speaking to LBC, the Labour leader said Baghdadi's removal was "a very good thing" but "if it's possible to arrest somebody and put them on trial then that is what should have been done".

Thursday's Metro: Heckle & hide

Leadsom: 'Confident' of EU trade deal

Business Secretary Andrea Leadsom said she is "absolutely confident" that the Conservatives will get a trade deal done with the EU by the end of next year.

But when pressed about it on ITV's Peston programme, Ms Leadsom said: "Until we reach the end of 2020, we won't know for sure.

"What I'm saying is we can count on the fact that the prime minister managed to change the deal when people said he wouldn't be able to."

Old loyalties fracturing in strange campaign

Laura Kuenssberg

BBC political editor

We knew this was going to be a strange election. It's been a strange few years.

But while the parties are eagerly trying to stick to their familiar scripts - the Tories on Brexit, the Labour Party on public services, something far less recognisable is going on too in this campaign.

It started with Ian Austin last week, the former Labour MP who urged voters to choose Boris Johnson instead.

And it's fully breaking out on the other side too.

David Gauke, who only resigned from the cabinet a few months ago, has publicly urged voters to take a good look at the Liberal Democrats, saying that a Boris Johnson majority would be bad for the country.

Former Labour MP Kate Hoey says she will be voting for the DUP in the general election.

The Brexit-backing ex-Vauxhall MP told LBC radio: "I'm actually going to be voting in Northern Ireland and unfortunately the Labour Party is so anti-democratic in Northern Ireland that they allow people to join but they don't put up candidates.

"So I'll be voting for a pro-Union candidate in Northern Ireland."

Ms Hoey confirmed it will be a DUP candidate.

Watch: Lucas wanted Labour to join Remain pact

Former Green Party leader Caroline Lucas says she wishes Labour had joined the so-called Remain alliance of parties.

It came after the Liberal Democrats, Plaid Cymru and the Green Party formed an electoral pact by agreeing not to stand against each other in dozens of seat across England and Wales.

The three parties all support another Brexit referendum and want the UK to remain in the EU.

Ms Lucas told ITV's Peston programme: "If Labour had been willing to enter into these negotiations then we could have certainly scaled-up the impact of what's going to happen".

Welsh Labour pulls broadcast over use of actress

Image caption: Welsh Labour deputy leader Carolyn Harris also appears in the withdrawn film

Welsh Labour has withdrawn a party political broadcast after it featured an actress playing a nurse.

In the film, which was broadcast on Tuesday, the nurse accuses the Conservatives of threatening the future of the NHS.

Broadcast guidelines say the "use of reconstructions or actors in a broadcast must be made clear to the audience".

Labour pulled the film as it was not clear an actress was playing the role.