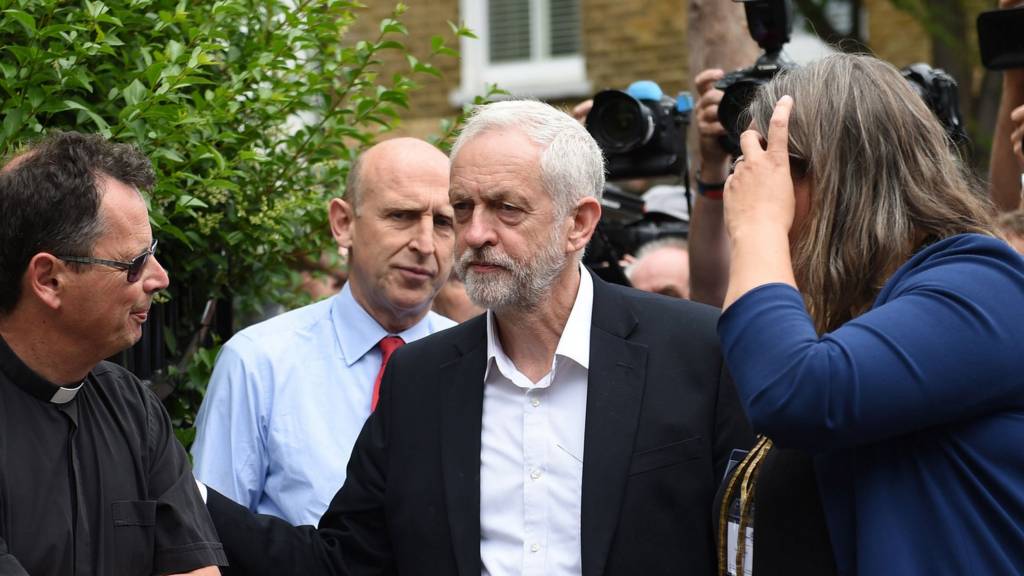 By Jonty Bloom

Business correspondent, BBC News

May: 'Time running short' for Northern Ireland agreement

The prime minister has released a statement after meeting Northern Ireland's main parties saying agreement can be reached to restore a power-sharing executive at Stormont "if there is good will on all sides".

"But time is running short and the parties must come together by the 29 June for the return of a strong voice at Stormont and for a brighter future for everyone in Northern Ireland."

She said Northern Ireland Secretary James Brokenshire would keep talking to the parties "and if no resolution is reached then we will need to consider what steps we need to take, to ensure Northern Ireland has the political stability it needs".

Devolved government in Northern Ireland broke down in January.

Harriet Harman: PM should have met Grenfell residents

Former Labour deputy leader tweets ...

Laura Kuenssberg: Political challenge of Grenfell tragedy

BBC political editor Laura Kuenssberg said the Grenfell Tower disaster was an emergency of such gravity that it had already become a significant issue for the government, at a very volatile time.

The priority was to focus on getting help to where it was needed - with the announcement that a scheme to provide extra cash for the council - before getting on with a full public inquiry, which would get going "pretty soon".

But the handling of such an awful situation was very risky for politicians and uncomfortable truths could emerge from the public inquiry.

"Potentially, some people expect, it may well show that not just this government but previous governments have simply not done enough to make sure this kind of housing is safe," she said.

The Grenfell Tower block disaster has again been dominating the news agenda. Here's a round-up of the latest developments on this and other political stories today:

Lib Dems express concern over Brexit negotiations

The Lib Dems have warned the Conservatives they "cannot go from weak and wobbly to business as usual" after the government announced formal Brexit negotiations will begin on Monday.

Lib Dem MP Alistair Carmichael said:

Quote Message: If the government cannot even secure a deal with the DUP, how on earth can they get a deal with the EU? Theresa May must immediately create a cross-party joint cabinet committee to negotiate Brexit. It is the only way to unite the country and strengthen our bargaining power with the EU."

London mayor is heckled during Grenfell Tower visit

BBC political editor tweets...

'Sinn Fein won't back Tory-DUP deal that undermines peace agreement'

Sinn Fein's Gerry Adams says his party will oppose any pact between the UK government and the DUP "that undermines the Good Friday Agreement".

He said all parties in Northern Ireland "need to be consulted on all of this".

"A little side bargain to keep Theresa May in power - a temporary little arrangement - won't have any integrity and certainly isn't as important as the needs of the people who live in Ireland and particularly in the north of Ireland," he said.

DUP: No deadline for Conservative deal discussions

Mark Devenport

BBC News NI Political Editor

The DUP Deputy Leader Nigel Dodds says the setting of a date for the Queen's Speech is separate and not relevant to his party's discussions over a deal with the Conservatives.

Questioned about whether a deal would be announced before the Queen's speech next Wednesday, Mr Dodds said there's no deadline for the discussions.

Mr Dodds reiterated that the DUP wants to strengthen the UK, deliver Brexit in a proper and sensible manner for Northern Ireland and spread prosperity around the UK.

Asked if the Treasury was "nitpicking" over the financial details, Mr Dodds said he'd seen the reports in the newspapers but wouldn't comment on speculation.

Brexit: Formal talks to start on Monday

More on the Brexit talks. Formal negotiations will begin on Monday, the UK and EU say.

The announcement by Brexit Secretary David Davis and EU negotiator Michel Barnier follows preliminary talks in Brussels between officials.

The formal negotiations were already due to start on Monday but doubt was cast by the general election result and ongoing talks between the Conservatives and the Democratic Unionists.

The UK is due to leave by the end of March 2019.

Harriet Harman: Public inquiry must not mean delay

Labour MP Harriet Harman has been speaking to the BBC after the Westminster Hall session earlier.

The former party deputy leader is an MP in the London borough of Southwark, where the 2009 Lakanal House fire killed six people.

She said tower blocks needed to be fitted with sprinklers and questions needed to be asked about whether refurbishing blocks could compromise fire safety - and whether the official "stay put" advice for people in burning buildings should be changed.

Of the public inquiry, she said:

Quote Message: There doesn't have to be a delay. It's wrong if there is a delay because people are living in thousands of tower blocks all around the country and they need to know the lessons are going to be learned quickly."

She also said it was up to opposition parties to make sure the government "doesn't slip off the hook" in terms of providing resources to make sure buildings are safe.

Government confirms Brexit negotiations start on Monday

BBC political editor tweets...

Health Secretary 'listening on nurses' pay'

BBC political editor tweets...

Rudd: We must ensure a tragedy like Grenfell never happens again

Home Secretary Amber Rudd has urged people "not to rush to judgement" over the Grenfell Tower disaster.

Hailing the UK for having "some of the most rigorous fire safety regulations in the world", she stressed: "We need to establish how such a tragedy could have occurred in a major capital in the early 21st century."

Writing in the Evening Standard, she said: "Of course we need to know more about how this tragedy could have happened and there will be a full investigation.

"But at this early stage, with firefighters still picking their way through the debris, I would urge everyone not to rush to judgement. If there are lessons to be learned we will learn them."

She praised the bravery of the emergency services and conceded "these are challenging times" for Londoners, with "heartbreaking images of suffering" filling TV screens.

"My heart goes out to every person affected by this tragedy..." she said.

"We have to dig deep inside ourselves in order to keep going. But even in its darkest days, the spirit of London prevails."

Expressing her "deepest condolences" to those suffering "unimaginable grief", she writes that "history has shown us how strong London is".

"The shadow of this tragedy will stay with us forever — we will stay strong for everyone affected and not be afraid to ask vital questions to ensure this can never happen again."

Commons officials publish high-rise safety guide

The House of Commons library has just published a briefing note on fire safety in high-rise acommodation.

It explains the role of building regulations and the government's response to calls for these to be reviewed after another fatal fire, in south-east London in 2009.

Lammy: Vacant homes should be used to rehouse Grenfell victims

Former Labour minister tweets...