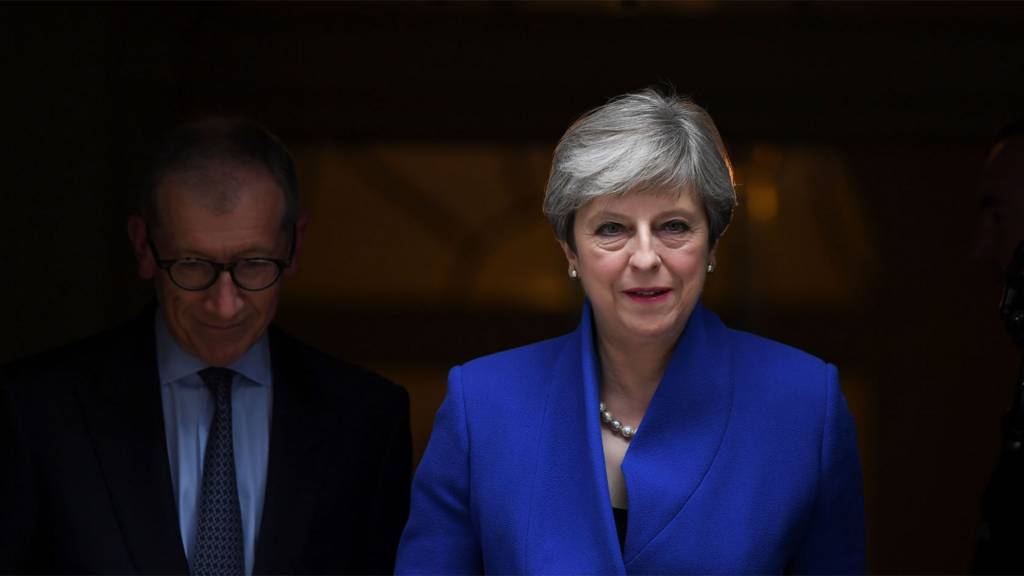 Summary
Election ends in hung Parliament: Conservatives win 318 seats, Labour 262
PM confirms five top cabinet posts, including chancellor and foreign secretary
Tories to form government with DUP to 'provide certainty' and keep country 'safe'
Theresa May's government 'will carry on Brexit negotiations to existing timetable'
Jeremy Corbyn hails Labour's 'incredible result' and calls for May to resign
The Lib Dems' Tim Farron also calls on May to quit
SNP will work with others to keep 'reckless' Tories out 'if at all possible'
Paul Nuttall resigns as UKIP leader after the party won no seats
Today's events: what's happened?

That's all from us for tonight - but before we go, here's a round-up of what's happened in an extraordinary day.

Election ends in hung Parliament: Conservatives win 318 seats, Labour 262

Speaking after visiting Buckingham Palace, Theresa May said only her party had the "legitimacy" to govern, despite falling eight seats short of a majority.

PM confirms five top cabinet posts, including chancellor and foreign secretary

Defence Secretary Sir Michael Fallon, Brexit Secretary David Davis, Home Secretary Amber Rudd, Chancellor Philip Hammond and Foreign Secretary Boris Johnson all keep their positions.

Tories to form government with DUP to 'provide certainty' and keep country 'safe'

It is thought Mrs May will seek some kind of informal arrangement that could see the DUP "lend" its support to the Tories on a vote-by-vote basis, known as "confidence and supply".

Theresa May's government 'will carry on Brexit negotiations to existing timetable'

European Council president Donald Tusk has warned the UK that time is running out and there was a risk of a "no deal" outcome as a result of no negotiations taking place.

Jeremy Corbyn hails Labour's 'incredible result' and calls for May to resign

He said the PM should "make way" for a government that would be "truly representative of the people of this country" and said Labour was ready to form a minority government of its own.

The Lib Dems' Tim Farron also calls on May to quit

The party said Mrs May should be "ashamed" of carrying on.

SNP will work with others to keep 'reckless' Tories out 'if at all possible'

The SNP remains the largest party in Scotland but lost 21 seats to the Tories, Labour and the Lib Dems.

Paul Nuttall resigns as UKIP leader after the party won no seats

He said it was clear "UKIP requires a new focus and new ideas" but was confident it had a "great future". He also deleted his Twitter and Facebook accounts.

May's time as leader 'over'

Tim Montgomerie says Theresa May's time as leader "is over".

He says it is just a matter of time before she is replaced.

He says Tory MPs fear there could be another election and "they can't go into another election with her", adding: "A change is coming. It is just a matter of when, not if."

'Tories did not respect electorate'

Journalist Tim Montgomerie says the Tory election campaign failed to recognise the intelligence of the electorate.

Appearing on the paper review for the BBC News channel, he says simply repeating Theresa May's "robotic" mantra of strong and stable did not work.

'May has no mandate in Northern Ireland'

BBC Newsnight tweets...

Main parties 'fooled' by polling

BBC Newsnight's policy editor Chris Cook says while most of the polls may have been wrong ahead of the election, the two major parties were also fooled by the end result.

He told the programme both parties had significantly miscalculated the mood of the public and that the Tories' calculations were "double digits wrong".

He also says that while the Conservatives picked up about half of the voters who left UKIP and Labour won about a quarter, Jeremy Corbyn's party picked up many more votes in seats where UKIP didn't stand candidates.

Times leader calls for May to go

The editor of the Times has tweeted the paper's editorial in tomorrow's paper. It says Theresa May is now "fatally wounded".

The prime minister's pledge to ensure a period of stability "must be her parting gift" it concludes.

New voters?

Newsnight presenter tweets...

May's former director of communications: 'I had to beg her to do media'

Katie Perrior was Theresa May's director of communications at 10 Downing Street until April this year.

She told Radio 5 live that she had to "beg" the prime minister to do media and says the Tory campaign has been "chaotic".

"Normally you'd be shouted at - why am I not on the sofa of Breakfast TV shows? I used to have the opposite, I used to have to beg her to do something because she just really didn't want to do it."

'It's not the number of MPs that counts - it's how you use them'

More schadenfreude, this time from Police Community, an online forum for officers.

During the campaign, Labour accused Mrs May of "letting austerity damage" security by allowing total police officer numbers to fall while she was home secretary.

She insisted she had protected counter-terror police budgets.

Newsnight opens with Johnny Cash

Newsnight began tonight's programme with a montage of Theresa May's general election story set to a Johnny Cash song - called Hurt.

Scotland's Tory leader responds to Telegraph story

Scottish Conservative leader tweets...

More warnings over DUP co-operation?

Conservative MP tweets

'Completely shell-shocked'

Newsnight tweets

Canterbury students: 'Corbyn actually wanted our opinion'

The town of Canterbury in Kent has become a Labour constituency for the first time in its history.

The BBC speaks to students at the University of Kent in the city about what motivated them to vote the way they did.

For all of those whose letterboxes have been stuffed with party political material over the past few weeks, one Labour MP tweets...

May 'will have to face realities'

Senior economic adviser to the German Chancellor Angela Merkel, Michael Fuchs, has told BBC Newshour that Theresa May may now have to soften her approach to Brexit talks with the EU.

Quote Message: Maybe this is a chance that we can come up to a more reasonable Brexit negotiations because in the last time I really had the feeling that everything was just being very tough and it doesn't make sense to be tough. We want to have a fair deal with Britain and we want to have a fair final Brexit negotiations. Hopefully, this could be a little bit better now."