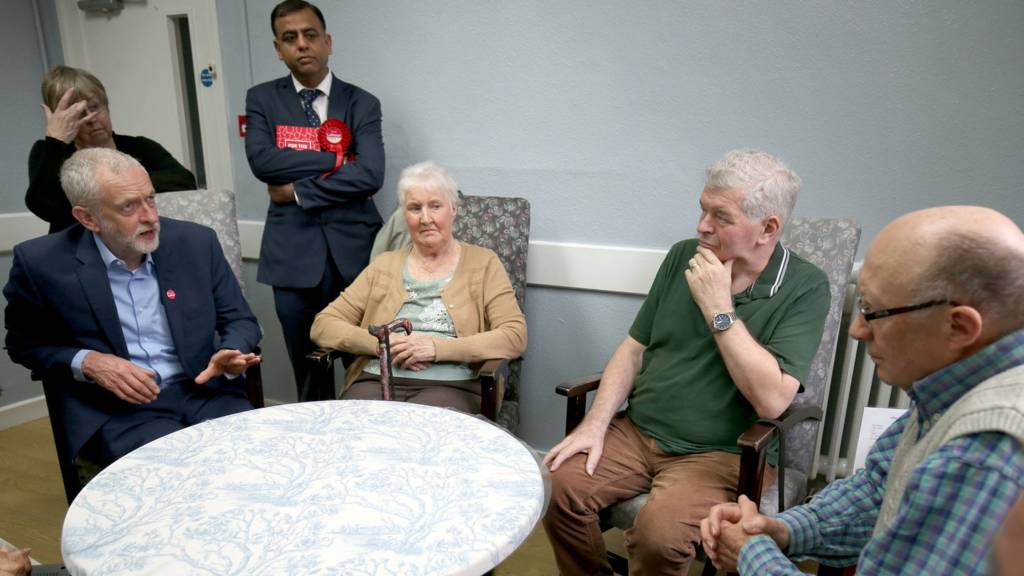 We're changing channel...

We're finishing this live blog here and switching to a new one.

For the latest updates click here.

Watch: Ed Balls dances for Michael Portillo

Some may have been surprised when Ed Balls danced his way on to the TV screens as a Strictly contestant.

But last night, he took on a bit of acting (and dancing) on This Week, paying homage to a Twin Peaks character from the cult TV programme which returns to TV screens this weekend after 25 years.

And the former shadow chancellor showed off another skill as he played bingo master, days after his former leader Ed Milband was snapped doing something similar out on the campaign trail.

Nine-year-old Hasnain Naswaz stole the show at the speech Jeremy Corbyn just gave in Peterborough.

The son of a Labour supporter asked the party's leader what strong and stable (the Tories' current favourite refrain) meant.

Read our earlier entry for the reply...

Watch: Legs, battle bus breakdown and some mooing

Emma Vardy

Daily and Sunday Politics reporter

Details of political fundraising, Nicola Sturgeon spoke about 'Lexit', a UKIP battle bus breakdown and some mooing from the foreign secretary all feature in my Friday campaign report.

Corbyn: 'There's a clear choice here'

Jeremy Corbyn brings his time at the lectern to an end with the following:

"This election is a choice - there's a very clear choice here.

"The Labour way of working for the good of the entire community, or the other side's way which is perpetuating the grotesque levels of inequality that already exists in our society.

"I know which one I've chosen," finishes Mr Corbyn to a standing ovation.

Watch: In the swing of election night results

Jenny Kumah

Daily and Sunday Politics reporter

The swingometer has been a regular feature of election night coverage for six decades, aiming to explain the unfolding results in visual terms.

Daily Politics reporter Jenny Kumah has been looking at the evolution of the simple hand-made prop, which has been updated by computer technology.

Watch: Is immigration control an ambition or target?

Immigration is a key topic for political parties, with voters scrutinising plans to control numbers after Brexit.

Daily Politics presenter Jo Coburn heard from Gurnek Bains, the chief executive of new think-tank Global Future, and from UKIP immigration spokesman John Bickley.

Watch: Libertarian Party plans to clear national debt

The Libertarian Party is suggesting a 10% corporation tax level as part of its plans "to reduce the level of taxation as much as humanly possible".

Deputy leader Will Taylor told Daily Politics presenter Jo Coburn about its policies to clear the national debt, before journalists Sam Coates and Hilary Wainwright joined in the debate.

Child asks Corbyn: What is strong and stable leadership?

Mr Corbyn is taking questions from the floor, including one from nine-year-old Hasnain Nawaz, from Peterborough, who asks: "What does strong and stable leadership mean?".

The crowd's delighted.

Mr Corbyn replies:

Quote Message: Strong and stable is an odd choice of words... what strength is about is about your sense of belief, about your sense of community, about your sense of responsibility when you have responsibilities to carry out.

Watch: What does Theresa May's vision look like?

Theresa May does not want to be another Iron Lady, but appears to be modelling herself on the "disastrous Nanny State meddler Ted Heath" says James Delingpole.

In a personal film for This Week, the executive editor of Breitbart in London looked at the 2017 general election and claimed that her politics "must make red Jeremy Corbyn wonder why he bothers".

After his film was aired, he debated with Andrew Neil, Michael Portillo and Ed Balls - watch the whole programme on iPlayer.

Corbyn: Free meals for primary school children

Here's another pledge: Every primary school child will get a free school meal every day.

Quote Message: And as they go through their education their schools will be properly funded."

Corbyn: 'We will fund social care'

Now it's social care.

More than a million people don't get the care they need, the Labour leader says.

"This Conservative government has made a huge cut in social care budget already," he tells the audience, saying the Conservatives are putting a £100,000 cap on social care "which goes nowhere to meeting needs".

It's completed unrealistic, he says, vowing Labour will make sure social care is "properly funded".

Quote Message: We believe very, very strongly in that.

Corbyn targets Tory winter fuel benefit plan

Jeremy Corbyn, all guns blazing, directs his fire at the Conservative plan to means-test the winter fuel allowance.

"Labour believes in the whole point of universal benefits", he says, saying the party would protect the benefit for pensioners.

And says they will maintain the triple lock on pensions: "We will not destroy, we will not undermine it.. that is the Labour commitment in this election."

Corbyn makes health pledges

Jeremy Corbyn takes to the stage in Peterborough to great applause.

He kicks off by promising to reverse the restructuring of the health service and pledges to "properly fund" mental health services.

A politician's best friend...

Image caption: Lib Dem leader Tim Farron strokes Arthur the dog as he meets Lib Dem supporters in Woodley, Greater Manchester

Corbyn quizzed on 'red Tory' May

Labour Leader Jeremy Corbyn is back on the campaign trail today and is expected to make a speech shortly.

He's been quizzed by the Press Association about whether he thinks Theresa May is a 'red Tory' - apparently he does not.

This is what he had to say:

Quote Message: It's a very strange description for a prime minister who leads a government where six million people earn less than the living wage, where thousands are sleeping on the streets every night, where social care is not available, where our hospitals are under threat. I think what this country needs is a government that cares for all the people."