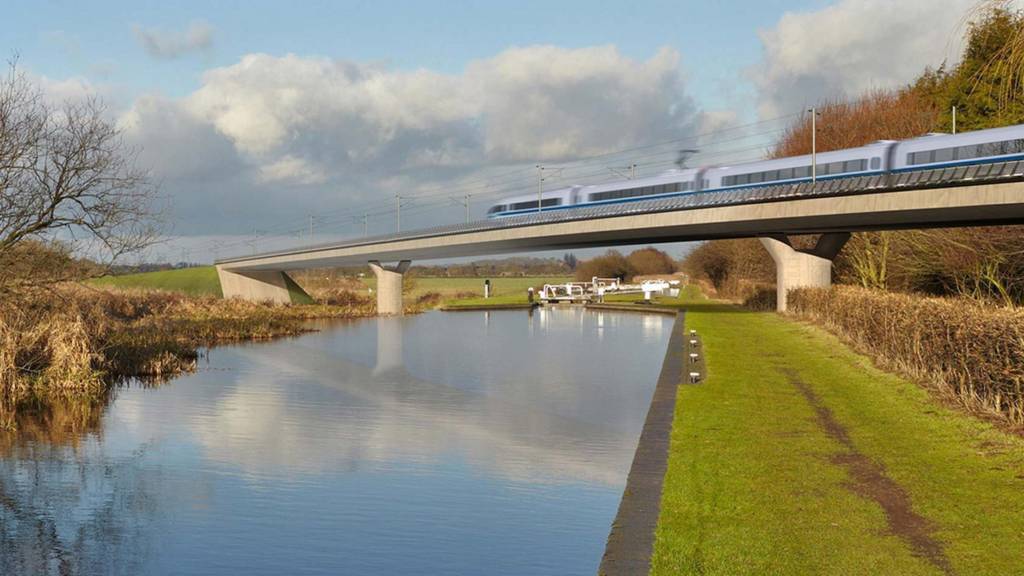 That's it from Business Live for today.

But we'll be back bright and early from 06:00 tomorrow morning with our usual mix of the latest breaking news and analysis from the business world.

Do join us then.

So what's happened today?

Image caption: A proposed design for an HS2 train

Here's a quick recap of today's developments.

Prime Minister Boris Johnson confirmed in the House of Commons that the HS2 high-speed rail link is to be built
He admitted it had been a "controversial and difficult decision"
If work starts immediately, trains could be running by the end of the decade, he added
A full-time minister will be appointed to oversee the project, amid criticism of the HS2 company's management of the project so far
Labour leader Jeremy Corbyn said the government did not deserve "a slap on the back" for giving the go-ahead
He added it was "only because of the abject failure of successive Conservative governments to keep on top of the costs, that the project's future was in any doubt"
It's been a controversial decision, with critics referring to the spiralling costs and the environmental impact
Supporters say it will improve transport times, increase capacity on the nation's railways, create jobs and rebalance the UK's economy

HS2 will be 'a great boon'

Conservative former Cabinet minister Lord Young of Cookham was transport secretary in 1996 when HS1 - the fast link between London and the Channel Tunnel - was given the go-ahead.

Speaking in the House of Lords today, he recalled: "That was opposed by local MPs, it was challenged through the courts, people said it was too expensive, it was challenged on environmental grounds, people said we should spend the money on local lines instead.

"Today, I don't think there's a single member of this House who would argue that HS1 was not the right decision to take.

"Will it not be the same in 25 years' time about HS2?"

Transport Minister Baroness Vere of Norbiton added: "HS1 was a great boon and I believe HS2 will be too."

Doncaster mayor's mixed feelings on announcement

Copyright: Doncaster Council

Ros Jones, Mayor of Doncaster, says she is "both pleased and concerned" by today's news.

The government has said there will be a review of cost-cutting measures relating to Phase 2B of the plan, which runs from Birmingham, through South Yorkshire and on to Leeds.

The mayor says she would like more clarity on this review for affected residents.

"We have always supported the principle of HS2 but it is clear the current Phase 2B route is the wrong solution for South Yorkshire," said the mayor. "It will have a devastating impact on our communities, tear up our landscape, limit our economic potential and cap the future growth of our rail services in our region."

She adds that having a further review into phase two means further uncertainty for affected residents, who do not know if and when their properties will be demolished.

While Doncaster Council supports HS2, it is against the current planned route and has called for a South Yorkshire station to be built at Meadowhall.

'A costly and damaging mistake'

Friends of the Earth tweets...

HS2 is 'a bold regeneration scheme'

Copyright: Balfour Beatty

Leo Quinn, Balfour Beatty Group boss, is excited about HS2.

"HS2 is a bold regeneration scheme that is ready for implementation and provides a true legacy for the generations to come," he said.

"We must invest in their future: drive new skills and capabilities, turbo charge small businesses across the country and show that the UK is determined to meet its carbon reduction targets."

Andy Burnham says announcement 'lacking detail'

Mayor of Greater Manchester Andy Burnham says while he "warmly" welcomes the announcement, "there was a lot of detail lacking".

He says he wanted more information on the timetable for work in the north, for example, and the line of the route.

Mr Burnham adds:

Quote Message: We still hear the government prefers an upgrade for Northern Powerhouse rail rather than a new line. We believe this line has got to go from Liverpool through Manchester to Bradford, which would be the new line we need. So he was, I'm afraid, unspecific on all of those things. But as an overall headline, we welcome what he said.

Yorkshire political bosses welcome HS2 go-ahead

Copyright: Christopher Furlong/Getty Images

Political leaders in West and South Yorkshire have welcomed the prime minister's announcement that the HS2 high-speed rail link will go ahead.

Dan Jarvis, Mayor of Sheffield City Region, said HS2 was "crucial to level up the economy and provide vital upgrades to our creaking Victorian infrastructure".

However, he added: "We need urgent investment in South Yorkshire's wider transport infrastructure so we see improvements in the short term."

Meanwhile, Bradford Council leader Susan Hinchcliffe said while she welcomed today's announcement, the "really key decision" for the district's future was the government's stance on Northern Powerhouse Rail - the proposed east-west rail connection.

"We have made a strong economic case for Bradford to be a stop on a new line between Manchester and Leeds. Stopping at Bradford would add £15bn to the economy of the North," she said.

Plans to incorporate historic Birmingham station into HS2

Birmingham's Grade I-listed Curzon Street Station will be incorporated into plans there for a new HS2 stop.

The regenerated facility, planned for a swathe of land in central Birmingham, will be the first brand new intercity terminus station built in Britain since the 19th Century, says the company behind the HS2 project.

The existing historic building will be linked to the new station's eastern concourse at New Canal Street.

Copyright: Library of Birmingham

Here's a bit of history:

Curzon Street opened in 1838, with links to London
Its architecture was designed to echo that of Euston Arch, where the trains terminated
Birmingham City Council describes Curzon Street as the world's oldest railway terminus
Despite its design, it was soon overshadowed by Birmingham New Street in the heart of the city, and closed as a station in 1966

HS2 will see Leeds city centre 'double in size'

Copyright: WEST YORKSHIRE COMBINED AUTHORITY

Image caption: Leeds City Centre (artist's impression)

"HS2 is more than a railway, it has already unlocked training and job opportunities for thousands of our citizens and is a catalyst for millions of pounds of investment into our cities," says Judith Blake, chair of Core Cities UK and leader of Leeds City Council.

"It is already attracting blue chip companies into Birmingham and will make a major contribution to the largest regeneration project in Europe which will see the doubling in size of Leeds City Centre," she points out.

"HS2 is itself the largest engineering project in Western Europe and should be seen as a statement of this country's bold post-Brexit ambition.

"Future delay and uncertainty is not an option."

Leeds commuters react to HS2 go-ahead

The BBC has been out and about at Leeds Railway Station talking to commuters there about HS2.

There was a general air of indifference to the project - but a desire to see local rail services improved.

Keith Smith, 81, said: "It's costing an awful lot of money. Obviously improving journey times is a good thing but I'm not sure the benefits are worth the amount that is being spent.

"I would have thought they'd be better investing in the local infrastructure."

Meanwhile, Darren Wilson 49, from Hull, said: "By the time it's built here I probably won't be alive."

He added: "They need to make improvements to trains locally, rather than the ones going to London."

The decisions 'must be led by the north'

BBC Yorkshire's political editor tweets...

'Over 100 ancient woodlands' will be affected

Greenpeace UK executive director John Sauven says introducing HS2 would mean the PM had "the dubious honour of being this century's largest destroyer of ancient woodlands in the UK".

He adds:

Quote Message: We're totally in favour of a transport revolution that cuts pollution and carbon emissions, but bulldozing through irreplaceable wildlife and nature sites is not the way to go about it.

Quote Message: Over 100 ancient woodlands will be damaged or destroyed along with 33 sites of special scientific interests and hundreds of local wildlife sites. Giving the go-ahead to such a costly and damaging project is a missed opportunity. The prime minister should have created a first-class regional rail and bus service, up and running across the north in years rather than decades and without adding to the climate and nature emergency.

People want 'local transport they can rely on'

Steve Rotheram, Metro Mayor for the Liverpool City Region, says the decision announced today is welcome "but falls short of the full and unequivocal commitment to both HS2 and Northern Powerhouse Rail that the north needs".

He adds:

Quote Message: I will continue to push – alongside my fellow Northern leaders – for delivery of the new west-east rail line, fully integrated with HS2, that our city region needs.

Quote Message: Improving rail connectivity is vitally important but, for the vast majority of people, transport is not about big national schemes, they want a local transport system they can rely on every day. That's why later this month I will be announcing my plans to improve our local bus services, as part of my wider ambition to build a London-style transport system for our area.

HS2 could unlock a 'golden age of rail'

Rail Industry Association tweets...

Construction sector will cheer HS2 news

"This HS2 announcement finally lifts a cloud that has been hanging over the UK construction sector," reckons Hervé de Trogoff, head of project advisory and disputes at infrastructure advisory firm Accuracy.

"The certainty provided by government will give the sector confidence to invest in much-needed innovation, put in place longer-term financing and take a strategic view of the future."

Richard Scott, partner at Accuracy, added: "HS2 is enormously important to UK contractors and subcontractors, as it is one of just a few major infrastructure projects that the sector is relying on, along with Heathrow expansion and new nuclear.

"Giving the line the green light also signals the end to the likelihood of government being caught in years of wrangling over early termination of contracts, and reinstating land on which work has already begun."

While lots of Business Live readers seem unhappy with today's HS2 news, here are some positive views.

Alan Lewis says: "This is a great - and much needed - development for public transport in our country. It will add considerably capacity to the completely full rail lines between Birmingham and London. It will take fast inter-city trains off our old Victorian rail lines and allow room for extra commuter, regional and freight trains. This should be welcomed by all travellers, businesses and environmentalists as it will provide additional low carbon transport, which is much better than building more roads."

Meanwhile John Griffiths says: "I live in rural Buckinghamshire, about four miles from the proposed route. It won't benefit me directly at all but to oppose it is short-sighted."

Why? "We will all benefit from the building of this railway, which will bring much-needed investment and jobs to the economy at a time when Brexit risks taking it all out," he says.

"To delay or cancel is only to put off a bigger cost in the future. It was always going to have to be built one day, but to do it now is the right thing to do."

Government accused of having 'contempt' for Wales over HS2

Labour MP Stephen Kinnock has accused the government of showing "contempt" to the people of Wales.

He says the entire budget for electrifying the railway line to Swansea would be 1% of the HS2 budget.

"Will he commit to electrification or will he continue to hold the people of Wales in contempt?" he asks.

"North Wales will benefit from the line to Crewe," Boris Johnson told him in response.

He added that the government has "already electrified the line to Cardiff".

HS2 'a net loss for nature'

The RSPB tweets...