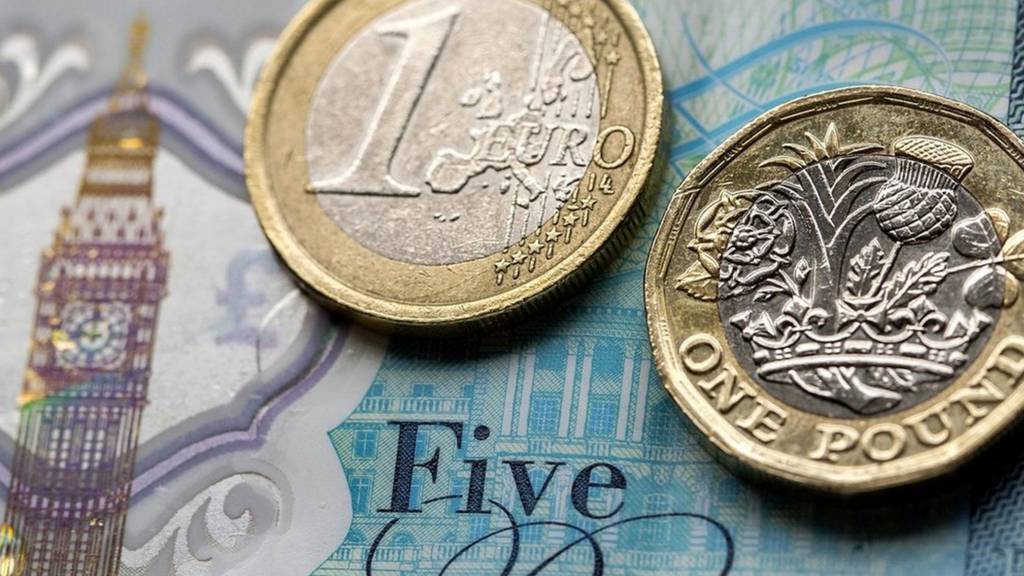 That's it from Business Live for today.

But we'll be back bright and early from 06:00 tomorrow.

Do join us then for all the latest breaking news and analysis.

The FTSE 100 has slumped 127.18 points, or 1.75%, to 7,158.76.

The wider FTSE 250 has closed at 20,500.93, down 199.28 or 0.96%.

Oil steadies after Trump slip

Oil steadied today as expectations of output cuts from OPEC and allied producers brought prices back up.

They had slipped earlier after Trump's comments that a trade deal with China may be delayed.

Brent crude futures rose 5 cents to $60.97 a barrel.

OPEC and its allies are discussing a plan to increase an existing supply cut of 1.2 million barrels per day by a further 400,000 and extend the pact until June, according to reports.

Sterling climbs above $1.30 as markets fall

The pounds having a decent day.

It's up 0.46% against the dollar at $1.3002 and has risen 0.39% against the euro to €1.1727.

Law needed to protect NHS 'from Johnson and Trump'

SNP leader Nicola Sturgeon says the future of the NHS should not be dependent on trusting Prime Minister Boris Johnson or US President Donald Trump.

Speaking on a campaign visit to Perth, Scotland's first minister highlighted her party's plans to introduce legislation at Westminster to protect the NHS from trade deals.

"There is a significant concern that in a post-Brexit environment, the NHS is at risk from trade negotiations with the United States of America and Donald Trump's administration in particular," she said.

"I don't want the future of our NHS to be dependent on trusting the word of Boris Johnson or Donald Trump."

With 20 minutes left before UK stock markets close, the number of FTSE 100 risers has climbed to eight.

Mexican miner Fresnillo is up 3.71% while Polymetal International is up 1.75%.

British Land, Severn Trent and United Utilities are among the others that have inched into positive territory this afternoon.

Gas company faces six-figure compensation bill over network failure

Gas distribution company SGN faces a six-figure compensation bill after 8,000 homes in the Falkirk area were left without gas following an outage.

SGN is reconnecting the final affected properties as part of a major operation involving hundreds of engineers.

Affected households will receive £30 compensation for each 24-hour period without gas, as agreed with energy regulator Ofgem.

SGN said it would also offer a £30 goodwill gesture to the households.

Warning over rip-off 'pay in pounds' exchange rates

Meanwhile if you're planning a trip abroad over the holiday period, watch out for card terminals offering 'pay in pounds' rip-off exchange rates.

The warning comes from foreign exchange firm Caxton which said that a family spending £2,000 while on a Christmas or New Year holiday could be stung by card charges of up to £140.

"Never pay in Sterling when using your plastic overseas – if you say yes it's the equivalent of agreeing to an extra 5-10% tax on your shopping, restaurant bill or cash withdrawal," warned Alana Parsons of Caxton.

Pre-paid currency cards are protected against the charges but most people paying by credit or debt card could fall prey to the rip-off rates, Caxton warned.

Trump continues 'to play havoc with the markets'

"Donald Trump continued to play havoc with the markets on Tuesday, following Monday's trade scramble with some more disheartening comments regarding any 'phase one' agreement between the US and China," pointed out Connor Campbell of Spreadex.

"The biggest takeaway from a series of Trump headlines was that he thinks 'it's better to wait until after the election for the China deal'.

"Though he did go onto state that Beijing wants to 'make a deal now', investors immediately started to fret that this could mean any agreement is delayed for another 12 months – a massive can-kick given the two superpowers were meant to sign a deal at the cancelled APEC summit in mid-November."

The FTSE 100 is down 1.74% so far today while the Dow Jones has fallen 1.43%,

Lender Zopa raises £140m to fuel banking ambitions

Peer-to-peer lender Zopa has raised a £140m capital lifeline to allow it to become a challenger bank just hours before its capital licence was due to expire today.

Boss Jaidev Janardana, said: "This new funding means we have concluded the fundraising phase of our bank mobilisation.

"We continue to hold our bank licence with restrictions and are working closely with the regulators to gain our full licence.

"Once approved, Zopa will be able to launch its bank alongside its peer-to-peer business and offer a broader set of products to our customers."

Did Donald Trump predict Brexit?

Image caption: Donald Trump speaking at his golf course in Scotland the day after the EU referendum was held

Speaking to reporters in London today, Donald Trump repeated a claim he has made before about Brexit:

"You know that I was a fan of Brexit, I called it the day before. I was opening up Turnberry, the day before Brexit… and they asked me whether or not Brexit would happen and I said yes and everybody smiled and they laughed and I said yes it's going to happen in my opinion, it was just my opinion.

"And the next day they had the election [sic] and I was right."

This claim is wrong.

Donald Trump's visit to cut the ribbon at his golf course in Turnberry in Ayrshire, Scotland was on Friday 24 June 2016, the day after the EU membership referendum was held. The result was announced in the small hours of Friday morning.

He said Brexit was a "fantastic thing" but did not claim to have predicted it on that day.

He did give an interview to Fox News in the US on 22 June, the day before the referendum, giving a mild endorsement to Brexit. "When you look at the things that are going on over there my inclination would be to go it alone."

He admitted however that he knew little about it: "I don't think anybody should listen to me because I haven't really focused on it very much."

And in an interview on 1 June, while the referendum campaign was in full swing, the interviewer had to remind him what Brexit actually was.

However, he has claimed to have predicted Brexit before, in June 2018.

Only four shares in the blue chip index have risen so far today.

The fallers are led by steel multinational Evraz, which has slumped more than 7%.

ITV has fallen more than 4% while a further 14 firms have lost 3% or more of their value today.

Prudential and Whitbread are both down 3.85% while Glencore is down 3.82%.

Tui, Ocado and Intercontinental Hotels are all down more than 3.5%.

As predicted, US stocks have fallen sharply after Trump's comments about a delay in resolving the tariff dispute with China until after the presidential election in November 2020.

The Dow Jones Industrial Average fell 281.06 points, or 1.01%, at the open to 27,501.98.

The S&P 500 opened lower by 26.46 points, or 0.85%, at 3,087.41.

The Nasdaq Composite dropped 107.27 points, or 1.25%, to 8,460.72 at the opening bell.

Wizz Air's new routes help add 24% more passengers

Budget airline Wizz Air said it has seen a 24% surge in the numbers of passengers carried year-on-year after it added 11 new routes.

Passenger numbers climbed to to 2.97 million in November.

The group said its load factor - a measure of how well carriers fill their planes - rose to 92.8% from 91.2% a year ago.

The group recently added routes to Georgia, Hungary, Lithuania, Poland, Romania, the UK and Ukraine.

FTSE slumps well below 7,200

The FTSE 100 has continued its downward plunge , as our graph shows.

It's now slumped 124.78 points, or 1.71%, to 7,161.16 as markets take on board Trump's comments about delaying the US-China trade deal until 2020.

The mid-cap FTSE 250 has lost 227.09 points, or 1.10%, after falling to 20,474.26.

Wall Street is expected to fall by similar levels when it opens in around 20 minutes.

Black Friday sales volumes up 7%

Black Friday sales climbed more than 7%, according to Barclaycard.

The plastic card company said sales volumes for the full week of Black Friday - Monday 25 November to Monday 2 December - were up 7.14 per cent compared to last year.

on Black Friday itself sales volumes were up 7.2%, while sales value climbed 16.5%.

The shopping spree continued though to the so-called Cyber Monday yesterday where sales increased 6.9% compared to 2018 data.

These figures show that consumers have not only been buying more, but also spending more which will come as welcome news to the retail sector," said Rob Cameron of Barclaycard.

Pakistani tycoon hands £190m to UK investigations

Image caption: Picture posed by models

A Pakistani business tycoon has agreed to hand over cash and assets worth £190m to UK investigators, after accusations that the cash may be the proceeds of crime.

Investigators from the National Crime Agency (NCA) secured nine freezing orders covering £140 million in funds in UK bank accounts.

The haul, previously controlled by property developer Malik Riaz Hussain, includes the Grade II listed building 1 Hyde Park Place, valued at £50m.

It announced earlier today that an agreement had been reached with Hussain to hand over the cash and ownership of the exclusive address, which overlooks Hyde Park.

The assets will be given to the government of Pakistan.

Plumbing business Ferguson has posted a 9% profits jump to $451m (£347m) for the first quarter on the back of "outperformance" by its US business.

Chief executive Kevin Murphy said: "Ferguson continued to take market share against a backdrop of flat US markets and we remain firmly focused on maximising organic revenue growth, while tightly managing gross margins and costs."

The company said the demerger of its UK arm Wolseley is firmly on track.

"We will continue to invest organically in our businesses and in selective bolt-on acquisitions which will be integrated into our network," said Murphy.

Would a digital tax stand in the way of a US/UK trade deal?

Faisal Islam

BBC Economics Editor

The US retaliation against France's digital services tax raises questions about the same type of tax planned in the UK, in the manifestos of the main parties, keen to signal to voters that US Tech giants will pay more tax in the UK.

The issue has split the Government, with some in the current Cabinet seeing the Tech Tax as an obstacle to a US trade deal. In the recently-leaked documents UK negotiators anticipate the issue would emerge at senior and ministerial level in US-UK trade negotiations, rather than in preparatory talks.

In its consultations with US business this year, the US Trade Representative was told the UK Digital Tax was a "big concern to our companies. Some of them have even suggested that that needs to be resolved before we even more forward with negotiations".

The US has already begun looking at taking action against similar digital taxes being levied in Austria, Italy and Turkey, saying it would prefer an international solution to be negotiated by the OECD think tank. Many in the industry see it as incompatible with a broader US-UK free trade deal.