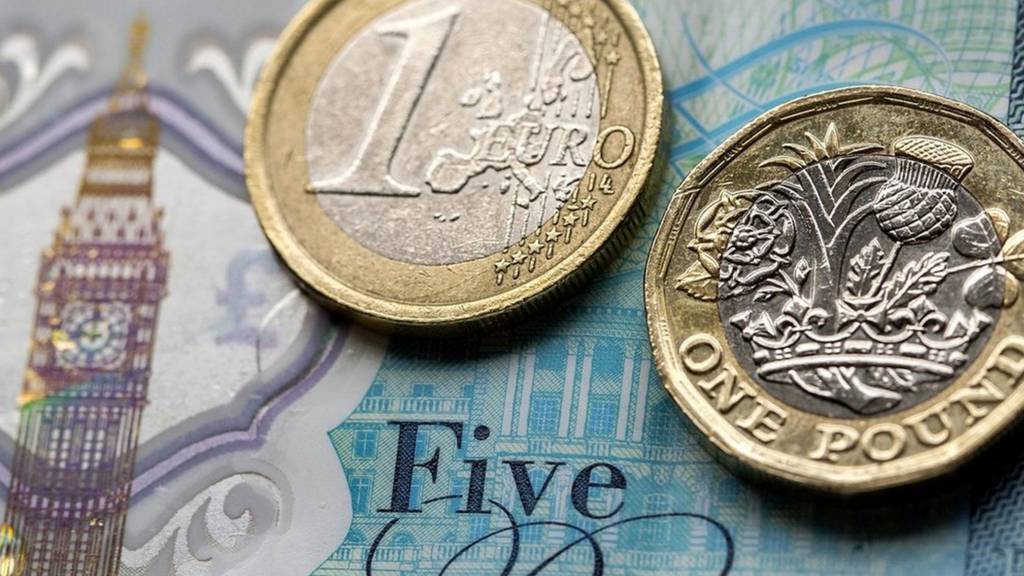 Trade talk papers 'show how much the US would push to gain' from UK

Pound higher after early losses

Sterling is slightly higher after earlier losses following the third poll in a row that showed a dwindling Conservative lead before the general election.

The pound initially fell as much as 0.3% in early London trading after YouGov data showed the Conservative party's lead over Labour narrowing to 11 points.

Some investors are nervous about a hung parliament and more Brexit deadlock.

The pound may also have been weakened by reports of a surge in under-35s registering to vote before the deadline at midnight last night. Young people are less likely to support the Conservatives.

The pound fell as much as 0.3% against the dollar, to a low of $1.2827 in early trading, before rising to $1.2889.

Business 'can be a powerful tool for solving world problems'

Warning over dangerous products sold online

Kevin Peachey

Personal finance reporter

Copyright: Electrical Safety First

A charity has raised fresh concerns over the safety of some products sold via online marketplaces.

Consumers are often tempted by the low prices of these products, but Electrical Safety First said 14 out of 15 it tested were unsafe in some way.

The products may have been safety marked incorrectly, but some were potential fire hazards or gave electric shocks.

The charity suggested this was a snapshot of a wider problem and called on Amazon, eBay and Wish to do more to address the problem.

All three have removed the products from sale.

Future loses 10% after management sells shares

Shares in publisher Future have slumped more than 10% today after a sell-off of 3.1 million shares last night by senior management through a Numis placing.

The shares have lost 158 to 1,414.

The move has been "a very well-executed buy and build strategy," reckons Paul Kavanagh of investment company Patronus Partners.

Anger as website crashes thwarting Tesco shoppers

There was fury among Tesco shoppers this morning, according to The Sun.

The supermarket's website crashed earlier leaving customers unable to book coveted Christmas delivery slots.

Households hoping to have their festive food shop delivered or prepared for in-store collection between 23 and 24 December have been waiting to snap up delivery slots.

Bookings opened just after midnight this morning for priority delivery saver slots only for the site to crash leaving fed-up shoppers turning to social media to voice their anger.

Virgin Active owner's shares plunge 15% over rights issue

Virgin Active and Iceland supermarket investor Brait will flog some of its assets over the next five years to shore up its finances.

The South African investment firm saw its shares plunge 15% today as it announced a major rights issue.

It said that the "recapitalisation of assets" will reduce and extend the maturities of its debt, providing the opportunity to focus on growth elsewhere in its portfolio.

The company also plans to launch an equity capital fundraiser for up to 5.6 billion Rand (£300m) as it seeks to pay debts ahead of fast-approaching deadlines.

Brait said Iceland turnover has risen by 2.4% over the 24 weeks to 13 September, driven by the opening of 29 stores across the UK.

Meanwhile, revenues at Virgin Active increased by 3% to £451m for the nine months to 30 September.

'My success is down to maths'

Timothy Armoo is a former maths tutor who studied computer science at university.

He set up modern advertising agency Fanbytes to connect popular brands with rising social media influencers.

Many of his senior team are computer scientists and use algorithms to find the talent they want - but the importance of maths goes deeper than that.

Sofa chain loses out to political uncertainties

Image caption: Commons Speaker Lindsay Hoyle on a sofa

Shares in sofa chain ScS have fallen 1.5% this morning after it said like-for-like orders tumbled 7.1% in the 17 weeks to 23 November.

The company blamed Brexit and political uncertainty for knocking consumer confidence.

"It is clear that the ongoing economic and political uncertainties are continuing to impact consumer confidence and spending," said chairman Alan Smith.

However the firm said it saw an improved performance on the first nine weeks of its financial year, when comparable orders had dropped 7.6%.

Victoria Beckham fashion label makes another loss

Image caption: Mrs Beckham controls the company with husband David

Victoria Beckham's fashion business has posted yet another annual loss as demand for the former Spice Girl's high end clothes "plateaued".

Victoria Beckham Limited, which has not made a profit since it launched in 2008, reported a loss of £12.3m for 2018.

Sales slipped 16% to £35m, amid weaker wholesale demand.

Chairman Ralph Toledano said sales of clothing and accessories had levelled off after years of growth.

"The performance was in line with expectations, so we were not surprised. Our goal is to reach profitability as soon as possible," he told trade journal Business of Fashion.

UK stocks gain with FTSE 250 threatening to break through 21,000

The FTSE 100 is having another positive day as stock markets climb higher on optimism over the US/China trade deal.

The blue-chip index is up 0.47% at 7,438.04.

The wider FTSE 250 index is heading towards breaking through 21,000, which it last achieved in June 2018.

Today's it's up 0.38% at 20,944.71.

Households 'ready to spend £600m extra per year on streaming'

Image caption: Fans can stream matches of their favourite football teams

UK households are ready to spend £600m per year as competition between streaming services hots up, according to price comparison service Uswitch.

The new Disney+ service will soon join Apple TV+ and BritBox in the battle against Netflix, Amazon Prime and Now TV in the UK.

More than 60% of UK households watch streaming services, but one fifth of those only watch free-to-air services such as BBC iPlayer and ITV Hub, a survey by the firm suggested.

Netflix is the most watched service, used by two thirds of streaming fans, it said. BBC iPlayer was in second place with 58%, and 44% of viewers watch Amazon Prime.

Dani Warner of Uswitch said: "Some telly addicts might feel like a kid in a sweet shop at the thought of all the streaming services that will soon be available to them.

"But the increase in competition created by the streaming wars may have a downside for consumers, who could find their favourite shows are scattered across countless subscriptions that, once combined, may cost far more than people are willing to pay."

One in five viewers said they would sign up for a free trial, binge-watch popular shows and then cancel before paying for a subscription, while a similar number said they would borrow a friend's login details to catch up on exclusive films and programmes.

BAT says US vaping slowdown after deaths could cut down growth

British American Tobacco, the world's number two tobacco company by revenue, says a slowdown in the US vaping market would result in slower growth in revenue from its "new categories" business.

The safety of vaping has been in the spotlight, with US health officials reporting more than 2,000 cases of vaping-related lung illness and 47 deaths linked to its use in the country, leading to tighter regulatory scrutiny and individual state bans.

This has led to a drop in demand for the devices, pushing the company to forecast revenue growth in its new categories business that sells e-cigarettes, tobacco heating products and oral products - to be at the low end of its 30-50% target. It had previously anticipated revenue growth in the middle of that range.

But chief executive Jack Bowles said his company can capitalise on stronger rules on vaping.

"Increased investment and new product launches are delivering good new category revenue growth in H2, despite the recent slowdown in the US vapour market," he said. "We believe that the issues around vaping in the US should lead to a better and stronger regulatory environment in which we are well-placed to succeed".

Musk suggests 250,000 Cybertruck orders

Tesla has received 250,000 orders for its electric pickup truck unveiled five days ago, chief executive Elon Musk suggested in a tweet on Tuesday.

Mr Musk has been promoting the Cybertruck on Twitter and giving updates on order numbers.

The company did not immediately confirm the figure.

'Real prospect of tariffs on UK car exports to EU'

Today Programme

BBC Radio 4

The UK car industry says a hard Brexit could cut production by a third.

The Society of Motor Manufacturers and Traders is worried that tariffs will end up being applied on UK exports to the EU.

The industry body's chief executive Mike Hawes says: "We are just one sector. To do a deal with the EU, a free trade agreement, by definition it needs to be multi-sector... Whether you can come to an agreement, especially if the clock is ticking to get it done by the end of December next year, I would suggest there is a real prospect of tariffs being applied."

On the Beach takes Thomas Cook hit

Travel retailer On the Beach says profit dropped by 26% in the year to 30 September "reflecting the impact of the failure of Thomas Cook Group".

"The adjustment of £7.1m to revenue represents the lost revenue associated with providing refunds and the costs associated with organising alternative travel arrangements for customers.

"This totalled £25.6m and is stated net of a chargeback claim of £18.5m," it said.

China industry profits fall

Profits at China's industrial firms shrank at their fastest pace in eight months in October, underscoring slowing momentum in the world's second-largest economy, Reuters reports.

Compared with last year, industrial profits fell 9.9% in October to 427.56 billion yuan (£47.3bn), according to data released by the National Bureau of Statistics. This is the biggest drop since the January to February period.

There was a 5.3% decline in September.

Will UK shares take off after election?

Today Programme

BBC Radio 4

Goldman Sachs thinks there may be a Brexit share bounce, and it is not a minotity view.

Will Walker-Arnott of Charles Stanley says any clarity over Brexit after 12 December will boost UK stocks and sterling.

He tells Today: "You'll remember back in October when the possibility of a withdrawal deal was mooted... the FTSE 250 was up 4% in one day which was quite a move.

"So there has been a lot of it priced in, but if you compare valuations of UK companies with international counterparts they are still looking cheap."

Manchester City group valued at $5bn

Today Programme

BBC Radio 4

The owner of Manchester City, City Football Group, has sold a 10% stake to US investment firm Silver Lake Partners in a deal that values the football club at almost $5bn.

That makes it the most valuable sports club group in the world.

CFG owns stakes in seven football clubs around the world.

Will Walker-Arnott, senior investment manager at Charles Stanley, told Today: "Silver Lake is a US private equity firm which is better known for investing in technology stocks such as Alibaba and Skype."

But he says more recently it has been getting into sports rights.

What drew it to Manchester City is probably media rights, he says.

"We've got a lot of large broadcasting firms like BT, Sky and Amazon all bidding up rights."

There is one "question mark" hanging over the lofty valuation, however.

"Man City are being investigated by Uefa for possible breaches into financial fair play, so [Silver Lake] are obviously looking over that," Mr Walker-Arnott says.