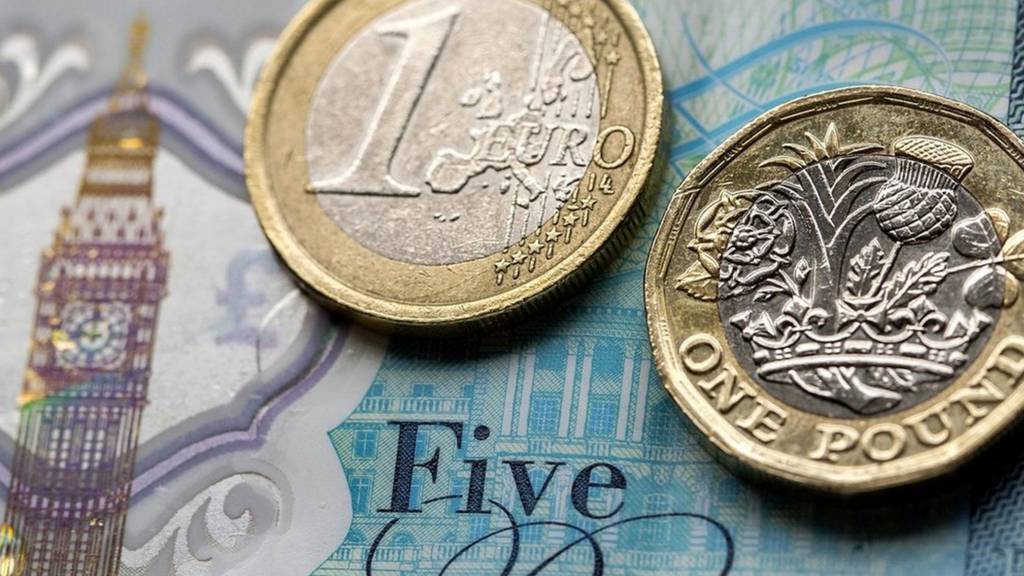 That's all for today. We'll be back tomorrow from 06:00 for more breaking business news. bizlivepage@bbc.co.uk

Boeing expects 737 MAX to fly from January

Boeing said it now expects its 737 MAX - the plane involved in two fatal crashes this year and last - to begin flying again from January. It also thinks it will begin delivering the planes to customers from December, it said.

Market closes lower in London

The FTSE 100 index of chunkier companies fell 0.4% to 7,328.54, while the more UK-focused FTSE 250 rose 0.3% to 20,410.03.

In the US, the Dow Jones is down 0.3% at 27,588.47, the tech-heavy Nasdaq is down 0.3% and the S&P500 is also down 0.3%.

Dutch court orders Facebook to ban adverts

Dutch billionaire John de Mol, whose Endemol company first produced Big Brother, sued Facebook to have the social media site remove fraudulent adverts using his image to flog bitcoin nonsense.

Investors lost €1.7m (£1.5m) in the scams, the court heard.

The court ordered Facebook to pull the offending ads or be fined up to €1.1m.

Facebook is considering whether to appeal. Mr De Mol said he hoped that "this verdict prompts Facebook to take measures as soon as possible, so that innocent people can't be defrauded by those fake Bitcoin advertisements anymore".

Airlines accused of hypocrisy over 'fuel-tankering'

A British Airways whistleblower has revealed an industry-wide practice that deliberately adds weight to flights, increasing greenhouse gas emissions.

"Fuel tankering" sees planes filled with extra fuel, usually to avoid paying higher prices for refuelling at their destination airports.

It could mean extra annual emissions equivalent to that of a large town.

BA said it was common to carry extra fuel for "operational, safety and price reasons".

BBC Panorama has discovered the airline's planes generated an extra 18,000 tonnes of carbon dioxide last year through fuel tankering.

Cost savings made on a single flight can be as small as just over £10 - though savings can run to hundreds of pounds.

Bloomberg: KKR bids for Boots owner

Reuters: EU nod for German bank rescue

The EU will probably allow a €3.6bn (£3.1bn) rescue of German bank NordLB, Reuters reports.

The rescue of the commercial bank isn't state aid, they think, although the European Commission will have the final say, said Reuters.

The bank is 65% owned by two German states, Lower Saxony and Saxony-Anhalt. Bad shipping loans have weighed it down.

The bank was subject to a bid from private equity firms Cerberus and Centerbridge, which the Financial Times reported in January.

Jingye: 'long admired' British steel, but some jobs may go

Jingye Group Chairman Li Ganpo, said: "We are delighted to have reached this agreement. As a young company with large ambitions we have long admired British Steel and appreciate its illustrious heritage. We share with the thousands of British Steel workers a passion for this industry and we are determined that together we can transform this business."

Jingye said it plans to invest £1.2bn in the business over the next decade in upgrading the plants and machinery, improving the new company's environmental performance and boosting energy efficiency.

Jingye said in a statement it "anticipates making offers to as many employees across the business as possible" suggesting some jobs will go.

'I am verbally abused on a daily basis'

Retail staff are abused, threatened or assaulted on average 21 times a year according to a survey of more than 4,000 of them by shopworkers' union Usdaw.

It found that about two-thirds have experienced verbal abuse, 41% have been threatened by a customer and nearly 5% have been assaulted.

The trade union has been campaigning to stop abusive behaviour towards retail staff for a number of years and in June called on the government to tackle the problem.

Jackie McKenzie, 56, has worked at a supermarket petrol station in Bathgate, Scotland for the last 20 years.

During that time, the amount of abuse she has faced while doing her job has been rising.

"I've been verbally abused on a daily basis," she said. "It's getting a bit out of hand to be honest."

British steel sale: trading as normal

British Steel has been kept running by the government via the Official Receiver since May, when the company went into liquidation.

About 4,000 people work at British Steel's Scunthorpe and Teesside plants, and another 20,000 in the supply chain.

Another 1,000 jobs are based in France and the Netherlands.

A statement from the Official Receiver said: "The business will continue to trade as normal during the period between exchange and completion. Support from employees, suppliers and customers since the liquidation has been a critical factor in achieving this outcome."

Jingye will acquire the steelworks at Scunthorpe, UK steel mills and shares of FN Steel BV, British Steel France Rail SAS and TSP Engineering. The sale also includes the shares owned by BSL in Redcar Bulk Terminal.

Breaking

British Steel sale agreed

The sale of British Steel has been agreed with China's Jingye Steel, the Official Receiver has said.

"Completion of the contract is conditional on a number of matters, including gaining the necessary regulatory approvals. The parties are working together to conclude a sale as soon as reasonably practicable," it said.

Sterling rises on Brexit Party move

The rise in sterling, which had been boosted by this morning's GDP figures, has picked up after the Brexit Party said it would not stand candidates in the 317 seats won by the Conservatives at the 2017 general election.

Sterling jumped by half a cent against the dollar to $1.2881, while against the euro it is trading at €1.1671.

"The Tories will be heaving a sigh of relief as it reduces at the margin the prospect of a hung parliament," Neil Mellor, FX strategist at BNY Mellon, told Reuters.

Sainsbury's to supply Australian retailer Coles

Sainsbury's has struck a deal with Australian retailer Coles to sell packaged groceries in the country.

Own-brand products will be sold under the Coles name from next year, Sainsbury's said.

The supermarket is chasing wholesale business like its rival Tesco, which bought supplier Booker last year.

Sainsbury's failed in its bid to buy Asda after the competition regulator blocked the deal.

Rain dampens outlook for retailers

After Sunday's news that greetings card firm Clintons is considering shop closures and rent cuts as part of a survival plan, there is more bad news for the UK's beleaguered High Streets today.

The latest footfall survey of the number of shoppers heading to stores showed a 3.2% year-on-year fall in October, with the wet weather a factor.

"High Streets were hit hardest in October, with the wet and wintery weather putting off many consumers from venturing out to the shops," said Helen Dickinson, chief executive of the British Retail Consortium (BRC).

"Weak consumer demand and Brexit uncertainty have both impacted sales in recent months, and this could be further affected by the imminent election campaigning."

The 3.2% decline was steeper than September and both the three-month and 12-month averages, the BRC-Springboard survey found.

On the High Street, footfall saw a far steeper rate of decline than in September, at 4.9%.

The FTSE 100 index of major London-listed companies has dropped more than 1%, with mining shares leading the falls.

Australian miner BHP Group fell 2.8% after saying it plans to move back into oil and gas investments, even after pulling out of US shale last year.

Other fallers in the mining sector include Glencore, down 3.9%, and Evtaz, down 4.7%.

The FTSE 100 had begun the day lower, as markets reacted to falls in Asia triggered by news of continued unrest in Hong Kong.

But UK-listed stocks have also been hit by a rise in sterling. The FTSE 100 often falls when sterling rises, as the stronger currency cuts the value of companies' overseas earnings when they are brought back to the UK and converted back into pounds.

Against the dollar, the pound is currently up 0.8% at $1.2876.

Uber boss backtracks on Khashoggi murder

Uber boss Dara Khosrowshahi backtracked after describing the murder of Saudi journalist Jamal Khashoggi as a "mistake" and comparing his death to errors Uber has made in its development of driverless cars.

"I think that government said that they made a mistake," he said in an interview with the TV show Axios on HBO. "We've made mistakes too, right? With self-driving, and we stopped driving and we're recovering from that mistake. I think that people make mistakes, it doesn't mean that they can never be forgiven. I think they have taken it seriously."

Mr Khosrowshahi issued a statement saying he did not mean what he said, CNBC reported. "I said something in the moment that I do not believe. When it comes to Jamal Khashoggi, his murder was reprehensible and should not be forgotten or excused," he said.

Chancellor: UK growth figure 'strong'

The BBC's economics editor tweets:

Greggs 'more than a one-trick pony'

Shares in Greggs are now up by more than 15% following its profits upgrade this morning.

Russ Mould, investment director at AJ Bell, says the update suggests the company "is more than a one-trick pony".

"Having got on something of a roll with its vegan version of a pastry favourite, the company had until today stalled on a lack of earnings upgrades since the summer.

"The vegan sausage roll phenomenon which dominated the start of 2019 for the company might still be having some lasting impacts in terms of brand awareness but there's no mention of it having direct impact in today's short but sweet update.

"Despite a tough comparison against strong trading in the same period a year ago, it is impressive that recent trading has been sufficiently encouraging to drive an increase in full year profit guidance.

"The products it sells might not always be the healthiest but its business looks in good shape. Encouragingly, sales growth is being driven by an increase in customer visits, suggesting perhaps that people attracted by the vegan sausage roll are sticking around."

'Consumers resilient, business investment weak'

Analysis of the third-quarter growth data reveals "the recent familiar story of resilient consumers but business investment weak," says Howard Archer, chief economic adviser to the EY Item Club.

"The only consolation on the business investment front was that it was flat rather than contracting again.

"Stocks were run down markedly in the third quarter but there was a strong positive contribution from net trade – although the strong rise in exports looks rather surprising.

"Specifically, consumer spending rose 0.4% quarter-on-quarter in the third quarter. Consumers continued to benefit in the third quarter from improved real earnings growth although employment growth slowed."

For 2019 as a whole Mr Archer expects GDP growth of just 1.3%, "which would be the weakest performance since 2009 and down from 1.4% growth in 2018".

"The economy looks to have little momentum going into the fourth quarter amid a myriad of uncertainties (Brexit, domestic political, global economic).

"Growth is seen slowing further to an 11-year low of just 1.0% in 2020. This forecast is based on the assumption that the UK ultimately leaves the EU in the first quarter of 2020 with a 'deal'."