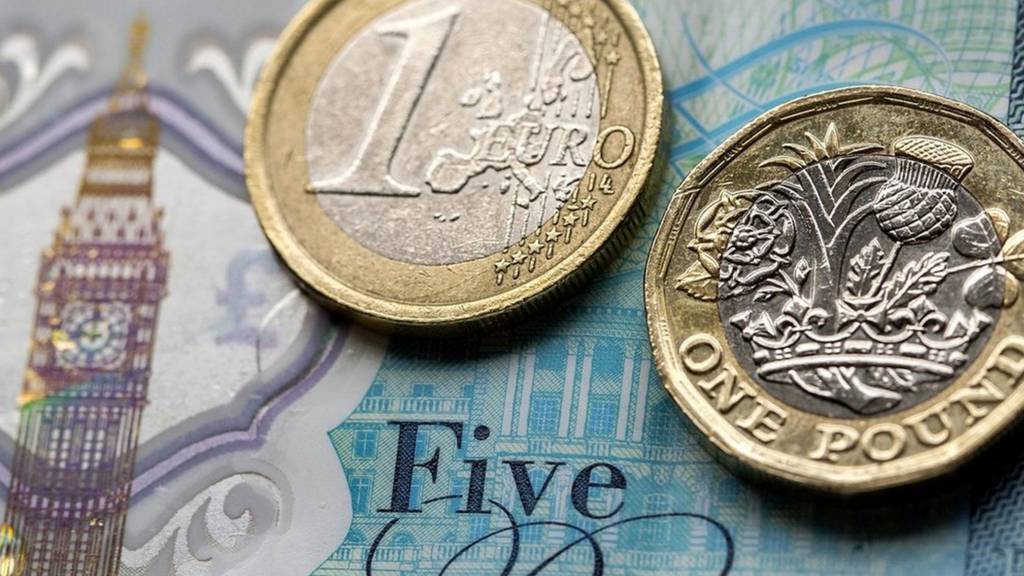 Charisma can only take you so far

Pound claws back ground but remains down

The pound has regained a little ground against the dollar and the euro following comments by Bank of England policymaker Michael Saunders about post-Brexit interest rates but is still trading down.

Sterling is off 0.24% against the dollar at $1.2294. It is down 0.27% on the euro at €1.1255.

Stena Impero: Seized British tanker starts to leave Iran

A British-flagged oil tanker is leaving Iran, after being held for more than two months.

The Stena Impero's Swedish owner, Stena Bulk, said it was on the move from the Bandar Abbas port, where it has been anchored since July.

The vessel was seized by Iranian troops in the Strait of Hormuz after they accused it of breaking maritime rules.

Officials say it left for international waters at 09:00 local time (05:30 GMT) on Friday morning.

Erik Hanell, boss of Stena Bulk, said the vessel would head to Dubai, where the crew would be debriefed and receive medical checks.

Renamed Poundland-owner eyes brighter future

The Times' retail editor Ashley Armstrong tweets:

High Court cases against FTSE firms fall but threats remain

Image caption: Litigation funding firms have the capital to bankroll class actions

The number of High Court cases involving FTSE 100 companies has fallen 33% to a seven-year low in the last year, from 193 court cases in 2017-18 to 130 in 2018-19, according to Thomson Reuters.

It says the drop is driven primarily by a decline in claims against banks. Cases involving lenders have fallen 65% from their peak of 179 in 2015-16 to 63 in 2018-19.

It has also been helped by fewer claims from the credit crunch era, such as those relating to alleged mis-selling of interest rate swaps.

But Raichel Hopkinson, head of the practical law dispute resolution service at Thomson Reuters, says the amount of cash available to "litigation funders" means firms cannot be complacent about the risk of court action.

Litigation funders are third parties - with no prior connection to the legal action - who agree to finance all or part of the legal costs of a claim in return for a fee or percentage payable from any proceeds recovered

FTSE 100 businesses increasingly face the threat of class actions backed by litigation funders, says Ms Hopkinson.

Peloton float punctured as shares fall 11%

Image caption: Peloton's tech-enhanced equipment offers live fitness classes at home

Shares in Peloton, the fitness startup known for at-home workouts and its exercise bikes, skidded on their stock market debut to close down 11% on their first day of trading.

The New York-based company's shares opened on the Nasdaq at $27.00 and inched up to $27.25 in early trading.

However, early hopes were punctured, as shares then traded as low as $24.75, a fall of 14.7%, before finishing 11.2% lower at $25.76.

Founded in 2012, Peloton sells indoor bicycles and offers packages requiring memberships to access live and on-demand classes at home.

Why are Saunders' comments affecting the pound?

One analyst has been ruminating over why the comments from a Bank of England policymaker should be hitting sterling.

"The latest declines come after Michael Saunders stated the Bank of England may lower interest rates due to Brexit uncertainty," said David Cheetham, chief market analyst, at XTB online currency traders.

"Quite why this is moving the markets is unknown to be honest with the biggest surprise being that this is seen as a surprise at all."

He said economic data had been quite poor on the whole.

"Throw in the almost universally acknowledged continued levels of heightened uncertainty on the political front, with markedly divergent Brexit paths still possible and it is actually pretty shocking that a comment that a rate cut is 'quite plausible' has caused such a response."

Raising higher rate tax threshold 'only benefits high earners'

Food and drink industry airs Brexit concerns

The Food and Drink Federation (FDF) says food and drink exports increased by 5.1% to £11.3bn in the first half of 2019 compared to the same period in 2018.

But the rate of growth is lower than 5.7% seen in the first half of 2018.

The federation is now urging the government to make further progress in securing continuity deals for EU preferential trade agreements.

To date, just 15 of more than 40 deals have been successfully concluded.

This represents just 43% of the UK's food and drink exports to nations where there is an existing trade agreement – £650m of a total of £1.5bn.

FDF boss Ian Wright said: "UK food and drink exports continue to grow despite our troubled times. FDF has serious concerns that the UK faces the loss of essential market access to a wide range of EU trade deals in the event of a 'no-deal' Brexit. This will undermine our impressive export performance. It will also restrict our access to essential ingredients and raw materials."

Suning buys Carrefour's Chinese business

Copyright: Getty Images/Alex Tai/Sopa

Chinese retail giant Suning has bought 80% of French supermarket chain Carrefour's China business.

Suning is looking to tap into a growing market in online food sales and also expand its physical presence.

Three months after the agreement was first announced, Nanjing-based Suning said in a statement posted on the Shenzhen Stock Exchange that it paid 4.8bn yuan ($670m; £545m) in the cash transaction.

"The comprehensive digitisation of retail elements is the first priority of traditional retail industry facing future development," said Suning Holdings Group's boss Zhang Jindong in a letter to welcome 30,000 Carrefour workers in China.

Carrefour, one of the world's biggest food retailers, is in the middle of a major reorganisation after repeated losses.

Government 'will obey no-deal Brexit law'

Today Programme

BBC Radio 4

How can the government the say that the Prime Minister will obey the law which seeks to prevent a no-deal Brexit while he still insists the UK will leave the EU on 31 October?

John Major said on Thursday that he fears "political chicanery" in the form of suspending the no-deal Brexit law until after Brexit.

International Development Secretary Alok Sharma says: "There is a puzzle here. We've been very clear that we will comply with the law... We are trying very hard to make sure we get a deal... we have got the Brexit Secretary [Stephen Barclay] in Brussels this morning... we have submitted... technical documents setting out our position, and those discussions have been continuing at pace."

What happens if there is no deal?

"We are going to obey the law, we have shown that we will obey the law as a government, we will continue to do that, there is absolutely no doubt about that," Mr Sharma says.

From cradle to grave: Dignity taps Mothercare for new chairman

Dignity, the funeral provider has named Clive Whiley has its new chairman.

Mr Whiley is currently executive chairman of Mothercare and will step back to become non-executive chairman later this year.

He will serve as non-executive chairman of both companies.

Small businesses 'need to get data-ready for Brexit'

One of the concerns around Brexit is the cost of preparations for small business.

Sally Jones of Deloitte says: "The government has gone to huge efforts to get messages out to all business, and there are some quick and easy and cheap wins that small businesses can put in place relatively easily."

She said one preparation that small business can make is to go onto the Information Commissioner's Office website, which tells businesses how to get ready for Brexit from a data perspective.

Saunders comments 'adding weight on the pound'

Quote Message: Bank of England rate setter Saunders made pretty dovish comments, saying it's quite plausible the next move is a cut. In making the case for a cut now it conforms to the belief in many in the market that the Bank is barking up the wrong tree with its slight tightening bias in its forward guidance. The comments from Saunders are clearly an added weight on the pound. from Neil Wilson chief analyst at Markets.com

Pound drops on Bank policymaker's comments

Sterling fell against the dollar following comments from Bank of England Monetary Policy Committee Michael Saunders that there could be a rate cut even if the government secures a Brexit deal.

The pound dropped by 0.40% against the dollar to $1.2275.

Strerling fell 0.35% on the euro to €1.1245.

Brexit uncertainty may act as a 'slow puncture' to economy

Bank of England Monetary Policy Committee member Michael Saunders tells businesses in Barnsley that even if the UK avoids a no-deal exit from the European Union, uncertainty would persist and act as a kind of "slow puncture" for the UK economy.

"In this case, it might well be appropriate to maintain a highly accommodative monetary policy stance for an extended period and perhaps to loosen policy at some stage, especially if global growth remains disappointing," he said.

"In general, I would prefer to be nimble, adjusting policy if it appears necessary to keep the economy on track, and accepting that it may be necessary to change course if the outlook changes significantly," he said.

Breaking

Bank may cut rate even with a Brexit deal, says MPC member

Michael Saunders, a member of the Bank of England's Monetary Policy Committee, says it could cut the UK's interest rate even if the government secures a deal in time for Brexit on 31 October.

In a speech to local businesses in Barnsley, Mr Saunders said: "If the UK avoids a no-deal Brexit, monetary policy also could go either way and I think it is quite plausible that the next move in Bank Rate would be down rather than up."

Ready for a no-deal Brexit?

Today Programme

BBC Radio 4

No-deal Brexit minister Michael Gove claimed this week that industry told him it is ready to leave the EU without a deal, which three attendees denied.

Sally Jones, director of global Brexit insights at Deloitte has worked on the Brexit strategies of some of the UK's biggest companies and says: "All businesses are closely watching how matters unfold, but not all businesses are as ready as other ones, and the extent of readiness depends a bit on which sector a business is in, how big it is, how much resource it has available to devote to Brexit, and which geographies are important to it."

She adds that the more regulated a business is, then the more likely is it to have had to get ready for Brexit at an earlier date.

She says in general, big companies "are as ready as they can be", while small firms vary, but "are perhaps more prepared than some people give them credit for."

UK stock markets open higher

The FTSE 100 opened up 0.81% at 7,410.46.

The FTSE 250 is ahead 0.36% at 19,888.98.

Denmark 'did not take Estonia money laundering seriously'

Today Programme

BBC Radio 4

Raul Malmstein, the former head of Estonia's financial regulator, claims that its counterpart in Denmark did not believe that alleged money laundering in Estonia by foreign-owned bank accounts was a serious problem.

Speaking after the former boss of Danske Bank's Estonia headquarters was found dead, Mr Malmstein said: "It is an issue that we tried to address in many ways including [with] our Danish counterparts but there we were not too successful because the Danish FSA took a view it is not a very serious problem and the same applied at Danske's main office in Denmark."

He said: "The sheer amount of money channelled through is staggering and it is hard to believe it really happened."

Earlier this year, Denmark's Financial Supervisory Authority forced Danske to close its business to non-resident before shutting down the entire operation in Estonia.