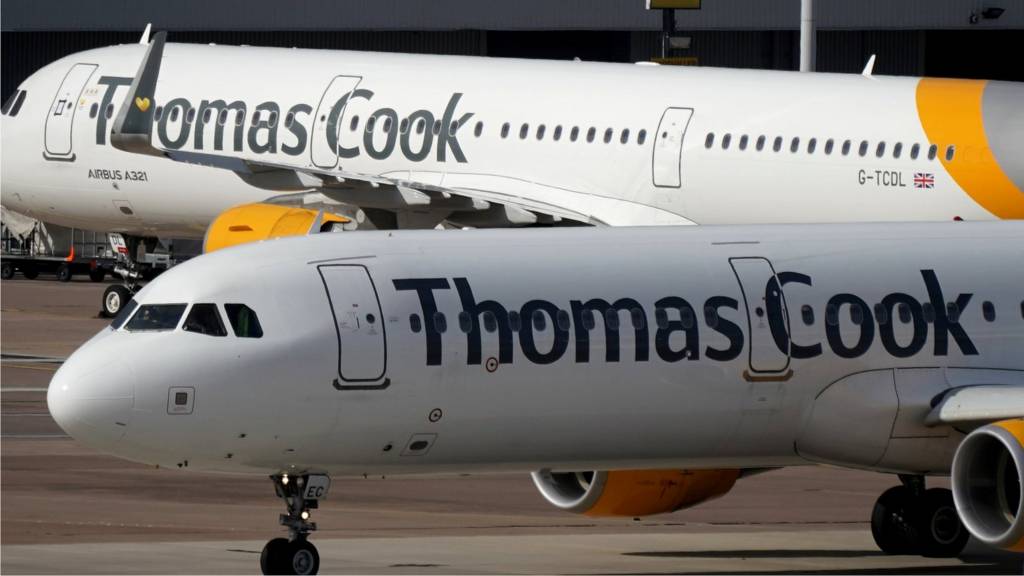 By Kevin Peachey

Personal finance reporter

That's it for today. We'll be back from 6am on Wednesday morning.

Do join us then for all the latest breaking news and analysis, including the latest on Thomas Cook.

Thomas Cook worker: 'I've been thrown under a bus'

Image caption: Married couple Hayley and Dan fear financial worries after both losing their Thomas Cook jobs

Thomas Cook staff say they have been stranded overseas and fear they will not receive thousands of pounds in wages, following the collapse of the world's oldest tour operator.

Hayley, 36, a member of the cabin crew for 15 years, was watching the news unfold at home.

She told the BBC: "At first, we were devastated at learning the news.

"Now it transpires that it seems to have been a long time coming.

"I feel let down. I feel like I've been thrown under a bus."

Spider magic for Lady Hale t-shirt

One enterprising company is doing well out of Lady Hale's sudden fame. Balcony Shirts, a small independent shop in Uxbridge, designed a spider t-shirt this morning in her honour.

So far, almost 2,000 t-shirts have been sold and the product is trending on eBay.

The company is giving 30% of the proceeds from each £10 t-shirt to homeless charity Shelter.

Scott Balcony, a spokesperson for the firm, said so far they'd raised over £5,000 for the charity.

"We designed it this morning and then the orders started coming in," he says.

The FTSE 100 fell 34.65, or 0.47%, today to 7,291.43.

Meanwhile the FTSE 250 dropped 124.72, or 0.62%, to 19,919.07.

Metro Bank shares slump again

Shares in struggling Metro Bank slumped a third today after investors turned their back on its £200m bond sale launched on Monday.

Shares closed at a record low of 176.68, after falling 95.92, or 35.19%.

The shares were floated at £20 a share in 2016 and rallied to levels around £40 in 2018.

The Bank has now lost nine-tenths of its stock market valuation this year.

How is repatriation going?

On Monday, the CAA started repatriating British holidaymakers who were abroad at the time that Thomas Cook collapsed.

Dame Deirdre Hutton, CAA chairwoman, described Monday as "a pretty good day for a first day".

She told BBC 5 Live's Wake Up to Money: "We ran 64 flights, we brought back just under 15,000 people. That was over 90% of those we intended to bring back."

There will be more than 1,000 flights between now and Sunday 6 October to repatriate the remaining 135,300 holidaymakers, with 74 of those, returning more than 16,800 people, scheduled for Tuesday.

The CAA has set up a dedicated website to keep Thomas Cook customers updated with the latest advice and news.

Second Donald Trump golf course approved in Scotland

Image caption: Before becoming US president, Donald Trump played golf at Menie

It appears to be business as usual in Scotland where plans for a second golf course at US President Donald Trump's resort in Aberdeenshire have been approved.

The 18-hole MacLeod course would be built to the south and west of the controversial original course, which opened at Menie in 2012.

Councillors on the Formartine area committee approved the plans for the second course by eight votes to four.

Permission for the resort - including houses, holiday homes and a hotel - was granted in 2008.

Thomas Cook: 'Serious questions to answer'

Rachel Reeves, chair of the Business, Energy and Industrial Strategy Committee, has spoken out about the Thomas Cook collapse. She said:

Quote Message: The public will be rightly appalled that as Thomas Cook mounted up debt and as the company headed for trouble, company bosses were happily pocketing hefty pay-packages. Now, in the aftermath of the company's collapse, as frustrated travellers are stuck abroad, when holidays are being cancelled and thousands of staff are losing their jobs, there are serious questions to answer, including about the company's accounting practices, its renumeration policy and practice, and about the stewardship of the company.

Hotel brought in security guards to Thomas Cook guests' room

Hayley Hook and her family are on holiday in Greece.

She told the BBC they have been forced to give their credit card details to hotel staff and that at one point, security guards were brought in (pictured above) - although they have since left.

She posted on Facebook that the hotel was demanding €50 (£44) per person, per room per night and it said if they did not pay, it would stop supplying them with food and drink.

The industry insurance fund ATOL, which covers payments in the event of a firm failing, will cover any bills for rooms and food that are run up this week following Thomas Cook's collapse.

Hotels demanding extra money from Thomas Cook guests

Holidaymakers who were abroad when Thomas Cook folded have been telling the BBC that their hotels have been demanding extra money from them.

The Civil Aviation Authority (CAA) says people should not make extra payments.

But Jess Beeton, on holiday with her partner Richard Berrington, said "everyone who booked through Thomas Cook has been locked out of the rooms".

She added: "The only option we were given was to pay what Thomas Cook hasn't, or get our stuff and leave."

Football clubs bail out fans

Football clubs are offering varying degrees of support to fans who've lost out through the collapse of Thomas Cook.

Chelsea is paying for alternative travel for fans who booked through Thomas Cook to see the club's Champions League away clash with Lille.

The club has also agreed to pick up the tab for new travel arrangements for fans who booked travel through Thomas Cook for its Premier League clash at Southampton on 6 October.

Manchester United meanwhile is offering fans who bought a match package from Thomas Cook the opportunity to buy a replacement match ticket for the same match, as long as they have a copy of their 'Thomas Cook Sport Booking Confirmation' PDF, as well as proof of purchase.

Positive response to Thomas Cook staff plight

One former Thomas Cook worker - who asked to remain anonymous - reports on the pleasingly positive reaction they've received.

Quote Message: As a former staff member of TC, we are hunting for jobs! The response has been amazing from our colleagues and regional managers and also other businesses who have kindly helped with recruitment etc. My Facebook has been awash with sunny hearts and our conference call this morning with our amazing regional manager really got the tears flowing. Fingers crossed we are all sorted soon.

Insurance worries allayed

Kevin Peachey

Personal finance reporter

Some Thomas Cook customers have expressed their fears of a double whammy after the company's collapse.

These are people who have not only bought holidays from Thomas Cook, but insurance too. There is clearly a chance that the insurance may be needed.

However, Thomas Cook's Roam travel insurance was underwritten by White Horse Insurance Ireland.

Although the BBC has been unable to contact White Horse, a recorded message on its phone line says that, although busy, it continues to operate as normal.

White Horse is based in the Irish Republic, underwrites policies for various travel operators, and would come under the jurisdiction of the Financial Services and Pensions Ombudsman of Ireland should customers have any complaints.

Southern Rail offers refunds for Thomas Cook passengers

We'd like to hear from Thomas Cook staff

Copyright: TERRY-HARRIS.COM

Were you a member of staff at Thomas Cook?

What's your situation now? Are you still turning up for work?

We'd like to hear how workers are getting on. Please get in touch with your comments and questions at bizlivepage@bbc.co.uk

CBI welcomes Thomas Cook pay probe

Image caption: Josh Hardie

The Confederation of British Industries has welcomed an inquiry into "high pay" at the collapsed Thomas Cook.

Josh Hardie, CBI deputy director-general, said:

Quote Message: Questions are now rightly being asked about directors' remuneration and decision-making. Disproportionate rewards are a lightning rod for public discontent, so high pay can only ever be justified by high performance over the long term.

Manchester United revenues hit £627m high

Revenues at Manchester United have hit a record £627m for the year to July.

This was despite the club enduring a "turbulent season" in 2018-19 that saw the departure of manager Jose Mourinho and the team finish in sixth place.

Broadcast revenue soared by 18%, thanks to a new Uefa Champions League broadcasting deal, while commercial income was flat.

But the team expects revenue and profit to fall in 2019-20 after failing to make the Champions League this season.

Tenerife hotelier offers free rooms for Thomas Cook victims

A British-owned hotel in Tenerife is offering Thomas Cook customers free accommodation if they are being told to leave their hotels.

John Parkes the hotel owner posted the offer on Facebook on Monday evening.

"I saw some Thomas Cook customers were being told to leave a local hotel and I thought well we have some free apartments why not let them stay," he said.

John Quayle the hotel receptionist told the BBC: "It was John's idea to try and help Thomas Cook customers worried about being kicked out of their hotels

"We still have some spaces available. I think our post may have scared the hotels into allowing their guests to stay on after all."

'Incredibly moved' by Thomas Cook staff

BBC Live Page readers have been writing in with their experiences of the firm's collapse.

Michael Sheppard says that he and his family, who were on holiday in Corfu, "watched the breaking news with increasing dread" as their holiday was not ATOL-protected.

However, they got an alternative flight home with the help of the CAA website, he says.

"When we got to Corfu airport we were amazed to see four smiling Thomas Cook staff working hard to help people.

"When I spoke to them they did not think they were going to be paid but they had come to help anyway - how professional, dedicated and caring - I was incredibly moved.

"By 9am we were amazed to see Foreign and Commonwealth [Office] staff flown in from the UK and local staff commissioned by the CAA in fluorescent jackets appearing and setting up information stalls.

"They had the passenger lists and all the information that was available and that we could want.

"They could not have been more helpful so I find it odd to read people complaining of a lack of help and information at Corfu airport."