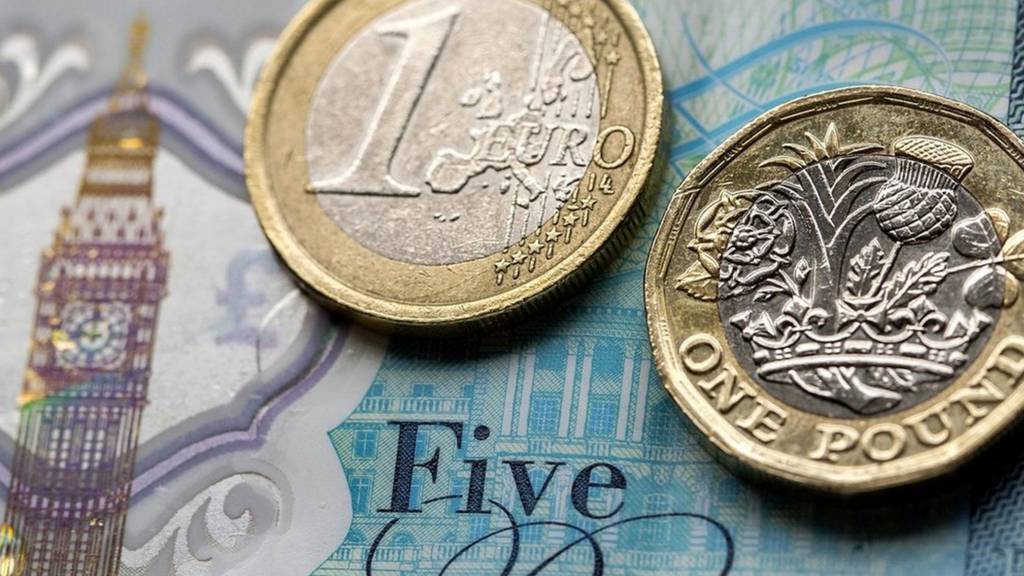 That's all for today. Business Live will be back at 06:00 on Tuesday.

The FTSE 100, which started the day stronger, is ending the day lower, at around 7,226.72.

The FTSE 250 is down 179 points at 18,913.

The pound is holding on to its gains against the dollar, up 0.4% at $1.2074.

South Korea hits back at Japan in WW2 dispute

Image caption: Japan's decision to change South Korea's trade status drew protests

South Korea has said it will take Japan off its favoured trade partners' list.

The move is a tit-for-tat response to Japan's decision earlier this month to do the same to South Korea.

Industry Minister Sung Yun-mo said Japan would be placed on a newly created restrictive trade list instead.

Long-running bilateral tensions were inflamed last year by South Korean court rulings ordering Japanese firms to pay compensation to Koreans over forced labour during World War Two.

As the London stock market closes, a quick update on Wall Street.

The Dow Jones Industrial Average is down 198.31 points, or 0.7%, at 26,089.13.

The S&P 500 was down 18.95 points, or 0.6%, at 2,899.70.

The Nasdaq is off 51.14 points, or 0.6%, at 7,908.00.

Markets are being rattled by the trade tensions between the US and China, the protests in Hong Kong and political surprises in Argentina.

IMF may 'turn a blind eye' to Argentine spending

Edward Glossop, Latin America economist at Capital Economics, has been looking at the situation in Argentina.

He says Mauricio Macri's government would probably pull out all the stops to try to shore up popular support.

This could include easing the pace of economic austerity imposed as part of Argentina's agreement with the International Monetary Fund.

"An outright loosening of the purse strings is possible. The IMF would probably turn a blind eye to this, since it is in its interest for President Macri to secure re-election," he said, but added: "We doubt that these efforts would be enough to change voter perception."

There's more here.

Rolls-Royce is still down more than 3.5% after reports that parts of an engine fell from a Boeing 787 Dreamliner near Rome. The FTSE 100-listed company makes the Trent 1000 engines used in the planes.

Cars and 12 houses were damaged in Fiumicino, close to the airport, after the engine of a Norwegian Boeing 787 Dreamliner malfunctioned, according to reports.

As we approach the close of the London stock market, shares in Thomas Cook are still down more than 20%.

That's after the company said its shareholders will be diluted by its restructuring plans.

As the chart shows, the shares have fallen a long way over the last five years.

Back to Argentina, where as mentioned earlier, currency and bond prices are plunging after the unexpected defeat of Conservative Argentine President Mauricio Macri in primary elections.

There have been big drops in companies such as cement producer Loma Negra - down around 50% - and electricity distributor Pampa Energia which is off around 30%.

The stock market is 11% lower, as measured by the Merval index.

This BBC story explains that voting in the primaries is compulsory and is not restricted to party members but open to all those eligible to cast their ballot in the presidential polls. The vote was won by the president's left-wing rival, Alberto Fernández (pictured).

Facial recognition in use in Kings Cross

BBC's technology correspondent tweets

You may recall that Hotel Chocolat had been asking for help to find its "Chocmobile", which was stolen from the firm's headquarters in Royston, Hertfordshire in late July.

It has now been found - burnt out and less than 30 miles from where it was stolen. That's according to the Press Association.

Hertfordshire Police said it had not made arrests and that it wanted people who may have any information to dial 101.

The firm had previously told the BBC that information leading to the recovery of the Chocmobile would be rewarded with a visit to its "Inventing Room" at Hotel Chocolat's factory, where it comes up with its recipes.

It was also offering a five-year subscription to its Chocolate Tasting Club, a mail order chocolate service.

PM speaks to US president about trade and Brexit

Boris Johnson spoke to Donald Trump on Monday.

That's according to the prime minister's office: "They discussed global economic issues and trade, and the prime minister updated the president on Brexit".

Aramco: world's biggest earner

A handy chart from the Wall Street Journal putting the profits of Saudi oil company Aramco into context.

As mentioned earlier it has reported first half profits of $46.9bn, down from $53bn, after oil prices fell.

Back to Argentina.

The peso is now down 30% to a record 65 per dollar.

That's after primary elections on Sunday in which Conservative Argentine President Mauricio Macri (picture) suffered a resounding defeat.

Saudi Aramco 'ready for float'

Aramco - owned by Saudi Arabia - has been talking about its results, mentioned earlier, and a possible sale of shares through an initial public offering.

"We will announce (the IPO) depending on their (the government's) perception on what would be the optimum market condition," Khalid al-Dabbagh, senior vice president of finance, strategy and development, said on a call about the results.

An IPO is now thought likely in 2020-2021, having been postponed last year and is part of an effort by Saudi Arabia to diversify away from oil.

Fears of a prolonged trade war have dragged down Wall Street at the open.

The Dow Jones Industrial Average fell 117.53 points, or 0.45%, to 26,169.91.

The S&P 500 was 11.58 points lower, or 0.40%, at 2,907.07.

Nasdaq fell 51.65 points, or 0.65%, to 7,907.49.

European markets have reversed earlier gains and have been dragged lower during the day on concerns about a global recession and as protests shut the airport in Hong Kong.

CBS and Viacom in another merger attempt

CBS and Viacom - which were part of the same company until 2006 - are having another go at merging.

Shares of CBS rose 1.6% to $49.70 in premarket trading, while Viacom fell 2% to $29.40.

Reuters quoted sources saying Viacom shareholders will receive just above 0.595 CBS shares for each share they own.

Bloomberg is reporting that Shari Redstone (pictured), whose family investment vehicle National Amusements, controls both companies, would chair the enlarged company while Bob Bakish, who is chief executive of Viacom would lead the enlarged company.

It's not us says Muddy Waters

Deliveroo pulls out of Germany

Deliveroo is pulling out of Germany on 16 August.

In an email to customers, Deliveroo said its goal is "to create the world's best food delivery service" and "offering customers, drivers and restaurants an outstanding service".

The online delivery service said that "where we cannot provide this on the level that we expect and that you deserve, we do not operate".

Argentina's bonds are falling and its peso is down 6% at 49 per dollar.

This is on the back on primary elections on Sunday in which Conservative Argentine President Mauricio Macri suffered a resounding defeat.

The primary, in which presidential candidates from all parties take part, was won by his left-wing rival, Alberto Fernández.

Mr Macri, whose austerity measures have turned many voters against him, is hoping to win a second term in office in the presidential poll on 27 October.

But analysts say his chances of beating Mr Fernández now look very slim.

Dr Martens sales and profits rise

Copyright: KIRSTIN SINCLAIR

Sales at Dr Martens have risen 30% in the year to 31 March to reach £454m while underlying profits rose 70% to £85m.

Kenny Wilson, chief executive, told the Press Association: "It's a great brand, we're taking it to more people, and we've got a strategy that's working.

"Is there a cultural moment? I think there's many interesting things happening around the world.

"It's a brand for independent free thinkers, and if you look at protest and rebellion for a brand that's about rebellion, there's a lot going on."

The company started production in Northampton in 1960 and is increasing the number of shoes it makes in the UK.