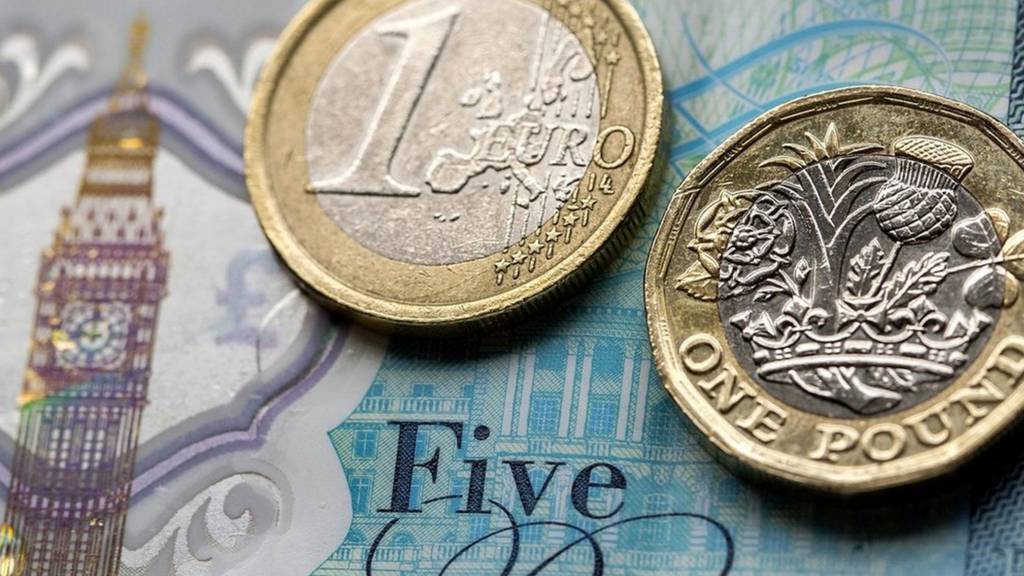 That's it for today. We'll be back on Friday at 06:00.

The pound slumped to a low of $1.2085 at one point during the day, its weakest since January 2017, although has pushed back up through $1.21 as London closes.

The FTSE 100 was little changed on the day as the market was closing, around 7,584 - that's 1.9 points lower.

The company that owns the London Stock Exchange was the biggest gainer after announcing a deal, mentioned earlier, to buy financial data company Refinitiv, rising 7%.

The FTSE 250 was 32 points lower at 19,634.

In the US, the Dow Jones Industrial Index and the S&P 500 were both around 1% higher.

Waitrose extends anti-plastic scheme

Waitrose is extending a trial to remove packaging from many products after a positive response in its first store.

The "Unpacked" scheme was tested in Oxford, with customers using their own containers to buy produce such as pasta, wine and frozen fruit.

More than 200 products were taken out of their packaging at the Botley Road shop in June to cut waste.

Now the chain has announced the scheme will be rolled out to stores in Cheltenham, Abingdon and Wallingford.

Standard Chartered is ending the day as one of the day's largest risers in the FTSE, up around 3%.

That's after the emerging markets-focused bank reported a 3% rise in first half profits to $2.4bn (£2bn).

"Concerns surrounding the potential escalation of trade tensions has affected sentiment and central banks' commentary is indicating a reversal of monetary policy normalisation," said Andy Halford, finance director.

London: The test bed for facial recognition tech

This is an interesting read, behind the FT's paywall.

But the gist is that London has become a testing ground for the use of facial recognition technology.

With 420,000 CCTV cameras it the second most monitored city in the world after Beijing - according to data from the Brookings Institution.

The Metropolitan Police have been using the technology as well as Transport for London.

Private companies have also been investing.

But experts are worried that there is no ethical or regulatory framework for the use of the tech.

3,000 jobs gone at Barclays

Barclays shares are ending the day around 1% higher after its half-year results, mentioned earlier.

The bank has since said it has cut 3,000 jobs in the second quarter as it keeps a lid on costs. It employs around 83,500 globally.

Competition law 'blunt tool'

Ian Giles, antitrust and competition partner at Norton Rose Fulbright, has been looking at the Competition and Market Authority's fine on Casio, mentioned earlier.

"The CMA's decision reflects a trend of increased enforcement against brand owners trying to control market pricing of their products, notably in online sales. The level of penalty will send a strong message to businesses.

"The European Commission has issued some similar fines, and is in the middle of a review of the rules applied to such 'vertical agreements' between manufacturers and distributors. Its research has shown that such practices are widespread.

"That said, there are a number of voices arguing that competition agencies should only focus on such restrictions where there is market power.

"Competition law remains a blunt tool in this respect, and it is hoped the current review might address more clearly the situations where problems arise".

UK on course for weakest year since financial crisis

BBC economics correspondent tweets

US stocks rising

Chief market analyst at CMC tweets

The Dow Jones Industrial Average is also rising, back up through 27,000, some 221 points higher at 27,085.50.

Shopping centre company's shares fall again

Shares in shopping centre owner Intu have continued to fall after plunging more than 20% on Wednesday. That was after it issued results showing wider losses and warned it might have to raise equity as it cuts its debt.

With less than hour to go before London closes, its shares are in record-low territory and down another 7% at 44p.

Amazon founder sells $1.8bn of stock

Jeff Bezos, the founder of Amazon and the world's richest man, has sold $1.8bn of stock in recent days.

Reports say these are his first sales since he and his former wife MacKenzie agreed a record-breaking divorce settlement worth at least $35bn (£27bn) in April.

Electric car team sold by cash-strapped owner

You might not have heard of NIO, but it is one of China's biggest makers of electric cars.

And it had a racing team that won the first FIA Formula E championship in 2015.

Well now e-racing365 reports that it has sold that racing team to Shanghai based Lisheng Racing.

The move probably reflects NIO's tough financial circumstances. It reported a loss of $390m in the first quarter of 2019, and in June received an investment from a state-owned firm.

US stocks regain some ground

Facebook's evidence to MPs under scrutiny

Image caption: Former Deputy Prime Minister Nick Clegg (C) has been asked to answer MPs' questions about the Facebook's earlier testimony

British MPs are taking Facebook to task over evidence appearing to contradict testimony the US tech company gave about the Cambridge Analytica scandal.

Facebook bosses told MPs they had learned users' data had been misused via a December 2015 Guardian report.

But a US watchdog has now said Facebook workers flagged the problem three months earlier.

MPs want answers by mid-August. The social network has said it will respond "in due course"

Boris Johnson must listen to business, says BMW boss

The chairman of BMW has warned Boris Johnson he must listen to business in relation to Brexit.

Announcing the German carmaker's results, Harald Krueger advised the new UK Prime Minister: "Listen to the economy and listen to the people. He needs to be in a dialogue with business. I would visit Johnson to tell him this."

The company builds the Mini at its Cowley plant near Oxford where it employs 4,500 people.

BMW reported a 28.4% fall in pre-tax profits for the second quarter to €2.2bn (£2bn).

But revenues rose 2.9% and Mr Krueger said the firm remained on track to meet its financial targets.

Pound back down through $1.21

The dollar is trading at two year highs after the US Federal Reserve cut interest rates on Wednesday. Why?

"Markets interpreted the Fed's communication as slightly hawkish and therefore further rate cuts in the immediate future were somewhat priced out," David Milleker, senior economic adviser at Union Investment, told Reuters.

It helps explains some of the pressure on the pound, which has previously been dropping on fears of a no-deal Brexit.

It means sterling has fallen through $1.21.

UK economy is a 'Nike Swoosh'

Take 'no-deal off the table' says Unite

Steve Turner, Unite assistant general secretary for manufacturing, is in Northern Ireland where the future of Harland & Wolff is in doubt. He says:

"We are on the precipice of a manufacturing meltdown turbo charged by Brexit uncertainty and the threat of a job destroying no deal Brexit.

"Burning through millions of pounds on a no-deal PR blitz will not secure UK manufacturing or the jobs it sustains. Boris Johnson and his team need to tell the UK's talented manufacturing workers directly that they will not betray them or their families by condemning them to the dole queue."

He is urging the Prime Minister to take "no-deal off the table".

Bank less likely to raise rates

Quote Message: The Monetary Policy Committee is not as hawkish as its new inflation forecasts appear to suggest and instead has become less inclined to raise interest rates if there's a Brexit deal. That won't help stem sterling's recent fall. from Paul Dales Chief UK economist, Capital Economics

US jobless claims rise 8,000

Data from the US Labor Department shows that initial claims for state unemployment benefits rose 8,000 to a seasonally adjusted 215,000 for the week ended 27 July.