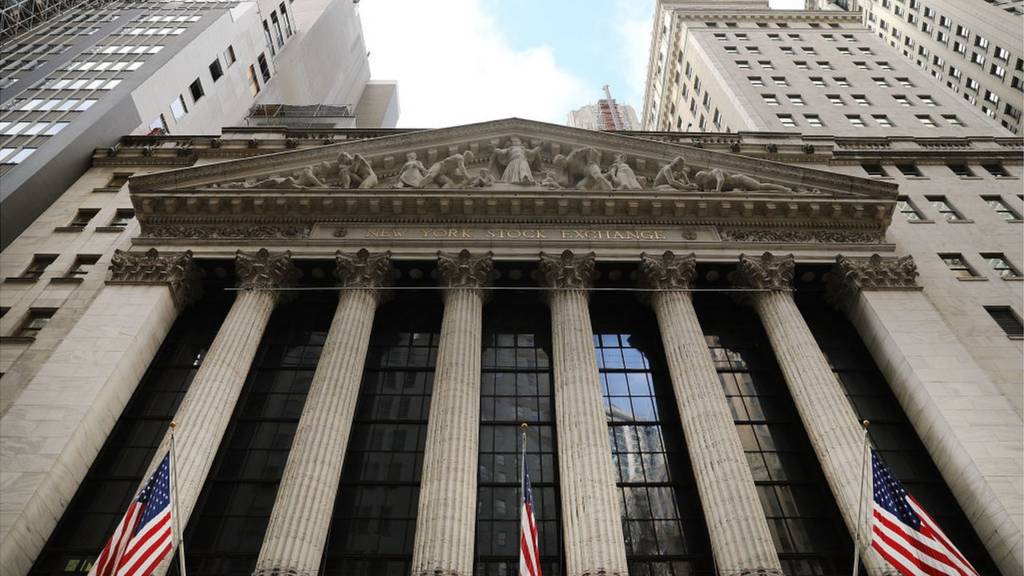 That's it for Business Live, thanks for tuning in. We'll be back at 6am sharp tomorrow.

Could Brexit hit the US economy?

Andrew Walker

World Service economics correspondent

As ever in a Federal Reserve Chair's remarks, there was no commitment to cut interest rates.

But the emphasis on economic uncertainties and below target inflation suggests an increasingly high probability that the Fed will do just that.

The concerns he raised included weaker momentum in some foreign economies which could affect the US. He also mentioned "government policy issues that have yet to be resolved".

His reference to trade developments was partly about the tension between the US and China. But there was one item on this list that isn't for the US to address - Brexit.

He didn't spell out the reasons, but the fact that he flagged it up indicates a concern that the UK's departure from the EU might have an adverse impact on the US economy.

Wall Street has closed higher after Fed boss Jerome Powell hinted the central bank could cut rates in July amid signs of a darkening economic outlook.

The Dow Jones gained 76.57 points to 26,860.06 while the S&P 500 climbed 11.95 to 2,992.01. The the Nasdaq rose 60.80 to 8,202.53.

All of the main share indexes touched record intra-day highs on Wednesday, with the S&P 500 breaching the 3,000 mark for the first time.

Stake in world's largest private school company sold

Copyright: GEMS Education

A consortium led by private equity firm CVC Capital Partners has agreed to buy a 30% stake in GEMS Education, the world's largest private school company by revenue.

The value of the deal was not disclosed, although when Dubai-based GEMS was mulling a listing on the London Stock Exchange last year, the stake was worth $1bn.

The transaction will allow the exit by a consortium of investors that includes Farj Capital and Blackstone Group, however it remains majority owned by the Varkey family.

60-year old GEMS owns and operates a network of over 70 schools in over a dozen countries.

Fed officials favoured 'near term' rate cuts at June meeting

While a US rate cut in July is still not guaranteed, the Federal Reserve's Open Market Committee (FOMC) - which sets rates - was strongly leaning towards one "in the near term" at its June meeting, according to minutes released today.

While only "a couple" of officials called for immediate action, "many participants indicated that the case for somewhat more accommodative policy had strengthened", the minutes show.

The officials - who include Fed chairman Jerome Powell - spoke of further cuts as an "insurance" policy against trade tensions and a darker outlook for the global economy.

"Several participants noted that a near-term cut in the target range for the federal funds rate could help cushion the effects of possible future adverse shocks to the economy, and hence, was appropriate policy from a risk management perspective," the minutes state.

Walmart workers strike in Chile

As many as 17,000 Walmart staff in Chile walked out on Wednesday morning, demanding better pay after negotiations over a new labour contract stalled.

The strike was expected to shut down more than a quarter of the approximately 400 stores that Walmart operates in the country under the brands Lider, SuperBodega aCuenta and Ekono.

Workers have demanded a 4% pay rise, but Walmart Chile is only prepared to offer 3%, union leaders said.

The US retail giant did not confirm the claims but said its contract offer was "robust".

Being grounding hits American Airlines' profits

American Airlines has said the grounding of the Boeing 737 Max reduced its profits in the second quarter earnings by some $185m, despite strong consumer demand.

American, which has 24 of the planes in its portfolio, has previously estimated the grounding would hit 2019 full year earnings by $350m.

The carrier has extended its grounding to 3 September due to uncertainty over when the plane will be returned to service after two deadly crashes.

But shares of American were up 2% in afternoon trade after the firm lifted its outlook for revenue per available seat mile - a key industry metric.

The reason? The Boeing grounding has left the number one US carrier with fewer aircraft in service, allowing it to fly fuller planes.

Wall Street is still in positive territory after Fed boss Jerome Powell hinted the central bank could cut rates in July amid signs of a darkening economic outlook.

A short while ago the Dow Jones was up 0.3%, the S&P 500 had gained 0.4% and the Nasdaq was 0.6% higher.

All of the main share indexes hit record intra-day highs on Wednesday, with the S&P 500 breaching the 3,000 mark for the first time.

Flights back to normal at Gatwick

Gatwick Airport has announced that flights have resumed following an earlier problem in its control tower.

The London airport tweeted: "Following an earlier air traffic control systems issue, flights to and from Gatwick have now resumed.

"If you are travelling this evening please check the status of your flight with your airline before travelling to the airport, as we return to full operations."

Why is Superdry doing so badly?

In case you missed it, Superdry posted a whopping £85m loss earlier, prompting its founder and recently reappointed CEO Julian Dunkerton to say that he is trying to "steady the ship".

So why is the fashion brand doing so badly?

According to retail analyst Chris Field: "Central to [Julian Dunkerton's extensive turnaround plan] will be addressing Superdry's hefty global store estate, which is under-performing due to legacy leasing and dwindling footfall as fashion shoppers move online."

The firm is also struggling with a sluggish supply chain, an over-reliance on discounting, and high turnover of senior executives, says Mr Field.

"'Revolving door' management creates instability, and this is bound to distract the company from doing what it takes to thrive in an increasingly competitive marketplace."

The Uber driver singing his way to opera fame

A South African Uber driver who loves belting out arias at full volume for his passengers has found fame and a career in opera - thanks to a viral video of a performance in his cab.

A clip of Menzi Mngoma singing Verdi's La donna è mobile in his taxi in the eastern coast city of Durban was uploaded to Facebook in May and has had more than 660,000 views.

"I'm so excited with everything that's happening in my life right now - all the gigs I'm getting, people who recognise me, wanting to take photos with me," the 27-year-old told the BBC.

"I feel special seeing my face on TV and in newspapers, as well as doing interviews on radio."

Powell lays into Facebook's digital currency plan

In his testimony to Congress today, US Federal Reserve Chairman Jerome Powell laid into Facebook's plan to build a digital currency, saying that Libra "cannot go forward" until serious concerns are addressed.

"Libra raises many serious concerns regarding privacy, money laundering, consumer protection and financial stability," he said, adding that any regulatory review of the project should be "patient and careful".

Libra differs from other digital currencies in that it will be backed by real assets and pegged to a basket of well known currencies, but there are concerns over how Facebook will protect people's money and data.

European Commission approves Glaxo-GSK tie-up

The European Commission has approved the acquisition of Pfizer's Consumer Health Business by rival drug-maker GlaxoSmithKline.

However, it has said Pfizer must sell off one of its subsidiaries to address it's competition concerns.

In December, the drug makers agreed to merge their consumer healthcare businesses into one firm with annual sales of £9.8bn ($12.7bn).

The move brings brands such as Panadol, Anadin, Aquafresh toothpaste and Chapstick lip balm under one roof.

The deal has also received approval in Australia.

'Government must oversee Whirpool recall'

Image caption: A Whirpool drier that caught fire in the home of Somerset resident Mark Studley

Earlier, we reported that Whirpool had officially confirmed a recall of dangerous tumble dryers, meaning anyone with certain faulty models can receive a free replacement.

But consumer advocacy group Which? says it has reservations.

Strategic policy adviser Sue Davies said: "We have serious doubts about Whirlpool's ability to urgently get these faulty machines out of people's homes given the company's history of dragging its heels and its failure to find hundreds of thousands of machines that could still be in circulation almost four years on.

"It is critical that the government closely oversees this long overdue recall and definitively establishes the safety of modified machines, which the company has acknowledged have also caught fire, if they are to be offered as replacements."

The London market has ended the day slightly lower, falling 5.78 points to 7,530.69. It comes despite market friendly comments from US Fed boss Jerome Powell, suggesting that the central bank is likely to cut rates this month.

Wimbledon players hit by weak pound

The pound is trading a near-two year lows and analysts at Currencies Direct have been looking at the impact on Wimbledon contestants this year.

Phil McHugh, chief treasury analyst at Currencies Direct, said: "Given that March did not deliver a Brexit outcome, sterling uncertainty has increased and shows no sign of abating ahead of the October Brexit deadline.

"This means that when it comes to prize money, all remaining Wimbledon competitors will suffer from the pound weakening over the last few months."

For instance, Novak Djokovic would get £150,000 less than if the tournament had been held in March on the basis that he would convert any winnings into Serbian dinar.

Can Scottish salmon keep pace with industry changes?

Douglas Fraser

Scotland business & economy editor

It's 50 years or so since a ramshackle, welded cage was lowered into Lochailort, and salmon farming began.

In the first year of production, 1971, Unilever's subsidiary, Marine Harvest, produced a total of 14 tonnes from the site.

The industry has put on a lot of biomass since then. And other countries have overtaken Scotland, in output and in innovation - notably Norway, which also dominates corporate clout in the sector.

Scotland's salmon farming now accounts for Britain's biggest single food export, yet it also represents merely 6% of global production.

It commands a premium price, but its growth has been constrained by planning controls, which in turn have had to take into account the impact of salmon farms on sea loch conditions for wild fish.

Levi's shares dive on weak results

Shares in Levi Strauss have slipped more than 12% after the jeans-maker reported weak second quarter results.

The US firm blamed the costs of its initial public offering this spring, for a 63% fall in net profit to $29m (£23.2m) for the three months to 26 May.

Net sales grew 5%, but investors still expect second-half revenues to be softer than the first-half number - partly because the firm's reporting period ends just before the Black Friday mega sale in November.

Total sells North Sea oil fields for £509m

French oil giant Total has sold a portfolio of its North Sea assets in a $635m (£509m) deal.

Petrogas NEO UK, which is owned by private equity fund HitecVision, and Oman's Petrogas, will take over four fields and a share in six others.

The fields in the Eastern North Sea, off the coast of Aberdeen, include sites like Dumbarton, Balloch and Lochranza.

They currently produce around 25,000 barrels of oil per day but Petrogas NEO UK wants to grow this to more than 100,000 barrels.