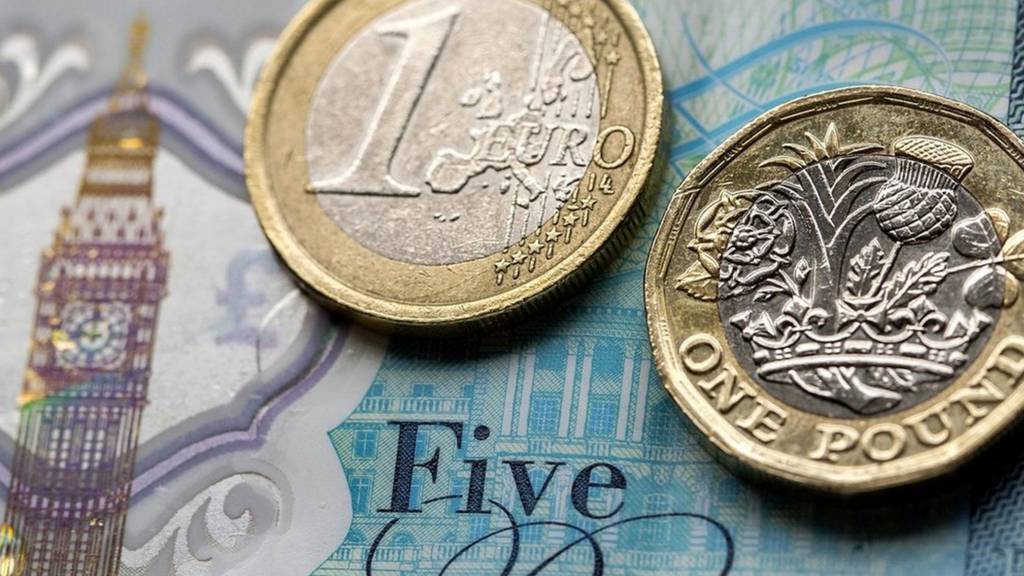 Thanks for tuning in to Business Live. We'll be back at 6am tomorrow, hope to see you then.

Mexico hits out at Louis Vuitton

The Mexican government has questioned Louis Vuitton's use of a traditional Mexican pattern in the design of a chair, hinting that the French fashion house was guilty of cultural appropriation.

In a letter dated 5 July, the government said it was "surprised" to find the chair in the Dolls by Raw Edges collection featured the designs of Mexican artists in Hidalgo.

"We feel obliged to ask, in a respectful manner, if for the elaboration of the chair mentioned you sought and, in this case, worked together with the community and its artists," the letter said.

Mexico's ruling leftist government has been planning legislation to protect indigenous communities from plagiarism, and in June similarly accused Venezuelan designer Carolina Herrera of "cultural appropriation".

Mixed close for US stocks

It was a mixed close for Wall Street as investors continued to fret about the impact of US-China trade tensions on company profits and scaled back their hopes for a July rate cut.

The Dow Jones Industrial Average dipped 22.65 points to close at 26,783.49. The S&P 500 ended marginally ahead at 2,978.93.

However, the tech-rich Nasdaq rose 0.54% to 8,141.73 thanks to gains in Amazon.com, Facebook and Netflix.

Farmers could be paid to protect the environment

Image caption: Improving biodiversity is also on the Welsh Government wish list

Farmers in Wales would be offered extra money to carry out work which protects and enhances the environment under new post-Brexit farming proposals.

Farms would be expected to work with an adviser to develop bespoke contracts.

But it is not known how much money will be available to fund the Sustainable Farming Scheme after Brexit.

The Welsh Government is asking people's views on its new plans after an earlier consultation attracted a record-breaking number of responses.

Cisco inks $2.8bn deal to boost 5G reach

In case you missed it, US telecoms equipment maker Cisco has agreed to buy smaller rival Acacia Communications for $2.8bn, as it seeks to garner a bigger chunk of 5G spending by telecom companies around the world.

Cisco's $70 per share offer represents a premium of about 46% to Acacia's closing price on Monday.

Cisco's new boss Chuck Robbins has said he wants to buy up more companies to expand in fast growth areas like cloud computing and cyber security.

Twitter strengthens religious hate speech rules

Twitter is strengthening its rules, saying it will now remove tweets that "dehumanize" religious groups.

Previously it sanctioned users who insulted individuals on the grounds of their religion, but the new rule will apply to whole groups.

Twitter gave examples of what this might look like, with one reading: "[Religious Group] are viruses. They are making this country sick."

Starting today, anyone who posts tweets in this vein will have to delete them to regain control over their accounts.

The social media firm said it could apply a similar standard to other protected groups of people in the future.

Market abuse may have occurred before 10% of takeovers - FCA

Suspicious trades that may indicate insider trading occurred before 10% of takeover announcements in Britain last year, according to the Financial Conduct Authority (FCA).

However, that was the lowest level since at least 2006.

The FCA admitted it was very hard to gauge exactly how much market abuse went on, but did say it had stepped up efforts to combat the problem.

Andrew Bailey, chief executive of the FCA, said: "This year we have taken steps to combat the risks of market abuse, including opening 484 preliminary market abuse investigations and a programme of visits to improve monitoring in fixed income, commodity and derivative markets."

Little has changed on Wall Street, as investors continue to fret about the impact of US-China trade tensions on company profits and scale back their hopes for a July rate cut.

The Dow Jones is down 0.2%, the S&P 500 is flat, and the Nasdaq has gained 0.4%.

Facebook sets targets to boost staff diversity

Facebook has set a goal of doubling the number of women in its global workforce over the next five years, as well as hiring 50% more staff from minority groups in the US by 2024.

"We envision a company where in the next five years, at least 50% of our workforce will be women, people who are Black, Hispanic, Native American, Pacific Islanders, people with two or more ethnicities, people with disabilities, and veterans," said chief diversity officer Maxine Williams.

The company says women currently make up 36.9% of staff, up from 31% in 2014, although the proportion of black and Hispanic staff in the company stands at just 3.8% and 5.2% respectively.

Sales and profits jump at insolvency specialists

Retail insolvencies may be bad news for the High Street but they've provided a boost to for insolvency specialists Begbies Traynor.

The advisory firm reported sales of £60.1m for the year to 30 April, up £52.4m on a year ago. Profit before tax increased by more than 50% to £3.5m.

All areas of the group grew including business recovery, where an increase in insolvency numbers nationally provided new work.

The underlying number of corporate insolvencies in 2018 was up 10% on the previous calendar year to 16,106, with Begbies maintaining its significant market share.

Where does cash from data breach fines go?

Former Bank of England MPC member tweets...

Boeing reports sharp drop in plane deliveries

Boeing has reported a sharp drop in plane deliveries in the first half of 2019 as the grounding of the 737 Max continued to weigh on sales.

Deliveries fell about 37% to 239 planes, lagging behind rival Airbus and putting the firm on track to lose the world's biggest planemaker title after eight years.

The 737 Max has been grounded since March after two crashes involving the plane claimed 346 lives.

Boeing has developed a software upgrade after problems with a flight handling system were linked to the disasters, but the jet is still not cleared to fly.

Will India's budget boost economy?

The London market has closed lower, ending 0.17% down at 7,536.47.

David Madden of CMC Markets UK said European indices in general were in the red as traders are less hopeful that the US Federal Reserve will cut rates in July.

"The non-farm payrolls [jobs report] update on Friday prompted dealers to adopt a less dovish prediction for the Fed, and that has led to a move lower in stocks."

The London market has closed lower, ending 0.17% down at 7,536.47.

David Madden of CMC Markets UK said European indices in general were in the red as traders were less hopeful that the US Federal Reserve would cut rates at its July meeting.

"The non-farm payrolls [jobs report] update on Friday prompted dealers to adopt a less dovish prediction for the Fed, and that has led to a move lower in stocks."

It's a mixed picture for US markets today, as investors fret about the impact of the US-China trade war on company profits and temper their hopes of a rate cut.

A short while ago the Dow Jones was down 0.3% at 26,724.62 points, while the S&P 500 was flat at 2975.17. The Nasdaq was slightly higher at 8,115.12.

'Facebook could be forced to rethink data policies'

Facebook's method of transferring personal data from the EU to the US is being challenged again in court amid concerns that such transfers could be subject to surveillance by US intelligence agencies.

QC Dean Armstrong told the BBC that the case - bought by privacy activist Max Schrems - could force the social media giant to change course.

Sterling is hovering near a two-year low amid rising concerns about the UK economy and a no-deal Brexit.

The currency has fallen about half a per cent against the dollar since the start of the day to $1.2464. That is within striking distance of an April 2017 low below $1.2409 - a level it also briefly touched in January amid what became known as a "flash crash".

Some analysts believe the economy contracted in the second quarter, and expectations of a rate cut from the Bank of England over the next 12 months are rising.

Meanwhile, the odds of eurosceptic Boris Johnson becoming the next prime minister - and of him pursuing a no-deal Brexit - are narrowing.

Marriott fined £99m for data breach

US hotel chain Marriott is facing a fine of £99m in the UK over a major data breach which that hit an estimated 339 million customers.

The fine relates to a hack believed to have originated in the systems of the Starwood hotels group in 2014, which Marriott acquired two years later.

The Information Commissioner's Office (ICO) said the hotel chain had failed to undertake due diligence when it bought Starwood in 2016 and should have done more to secure its systems.

Guest records and around five million passport numbers were accessed. Seven million records were said to be related to UK residents.

Marriott International's president and chief executive Arne Sorenson said the company would contest the fine.

Starwood hotels, include Trump Turnberry in Ayrshire, London's Park Lane Sheraton Grand, Westbury Mayfair and Le Meridien Piccadilly.

Ten-year ban for Sainsbury's-Asda merger

Asda and Sainsbury's cannot attempt another merger for at least 10 years, the Competition and Markets Authority has confirmed.

Formally closing its investigation into the proposed tie up, it said the supermarket giants were legally bound not to join forces for a decade, which is the standard CMA prohibition period.

The ban also applies to US giant Walmart, which is not allowed to acquire any interest in Sainsbury's as long as it still owns part of Asda.

The CMA blocked the tie-up in April over fears it would raise prices for consumers. The deal would have created the UK's biggest supermarket chain, accounting for £1 in every £3 spent on groceries.