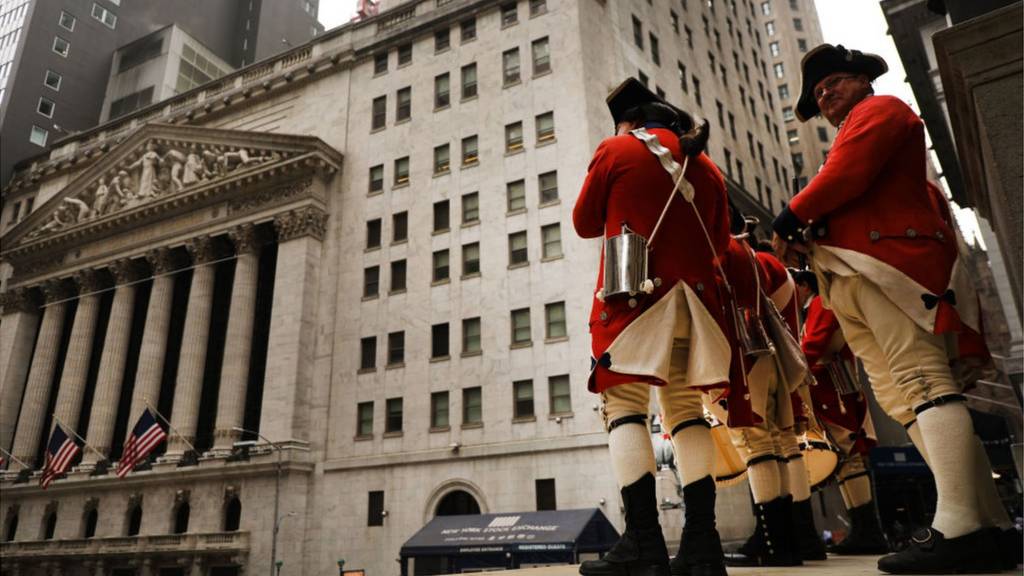 That's all for another day. We're back tomorrow from 6am. Please join us.

Wall Street overshadowed by Fed comments

US stocks ended lower on Wednesday and the S&P 500 snapped a three-day streak of record high closes as comments from Federal Reserve Chairman Jerome Powell dampened expectations the central bank could move later this year to cut interest rates.

At the closing bell the Dow Jones Industrial Average fell 163.04 points, or 0.61%, to 26,429.87, the S&P 500 lost 22.11 points, or 0.75%, to 2,923.72 and the Nasdaq Composite dropped 45.75 points, or 0.57%, to 8,049.64.

Worries about inflation will rebound

Phil Smeaton, chief investment officer at private wealth manager Sanlam UK says that the markets will be "listening keenly" to see how monetary policy is likely to go.

"US growth in Q1 exceeded expectations and continues to be above trend. The figures have been surprisingly strong despite domestic and global political uncertainty. And while we may see levels fall back in Q2, a sustained period of high growth, combined with the historic low unemployment levels will raise inflationary worries," he said.

"For the time being, the Federal Reserve's conviction remains to hold interest rates steady, and while Powell may be keeping an eye open for signs of inflation trickling through, pulling the monetary levers as we approach the Presidential election will risk drawing the Fed into the heart of the political narrative."

How finance can aid Rwanda's development

Diane Karusisi, chief executive of Bank of Kigali tells the BBC how it is finding ways to get Rwanda's unbanked population into using banking services, as well as how it can support small businesses to help the economy grow.

Electric car maker Tesla's shares are now down 2% to $233.89.

On Wednesday, it was revealed that Tesla's revenues for the first quarter of 2019 included $200m collected from regulatory credits, which wasn't pointed out in the financial results or by chief executive Elon Musk during Tesla's earnings call.

According to the Los Angeles Times, this figure is in an official US government filing known as Form 10-Q.

If you were to take the $200m away from Tesla's revenues, then its losses would have been even worse than the $702m quarterly loss Tesla reported last week.

Jerome Powell comments on inflation

US Federal Reserve chairman Jerome Powell has just spoken at a press conference following the meeting of the Fed's Open Market Committee.

Mr Powell said that he expects inflation to rise back to 2%, and that recent falling readings are likely to be transient.

However, if inflation were to persistently stay below 2%, "we would be concerned and we would take it into account" in setting policy, he added.

When pressed by reporters on whether that would mean the Fed would cut rates in response, Powell demurred.

"I can't really be any more specific than what I've said," he said.

Rapid hunt results in sacking

As a relatively new defence secretary, Gavin Williamson once said that Russia should "go away and shut up".

Well, the prime minister has told him to go away because in her view, he did not shut up.

In a leak investigation, that has broken the precedent of most leak investigations that end up with precisely no result at all, a rapid hunt of just a few days has resulted in the sacking of one of the most senior ministers in government, and one of the few ministers frankly, that the prime minister could more or less rely on.

Mr Williamson was for a while chief whip too, the keeper of the government's secrets.

More on the Fed's decision

In a statement explaining its decision, the Federal Open Market Committee maintained its "patient" approach to interest rates.

It said that economic activity rose at a "solid rate" but said that "growth of household spending and business fixed investment slowed in the first quarter".

It also noted that inflation is below the Fed target of 2%.

EBRD heads to Canary Wharf

The European Bank for Reconstruction and Development (EBRD) will move its London headquarters from the City of London to the Canary Wharf in 2022.

Its new building will be a 24-storey building on Bank Street, where some 2,500 London-based EBRD staff out of a total of around 3,500 will work.

The EBRD was founded in London in 1991 to help fund the rebuilding of Russia and the former Communist bloc after the fall of the Berlin Wall. It now says it works across 38 emerging economies in three continents.

US Fed defies Trump to hold interest rates

The US Federal Reserve has kept interest rates on hold despite pressure from President Donald Trump to announce a cut.

The central bank said borrowing costs will remain at between 2.25-2.5%.

The Fed made the decision despite Mr Trump tweeting on Tuesday that it should reduce rates by 1% to help the US economy "go up like a rocket".

The Fed indicated earlier this year that it would not change rates for the rest of 2019.

Facebook and Twitter grilled over MP abuse

Image caption: Rebecca Stimson appeared on behalf of Facebook

Facebook and Twitter executives have been grilled by MPs over how the social networks handle online abuse levelled at parliamentarians.

MPs argued that such hostility undermined democratic principles.

Twitter representative Katy Minshall admitted it was "unacceptable" that the site had relied wholly on users to flag abuse in the past.

She said there was more to be done, but insisted Twitter's response to abuse had improved.

Breaking

Gavin Williamson sacked over Huawei leak

Defence Secretary Gavin Williamson has been sacked following an investigation into the leak of information from the National Security Council.

A statement said Theresa May's decision was "informed by his conduct", following an inquiry into the leak.

She had "lost confidence in his ability to serve" in his role, No 10 said.

The inquiry followed reports that ministers had raised concerns over a plan to allow Huawei limited access to help build the UK's new 5G network.

Metro Bank profits fall 30%

In January, Metro Bank revealed that it had underestimated the risk level of some of its commercial loans.

Pre-tax profits for the three months ended 31 March 2019 halved, from £8.6m to £4.3m year-on-year, while pre-tax profits fell 30% from £6.1m to £4.3m compared to the previous quarter.

"Adverse sentiment following January's update impacted deposit growth in the quarter, with a small number of large commercial and partnership customers making withdrawals," said Metro Bank's chief executive Craig Donaldson.

However, he stressed that net inflows had returned in April, despite a "challenging" quarter, and that customer accounts had increased by 6%, compared with the previous quarter.

Fracking boss calls government 'pathetic'

Britain's richest man has called the government's attitude to fracking for gas "pathetic", accusing ministers of listening to a vocal minority rather than looking at the science.

Jim Ratcliffe, whose company Ineos is conducting exploratory fracking tests, said the north of England was sitting on potential huge energy resources.

But restrictions were making it unviable for firms, he told the BBC.

On Monday, the UK's shale gas tsar resigned after just six months.

Police probe Gill's Motorhomes fraud claims

Police are investigating claims that a West Lothian motorhome firm duped customers and business associates out of hundreds of thousands of pounds.

BBC Scotland has learned that dozens of Gill's Motorhomes clients are owed substantial sums for vehicle hire bookings that never materialised.

Several customers also claim they lost thousands after buying used vehicles that were still owned by finance firms.

And two men claim to have lost tens of thousands over a failed franchise plan.

Is this vegan food firm worth $1.5bn?

The US company Beyond Meat - which makes vegan burgers and sausages - will be selling its first shares on Wall Street.

It's thought the sale will make the company a "unicorn", valued at over one billion dollars. Beyond Meat sells its products across the world and expects a big shift to meat substitutes in the future.

London shares have ended down, as markets braced themselves for the result of the US Federal Reserve's next policy meeting today, amidst rumours that British prime minister Theresa May could be closing on a Brexit deal with Labour party leader Jeremy Corbyn.

The FTSE 100 closed 33 points or 0.4% lower to 7,385.26. Top of the losers was software firm Micro Focus International, which dropped 5% to £18.39 after investment manager Meyer Handelman reduced its stake in Micro Focus by 27.6% in the first quarter of 2019.

The FTSE 250 ended flat - just 11 points or 0.05% down to 19,813.74. Funding Circle led the losers, falling 5.5% to 239p.

US manufacturing fell by more than expected in April, according to latest data from the Institute for Supply Management (ISM).

Manufacturing grew at its slowest since October 2016. ISM's index of national factory activity fell to a reading of 52.8 in April from 55.3 in March.

A reading above 50 indicates growth in the manufacturing sector, which accounts for about 12% of the US economy.

A measure of export orders also fell and factories reported a decline in hiring, with a measure of manufacturing employment falling to 52.4 from 57.5 in March.

Oil prices have been falling today, and have extended losses further after latest data from the US Energy Information Administration (EIA) showed a much larger-than-expected build-up in US inventories.

Brent crude oil futures are now down 0.2% to $71.95.

West Texas Intermediate oil futures have fallen 0.8% to $63.43.

Later today, the US Federal Reserve will make a decision on interest rates.

The main interest rate is at a range 2.25% to 2.5%.

But on Tuesday, US President Donald Trump tweeted that "We have the potential to go up like a rocket if we did some lowering of rates".

Jay Shambaugh, a former economic advisor to President Obama who is now with the Brookings Institution think tank in Washington, talks to BBC World News about what the Fed is concerned about.