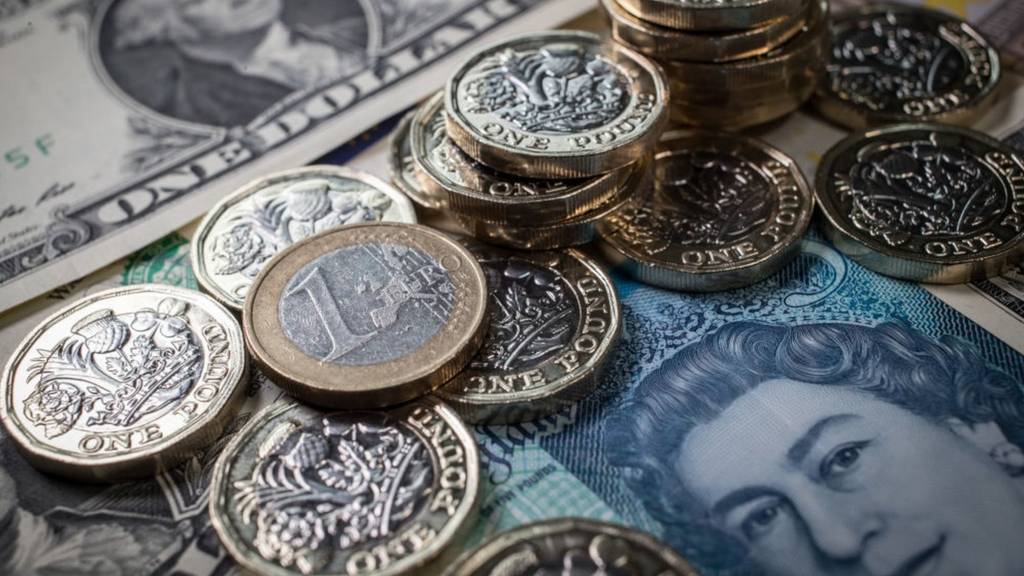 Summary
Get in touch: bizlivepage@bbc.co.uk
Debenhams enters administration
Ghosn claims he's conspiracy victim
US considers tariffs on EU goods
Centrica boss gets 44% pay hike
That's all for tonight. Please join us again tomorrow from 06:00.

The blossom worth billions for Japan

Cherry blossom represents the nature of life and a season of renewal in Japanese culture.

Last year, the season attracted nearly five million people and boosted the economy by about $2.7 billion, according to figures from Bloomberg.

Each spring, "Hanami", or "flower viewing", events and festivals are held, with many people picnicing under the trees to enjoy the flowers' transient beauty.

Levi Strauss has reported a 7% rise in quarterly revenue on Tuesday in its first report after returning to public markets.

The classic maker of jeans has adopted a strategy of expanding its retail stores and investing in its online business.

Levi said net income was $146.6m in the quarter, compared to a loss of $19m a year earlier.

Saudi Aramco to raise $12bn

The Saudi oil giant is raising $12bn, $2bn more than initially planned in its first international bond sale, after drawing record-breaking orders in for the money-raising round.

Wall Street lost ground on Tuesday as tariff tensions between the United States and its European trading partners went from simmer to boil and the IMF cut its global growth outlook.

The Dow Jones Industrial Average fell 190.44 points, or 0.72%, to 26,150.58.

The S&P 500 lost 17.57 points, or 0.61%, to 2,878.2.

And the Nasdaq Composite dropped 44.61 points, or 0.56%, to 7,909.28.

IMF: no-deal Brexit could slice 4% off economy

What difference would a no-deal Brexit make to the economy?

In its annual report today, the International Monetary Fund is warning, it could have quite a big impact compared to a smoother exit.

Even in a relatively orderly no-deal Brexit scenario the economy would grow 3.5% less by the end of 2021 than it would under a smoother Brexit.

"The increase in trade barriers has an immediate negative impact on UK foreign and domestic demand," the IMF said.

The EU economy would suffer too but by much less than Britain, facing an estimated 0.5% hit compared with a smooth Brexit scenario, the IMF said.

Eight legal headaches for Donald Trump

After the special counsel, there are other legal troubles dogging Donald Trump's presidency.

Donald Trump called it a "complete and total exoneration".

While the public has not yet seen the conclusions drawn by special counsel Robert Mueller over possible ties between Trump's presidential campaign and Russia, the president himself feels exonerated.

But there are other legal troubles dogging his presidency, family and businesses.

In New York and Washington, the list of inquiries into the Trump world is expanding - any of which could produce serious headaches for the president.

'Uncertain future for Debenhams'

Debenhams faces an uncertain future on UK High Streets, according to Sean Moran, insolvency partner at law firm Shakespeare Martineau.

"The retailer's declining position is yet another sign of the perfect storm of issues facing the UK retail sector."

He added that the department store could at least "preserve jobs and retain its presence as a retail offering".

And he said: "For now, Debenhams lenders have bought themselves valuable time in the battle against tough retail trading conditions, but whether that is enough to prevent this High Street stalwart becoming the latest high-profile UK retail casualty is yet to be seen."

No deal - how are EU countries preparing?

Amid uncertainty over the UK's Brexit, how are other countries preparing for a possible no deal?

Why Mike Ashley has lost so much from Debenhams' demise

Emma Simpson

Business correspondent, BBC News

The biggest loser today is Mike Ashley. In this tussle, he's found himself on the wrong side of the fence.

Debenhams has a huge pile of debt, which it needed to refinance and couldn't afford to repay. In the end, lenders were calling the shots on the fate of this business.

Mr Ashley's series of proposals all came with strings attached, which the lenders simply didn't like.

One major sticking point was that he wanted to become chief executive. The hostilities became ever more acrimonious, which didn't help.

Sports Direct 'locked out' of Debenhams deal

So, what now for Debenhams, which has gone into administration?

Chris Wootton, deputy chief financial officer of Sports Direct, says he doubts Sports Direct will be in the running to buy the struggling retailer.

"We've registered our interest with the administrators, as we have to, that means legally they cannot ignore us in this process.

"However the way this has all been set up suggests to us they already have a plan in place to sell it to a third party, not us," he says.

"It's a case of the deal being done with a third party that keeps us locked out of it."

Lush leaves social media in UK

In what form will the Debenhams brand continue?

Consultants Begbies Traynor have been asking what the future is for Debenhams,

The department store chain has fallen into the hands of its lenders as part of an administration process.

And Begbies Traynor partner Julie Palmer said: "In the coming weeks, there will be job losses and analysis as to which stores are to be kept on.

"As for the Debenhams name, this ensures that it will continue in some form as the creditors have had their way.

"The biggest question for the coming days will be, in what form will the Debenhams brand continue? And will it change its ways to adjust to the modern market, or simply kick its problems further down the road?"

Manufacturers call on politicians to avoid 'catastrophic no-deal Brexit'

Industry groups have called on UK and EU leaders "to avoid a catastrophic no-deal Brexit and the economic damage it would bring to British companies as well as businesses and workers throughout the EU."

Make UK and Ceemet, which represents EU manufacturers, warned "of the risk of economic shocks if negotiators fail to agree a deal".

"For the last 40 years the levels of integration in complex supply chains would mean simply returning to World Trade Organisation terms would be extremely damaging as they rely on smooth transit across borders between all EU countries and the UK," the industry bodies say.

May's Merkel meeting misfire

There was no-one to greet the PM as she arrived to meet the German chancellor for Brexit talks in Berlin.

Theresa May is holding last-minute Brexit talks with the leaders of Germany and France, with the UK due to leave the EU in three days' time.

Mrs May met Angela Merkel in Berlin, and will meet Emmanuel Macron in Paris, as she urges both to back her request to delay Brexit again until 30 June.

Standard Chartered fined $1.1bn over sanctions busting

Standard Chartered bank has been fined $1.1bn by US and UK regulators over sanctions violations and poor money-laundering oversight.

The bank has been operating under a deferred prosecution agreement with US authorities since 2012, when it paid $667m for illegally moving millions of dollars through the US financial system on behalf of customers in Iran, Sudan, Libya and Myanmar.

The penalty, which resolves an investigation that began about five years ago, was split between the US Department of Justice, the US Department of Treasury's Office of Foreign Assets Control, the New York County District Attorney's Office, the New York State Department of Financial Services, and the UK watchdog the Financial Conduct Authority (FCA).

The FCA fined the bank £102.2m over poor money laundering controls in its UK Wholesale Bank Correspondent Banking business and its branches in the United Arab Emirates (UAE).

It said examples in which the bank didn't adequately reduce money-laundering and terrorism financing risks included someone opening an account "with 3 million UAE Dirham in cash in a suitcase - just over £500,000 - with little evidence that the origin of the funds had been investigated".

Labour: 'Our retail sector is in crisis'

Responding to Debenhams going into administration, Labour's shadow business minister Bill Esterson says:

"Our retail sector is in crisis. The government must urgently meet with both the unions and Debenhams to ensure that workers are safeguarded."

US stocks fall after Trump tariff threat

US stocks fell after President Donald Trump threatened to impose tariffs on European goods, while the IMF's downbeat outlook for global growth added to worries about an economic slowdown stemming from trade disputes.

Trade-sensitive industrial stocks were among the worst hit, dropping 1.15%, followed by losses in energy, materials and financial shares.

The Dow Jones Industrial Average was down 0.66% at 26,168.78, the S&P 500 was down 0.54%, at 2,879.93 and the Nasdaq Composite was down 0.33%, at 7,927.72.

Debenhams pre-pack 'a national scandal'

Mike Ashley's Sports Direct has fired a broadside after Debenhams agreed a pre-pack administration that put it in the hands of lenders.

"This is nothing short of a national scandal - and one that could so easily have been avoided if Debenhams had chosen to engage with its largest shareholders constructively rather than obstructively," the firm said in a statement.

"This is a tragedy. There is no other way of putting it, especially when a long-term solution was there for the taking.

Mike Ashley said: "As normal, politicians and regulators fiddled whilst Rome burnt. These politicians and regulators have proven to be as effective as a chocolate teapot."

"I call on the authorities to reverse the administration process so that a full, better and appropriate solvent solution can be found."

Travelex considers London IPO

The owner of currency exchange Travelex is considering a London stock market flotation as it looks to raise $200m (£152.9m).

United Arab Emirates-based Finablr, which specialises in payments and currency exchange, said proceeds from an IPO would be used to finance further expansion and reduce debt.

BR Shetty, the group's co-founder and chairman, said: "This is the right time to consider the future growth of Finablr and whether the business would benefit from becoming a listed company."