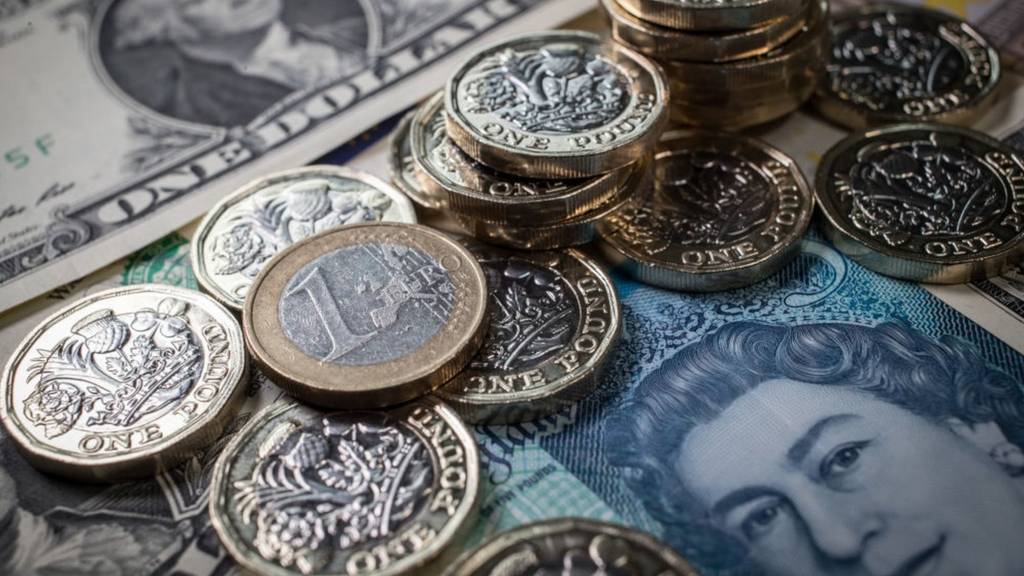 That's all from Business Live for today. Please join us again on Thursday at 0600.

Turkey's lira under pressure

Image caption: The president is on the campaign trail

Turkey may have been directing its banks to withhold lira liquidity in London - a key foreign market for the currency – in an effort to defend its value, Reuters reports. The lira plunged again last week.

The London overnight swap rate rocketed to 1,200% on Wednesday, its highest on record.

Turkey's president Tayyip Erdogan is campaigning hard ahead of nationwide municipal elections on Sunday, amid calls for fundamental economic reform.

Why Trump is worried about Google and China

Donald Trump's talks with Sundar Pichai were wide-ranging, but there seems to have been particular emphasis on China. Why?

Earlier this month, the top US general, Marine General Joseph Dunford, chairman of the Joint Chiefs of Staff, told a Senate committee hearing that the Chinese military was benefiting from the work Google was doing in China.

Mr Pichai has previously said that Google has invested in China for years - and plans to continue to do so. It will be interesting to see if there is any distancing from this in the coming months.

Trump meeting 'productive' - Alphabet

Google-owner Alphabet has returned the back-slapping after Donald Trump said his talks with chief executive Sundar Pichai went well.

An Alphabet spokesperson said: "We were pleased to have productive conversations with the President about investing in the future of the American workforce, the growth of emerging technologies and our ongoing commitment to working with the US government."

US stocks eased on Wednesday as Treasury bond yields fell again and concern about an economic slowdown persisted.

Worries about global growth have risen recently amid weak economic data, and the Federal Reserve last week abandoned projections for any interest rate hikes this year.

The European Central Bank became the latest central bank to delay a planned increase in rates amid rising threats to growth.

It's made investors nervous, say traders.

At the close the Dow Jones was down 0.13% at 25,625.5, the S&P 500 lost 0.46% to 2,805.3, and the Nasdaq fell 0.63% to 7,643.3.

Trump says Alphabet meeting ended 'well'

A few more details are coming through about US President Donald Trump's meeting with Sundar Pichai (above) chief executive of Google's parent Alphabet.

Mr Trump, no fan of Silicon Valley, said the two discussed "political fairness" and the company's business in China.

"He stated strongly that he is totally committed to the US Military, not the Chinese Military," Trump said on Twitter after the meeting.

"Also discussed political fairness and various things that @Google can do for our Country. Meeting ended very well!," Mr Trump said.

The president has accused the tech giants of being against him and his administration.

Boeing fixes broadly welcomed

Boeing's fixes for its 737 Max (software upgrade, pilot alerts, and more training) seem to have been broadly welcomed.

Southwest Airlines, which on Wednesday became the first major airline to formally cut its financial outlook for the year after being forced to ground its Max fleet, supported Boeing's decision.

"Boeing's software update appears to add yet another layer of safety to the operation of the MAX aircraft," Southwest's certificate chief pilot Bob Waltz said.

The Allied Pilots Association, which represents American Airlines' pilots, said they were pleased with Boeing's progress on the software, although they warned that the certification process should not be rushed.

United Airlines said it "ready to support and cooperate" with the certification process.

US President Donald Trump has met Google chief Sundar Pichai to discuss China, fairness, and much else. How do we know? The president just tweeted. Details are scant, though.

Wall Street still nervous

The S&P 500 and Nasdaq fell on Wednesday as US bond yields fell again and a prolonged inversion in the yield curve - an indicator of recession - fanned growth worries.

"The inverted yield curve, that's what worries investors and it's why you're getting selling here. It's definitely a slowing economy indicator, and whether it goes into a recession or not, nobody really knows. But it will put a pause in the market," said Alan Lancz, president, Alan B. Lancz & Associates, an investment advisory firm.

The Dow Jones rose 1.82 points, or 0.01%, to 25,659.5, the S&P 500 lost 8.36 points, or 0.3%, to 2,810.1 and the Nasdaq dropped 37.73 points, or 0.49%, to 7,653.8.

Boeing fix still needs clearance

The US aviation regulator, the Federal Aviation Administration denied on Wednesday that it has granted provisional approval for Boeing announced anti-stall software upgrade of 737 Max aircraft following crashes in Indonesia and Ethiopia.

A Boeing executive had earlier suggested to reporters that the FAA had "provisionally approved" the upgrade.

But the FAA said it had worked with the company throughout its software change and "we have not received the completed software enhancement for review and certification".

Boeing shares up on 737 fix news

Boeing's shares turned positive after the planemaker unveiled its 737 Max airliner software fix. The price was up about 1.7% at one point and are the second biggest gainer on the Dow Jones index.

The shares are, however, still down more than 11% since the Ethiopian Airlines crash and grounding of the Max planes.

More on McDonald's acquisition of Dynamic Yield and its plan to bring artificial intelligence to fast food:

"Technology is a critical element of our Velocity Growth Plan, enhancing the experience for our customers by providing greater convenience on their terms," said Steve Easterbrook, president and chief executive of McDonald's.

"With this acquisition, we're expanding both our ability to increase the role technology and data will play in our future and the speed with which we'll be able to implement our vision of creating more personalised experiences for our customers."

The restaurant chain is also working on implementing the same system into its self-order kiosks and ordering app.

Mr Easterbrook indicated that the system could be used to recognise a customer's licence plate as they approach, adjusting the menu to show products based on their previous purchases. "We will be very sensitive as we learn, as we go forward," he said in an interview with Wired.

The global giant is planning to roll out the technology to drive-thru restaurants in the US in 2019, before expanding to "other top international markets".

Dynamic Yield, which has worked with the likes of Ikea, Office and William Hill, will remain a standalone company upon completion of the deal.

McDonald's: Making fast food faster

American fast food chain McDonald's has bought an AI machine-learning company that will automatically change its drive-thru menu panels depending on factors such as weather, time, restaurant traffic - and even by recognising your car number plate.

The technology means that it could suggest McFlurry ice cream products on hot days, or show what is popular at that particular restaurant at the moment. It can also come up with instant suggestions based on what the customer has already ordered.

McDonald's is acquiring Israeli startup Dynamic Yield for a reported $300m (£227m) after a trial in some US restaurants last year.

Boeing seeks to restore trust in 737 Max aircraft

Boeing has issued changes to controversial control systems linked to two fatal crashes of its 737 Max planes in the last six months.

But it's still not certain when the planes, that were grounded worldwide this month, will be allowed to fly.

Investigators have not yet determined the cause of the accidents.

As part of the upgrade, Boeing will install as a standard a warning system, which was previously an optional safety feature.

Breaking

Boeing unveils 737 fixes

Boeing has unveiled software updates, additional pilot training and cockpit alerts to improve the safety of its 737 Max aircraft, which has been grounded due to two crashes.

The fixes will "restore faith in our industry" and "earn public trust", Boeing said.

British-Canadian AI expert wins Turing Award

Copyright: University of Toronto

British-born artificial intelligence (AI) expert Geoffrey Hinton has won the Turing Award, sometimes referred to as "the Nobel Prize of computing".

Mr Hinton, who now lives in Canada, shares the award with Yoshua Bengio and Yann LeCun - two other proponents of deep learning, a popular form of AI.

"The three of us have been the people who most believed in this approach," he told BBC News.

"It's very nice to be recognised now that it is fashionable."

The Co-op Bank report sets out recommendations for enhancing the current supervisory regime and stress testing for the Bank of England and its supervisory arm, the Prudential Regulation Authority.

Sam Woods, the deputy governor and chief executive of the PRA, said: "We thank Mark Zelmer for his investigation of the supervision of the Co-op Bank in the period 2008-13. There are always valuable lessons to be learned in these circumstances, and we will make sure that we use the lessons from this case to strengthen our approach to prudential supervision."

After a day drifting in and out of positive territory the FTSE 100 closed just two points down at 7,194.2.

NMC Healthcare was the stand-out faller, down 7.2%. Easyjet, up 3%, topped the list of risers.

Chinese gaming company Beijing Kunlun Tech is seeking to sell Grindr, the popular gay dating app, after a US government national security panel raised concerns about its ownership.

Although the sale has not been confirmed, there were several reports on Wednesday that the Committee on Foreign Investment in the United States (CFIUS) has informed Kunlun that its ownership of California-based Grindr constitutes a national security risk.

The US has been increasingly scrutinising app developers over the safety of personal data they handle, especially if some of it involves US military or intelligence personnel.

Kunlun said last August that it was preparing to float Grindr on a stock market. But after CFIUS' intervention, Kunlun has now shifted its focus to an auction process to sell Grindr outright, said Reuters, which first reported the news.