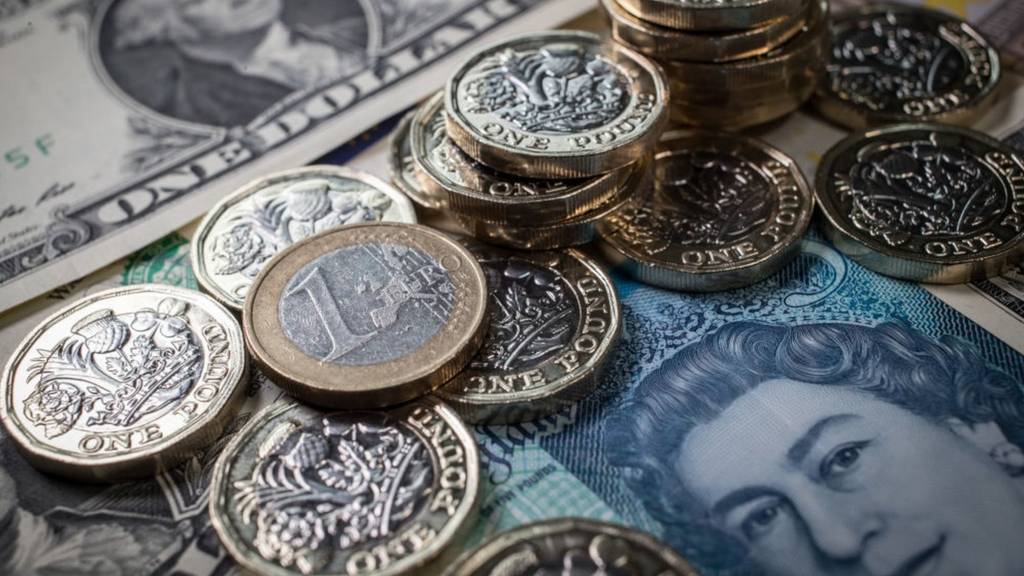 By Zoe Kleinman

Technology reporter, BBC News

That's it from us. We'll be back at 6am tomorrow, hope to see you then.

Brazil and Petrobras close to deal

Brazil's government will announce "within days" a deal with state-run oil company Petrobras to settle a multi-billion-dollar contract dispute and clear the way to auction billions of barrels of oil off of the Brazilian coast, a minister said on Monday.

Economy Minister Paulo Guedes told journalists that his team sat down recently with officials at the Mines and Energy Ministry, and that "the deal is done."

Reuters reported earlier on Monday that an source had told the news agency that Petroleo Brasileiro, as it is formally known, and the government had "practically agreed" on the size of a multi-billion-dollar payment to Petrobras to settle the fight.

Ashley v Debenhams: Sabre-rattling?

Emma Simpson

Business correspondent, BBC News

Debenhams has had plenty offers of help from Mike Ashley in recent days - from a £150m loan to a £100m bid to buy its Danish chain, Magasin du Nord.

The offers all had one important string attached: Mr Ashley would become chief executive.

Debenhams gave him the brush-off, saying his proposals didn't address the company's funding and restructuring requirements. Now Mr Ashley says he's considering a possible offer for the rest of the business he doesn't already own.

It's yet another attempt to take control of the struggling department store chain. Like other shareholders, he faces being wiped out under the current restructuring plans.

He wants to protect the value of his investment - what's left of it. It's now a battle between Debenhams' lenders and its biggest shareholder.

Right now the lenders are calling the shots. They can call in their debts if there's a change of control, a move which would put Debenhams into administration.

Some form of pre-pack administration is already an option as part of a restructuring plan to raise more money and sort out Debenhams' financial problems. This may just be sabre-rattling by Mike Ashley. He's getting pretty good at it.

Avenatti arrest: Nike says been cooperating with authorities

Image caption: Geoffrey Berman, US Attorney for the Southern District of New York, speaks during a news conference announcing charges against attorney Michael Avenatti,

Nike has issued a statement on the case of Michael Avenatti, the anti-Trump lawyer arrested on Monday on allegations of extortion against the sportswear company.

Nike said that when it became aware of the matter it "immediately reported it to Federal prosecutors".

The company said it had been cooperating with inquiries for more than a year.

Avenatti, who represented adult film star Stormy Daniels in her legal battles against President Donald Trump, was charged on Monday with trying to extort more than $20m from Nike.

Federal prosecutors also charged Avenatti with embezzling an unnamed client's money to help pay expenses for his coffee company, as well as using false tax returns to secure millions of dollars in bank loans.

Wall Street slips in choppy trading session

US stocks slipped on Monday, extending the previous session's sell-off, hit by worries of a slowdown in global economic growth and as Apple shares fell.

But trading was choppy, with stocks moving back and forth between negative and positive territory during the session. Appleshares dropped 1.8% and were the biggest drag on indexes as the iPhone maker unveiled its long-awaited video streaming service.

Weak factory data from the United States, Europe and Japan on Friday led to the inversion of US Treasury yield curve for the first time since 2007, adding to fears of a global economic downturn.

The Dow Jones fell 25.14 points, or 0.1%, to 25,477.1, the S&P 500 lost 4.93 points, or 0.18%, to 2,795.7 and the Nasdaq dropped 18.23 points, or 0.24%, to 7,624.4.

In a bright spot, the consumer discretionary sector rose 0.5%, supported by gains in Home Depot and Amazon.

The gold price has hit a near-four week, underlining worries about global growth and the US Federal Reserve's cautious comments on the country's economy.

The metal, a haven for investors in uncertain times, reached $1,323.42 and is currently trading 0.65% up at $1,322.08.

Lawyer charged over Nike allegation

Lawyer Michael Avenatti, who represented adult film star Stormy Daniels in her legal battles against US President Donald Trump, was charged on Monday with trying to extort more than $20m from Nike.

Federal prosecutors also charged Avenatti with embezzling an unnamed client's money to help pay expenses for his coffee company, as well as using false tax returns to secure millions of dollars in bank loans.

The US attorney's office in New York brought the Nike case, while the US attorney's office in Los Angeles brought the embezzlement case.

Avenatti was arrested in New York on Monday and was scheduled to make his initial court appearance in New York, authorities said.

Avenatti had yet to make any public comments, and it was not immediately clear who Avenatti's lawyers are for the case.

Apple shareholders seem underwhelmed by the tech giant's expansion plans.

Boss Tim Cook has unveiled Apple's long-awaited video streaming service, with content from HBO, Showtime and Starz.

The share price is down 2%. True, it was down ahead of the event in California. But the decline gathered pace after the announcement.

Debenhams: Sports Direct considers options

More on Sports Direct's interest in Debenhams...

Mike Ashley's company says a bid would be in cash, although Sports Direct emphasises that it is considering other options too.

Sports Direct's statement also adds, as is obligatory in these situations, that there is no certainty of an offer being made.

The company already owns almost 30% of Debenhams.

Breaking

Debenhams: Sports Direct considers bid

Mike Ashley's Sports Direct says it is considering buying the whole of ailing department store chain Debenhams.

Sports Direct is Debenhams' largest shareholder with a near 30%. stake.

Apple launches new services

Apple has unveiled its long-awaited video streaming venture as it seeks to take on the likes of Netflix and move away from its dependency on hardware like the iPhone.

The tech giant also unveiled Apple Arcade, a video game subscription service for mobile devices, desktop computers and televisions.

And there will be a News Plus subscription service. Magazine group Conde Nast is among publishers which will provide content for the service.

Apple has announced that is is launching its own credit card, Apple Card.

There will be both an iPhone and physical version which will launch in the US in the summer, the firm said.

The iPhone version includes a 2% cashback incentive on each purchase, has no late fees, annual fees or international fees, said Apple Pay VP Jennifer Bailey.

It has been created with the help of Goldman Sachs and MasterCard.

Airbus wins huge China deal

We speculated an hour ago whether Airbus was close to signing a big order from China. Well, things move fast.

It's just been announced that the European planemaker has sold 300 aircraft to China Aviation Supplies Holding Company.

The deal, worth €30bn (£26bn) at list prices, includes 290 Airbus A320 planes and 10 A350.

In a joint statement, French President Emmanuel Macron and his Chinese counterpart Xi Jinping, said: "The conclusion of a big (aviation) contract... is an important step forward and an excellent signal in the current context."

The FTSE 100 finished down after a see-saw day of trading. The index ended 0.29% lower at 7,186.4 points.

Several shares closed more than 2% lower, including United Utilities, Pearson, BAE Systems and WPP.

Fresnillo was the best perfomer, up 1.97%, closely followed by Ocado as the food delivery firm continued its recent run of rises.

The FTSE 250 closed 1% down at 18,799 points.

Is China about to place Airbus order?

A long-awaited deal for China to buy Airbus aircraft may have reached a breakthrough, according to Reuters.

A multi-billion-dollar order has been delayed for more than a year, but could be about to be agreed, the news agency says.

The Airbus order is part of a package of trade deals coinciding with a visit to Europe by Chinese President Xi Jinping.

China has become a key hunting ground for Airbus and its leading rival Boeing, thanks to surging travel demand, but the outlook has been complicated by Beijing's desire to grow its own industrial champions and, more recently for Boeing, the US-China trade war.

Wall Street turns positive

US stocks are in positive territory after falling at the open. Shares of industrial and consumer companies rose, but gains were kept in check by worries of a global slowdown.

Weak factory data from the US, Europe and Japan on Friday triggered a sell-off in US equities and also led to the inversion of US Treasury yield curve for the first time since 2007.

But on Monday Wall Street reversed early-trading losses, and the Dow Jones is now up 71.89 points, or 0.28%, at 25,574.2, and the S&P 500 up 5.04 points, or 0.18%, at 2,805.7. The Nasdaq is up 9.98 points, or 0.13%, at 7,652.6.

Copyright: Universal Pictures

Universal Picture's "Us," the second directorial effort from Jordan Peele, pulled off a stunning debut, generating $70m from 3,741 North American locations.

That haul is enough to land it the second-best opening weekend of the year behind just Disney's "Captain Marvel" ($153m).

The psychological thriller about a family confronted by a band of doppelgangers nearly doubled projections, which estimated a three-day total in the $38m to $45m range.

South Africa's mines face '90,000 job cuts'

South Africa's gold and platinum mines face big job cuts over the next three years because of higher operating costs, according to a report.

The Minerals Council South Africa estimates about 90,000 job losses, with above-inflation electricity price increases by power utility Eskom adding to already soaring industry costs.

"In total, as many as 90,222 jobs would be at risk solely as a result of the MYPD4 tariff increases granted by Eskom," the council said.

Job cuts are politically sensitive in Africa's most industrialised economy where a quarter of the labour force is unemployed.