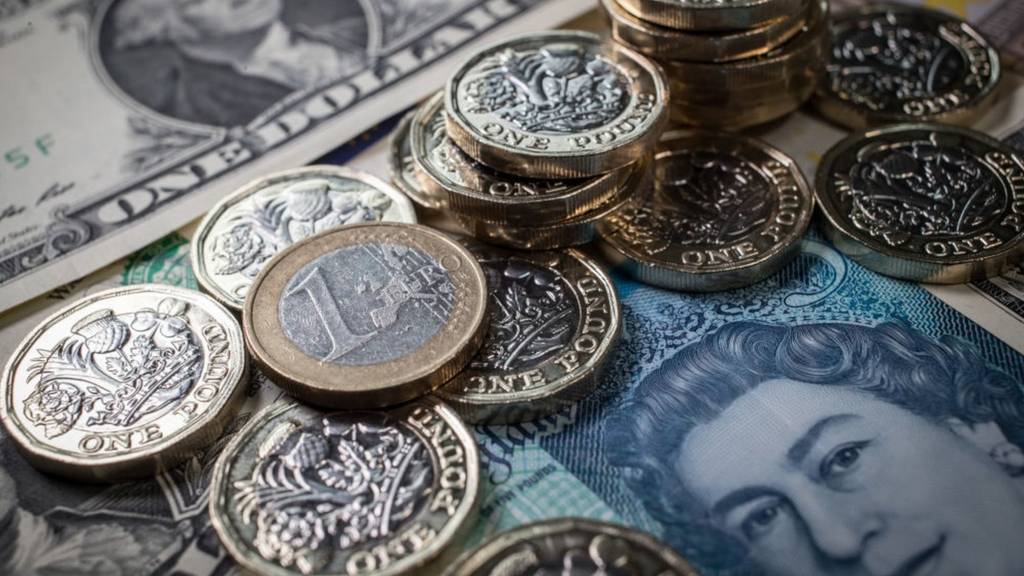 That's it for today on Business Live - thanks for reading. We'll be back bright and early at 06:00 on Friday.

Do join us then for all the latest breaking news and analysis from the wonderful world of business.

MPs still 'unlikely' to pass Brexit deal

Former Welsh Secretary Stephen Crabb has urged MPs to back PM's plan after vote for a possible delay.

Theresa May says Brexit could be delayed by three months, to 30 June, if MPs back her deal in a vote next week.

If they reject her deal again then she says she will seek a longer extension - but any delay has to be agreed by the 27 other EU member states.

Welsh First Minister Mark Drakeford urged for the extension to Article 50 to take place "now".

Any extension to the process has to be agreed with the European Union's remaining 27 states.

Facebook's chief product officer to leave

Copyright: IP3 / Getty Images

Chris Cox, Facebook's chief product officer, has announced that he is leaving the social network.

This comes following news that the head of Whatsapp Chris Daniels is leaving too.

Mr Cox's departure is significant. In the past he has been referred to as Mark Zuckerberg's "vice president".

Last week, it was announced that Facebook would be focusing on encrypted private conversations on its apps Facebook Messenger, Instagram and WhatsApp.

The project would require the three apps to be unified into one service - a decision that has upset some Facebook employees.

Wall Street shares have ended flat following news that a US-China trade deal will be delayed until at least April.

The Dow Jones Industrial Average closed 0.027 % higher at 25,709.94.

The S&P 500 ended 0.087% lower at 2,808.48.

And the tech-heavy Nasdaq was down 0.16% at 7,630.91.

Pacific Islands trade deal 'negligible'

On Thursday, the UK announced that it had signed a deal with the Pacific Islands - namely Fiji and Papua New Guinea - to maintain uninterrupted trade after the UK leaves the EU.

Law firm Gowling WLG is not impressed by this news.

"While gratifying to know that uninterrupted trade will continue, the fact that it is with such minor partners - with the UK's 2017 trade with Fiji amounting to 0.0001% of that, and Papa New Guinea just 0.0003% - makes it negligible to say the least," said Ursula Johnston, head of customs at Gowling WLG.

"'Shifting seats on the Titanic' comes to mind if this is being considered a victory in its own right – surely better to wait for these 'deals' to accumulate before announcing the collective result.

"Piecemeal agreements and insignificance are surely the last things we need now?"

UK equity values hit 30-year low

The relative value of UK equities versus other stock markets has fallen close to 30-year lows, according to discretionary investment management firm Man GLG.

The firm says investors have been avoiding the UK amid Brexit negotiations, as well as the start of quantitative tightening begins and rising bond yields.

"As to whether there is any observable good news, all is far from lost," said Man GLG's UK Income fund manager Henry Dixon.

"Simplistically there are three key players in any economy, the consumer, government and business. Starting with the consumer we think that record job vacancies, rising wages and falling inflation is not the basis for despair domestically.

"This combination of events is starting to pave the way for a meaningful improvement in income available for discretionary spend which is forecast to return to levels not seen since 2014 and 2015, a period when the UK would be the fastest growing G7 economy."

Brexit delay 'not a done deal'

Following the vote in Parlaiment to seek a Brexit delay, Andrew Gray, head of Brexit at PwC says:

"Some businesses may see today's news as a reason to slow down on their preparations for the imminent threat of no-deal, but an extension is not yet a done deal."

"The legal default remains that the UK leaves on 29 March, with or without a deal, and that is what businesses need to prepare for."

"Businesses must not take their foot off the gas, and we urge all organisations to keep preparing for both a deal and no-deal scenario."

Parliament, what deal do you want?

TechUK is glad that a short extension will be in place, because a no-deal Brexit would be damaging to businesses and the UK economy.

But a deal does need to be reached, somehow.

"If there is a serious prospect of getting a deal, then techUK supports that effort, but should Parliament again reject the Prime Minister's deal then Parliament must move with haste to find out what kind of deal or solution it would support," said TechUK's deputy chief executive Antony Walker.

Business groups have welcomed Parliament voting to seek a delay to Brexit.

But the CBI said that without a "radically new approach" to Brexit, a delay was only "a stay of execution".

The British Chambers of Commerce added that it "leaves firms with no real clarity on the future."

"MPs have an urgent duty to put in place a process that can determine what deal Parliament does want," said the CBI's deputy director-general Josh Hardie.

"Both main parties must make meaningful moves to find consensus, not simply double-down on their red lines or put hopes of power ahead of the country.

"Any politician whose plan is simply to stick to their vision of Brexit shares responsibility for this self-inflicted impasse, with the country grinding to a halt.

"Now is the time for those who champion leadership through compromise to show courage."

'Businesses still in the danger zone'

The British Chambers of Commerce is concerned that there is still no clarity for businesses two weeks before Brexit, even though most businesses would likely support an extension to Article 50.

"Once again, businesses are left waiting for Parliament to reach a consensus on the way forward and are losing faith that they will achieve this. In the meantime, firms are continuing to enact their contingency plans, anxiety amongst many businesses is rising, and customers are being lost," said BCC's director general Dr Adam Marshall.

"While this process rumbles on, there must be no let up from Government, its agencies and businesses in their preparations for all eventualities, including a no deal exit.

"Businesses, jobs, investment and our communities are still firmly in the danger zone."

Pound falls on vote announcement

The pound is now down against the dollar and the euro, after MPs voted to delay Brexit.

Sterling is now down 0.8% against the dollar at $1.3227, and down 0.6% against the euro at €1.1704.

Brexit: The 'clock is ticking'

More welcome for the vote - this time from the City of London Corporation, the City's governing body.

Policy chair Catherine McGuinness says they are now urging the EU to be "pragmatic in agreeing to this measure".

But she adds any extension is "not a silver bullet on its own".

"There remain deep, underlying problems that need resolving. Even if we avoid one catastrophic cliff edge later this month, we should be wary of another just around the corner.

"Government must now provide clarity on what an extension means in real terms so that a solution can be found swiftly to break the current deadlock within the required timeframe, enabling business to get the certainty it needs to thrive.

"The clock is ticking. Further delays will mean households and businesses remain hostage to the crippling economic uncertainty that has already plagued them since the referendum."

Britain 'on a knife edge'

Business reaction is coming in to the vote seeking a delay to Brexit.

Helen Dickinson - chief executive of the British Retail Consortium -says the vote "offers a glimmer of hope".

However, she says MPs need to put aside their differences because "without definitive action by MPs in the next six days, we will see the UK crashing out of the EU on March 29th without a deal".

"This would inevitably lead to higher prices and less choice on the shelves for consumers. The uncertainty surrounding a no deal Brexit is already harming the UK economy. Britain stands on a knife edge. Parliament must put an end to this uncertainty," she warns.

Sheep farmer wants more Brexit certainty

Local Democracy Reporting Service

A Shropshire sheep farmer is accusing the government of not being thorough enough on research into the impact of Brexit on his industry.

Richard Huffer from Clee Hill, who is also a Lib Dem councillor, said the government had been too focused on big landowners

"This inaction shows that they have no interest in or concern for the family farms whose businesses are the backbone of so many rural areas like Shropshire," he said.

"To run their business, farmers need certainty. They need to know what funding is available, what standards must be met and what tariffs need to be paid."

In response, a government spokesperson said it was "in close contact with representatives of all the farming sectors, including sheep, and looking at the range of possible options in the event of the UK leaving the EU without a trade deal".

Sofa firm fined for hiking prices before Black Friday

Copyright: Aberdeen City Council

A national sofa retailer has been fined £6,000 after it admitted misleading customers over a Black Friday sale deal.

Trading Standards uncovered the practice at SCS in Kittybrewster Retail Park, Aberdeen.

A poster falsely stated that everything had been reduced in the company's Black Friday sale in November 2017.

But the price of three sofas was increased, one by £800, just three days prior to the sale.

Second Brexit referendum rejected

Martin Sorrell to earn a £2m bonus from WPP

Sir Martin Sorrell is to earn a bonus of £2.13m from WPP, as part of its executive performance share plan for the period between 2014 and 2018.

WPP told the FT that it would not challenge his right to benefit from the scheme, after taking independent legal advice that found there was no basis to withhold or adjust Sir Martin's bonus.

Sir Martin resigned in June 2018, amid allegations of serious personal misconduct which he denied.

Facebook says outage caused by server error

Facebook has finally put out a statement on Twitter that explains what caused a severe outage to the social network and Instagram on Wednesday and earlier on Thursday.