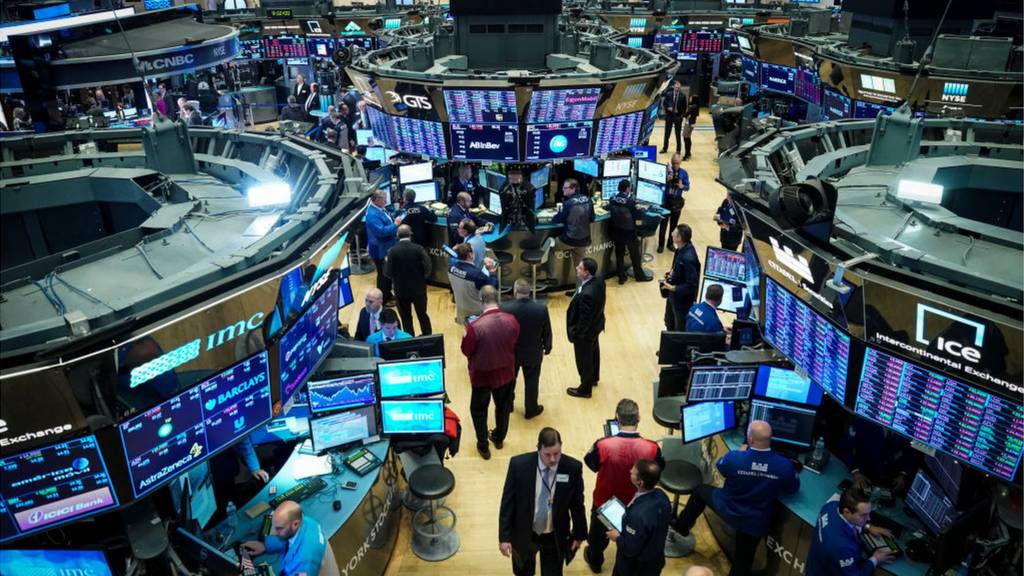 Summary
Get in touch: bizlivepage@bbc.co.uk
Sir Philip Green drops legal action
Nissan confirms SEC probe
Ocado climbs 6% on M&S talks
Flybe row over chairman
That's it for today on Business Live - thanks for reading. We'll be back bright and early at 06:00 on Tuesday.

Do join us then for all the latest breaking news and analysis.

Wall Street shares have ended lower, as disappointing earnings forecasts and gloomy domestic economic data compounded investors' fears about slowing global growth.

The Dow Jones Industrial Average dropped 0.9% to close at 24,528.22 points. The broad-based S&P 500 shed 0.8% to 2,643.85, while the Nasdaq Composite fell 1.1% to 7,085.68.

Trump has 'guarded optimism' about China talks

US President Donald Trump plans to meet with China's Vice Premier Liu He, who is coming to Washington this week for another round of trade talks.

The president has expressed "guarded optimism" about the progress of the talks, White House economic advisor Larry Kudlow said at a press conference.

Treasury Secretary Steven Mnuchin also said he expected the two sides to make "significant progress" at the meetings - though he cautioned that they have until March to strike a final deal.

Taxi drivers block Madrid in Uber protest

Uber faced another massive demonstration in Madrid this morning as hundreds of taxis blocked Paseo de la Castellana, one of the city's main thoroughfares.

The taxi drivers are seeking tighter regulation of Uber and other ride-hailing services

"They [ride-hailing services] can't do the same services that a taxi does. They can't pick up people on the streets. That is illegal but nothing happens," taxi driver Juan Mateos told Reuters.

Buzzfeed to halve its UK editorial staff

Buzzfeed is to make further cuts to its UK editorial staff, reducing roles from 37 down to 20, according to the Press Gazette.

The cuts come on the back of news that the online news site would be reducing its global workforce by 15%, in order to help improve its operating model and reduce costs.

These redundancies are significant given the difficulties facing the media industry at the moment - in the last seven days about 1,000 employees were cut from big US publishers including Buzzfeed in the US, Huffington Post, Yahoo, AOL and regional newspaper owner Gannett.

Breaking

US Treasury to sanction Venezuelan oil firm

The US Treasury is set to impose sanctions on Venezuela state-owned oil firm PDVSA, Senator Marco Rubio has told CNBC.

In the last seven days, the US and more than 20 other countries recognised opposition leader Juan Guaidó as interim president, instead of Venezuela's President Nicolás Maduro, who was sworn in for a second term earlier this month after an election marred by an opposition boycott and allegations of vote-rigging, triggering large protests.

Oil prices have fallen by over 3% on Monday, after an increase in US crude drilling pointed to further supply growth, and the continuing US-China trade war meant investors lost confidence.

Brent crude oil futures are now down $1.70, or 2.8%, to $59.81 a barrel.

US West Texas Intermediate crude has fallen $1.58, or 3%, to $51.97 a barrel.

Breaking

US 'to announce criminal charges' related to Huawei

The US Justice Department is expected to announce criminal charges related to Huawei soon, four sources have told Reuters.

The charges pertain to Huawei's chief financial officer Meng Wanzhou, who has been detained in Canada since December.

Separate to that, you might not be aware that Canadian Prime Minister Justin Trudeau fired Canada's ambassador to China John McCallum on Saturday after he told Chinese press that there was a possibility that Ms Meng would not be extradited to the US.

Trump tax cuts had 'little impact on business investment'

The Trump administration's $1.5tn tax cut package has had little impact on US companies' capital investment or hiring plans, a new survey suggests.

The quarterly poll from the National Association of Business Economics found that while some companies decided to invest more because of lower corporate taxes, 84% said they had not changed their plans.

The cuts came into effect in January 2018, reducing the corporate tax rate to 21% from 35%. At the time the White House predicted the move would boost business spending and jobs growth.

In 2017, Treasury Secretary Steven Mnuchin also forecast that "the stock market will go up higher" if Republicans passed the tax cut bill.

German lorry drivers caught out by spot check

A lorry driver's life in Germany should be a more sobering experience, it seems. Co-ordinated police spot checks on truckers parked in the central state of Hessen on Sunday revealed that 7.5% of them were too drunk to drive. Police had to stop 79 of them from continuing for the day.

One driver towing a dangerous load - for which there's zero tolerance for alcohol - was nearly three times over the general limit. Another was more than five times over the limit. Police said the drivers were endangering lives.

Statistically, heavy goods vehicles are less likely than cars to be involved in accidents, but they're more likely to cause fatalities when they are.

Bank of America moving staff to Paris

Image caption: Bank of America's current offices in London

Bank of America has announced that it will be moving about 400 employees from London to Paris in preparation for Brexit, a source has told Bloomberg.

The staff moving will include traders, sales and support staff, with some employees being moved to Frankfurt, although the majority will go to Paris.

The bank also plans to hire locally in these cities to fulfill roles no longer performed in London.

Bank of America has rented an additional building in Paris - 51 rue La Boetie in Paris's 8th arrondissement - which has offices big enough to accommodate about 1,000 staff.

Oddbins prepares to appoint administrators

The company that owns the Oddbins off-licence chain is preparing to appoint administrators in a move that puts hundreds of jobs at risk.

European Food Brokers also owns Wine Cellars and Whittalls Wine Merchants and bought Oddbins when it went into administration in 2011.

According to Sky News, Duff & Phelps are to be named as administrators.

EFB, which is based in the West Midlands, did not immediately respond to a request for comment.

Trump's tariffs will slow economic growth

More news from the Congressional Budget Office (CBO) report we mentioned earlier.

The independent think tank also says that trade tariffs imposed by US president Donald Trump will slow down GDP growth by an average of 0.1% per year for the next decade if they remain in place at current levels.

"US tariffs reduce US economic activity primarily by reducing the purchasing power of US consumers' income as a result of higher prices and by making capital goods more expensive," said the CBO.

Local councils to get £56.5m Brexit fund

Local councils in England will receive £56.5m to help them deal with Brexit, James Brokenshire has said.

The Local Government Secretary said the money would be used for "appropriate contingency planning".

Every council will receive a share of the pot, but additional funds will be given to areas that face the immediate impact from local ports.

And £10m will be kept aside to respond to costs that only surface after the UK has left the EU.

B&Q 'exposed data about store thieves'

B&Q says it has taken action after being told that it exposed details of suspected store thieves to the net without password protection.

The matter was brought to light by a security researcher last week.

He said the DIY chain had taken the data offline, but was unable to get a response from the company himself.

"We have closed the issue down and are continuing to investigate how it occurred," a B&Q spokeswoman told the BBC on Monday.

London shares have ended lower, as investors feared continuing US-China trade talks, the possibility of a no-deal or delayed Brexit, and decreased economic growth data from the Centre for European Reform.

The FTSE 100 closed 62.1 points or 0.9% down to 6,747.10. Top of the losers was UAE healthcare provider NMC Health, which fell 4% to £25.60.

The FTSE 250 ended 108.9 points or 0.6% lower to 18,534.68. Clydesdale Bank owner CYBG led the losers, dropping 5.3% to 185p after JP Morgan lowered its price target.

What are non-disclosure agreements?

Topshop boss Sir Philip Green has dropped his legal action against the Daily Telegraph, which prevented it publishing allegations of racist behaviour and sexual harassment.

He had argued that former staff were breaking the law by breaching non-disclosure agreements (NDAs) they had signed. So how do these work?

Barclays boss was 'up at 2am' over bonus

Andy Verity

BBC Economics correspondent

A senior banker at Barclays panicked at 02:00 at the peak of the 2008 banking crisis that, if the bank was nationalised, his bonus would be jeopardised, a court has heard.

Barclays was among banks needing extra funding during the crisis.

Roger Jenkins discussed with colleagues a plan to raise money privately, to avoid having to accept taxpayer money.

A bailout deal from the government would have meant extra disclosure of executive bonuses.

The bank later raised money from Middle Eastern investors and avoided a government bailout.

Trump sceptical a wall deal can be struck

Image caption: President Trump has threatened a second shutdown if wall funding is not agreed upon

US President Donald Trump says he is sceptical a deal can be reached on border security before government funding expires again next month.

He spoke to the Wall Street Journal as 800,000 federal employees returned to work after the longest ever closure of federal agencies, lasting 35 days.

The Republican president said he doubts he would lower the sum he is prepared to accept for a US-Mexico border wall.

Congress must negotiate a new bill by 15 February to avoid another shutdown.