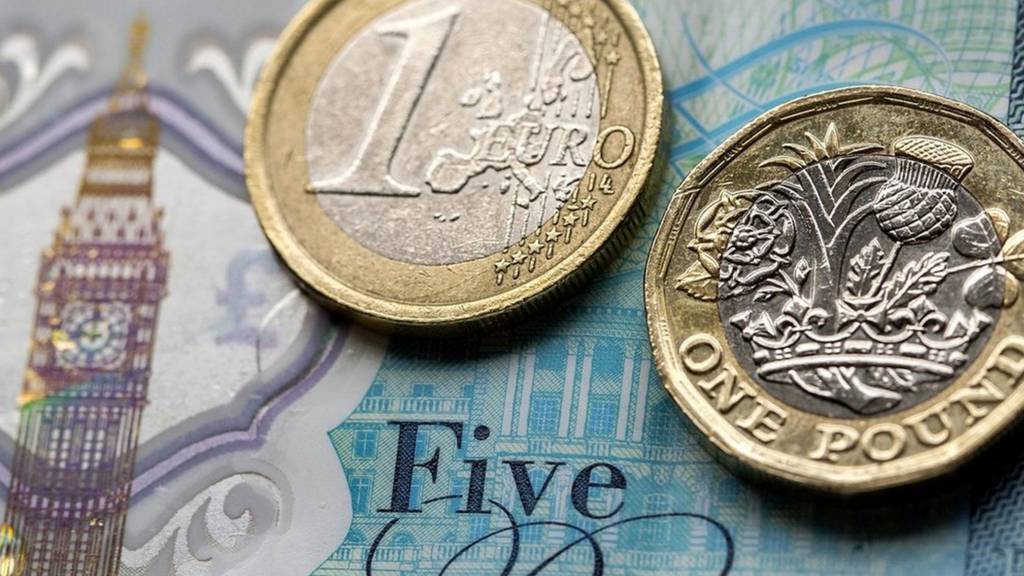 That's all from the Business Live for tonight. Please join us again tomorrow from 06:00 for more business news.

US carbon emissions 'spike in 2018'

Image caption: Exhaust rises from the stacks of the Harrison Power Station in Haywood, West Virginia

A new report has found that US carbon dioxide emissions rose by 3.4% in 2018 after three years of decline.

The spike is the largest in eight years, according to Rhodium Group, an independent economic research firm.

The data shows the US is unlikely to meet its pledge to reduce emissions by 2025 under the Paris climate agreement.

Under President Donald Trump, the US is set to leave the Paris accord in 2020 while his administration has ended many existing environmental protections.

Last year's spike comes despite a decline in coal-fired power plants; a record number were retired last year, according to the report.

HSBC gender pay gap 'widens'

The gender pay gap at HSBC has widened to 61% from 59%, Bloomberg reports.

In comparison, at Lloyds Banking Group women earned 31.5% less on average than men, the article says.

Wall Street closes higher

US stocks have closed higher after investor bets that the US and China would strike a deal to end a trade war.

The Dow Jones Industrial Average was up 1.09% at 23,787.45, while the S&P 500 gained 0.87%%, closing at 2,572.02.

The Nasdaq Composite added 1.08%, finishing at 6,897.

More energy firms 'to go to the wall'

Following the collapse of Economy Energy, Julie Palmer, a partner at insolvency firm Begbies Traynor, says she expects "more competitors going to the wall in 2019".

"With an industry under so much scrutiny from regulators and consumers alike Economy Energy could serve as a timely reminder of how treacherous the utilities sector can be," she says.

Oil exploration 'to bounce back'

Drilling in the UK sector in 2018 was at its lowest level since the 1960s but analysts predict a North Sea pick-up.

At-a-glance: Amazon's rise to the top

Here's an illustration of Amazon's climb to become the world highest-valued public firm, prepared by BBC data journalist Daniele Palumbo:

Why did Samsung cut its profit guidance?

UK government loses finance bill vote

Police look into Heathrow drone sighting

Police were called at just after 5pm to "reports of a sighting of a drone in the vicinity of Heathrow Airport", a spokeswoman for the Metropolitan Police says.

"As a precautionary measure, Heathrow Airport has stopped departures and officers based at Heathrow are currently investigating the reports with colleagues from Heathrow Airport," she added.

Breaking

Heathrow stops flights after drone sighting

Heathrow has stopped a number of flights while it investigates sightings of a drone, it says.

A Heathrow spokesperson said: "We are currently responding to a drone sighting at Heathrow and are working closely with the Met Police to prevent any threat to operational safety.

"As a precautionary measure, we have stopped departures while we investigate. We apologies to passengers for any inconvenience this may cause."

No-deal Brexit: Can Parliament stop it?

There's a big problem facing members of Parliament who want to avoid a no-deal Brexit.

They can't just show there is a majority in the House of Commons against no deal - they need to prove there is a majority in favour of an alternative outcome.

Minister talks down Brexit delay claim

Image caption: Stephen Barclay and Amber Rudd head in to the first cabinet meeting of the new year

Stephen Barclay says he has not spoken to the EU about postponing Brexit if MPs reject Theresa May's deal.

'Impossible' for Brexit port to be ready

US retailer Sears 'seeks liquidation'

The US retail giant has been struggling with huge debts and a shift to shopping online.

But it's social media team was still gamely going out to bat on Monday, tweeting "We are down, but not out..." in response to a comment on its potential liquidation.

Stocks rally as US China trade hopes build

Hopes that Washington and Beijing may be moving towards a trade deal have helped the mood in global markets.

The FTSE 100 is up about 1.2%, although trading volumes are down as investors hang back ahead of a Parliamentary vote next week on Brexit terms.

The major US markets are all up, as are European markets such as the German Dax, the French Cac 40, and the Spanish Ibex.

VW to become a power supplier

The Volkswagen Group is to start an energy and charging firm called "Elli" (for "Electric Life").

Thomas Ulbrich of Volkswagen said the company is "going to force the pace of the urgently needed transport and energy transition to emission-neutral e-mobility."

"The new company will play its part with energy offerings from renewable sources and smart charging solutions," he said. "This way, we are entering a strategically relevant, extremely exciting business area that offers considerable opportunities for strengthening ties with existing customers as well as accessing entirely new customer groups."

Last year VW announced significant investments in electric cars as it continues to deal with the fallout of its diesel emissions scandal.

Three million new social homes needed

Three million new social homes must be built in England over 20 years to solve the "housing crisis", Shelter has said.

The housing charity said upfront costs of £11bn a year could come from housing benefit savings by moving tenants from high-cost privately rented homes to social housing.

Existing schemes such as Help-to-Buy are a less effective use of taxpayers' money, the report claims.