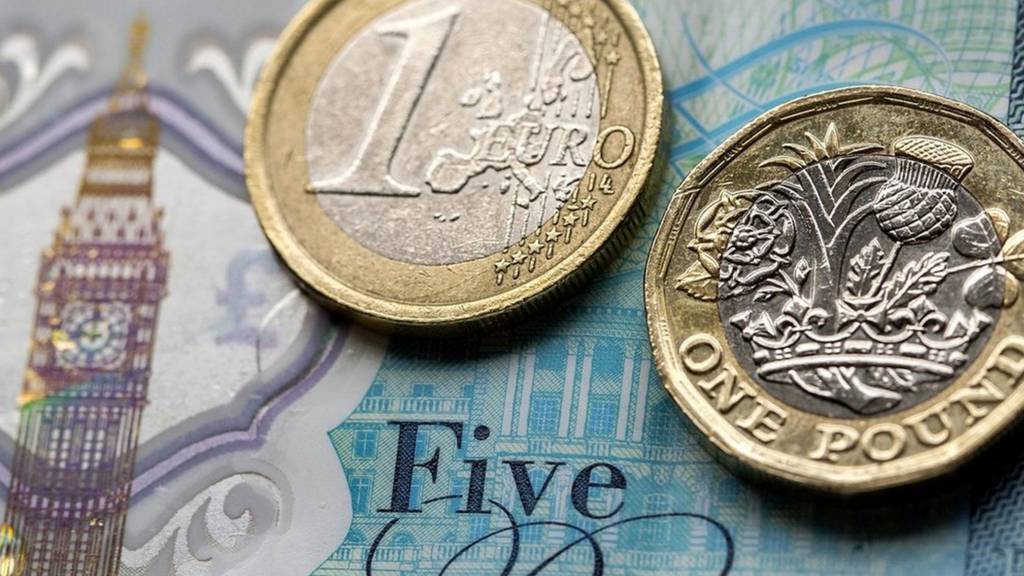 Whew. Another rollercoaster day on the Business Live page. Join us again for more Brexit-related fun tomorrow from 06:00.

Image caption: Sir Elton mid-career in this year's John Lewis Christmas ad

You'll have seen it by now if you're interested in that kind of thing: this year's John Lewis ad features everyone's favourite crooner Elton John and a cute toddler.

But what is the magic formula behind a really great Christmas ad?

The BBC's Becky Morton's been finding out, and it seems that retailers are pretty divided between those that want to show us their wares and those that just want to tug on our heart strings.

Oil price a little slicker

Image caption: Brent Crude has slipped from above $80 a barrel a month ago

The price of oil has risen for the second day in a row, recovering some of the ground lost earlier in the week.

Brent Crude rose 50 cents to $66.62 a barrel and US West Texas Intermediate crude futures rose 21 cents to settle at $56.46 a barrel.

Earlier in the week concerns over flagging global demand and excess supply had hit spot prices.

But as you can see from the graph above it'll take more than a couple of days uptick to bring oil prices back to where they were a month ago.

Wall Street closes higher

US stock indexes have closed higher after a report that US trade representative Robert Lighthizer has informed industry executives that the next round of tariffs on Chinese imports has been put on hold.

Even though that report was later scotched by Mr Lighthizer's spokesman, the Dow Jones Industrial Average still closed up 208 points or 0.83% at 25,289.

The S&P 500 gained 28 points, or 1.06% to close at 2,730.

And the Nasdaq Composite added 122 points, or 1.72% to end at 7,259.

To shop or not to shop, that is the question...

Ian Geddes, head of retail at Deloitte, says its research finds more than half of consumers do their Christmas shopping in November or earlier.

"Given consumers' appetite to rein in their spending, the promotions on and around Black Friday will likely be more of a draw than ever," he says.

"We expect this year's Black Friday to generate record levels of UK spending, which will likely boost November's retail figures overall. Whether it will be enough to make this a 'golden' quarter remains to be seen."

Are you leaving your Santa shopping to the last minute? Let us know: bizlivepage@bbc.co.uk

One of the things giving US stocks a boost on Thursday were unconfirmed reports that Trump's chief trade negotiator Robert Lighthizer told business leaders the US was putting the next round of tariffs on Chinese imports on hold.

Now the US Trade Representative's spokesperson has flat out denied that.

"Ambassador Lighthizer has made no representations to industry executives that future Section 301 tariffs are on hold," a statement said.

"The plan for the tariffs.... has not changed at all. Any reports to the contrary are incorrect," the spokesperson said. So that's clear.

It's time for a John Lewis Christmas ad

Apart from Brexit, currently the top trending topic on Twitter is the 2018 John Lewis & Partners Christmas ad, which was launched last night.

This year's ad is entitled "The Boy and The Piano" and it stars Elton John playing his hit song Your Song, as the ad traces his life and career, from the moment he received the gift of his grandmother's piano as a child.

Apparently, the ad is meant to highlight the fact that the department store chain has decided to start selling pianos, for the first time in 70 years.

Wall Street gains after China tariffs report

US stocks reversed early losses to rise after the Financial Times reported that US trade representative Robert Lighthizer has told industry executives that the next round of tariffs on Chinese imports has been put on hold.

The Dow Jones Industrial Average was up 150 points at 25,230, the S&P 500 was up 24 points, at 2,725 and the Nasdaq Composite was up 102 points at 7,246.

HSBC and CIC 'in talks to create £1bn fund to invest in UK firms'

HSBC and China Investment Corp are in talks to create a fund for the Chinese sovereign wealth fund to invest in companies in Britain that have business links with China, HSBC has said.

The fund would be managed by London-based Charterhouse Capital Partners, which is in talks with CIC and HSBC, the bank said.

The three "are in exclusive discussions to create a fund to invest in high-quality and growing UK companies with development opportunities in China," HSBC added.

The Financial Times said the fund could be worth £1bn.

Charting possible Brexit paths

The FT has come up with a handy cut-out-and-keep flowchart which succinctly sums up various possible outcomes of the Brexit process from here.

So for example, if there is not a vote of no-confidence in Theresa May, and the Brexit agreement goes to a vote in Parliament, the proposed deal could be accepted or defeated.

If it is defeated, Labour could propose a motion of no-confidence in the government. If that in turn is defeated, we could see no deal, more negotiations, or a second referendum.

Musk: Tesla to deliver new Model 3 orders by end of year

Tesla Model 3s ordered in the US by the end of this month will be delivered by the end of the year, chief executive Elon Musk has said, as the electric carmaker tries to take advantage of tax breaks.

The electric carmaker has until the end of the year to hand out tax credits of $7,500 to customers.

No Brexit renegotiation, EU leaders warn

The prospect of talks to amend the draft deal is unlikely as an agreement is "on the table".

BMW says preparing for no-deal Brexit given political uncertainty

Carmaker BMW is continuing to prepare for a no-deal Brexit, given uncertainty around Prime Minister Theresa May's deal after several of her ministers resigned in protest.

BMW welcomed this week's draft withdrawal agreement as a "positive step in the right direction" but said the political situation was uncertain.

"Uncertainty is not good for business. As a responsible employer, we must therefore continue to prepare for the worst-case scenario, which is what a no-deal Brexit would represent," it said.

"We continue to call on all sides to work towards a final agreement which maintains the truly frictionless trade on which our international production network is based."

Wall Street under pressure from Brexit concerns and weak earnings

US stocks struggle as a rebound by tech companies from this week's sharp losses is outweighed by Brexit-related concerns and a batch of weak results.

Department store chain Dillard's fell 13.7% after reporting third-quarter results, and shares in Walmart gave up gains to trade down 1.5%.

The Dow Jones Industrial Average was down 110 points at 24,970, the S&P 500 was down was down 3 points at 2,698 and the Nasdaq Composite was up 14 points at 7,150.

'This is a Brexit that delivers on the priorities of the British people'

The pound has barely registered a flicker as Prime Minister Theresa May says she will see Brexit through.

It is still down more than 1.8% against the dollar at $1.2771.

Theresa May is giving a press conference after a day of UK political turmoil.

She reiterates that her plan "is a Brexit that delivers on the priorities of the British people".

She says her agreement protects trade, and leaves no hard border between Ireland and Northern Ireland.

"This deal delivers what people voted for," she says, adding "the British people just want us to get on with it."

She adds: "Am I going to see this through? Yes."

Pound and UK shares hit by Brexit turmoil

The pound and shares in housebuilders and banks have fallen sharply after cabinet ministers Dominic Raab and Esther McVey quit over Prime Minister Theresa May's draft Brexit deal.

Royal Bank of Scotland sank 9%, with 7% falls for Persimmon, Taylor Wimpey and Barratt Developments.

While the FTSE 100 index was little moved, sterling fell 1.7% against the dollar and 1.9% against the euro.

The FTSE 250, which mainly comprises UK-focused firms, fell 1.6%.

RBS and housebuilders top FTSE fallers

Shares in banks and housebuilders plunged on Thursday as traders sold stocks of firms with exposure to the UK economy.

RBS share closed down more than 9%, while Taylor Wimpey, Persimmon, and Barratt Developments all lost more than 7%.

The pound plunged more than 1.85% against the dollar after a series of resignations rocked Prime Minister Theresa May's government and threw into doubt her long-awaited Brexit agreement.