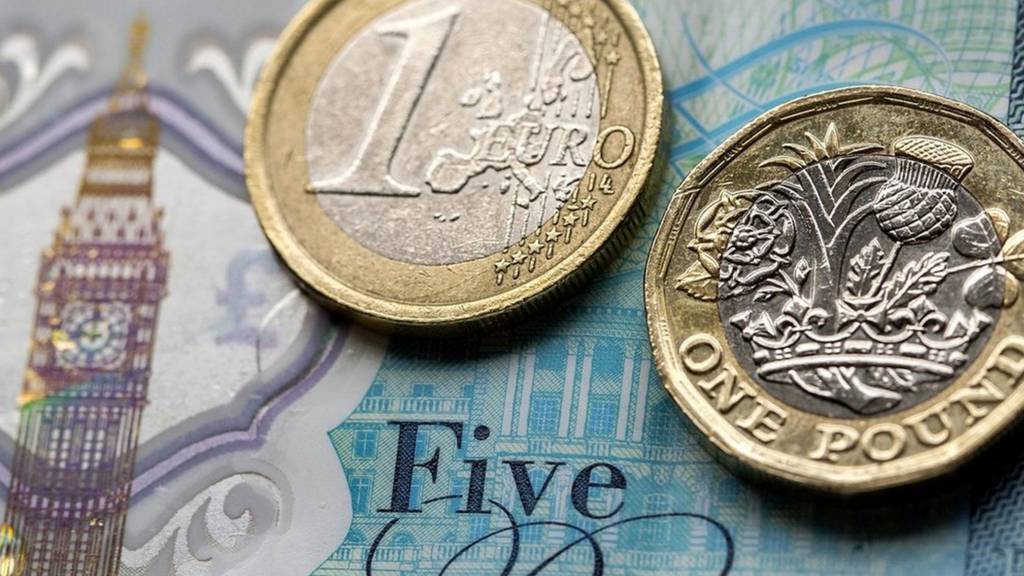 The Business Live page is closing at 16:30 today. See you tomorrow at 06:00.

The FTSE 100 share index has closed flat at 7059 points.

The UK's top share index was helped by a rally in Vodafone shares after the mobile operator announced further cost cuts and plans to lift cash flow.

British Retail Consortium reacts to Brexit no-deal stockpiling

IMF warns Italy's stimulus plan would leave country vulnerable

Italy's fiscal stimulus plans would leave the country vulnerable to higher interest rates that could ultimately plunge it into recession, the International Monetary Fund has warned.

The IMF recommend a "modest" fiscal consolidation instead to reduce financing costs.

Any temporary, near-term growth gains from the stimulus is likely to be outweighed by the "substantial risk" of a rapid deterioration, it added.

"Materialisation of even modest adverse shocks, such as slowing growth or rising spreads, would increase debt, raising the risk that Italy could be forced into a large fiscal consolidation when the economy is weakening," the IMF said.

"This could transform a slowdown into a recession."

EU proposes visa-free travel for Britons after Brexit

The European Union's executive has proposed that Britons be allowed to visit the bloc without visas after Brexit, but has also stepped up preparations in case of a no-deal divorce.

Speaking after the European Commission sat in Strasbourg, deputy head Frans Timmermans said a Brexit deal with Britain was the bloc's preferred solution.

"Very intense negotiations are ongoing. It is clear that although we are making progress, we are not there yet," he told a news conference. "We also discussed a number of issues related to our no-deal planning. You have to do that anyway. We are working very hard for a deal and let's be clear that is by far our preferred option. But we need to prepare for all options."

Bridal fashion firm Berketex abruptly ceases trading

Bridal fashion firm Berketex has stopped trading with immediate effect, according to a notice by insolvency firm Wilson Field.

"The director of the company wishes to express his sincere apologies for the abrupt closure of the store and any subsequent inconvenience this may cause to customers of the company," the firm said in a statement.

S&P and Nasdaq open higher as tech rebounds

The S&P 500 and the Nasdaq have opened higher, boosted by a rebound in technology stocks and hopes of progress in the US-China trade talks, while losses in Boeing and Home Depot dragged on the Dow.

The Dow Jones Industrial Average fell 65.97 points to 25,321.21. The S&P 500 opened higher by 3.83 points at 2,730.05. The Nasdaq Composite gained 29.82 points, rising to 7,230.69 at the open.

Breaking

Amazon to invest $5bn in two new US headquarters

Online shopping giant Amazon is to invest $5bn and create more than 50,000 jobs in two new headquarters in New York and Northern Virginia, the company has announced.

It will also create 5,000 jobs in Nashville.

Pound hits half year high against the euro

Sterling has hit a six month high against the euro after a British cabinet office minister said the UK and the EU were close to a Brexit deal, lifting hopes of an imminent breakthrough in talks.

The pound tumbled on Monday after fears that negotiations with Brussels on the terms of the UK's exit from the EU were deadlocked less than five months before the official departure date of 29 March, 2019.

Cabinet minister David Lidington told the BBC radio on Tuesday that Britain and the EU were "almost within touching distance" of an agreement.

Tata Steel reports profit jump

Indian metals firm Tata Steel's net profit more than trebled in the second quarter, beating market estimates, after strong domestic demand, it said.

Net profit was 31.16 billion rupees (£331m) compared with 10.18 billion rupees the previous year.

Analysts had estimated 22.47 billion rupees.

Singapore Airlines profits fall

Singapore Airlines reports a 69% drop in second-quarter net profit to $435m.

"The weaker performance for airlines was largely due to higher fuel cost," it says.

Lower airfares and non-cash losses at part-owned Virgin Australia also had an impact.

It said bookings in the coming months were expected to be stronger compared with last year.

"However, headwinds continue to persist in the form of cost pressures arising from significantly elevated fuel prices compared to a year ago, as well as keen competition in key operating markets," Singapore Airlines adds.

Flipkart boss resigns after misconduct investigation

Trump praises French wine but not trade

The US President is awake and this morning, he has France in his sights. Now read on...

Mistake sends Google data to China

Google data for search and cloud services went astray for more than an hour on Monday thanks to a mistake by an African ISP.

The data was sent the wrong way when MainOne Cable, in Nigeria, updated address books for key network hardware.

The update saw it claim to be the best way to reach millions of Google net addresses.

The mistake spread to other networks and led to Google traffic travelling via China and Russia.

Housebuilder sees 'signs of caution'

Housebuilding giant Taylor Wimpey says it has noted some wariness among customers in the run-up to Brexit.

In its latest update, the company said that while indicators for future sales were solid, it had seen "some signs of customer caution", particularly in the south east of England.

It said this was "due to heightened political and economic uncertainty".

However, Taylor Wimpey said the UK housing market had remained stable in the second half of 2018.

"Customer demand for new build homes continues to be robust, underpinned by low interest rates, a wide choice of mortgage deals and the Government's Help to Buy scheme," it said.

For the year to date, sales rates have "remained strong" at 0.81 sales per outlet per week, which is unchanged from last year.

"We expect next year's volume to be broadly flat in current market conditions," it said.

Flipkart chief resigns after misconduct probe

The chief executive and co-founder of Indian e-commerce company Flipkart Group, Binny Bansal, has resigned, following a probe into serious personal misconduct.

Mr Bansal's resignation, which was announced by Walmart - the majority-owner of Flipkart, is effective immediately.

"His decision follows an independent investigation done on behalf of Flipkart and Walmart into an allegation of serious personal misconduct," Walmart said in a statement.

"He strongly denies the allegation. Nevertheless, we had a responsibility to ensure the investigation was deliberate and thorough.

"While the investigation did not find evidence to corroborate the complainant's assertions against Binny, it did reveal other lapses in judgement, particularly a lack of transparency, related to how Binny responded to the situation. Because of this, we have accepted his decision to resign."

Walmart spent $16bn on a 77% stake in Flipkart earlier this year.

Sterling makes gains on dollar

Image caption: Sterling v dollar trading on Tuesday

The pound has extended gains against the dollar and is now up 0.62% at $1.2931 after Cabinet Office Minister David Lidington said a Brexit deal is "almost within touching distance".

Sterling is also ahead of the euro, up 0.25% to €1.1485.

A quick check on how the markets are doing. The FTSE 100 is up 12.25 points at 7,065.33, while the FTSE 250 is 138.96 points higher at 18,950.54.

Vodafone is still the top riser in the FTSE 100, up 8.6%, while Experian - which issued an upbeat revenue forecast earlier - is 6% higher.

In the FTSE 250, medical device development and healthcare service provider BTG has jumped 11% after reporting better-than-expected revenues.

FirstGroup shares are up 7.7% after it reported half-year results and appointed a new chief executive.

Vodafone numbers get the thumbs up

Investors in Vodafone can take some comfort in today's stock price performance after seeing the value of the telecom company's shares slide by a third this year.

George Salmon, equity analyst at Hargreaves Lansdown, says "Reducing operating costs for a third consecutive year has helped earnings come in slightly ahead of prior expectations, while the group's confirmed a marginally more upbeat outlook for the full year.

"That's helped ward off fears of an imminent rebasing of the dividend.

"Moves to make Vodafone simpler have also been given the thumbs up," he adds.

"Not only should the plans open the door to cost savings, a sale of the [masts and towers] business could see a couple of billion flow into the coffers. With debts well over €30bn at the moment, anything that lightens the burden is welcome."