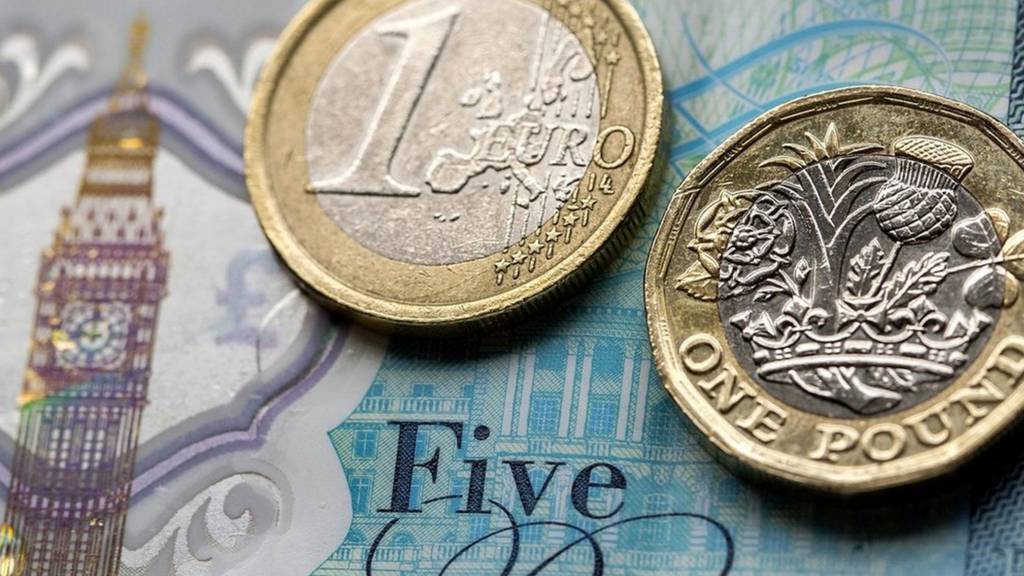 Business Live: US stocks hit fresh highs
Market data: FTSE 100, Pound/Dollar, Pound/Euro, US markets, Oil price
Summary
Pound drops below $1.31 after May statement
Moss Bros shares plunge on profit warning
Government borrowing up in August
Uber-Deliveroo tie-up report hits Just Eat shares
Get in touch: bizlivepage@bbc.co.uk
That's all for another week on the Business Live page. Join us again on Monday at 06:00.

Caterpillar protects profits by cost-cutting

Caterpillar is using a two-year-old cost-cutting strategy to cope with Trump tariffs on steel and aluminium, Reuters reports.

At a North Carolina front-end loader factory, the firm laid off workers in 2016 after plunging sales, and made two shifts into one. Demand has picked up since, but the plant still runs a single shift and operates four days a week.

One third of the facility's 550 employees are on flexible contracts.

Caterpillar is producing more loaders here with 30% fewer people on the factory floor than in the past, Reuters reports.

The firm has also redesigned newer machines with 20% fewer parts, cutting down on steel consumption, Reuters says.

The heavy-duty equipment maker estimates Trump's import tariffs will inflate its raw materials costs by up to $200m between July and December.

Oil boost boosts Dow to new high

The Dow has hit a new record high at the end of a week in which investors largely shrugged off trade worries.

The Dow Jones Industrial Average rose 69.43 points, or 0.26% to 26,726.41, the S&P 500 lost 1.5 points, or 0.05%, to 2,929.25, and the Nasdaq Composite dropped 41.28 points, or 0.51% to 7,986.96.

White House expresses optimism on China trade

The US is assessing China's response to the Trump administration's latest round of tariffs and does not have a scheduled date to announce for another round of talks, a senior White House official has said.

However, the official said he is optimistic there is a positive way forward with China on trade, but that President Donald Trump has made clear the US resolve to stand up to trade practices that hurt the US economy.

He said the two sides remain in touch.

US agency accuses Walmart of pregnancy discrimination

The US Equal Employment Opportunity Commission has filed a lawsuit accusing Walmart of forcing pregnant workers at a Wisconsin warehouse to go on unpaid leave and denying their requests to take on easier duties.

The EEOC, which enforces federal laws banning discrimination in the workplace, said Walmart's distribution center in Menomonie, Wisconsin, has discriminated against pregnant employees since 2014.

Walmart spokesman Randy Hargrove said: "Our accommodations policy has been updated a number of times over the last several years and our policies have always fully met or exceeded both state and federal law."

Comcast and Fox take $34bn battle for Sky to the wire

Image caption: Game of Thrones draws big audiences for Sky in the UK

Comcast and Twenty-First Century Fox face a quick-fire auction for broadcaster Sky on Saturday after neither side backed down in a drawn-out $34bn battle.

A deadline for US cable giant Comcast and Rupert Murdoch's Fox to declare that their all-cash offers for Sky would not be increased passed on Friday without a move by either side, triggering a rare auction run by the UK Takeover Panel.

Fox, which has the backing of partner Walt Disney, and Comcast are vying for control of Sky to bolster their businesses in the face of rapid growth of streaming services such as Netflix, which are transforming the media industry.

Saturday's auction of pay-TV group Sky will last a maximum of three rounds and any bids will be made in private by either telephone or email.

The Takeover Panel then expects to announce the offer prices that the bidders have submitted on Saturday evening.

Sterling fell as low as $1.3053 after Theresa May spoke earlier today about Brexit, and is now down about 1.45% on the day, putting it on course for its biggest one-day drop this year, over growing fears Britain could leave the EU without any deal.

Brexit: What happens next?

Tusk: 'Compromise still possible'

More from European Council President Donald Tusk.

"The European Union and its leaders fully respect the UK's decision expressed in the referendum on leaving the EU.

"From the very beginning of the negotiations we have been focused on finding a deal that will minimise the damage resulting from Brexit.

"...I remain convinced that a compromise, good for all, is still possible."

Donald Tusk: UK stance 'uncompromising'

ITV political editor tweets...

Reading emails on the train

Treasury chair writes to Barclays and Natwest bosses

Nicky Morgan, the chair of the Treasury select committee, is continuing with her letter-writing campaign to bank chief executives today, with salvos to Barclays boss Jes Staley and RBS chief Ross McEwan after online banking outages.

"This is yet another addition to the litany of failures of banking IT systems. Potentially millions of customers could be affected by uncertainty and disruption.

"It simply isn't good enough to expose customers to IT failures, including delays in paying bills and an inability to access their own money.

"High street banks justify the closure of their branch networks on the basis that they are providing a seamless online and mobile phone banking service. These justifications carry little weight if their banking apps and websites cannot be relied upon."

FTSE 100 closes up after pound plummets

The pound - a barometer of investor expectations on Brexit - has come under fresh selling pressure today after Theresa May warned EU leaders to come up with new alternatives to her Brexit proposals if they are to break a deadlock in the talks.

A falling pound typically boosts FTSE 100 firms, which make around 70% of total earnings from overseas.

The FTSE 100 closed 123 points higher at 7,490.

Dominic Chappell loses pensions appeal

Dominic Chappell, the former director of the company that bought BHS for £1, has lost an appeal against his conviction for failing to hand over information to The Pensions Regulator (TPR).

In January, Chappell was convicted at Brighton Magistrates' Court by District Judge William Ashworth of three counts of neglecting or refusing to provide information and documents without a reasonable excuse.

District Judge Gary Lucie then sentenced Chappell to pay a £50,000 fine, £37,000 costs and a £170 victim surcharge.

Chappell appealed his conviction and sentence, asking for the case to be reheard in the Crown Court.

But today he lost his appeal at Hove Crown Court after Judge Christine Henson QC said Chappell's evidence was "entirely unbelievable".

The case was adjourned for sentencing on a date to be fixed, the Pensions Regulator said in a statement.

CBI: UK and EU 'must change tack'

Business body the CBI has called on the UK and EU to "change tack" in Brexit negotiations after both appear to be on a collision course.

Carolyn Fairbairn, CBI Director-General, says: "The events of the last 24 hours have made one thing abundantly clear - negotiators on both sides must change tack. Rejection of Chequers helps nobody.

"The stakes could not be higher. Jobs, wages and living standards are at risk, on both sides of the Channel.

"With time slipping away, employers and employees alike need to see constructive dialogue. Pragmatism must come before politics. Every day lost in rhetoric is lost investment and lost jobs."

Pound drop 'may be overdone'

There are reasons to be cheerful about the pound, says Bart Hordijk, a market analyst at Monex Europe.

"Theresa May's firm, almost Trumpian speech saw GBP – the most well-known barometer of Brexit – indicate that a tempest is coming.

"...The EU has every reason to reject the chequers deal as it doesn't want to give the impression that à la carte access to the EU is even a remotely possibility for the UK.

"Sterling's biggest drop in a year looks scary, but if you consider little has changed there still seems plenty of room for sterling to rally.

"Before this week we already knew the EU would reject the chequers deal and that May has the incentive to go for some kind of a fudged compromise on the Irish border.

"Given that UK CPI and Retail Sales data were actually exceptionally strong this week and an amping up of strong rhetoric was to be expected as the Brexit negotiations draw to a close, the sterling sell-off today may be a bit overdone."

EU 'has not been disrespectful'

British Airways 'technical issue'

British Airways has said in a tweet that a technical issue is affecting some of its systems, but that flights haven't been affected.

Responses underneath the tweet indicated some boarding problems at Heathrow Terminal 5.

The Business Live page understands that there have been delays, but this is due to knock-on effects from Storm Ali, rather than technical problems.

Hat tip to Business Live page reader Gareth Roberts for flagging the BA tweet up.

Sturgeon: May statement 'dreadful'

Scotland's first minister tweets...