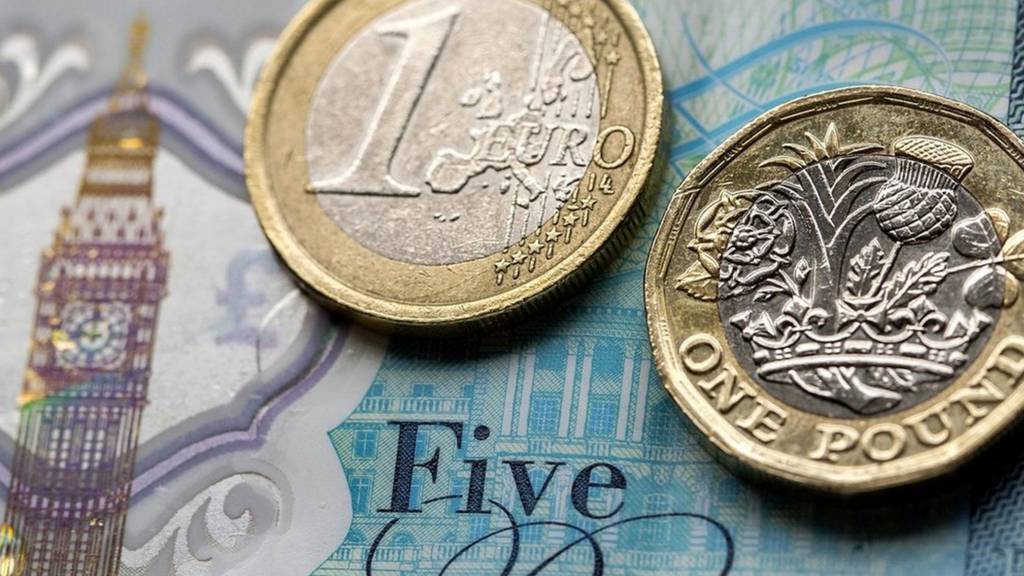 Summary
Get in touch: bizlivepage@bbc.co.uk
Auction to resolve Sky takeover battle
EU Commission demands action from Facebook
French Connection sales down 7%
BAT chief executive Durante to retire
Labour calls for live sports betting ban
Aston Martin valued at up to £5bn
Diageo hit by currency moves
That's all for tonight from the Business Live page. Please join us again tomorrow from 06:00.

Wall Street closes higher

The Dow Jones and S&P 500 both hit fresh highs on Thursday, as investor concerns about trade eased and focus shifted to the strength of the US economy.

The Dow, which had been slower than other indexes to make up recent losses, jumped almost 1% to close at 26,656.98 - a level last seen on 26 January.

The S&P 500 gained 0.8% to 2,930.75 while the Nasdaq rose 1% to 8,028.23.

Turkey's competition authority has fined Google some 93 million Turkish lira (£11m, $15m) for violating competition laws with mobile software sales.

In a statement, the competition authority said Google, Google International and Google Reklamcilik were given six months to make the necessary changes in order to "reinstill effective competition in the market and end the violation".

In the second quarter, Google made a profit of $2.8bn with revenues of $26.24bn.

EC aims to open up parcel delivery market

Douglas Fraser

Scotland business & economy editor

Ex-Malaysia PM Najib hit with 25 charges of money laundering and abuse of power

Malaysia's former prime minister, Najib Razak, has been charged with 21 counts of money laundering, in a case linked to a multi-million dollar corruption scandal.

He was charged in court on Thursday in relation to the alleged transfer of $556m (£421m) from state fund 1MDB into his personal bank account.

He was also charged with four counts of abuse of power.

Mr Najib has pleaded not guilty to all 25 charges.

Etihad denies takeover story

Etihad has poured cold water on a Bloomberg story that Emirates is looking into taking over its fellow airline.

An Etihad spokesperson said: "There is no truth to this story."

Uber Eats drivers protest over pay

Scores of Uber Eats drivers have staged a protest over pay at the company's London offices.

The Uber protestors said it was a spontaneous show of action against the company, claiming rates for every delivery had been reduced without agreement.

Many of the drivers were Portuguese migrant workers.

One said: "Some of us are facing a cut from £4.60 a drop to £2.80 which is totally unacceptable

"No-one has organised this, it's just a spontaneous show of anger at what is happening."

An Uber Eats spokesman said: "In response to feedback from couriers we've made some changes to our payment structure in London, which brings it into line with other cities.

"The changes will help increase earnings during busy mealtimes and, as we transition to the new system, we're introducing minimum payment guarantees of £9-£11 an hour."

Japan hit by $60m cryptocurrency heist

Japanese cryptocurrency firm Tech Bureau has said about $60m (£45m) in digital currencies were stolen from its exchange, highlighting the industry's vulnerability despite recent efforts by authorities to make it more secure.

Tech Bureau, which has already been served two business improvement orders by regulators this year, said its Zaif exchange was hacked over a two-hour period on 14 September.

It detected server problems on 17 September, confirmed the hack the following day, and notified authorities, the exchange said.

'Brutal from Tusk'

BBC Politics producer tweets...

'Tusk had planned to say nice things about Chequers'

Barclays apologises for outage

Douglas Fraser

Scotland business & economy editor

S&P and Dow hit intra-day highs

The S&P 500 and the Dow Jones Industrial Average have both hit all-time intraday highs, with the Dow setting a new record for the first time in eight months.

Trade concerns seemed to be receding after sparking a sell-off to start the week, with investors pointing to a strong US economy as underpinning stocks' strength.

Gains were broad across sectors, while stocks in major firms such as Microsoft, Apple, and Amazon, were giving the biggest boosts to the S&P 500.

"The economic numbers are good and people are fueled by that," said Alan Lancz, president of advisory firm Alan B. Lancz & Associates.

"What we're seeing is more of a fear of missing out," Mr Lancz added. "We are hitting new highs for first time since January on the Dow and that confirmed a lot of momentum players."

Can May cling on to Chequers plan?

Evans Cycles looks for new owner

Evans Cycles is seeking a new owner amid signs of further pressure on high street retailers from online competition.

Advisers are understood to be in talks with a number of potential buyers for the business, which has more than 60 stores in the UK.

Possible new owners are understood to include private equity groups and trade buyers.

PwC, which is handling the sale, has asked for final bids by the end of next week.

Image caption: Game of Thrones draws big audiences for Sky in the UK

The takeover of broadcaster Sky will be settled by an auction, the UK's Takeover Panel announced earlier.

Laith Khalaf, senior analyst at Hargreaves Lansdown, says:

"Comcast and Disney have been playing a game of thrones in the media sector, and the season finale will now take place this weekend.

"It's anyone's guess which media giant will walk away with Sky, and at what price.

"Shareholders will be delighted at how this has all played out, having seen the share price double since just before the original offer was made by Twenty First Century Fox almost two years ago."

Abe wins extended term and faces Trump trade challenge

Japanese Prime Minister Shinzo Abe has won a ruling party leadership vote, setting him on track to become Japan's longest-serving premier.

Mr Abe's first immediate challenge is an expected summit with US President Donald Trump next week, when he will face pressure to cut Japan's $69bn surplus with the US, nearly two-thirds from vehicle exports.

The Trump administration is exploring raising tariffs on Japanese car exports, a step Japanese officials say would do serious damage to the two economies and world trade.

Mr Abe is expected to meet Mr Trump on the sidelines of UN gathering.

They have forged close ties but Mr Trump has made clear he's unhappy about the bilateral trade imbalance and wants a two-way agreement to address it.

Japan opposes a bilateral deal over concerns it would increase pressure on sensitive sectors such as agriculture.

Shares in US-based ticketing and event management website Eventbrite soared nearly 70% after it floated.

Its shares opened at $36 against an initial public offering price of $23, and climbed to as high as $38.71.

About half of the deal shares traded in first 10 minutes of trading.

The San Francisco-based firm collects a per-ticket fee from event creators that use its platform to plan, promote and produce fundraisers, seminars, musical festivals and other events.