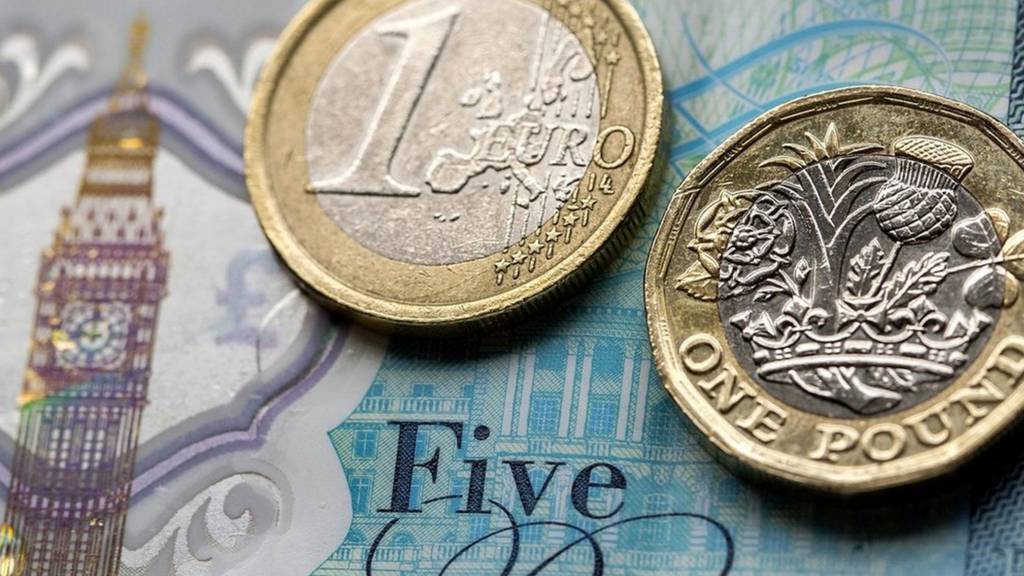 Summary
Get in touch: bizlivepage@bbc.co.uk
Pound slides after hitting two-month high
Danske Bank chief quits amid money-laundering probe
B&Q owner Kingfisher reports 30% profit fall
Regulators to probe Asda/Sainsbury merger
Currency market watches EU summit
That's all from the Business Live page for today. Catch us again tomorrow from 06:00.

Hard work 'probably doesn't pay off'

Have you ever felt like you're working constantly, doing long hours, at high speed, to tight deadlines, but getting absolutely no appreciation for your efforts from your workplace?

We on the Business Live page would never, ever feel like that, of course.

However, apparently, almost half of the people in the EU work in their free time to satisfy the demands of work, while a third often or always work at high speed, according to an article on the World Economic Forum website.

Workers who put a lot of effort into their job report increased stress and fatigue, lower job satisfaction, but less recognition and fewer opportunities for career advancement, the article says.

Why does this increased effort not pay off? With less time to recover, people get increasingly tired, and so are not functioning at their best.

Amazon 'considering opening 3,000 more cashierless food stores'

Amazon is considering opening as many as 3,000 new AmazonGo cashierless food stores in the next few years, Bloomberg has reported quoting people familiar with matter.

It said the move would threaten convenience chains like 7-Eleven and fast food brands like Subway.

The company unveiled its first cashierless store near its headquarters in Seattle in 2016 and has since announced two additional sites in Seattle and one in Chicago.

Two of the new stores offer a limited selection of salads, sandwiches and snacks while the others also sell groceries.

An Amazon spokeswoman declined to comment.

Tesco 'back on the front foot' with Jack's

Tesco's opening of discount store Jack's puts it "back on the front foot" in its "battle with the discounters", says Patrick O'Brian, UK retail research director at GlobalData.

"If imitation is the sincerest form of flattery, then Tesco's new Jack's venture must leave Aldi and Lidl feeling idolised.

"Less choice, cheaper own-label goods in a convenient, shoppable supermarket format, Jack's is the first time Tesco has made a serious attempt to limit the impact of the discounters.

"Jack's focus on British products gives it a point of differentiation, as does the consolidating of its own-label products into the Jack's brand."

Mr O'Brian says that Tesco's "plans to open 10-15 stores next year are surprisingly tame."

"As Tesco targets a return to a 4% profit margin by 2020, opening at a faster rate would make this more difficult and also risk cannibalising sales," he adds.

Jack's 'will need to work hard'

Tesco's toe in the discounter water - Jack's - will "need to work hard to dent the success of Aldi and Lidl" says retail expert Dr Gordon Fletcher from the University of Salford.

"The new Jack's brand – a reference to Tesco founder Sir Jack Cohen and a nod to the company's 100-year history – will begin appearing next week in repurposed and existing Tesco properties," he says.

"The challenge for Tesco will be to continuously compete at an unfamiliar price point on common household products.

"Aldi and Lidl both successfully compete in the retail sector by using a consistent layout in custom-built stores with a supply chain that sources items from suppliers across Europe."

Coca-Cola moving ahead with takeover of Nigeria's Chi juice

Coca-Cola is moving ahead with plans to take over Nigerian juice company Chi and aims to complete the deal early next year, a senior executive has said.

The acquisition for an undisclosed price is one of several steps the US firm is taking in a global strategy to diversify from its core business of sugary drinks.

"We are still on track to complete the acquisition [of Chi] by the end of the first quarter of 2019," Peter Njonjo, president of Coca-Cola's west Africa business, said.

Nike's Kaepernick ad spurs spike in sold out items

Nike has sold out of 61% more merchandise since the controversial ad campaign featuring former NFL player Colin Kaepernick appeared earlier this month, according to Thompson Reuters data on the company's online sales.

Mr Kaepernick, who sparked a national controversy by kneeling during the national anthem, first tweeted the ad on the Labour Day weekend, which immediately sparked demands for a boycott of the company's products.

President Donald Trump also tweeted, without providing evidence, that "Nike is getting absolutely killed with anger and boycotts".

Ma 'says trade war has scotched Alibaba job creation plans'

Alibaba founder Jack Ma has said worsening trade relations between the US and China have scotched Alibaba plans to create one million US jobs, CNBC reports.

"The promise was made on the premise of friendly US-China partnership and rational trade relations," Mr Ma reportedly said. "That premise no longer exists today, so our promise cannot be fulfilled."

Danske Bank boss resigns over €200bn money laundering scandal

Danske Bank's chief executive Thomas Borgen has resigned after a investigation revealed payments totalling €200bn (£180bn) through its Estonian branch, many of which the bank said were suspicious.

The Danish bank detailed compliance and control failings amid growing calls for a new European Union watchdog to crack down on financial crime after a series of money laundering scandals which have attracted the attention of US authorities.

"Even though I was personally cleared from a legal point of view, I hold the ultimate responsibility. There is no doubt that we as an organisation have failed in this situation and did not live up to expectations," said Mr Borgen, who will stay on until a new chief executive is appointed.

May urges EU to 'evolve' Brexit position

UK Prime Minister Theresa May, arriving at an EU summit dinner in Austria, called on fellow European Union leaders to adapt their Brexit negotiating stance.

"If we're going to achieve a successful conclusion then, just as the UK has evolved its position, the EU will need to evolve its position too," Mrs May told reporters on arrival in Salzburg.

"I'm confident that with goodwill and determination we can agree a deal that right for both parties."

She defended her Chequers proposals on a future customs and trade arrangement with the EU, saying: "It maintains frictionless trade. It's the only credible and negotiable plan on the table that delivers no hard border in Northern Ireland and also delivers on the vote of the British people."

US oil futures rose more than $1 a barrel before decreasing, bolstered by strong domestic fuel demand, and amid ongoing supply concerns over US sanctions on Iran that come into force in November.

US crude futures were up 1.17% at $70.67 a barrel.

Belgian union rejects Ryanair offer ahead of planned strike

The union representing Ryanair cabin crew in Belgium has rejected an offer from the Irish airline ahead of a planned one-day strike on 28 September, the CNE union says.

The threatened strike by cabin crew in Belgium, Italy, the Netherlands, Portugal and Spain is aimed at pressuring shareholders set to meet on 20 September to address Ryanair's labour agreements.

Ryanair stood by a statement last week that even if there is a strike, it expects a significant majority of its cabin crew to work normally, as they have during previous strikes.

Tencent 'seeks $2bn in US flotation'

Image caption: Tencent's role-playing mobile game Honor of Kings

China's biggest content-streaming company, Tencent, is seeking to raise about $2bn in a US stock market listing, sources tell Reuters.

Tencent Music had earlier been seeking to raise between $3bn and $4bn, the news agency reports.

FTSE 100 boosted by pound fall

It's been a rollercoaster day for the FTSE 100. Having stumbled through the morning session, it closed up 0.4% after a Times report that PM Theresa May is set to reject an improved EU offer on the post-Brexit Irish border problem sank the pound.

There was tension on another front too with UK treasury minister Mel Stride suggesting, on Sky News, that there could be another referendum if May's Chequers proposals are rejected by Parliament.

London house prices slip again

Ryanair investors 'could lose rights'

No deal Brexit 'to add £1,500 to cost of a new car'

Britain crashing out of the EU with no-deal would be likely to add £1,500 to the cost of a new car, while tariffs on UK-built cars sold in the EU would add £2,700, affecting demand, profitability, and jobs, car industry body the SMMT says.

"Our industry is deeply integrated across both sides of the Channel so we look to negotiators to recognise the needs of the whole European automotive industry and act swiftly to avoid disruption and damage to one of our most valuable shared economic assets," says SMMT chief executive Mike Hawes.

Treasury minister Truss 'backs bonfire of regulations'

Journalist and writer tweets...

Analysts gloomy about Kingfisher outlook

"Would somebody change the record? It's still the same old story at Kingfisher with little sign that the turnaround is really working," says Neil Wilson, chief market analyst at markets.com.

"As the Q2 update indicated, Kingfisher enjoyed an OK performance in the UK and Poland but France, especially Castorama, continues to act as a massive weight.

"The outlook is cloudy on many fronts – the softer consumer picture and property market in the UK, Brexit, the woeful underperformance of France and Castorama, struggles in every international market except Poland, as well as ongoing doubts around the unified sourcing proposition actually delivering."