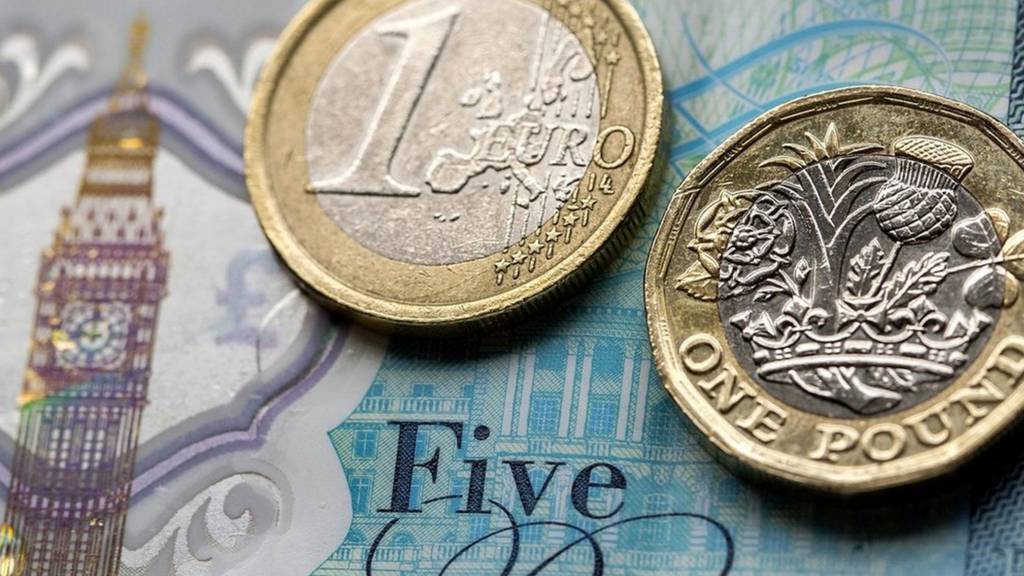 Summary
Get in touch: bizlivepage@bbc.co.uk
US announces tariffs on $200bn of Chinese goods
Oxfam accuses drug firms of avoiding tax
Nestle sell insurance business for £1.6bn
Ocado reports 11.5% rise in sales
That's it from the Live page for tonight. Please join us again tomorrow from 06:00.

What British people think about Brexit now

The UK narrowly voted in favour of Leave in the EU referendum, but with six months to go until Brexit, where does the country stand now?

From whether the UK should hold another referendum, to what Brexit means for the economy, the opinion polls reveal a great deal about what the country thinks.

US stocks have closed higher after new tariffs were announced by both the US and China in an escalating trade war.

"[The trade dispute] has escalated to a point where finally we're probably getting closer to a resolution," said Chuck Carlson, chief executive of Horizon Investment Services. "It's almost as if we're getting down to the brass tacks of both countries having not too much more room to go."

The Dow Jones Industrial Average rose 185.51 points to 26,247.63, the S&P 500 gained 15.56 points points closing at 2,904.36 and the Nasdaq Composite added 60.32 points, finishing at 7,956.11.

Trump's wider concerns about the US trade deficit

Andrew Walker

World Service economics correspondent

The immediate objective of President Trump's action against China is to address what he calls the theft of American companies' technology, but it also plays into his wider concern about the US trade deficit.

He sees it as something that needs to be corrected, and as the result of bad trade agreements and unfair trading by other countries.

The trouble is that a trade deficit is generally regarded as being the result of savings and investment decisions rather than trade policy. A country that spends more than it earns has a trade deficit.

President Trump's other policies include tax cuts that could increase government borrowing, which is equivalent to cutting national saving and could create a bigger trade deficit.

What Mr Trump hopes is that the tax cuts will boost economic activity so much that they will generate more revenue - and "pay for themselves". That's another area of economic controversy.

China tariffs could cost US 94,000 jobs

The US could lose more than 94,000 jobs due to its latest round of China tariffs.

That's the latest estimate from the Tax Foundation, a nonpartisan US policy group that supports simple tax regimes.

That estimate cites the current plan to impose a 10% import tax on a wide-ranging set of Chinese imports that accounted for about $200bn in trade last year.

However, the organisation warns the risk is higher if President Donald Trump carries out threats to impose additional tariffs against China and other countries.

All proposed tariffs could lead to the loss of almost 460,000 jobs and cost the US about 0.6% in economic growth, it estimates.

Coca-Cola buys Australian kombucha maker

The Coca-Cola Company has purchased an Australian kombucha maker, further expanding its offerings beyond soda.

The company did not say how much it paid for Organic & Raw Trading Co., which makes the MOJO brand of kombucha, which is fermented, slightly alcoholic tea.

In its announcement, Coca-Cola said kombucha is the fastest growing beverage category in Australia.

For those of you wondering, some people believe kombucha is probiotic and therefore good for health - but there have not been enough scientific studies done to determine whether that is true or not.

Tesla: DoJ requested information on Musk tweet

Tesla has this to say on a Bloomberg report that the firm is facing a criminal probe into Elon Musk's tweet that he was considering taking the company private:

"Last month, following Elon's announcement that he was considering taking the company private, Tesla received a voluntary request for documents from the DOJ and has been cooperative in responding to it.

"We have not received a subpoena, a request for testimony, or any other formal process. We respect the DOJ's desire to get information about this and believe that the matter should be quickly resolved as they review the information they have received," Tesla said in a statement.

Think tanks 'want to open up NHS to US competition'

Think tanks and organisations with prominent links to Brexiters and Donald Trump have prepared a blueprint for a free trade deal between the UK and the US "that would see the NHS opened to foreign competition, a bonfire of consumer and environmental regulations and freedom of movement between the two countries for workers," the Guardian reports.

The Initiative for Free Trade, which was founded by MEP Daniel Hannan, one of the leaders of Vote Leave, contributed to the report, as did US think tanks who have prepared policies enacted by the Trump administration, according to the Guardian.

Ireland collects disputed Apple taxes

Ireland has fully recovered €13.1bn in disputed taxes from Apple plus interest of €1.2bn which it will hold in an escrow fund pending its appeal against an EU tax ruling, Ireland's finance minister has said.

The European Commission ruled in August 2016 that Apple had received unfair tax incentives.

Both Apple and Dublin are appealing against the original ruling, saying the iPhone maker's tax treatment was in line with Irish and European Union law.

While the €14.3bn would be enough to fund the country's health service for a year, the government says it has never given any company a special deal and that the appeal is important to preserve Ireland's attractiveness for investment.

Tesla shares hit by criminal probe report

Investors in the FTSE 100 have taken Washington's decision to go ahead with 10% tariffs on another $200bn of Chinese goods in their stride.

The latest US duties spared smart watches and other consumer products, but US President Donald Trump said there would be duties on more products if China took retaliatory action.

"Indeed, the actual range of goods hit with tariffs was less than feared," said Neil Wilson, an analyst at Markets.com.

The FTSE closed down 0.03% at 7300.23.

Car industry 'getting nervous about Brexit'

Theo Leggett

BBC Business News Reporter

Factory shutdowns are pretty normal within the car industry. Machinery needs to be repaired or replaced and updates or modifications to production lines carried out. Usually at Mini this happens during the summer, and it's built into the carmaker's output planning.

What BMW has done is simply reschedule that shutdown to coincide with a potential period of serious disruption at the borders after Brexit, if we leave the EU without a deal.

If the plant isn't actually making cars, then a shortage of imported parts should not be so much of a problem. The company says a no-deal outcome is unlikely, but has to be planned for.

Rescheduling the annual shutdown looks like a relatively simple and inexpensive piece of contingency planning. Nevertheless, it does send out a political message.

It's a reminder that carmakers are particularly reliant on frictionless borders, to ensure parts arrive where they're needed at exactly the right time. And it shows that BMW is taking the risk of a no-deal Brexit seriously.

Add that to comments made by the Jaguar Land Rover boss last week - suggesting that the wrong Brexit deal could cost tens of thousands of jobs - and it suggests that people within the industry are getting rather nervous right now.

'Market concern increasing' over Trump trade war

Despite a bounce in US markets today, investor concern is increasing over US and China tit-for-tat tariffs, says Ronald Temple, head of US equities at Lazard Asset Management.

"With each escalation, the outlook for markets and economic growth in 2019 deteriorates," he says.

"While we are not alarmed, our concerns over trade friction and monetary policy tightening are increasing."

China hits back by levying tariffs on $60bn of US goods

China will levy tariffs on about $60bn worth of US goods in retaliation for new US tariffs, as previously planned, but has reduced the volume of tariffs that it will collect on the products.

The tariff rates will be levied at 5% and 10%, instead of the previously proposed rates of 5%, 10%, 20% and 25%, the Finance Ministry said.

China will impose a 10% tariff on US products it previously designated a rate of 20% and 25%.

Liquefied natural gas (LNG), for example, was previously under the 25% tariff category but now will be subject to a tariff of 10%.

The new tariff measures will take effect on 24 September, the date when the Trump administration says it will begin to levy new tariffs of 10% on $200bn of Chinese products.

The tit-for-tat measures are the latest escalation in an increasingly protracted trade dispute between the world's two largest economies.

BAE Systems confirms Qatar deal

UK defence firm BAE Systems has received its first payment from Qatar in a deal to buy 24 Typhoon jets and nine Hawks, the government has announced.

The deal is worth about £5bn, the government said.

International Trade Secretary Liam Fox said: "The UK Government is proud to be a part of this hugely significant export contract, supporting BAE Systems, its nearly 35,000 employees and the 9,000 companies in its supply chain."

The Qatari government has pushed forward plans to expand its military since Saudi Arabia, UAE, Bahrain and Egypt severed relations with Qatar in June 2017, according to Amnesty International.

Wall Street higher on tariff optimism

Two of the main US stock indexes are higher in early trading, buoyed up by a rise in oil prices and concessions that analysts say make the latest round of trade tariffs on China less damaging than initially feared.

President Trump holding the tariff rate at 10% for the moment plus a series of exclusions for goods including smartwatches produced by Apple and Fitbit strengthened the technology stocks seen as most exposed to a still worsening trade war.

"Rather than going ahead with the full 25%, the administration will wait till end of the year, this minimises the overall impact," said Scott Brown, chief economist at Raymond James in St. Petersburg, Florida.

"There's this hope that this move is going to lead China to the bargaining table again and most market participants think everything is going to turn out OK."

The Dow Jones Industrial Average is up 83 points at 26,145.

The S&P 500 is down 17 points at 2,889.

The Nasdaq Composite is up 42 points at 7,936.

How much for a US-made iPhone?

Any US company that complains about President Trump's tariffs on products made in China is likely to be told to move its production back to the US.

So how much would an iPhone made in the US cost. With the help of some number crunching by analysts this Vox article has a look.

One estimate says the move would add $30 to $40 to the price of a phone.

The big problem would be finding a big enough workforce with the right skills.

The most expensive part of an iPhone is the display, made in Japan or South Korea. So to really benefit US workers Apple would have to persuade suppliers to set up shop in the US, which could be tricky.

China 'to levy tariffs on $60bn of US goods'

China is to levy on $60bn worth of US goods from 24 September, Bloomberg reports.

Trump: China trying to sway election

US President Donald Trump has accused China of targeting the US election but has put forward absolutely no evidence to support his allegation.

Carmakers should fear cartel probe

Theo Leggett

BBC Business News Reporter

"This investigation could prove very costly for the carmakers concerned.

"If the Commission finds that there has been deliberate wrongdoing - and it is very important to point out it has not yet done so - they could face very heavy penalties. Fines can run into the hundreds of millions of euros. Even, occasionally, into the billions.

"Then there's the political backdrop. Since the scandal over emissions cheating at Volkswagen erupted three years ago, any hint that manufacturers may have been sabotaging efforts to produce cleaner cars has gone down very badly - especially in Germany.

"Car companies do talk to one another, and on a regular basis. Sometimes it's about developing technical standards, or improving safety. All of that's allowed - the question is where they draw the line between essential cooperation and anti-competitive behaviour.

"That's likely to be the focus of the Commission's inquiry. And for the moment, it is simply an inquiry.