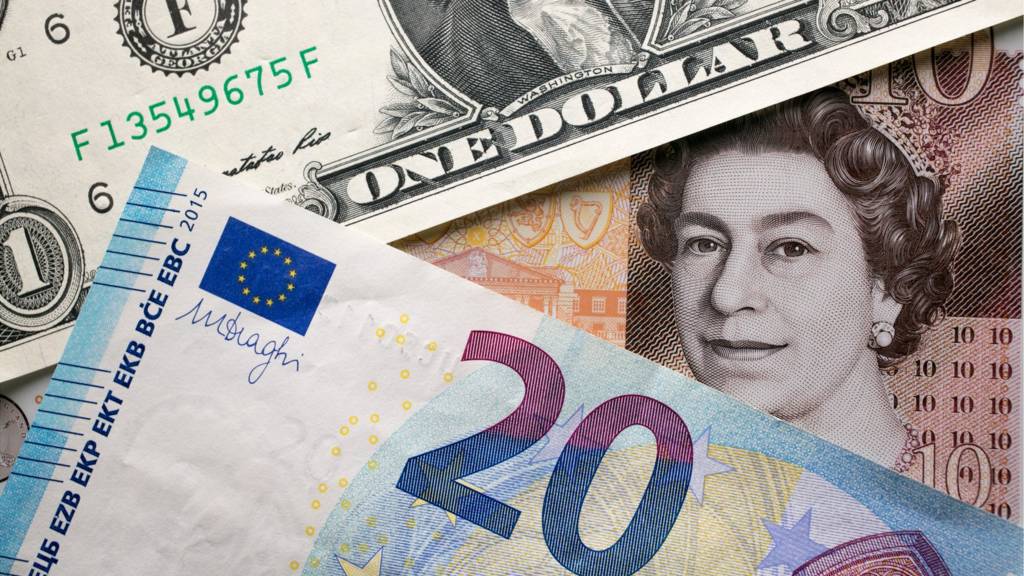 Summary
Get in touch: bizlivepage@bbc.co.uk
Sterling under $1.31, FTSE falls
Greene King slides on "challenging" outlook
Stagecoach takes £85m hit on East Coast franchise
BP buys Chargemaster
H&M profits slide
That's all for another day on the Business Live page. Please join us again tomorrow from 06:00.

Imperial Brands takes stake in medical cannabis firm

Tobacco company Imperial Brands is investing in biotech firm Oxford Cannabinoid Technologies (OCT).

The maker of Gauloises and Winston cigarettes says its subsidiary, Imperial Brands Ventures, is taking an equity stake in OCT.

The move comes as big tobacco firms take steps away from a shrinking market.

Image caption: Sir Patrick Stewart

In the same statement, OCT announced that Sir Patrick Stewart has become a patron.

Airbus has painted its Beluga XL aircraft-part transporter to look like a Beluga whale.

"The livery was one of six choices submitted to Airbus employees through a poll in which 20,000 people participated," Airbus said in a statement.

BBC business journalists Theo Leggett and Matthew Wall wrote about the outsized transporter here.

Northern season ticket holders to get compensation

Following extensive disruption earlier this year when new rail timetables were brought in, Northern season ticket holders are to get some compensation.

BBC transport correspondent Victoria Fritz says those people on the worst affected on Northern routes will get four week's worth of travel on their season ticket refunded, and others will get a week.

The compensation is to be issued by Northern and TransPenine Express, which are private sector, but the funding is to come from Network Rail, which is public sector.

The train operating companies themselves are to outline who can claim what and when, Victoria adds.

US stocks finish marginally higher

US stocks have finished a little stronger after swinging between gains and losses.

Amazon's foray into drug retailing sapped the healthcare sector, but a rise in financial stocks for the first time in a fortnight cushioned the markets.

The Dow Jones Industrial Average was up 97 points at 24215.03 a rise of 0.4%.

The S&P 500 was up 16 points at 2716.33 a rise of 0.62%.

And the Nasdaq Composite was up 57 points at 7502.64, a gain of 0.77%.

Douglas Fraser

Scotland business & economy editor

The design success of the Global Combat Ship, otherwise known as the Type 26, is a breakthrough for BAE Systems. Over several decades, it has struggled to turn the Royal Navy's requirements into a design that other countries want to buy, or are willing to pay for.

Orders for other navies used to mean manufacturing at UK yards. Some naval patrol vessels, most recently for Oman, have continued to keep the yards busy at lean times.

But now, other countries, from Thailand to Australia and - next up for the Global Combat Ship - Canada want to get the economic benefit of their military spending, so they insist on building themselves.

The hull can be the relatively cheap bit of building a complex warship, so there may be benefits to British arms exporters in selling weapons systems that fit into the Australian frigates.

However, this looks like a design which was heavily subsidised by the UK taxpayer, being sold overseas, and wholly to the benefit of BAE Systems. It appears that the UK taxpayer sees none of the direct payback or royalties from that investment.

US cheese mountain piles up

Washington Post reporter tweets...

Ticketmaster 'warned of breach months ago'

Ticketmaster was warned about customers' cards being compromised in April, Digital bank Monzo told the Guardian.

The company says it only learnt of the compromise in June.

Deliveroo settles employment rights claim

Deliveroo has paid compensation to fifty Deliveroo riders who brought claims for employment rights, law firm Leigh Day says.

Annie Powell, a solicitor in Leigh Day's employment department who represented the riders, said:

"Deliveroo has paid out a material sum to settle these claims. In our view, this shows that Deliveroo knew that they were very likely to lose at the Employment Tribunal.

US anti-union group 'steps up efforts'

A group linked to Republican billionaires the Koch brothers is stepping up efforts to undermine unions after a landmark Supreme Court ruling on agency fees, Bloomberg reports.

The Freedom Foundation will send 80 people to three states to publicise the ruling and persuade people not to pay the fees, the article says.

Unions are a source of support for the Democrat party, and agency fees were a steady income for unions.

However, the US Supreme court - which is majority conservative after a Trump nominee became a judge - found that the fees, which were levied on non-union members to fund collective bargaining over pay, were unconstitutional.

Can May persuade EU to relax its red lines?

'Highest levels of lethality'

Britain's BAE Systems has won a A$35bn (£20bn) contest to deliver anti-submarine frigates for the Australian navy, the Australian government has said.

The nine ships, to be designed by BAE and built by the government-owned ASC Shipbuilding in Australia, are expected to underpin the country's maritime combat capability for decades to come, the Australian government said.

"The Hunter class will provide the Australian Defence Force with the highest levels of lethality and deterrence our major surface combatants need in periods of global uncertainty," it said.

Trump trip could cost Police Scotland £5m

Fox considers steel tariffs

Sean Curran

Parliamentary correspondent

The International Trade Secretary, Liam Fox, says measures to protect the British steel industry in the wake of Donald Trump's decision to impose tariffs on imports of steel and aluminium could be introduced next month.

The minister told MPs that while the government sympathised with American concerns about the over production of steel, the decision to restrict imports on national security grounds was not "an appropriate solution".

Mr Fox said: "We are looking to see what impact there may be from any diversion whether we need to introduce safeguards to protect UK steel producers."

Under WTO rules the European Union could impose tariffs as safeguard measures to protect steel producers if it finds evidence that there has been a surge of imports because steel originally intended for the US has been diverted as result of Mr Trump's tariffs.

May 'committed to faster pace of Brexit talks'

Walgreens Boots shares tumble after Amazon move

Shares in Walgreens Boots Alliance, already under pressure after its third-quarter earnings report, tumbled 10.5% after Amazon said it would buy online pharmacy PillPack.

That and United Health's 2.4% drop pulled the Dow Jones Industrial Average lower.

Shares of drug distributors and retailers have fallen as the e-commerce giant moves deeper into the healthcare sector.

UPS and Fedex shares drop after Amazon delivery news

Amazon plans to entice entrepreneurs to set up their own package-delivery businesses.

The news sent shares of United Parcel Service and FedEx down about 2.5% each.

Baird senior research analyst, Colin Sebastian, says:

"Amazon is offering individuals the technology, tools, and physical assets to establish their own delivery businesses...

"Over time, Amazon expects hundreds of individual logistics businesses to operate in its partner network, with 'tens of thousands' of delivery drivers across the US.

"As a sign-on incentive, Amazon is giving partners access to negotiated rates on Amazon-branded delivery vehicles, uniforms, fuel, and insurance coverage, which in aggregate should keep start-up costs manageable. The company highlighted $10,000 in the press release as a low-end investment estimate.

Homebase slashes 303 head office jobs

Homebase is cutting 303 head office jobs in Milton Keynes.

The DIY chain has said the job cuts are related to the axing of the Bunnings brand in the UK.

Homebase was bought by Australian conglomerate Wesfarmers for £340m in 2016.

Wesfarmers set about sacking the Homebase senior management team, and 150 middle managers too, which turned out to be a bit of a mistake.

It tried changing some of the Homebase stores to Bunnings, a Wesfarmers brand, which is successful in Australia.

But it turned out to be doomed in the UK. Homebase is now is being sold to retail restructuring firm Hilco for £1.

As part of the deal a total of 24 stores that were trading as Bunnings will convert back to Homebase.

Chief executive Damian McGloughlin said: "We have not taken this decision lightly, but decisive action is required to start rebuilding Homebase's position in the UK market.

"We will be providing as much support as we can to help those affected through this difficult time."

Homebase has 250 UK stores and employs around 12,000 people.

Lafarge charged with funding terror group

French magistrates have charged cement company Lafarge with complicity in crimes against humanity in connection with its alleged dealings with Islamic State militants in Syria.

The accusations include a charge of financing a terrorist group.

The case focuses on a cement plant in the town of Jalabiya. Lafarge is suspected of paying so-called Islamic State millions of dollars to keep it running.

The firm's holding company says a small group of employees in its Syrian subsidiary had been involved in an unprecedented breach of internal rules.

Human rights activists say the decision to press charges marks a decisive step in the fight against the impunity of multinationals working in war zones.