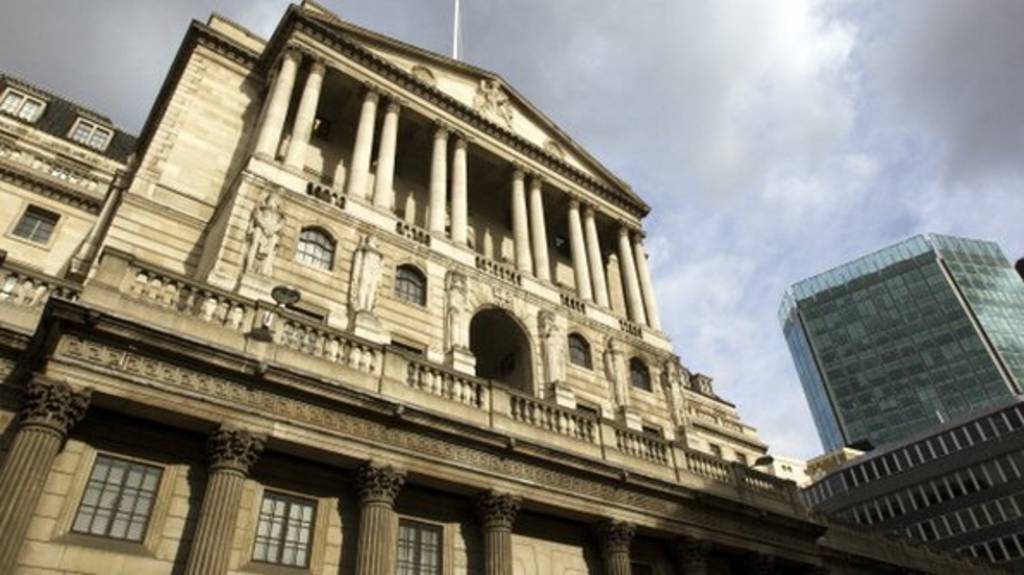 Summary
UK interest rates stay at 0.5%
More jobs go at Maplin
Flybe shares down by a quarter
New UK passports 'to be made in France'
French strikes hit flights and trains
Get in touch: bizlivepage@bbc.co.uk
That's all from the Business Live page for tonight. See you again tomorrow at 06:00.

Rumours of my retirement have been greatly exaggerated

Goldman Sachs chief executive Lloyd Blankfein has said that reports he would retire this year are "more of a wishful thought" than anything else.

Mr Blankfein said this at a lunch hosted by the Boston College Chief Executives Club.

Speculation over the next leader of Goldman Sachs intensified earlier this month after the Wall Street Journal reported that Mr Blankfein, 63, was expected to retire as soon as this year.

YouTube gun ban drives bloggers to PornHub

Copyright: YouTube / InRangeTV

Image caption: InRangeTV has moved some of its videos to PornHub

YouTube has banned videos that show people how to manufacture or modify guns and their accessories.

It had already outlawed videos linked to the sale of guns and accessories.

Many firearms enthusiasts noticed that some of their videos had been removed from the video-sharing website and some had had their channels suspended.

Prominent gun video-bloggers said the move was an erosion of US citizens' rights, while some said they were moving their content to pornography site PornHub instead.

US stocks hit by China tariff plans

US stocks closed sharply lower on Thursday after President Donald Trump said he would impose tariffs on up to $60bn of Chinese imports.

China said it was ready to retaliate with "necessary measures".

Beijing also said it would "fight to the end" in any trade war with the US.

The Dow Jones Industrial Average fell 2.93% to 23,957.89. The fall of 724.42 points is the fifth biggest points fall ever recorded.

The S&P 500 dropepd 2.52% or 68.24 points to 2,643.69

And the Nasdaq Composite closed at 7,166.68, a fall of 178.61 points or 2.43%.

China reacts to tariff plans

The Chinese Embassy in Washington has said China is "strongly disappointed and firmly opposes" President Trump's tariff plans for Chinese imports.

The White House said the actions were necessary to counter unfair competition from China's state-led economy.

It said years of talks had failed to produce change. Earlier China said it was ready to retaliate with "necessary measures".

The latest sanctions have raised fears of a global trade war.

Advertisers 'nervous' to be associated with Facebook

Big advertisers are wary about working with Facebook after its recent data scandal, M&C Saatchi founding director David Kershaw told the BBC.

The advertising agency boss said the social network will now face "worldwide pressure" to improve its practices.

Carbon emissions on the rise

Joe Miller

Business reporter

The amount of carbon dioxide released into the atmosphere by the energy sector - which accounts for the lion's share of global emissions - has risen for the first time in three years, according to the Paris-based International Energy Agency.

It says CO2 output grew by 1.4% in 2017 - a pace that would eventually bring about global warming levels that exceed the targets of the Paris climate agreement.

The IEA said the increase - which is the equivalent of putting 170 million more cars on the streets - was down to strong economic growth, lower fossil-fuel prices and weaker energy efficiency efforts, which had erased the gains made by the expansion of solar and wind power.

But the agency emphasised that there were declines in individual countries, particularly in the USA, where emissions dropped by 0.5% last year, thanks to a renewable energy boom, and the UK, where they fell to their lowest level since records began, in 1960.

UK steel sector 'heaves a sigh of relief'

The EU is going to be granted a temporary exemption from new US steel tariffs.

UK Steel Director Gareth Stace says:

"For the last few weeks the UK steel sector has held on to the hope that an exemption could be secured before tomorrow's deadline and today we have finally been given cause for optimism.

"The announcement that the EU will be given a temporary exemption will be greeted with an enormous sigh of relief from the sector and it now provides us with the breathing room to find a more permanent solution.

"Every effort must now be made by the UK and EU authorities to ensure that this happens swiftly."

Investors have reacted to the news of a pause for new US steel tariffs - by selling off American steel shares.

US Steel shares are down 8.8%, is Nucor down 4.7% and AK Steel down 7%

UK watchdog data probe 'limits Facebook investigation'

Leisha Santorelli

Business reporter in Singapore

Facebook has hired a team of forensic auditors to investigate the Cambridge Analytica case, but Mr Milner said that their progress has been hindered by regulators.

"We were asked to stand down by the UK regulator," Mr Milner said. "The UK information commissioner Elizabeth Denham is now conducting her investigation so we are limited from doing the same".

Singapore's law minister did not seem convinced though.

He accused Mr Milner of being 'economical with the truth' when questioned about its links with Cambridge Analytica by a UK parliamentary committee on February 8th.

It is clear that Facebook's top officials are in damage control mode.

But with a #deleteFacebook movement online and a spate of regulatory probes across the globe, it will be an uphill battle overcoming what many are calling the worst crisis in the company's history.

Congress to summon Zuckerberg

Jonathan Josephs

BBC business producer

The US House Energy and Commerce Committee says it will formally ask Mark Zuckerberg, as chief executive of Facebook, to testify over the Cambridge Analytica data-scraping scandal.

"We believe, as CEO of Facebook, he is the right witness to provide answers to the American people. "

The committee will send a formal letter to Mr Zuckerberg in the coming days.

Facebook 'doesn't know extent of data breach'

Leisha Santorelli

Business reporter in Singapore

Social media giant Facebook says it still does not know the extent of data misuse by third-party developers in the wake of the Cambridge Analytica scandal.

A top executive at the social media giant made the admission during six hours of tough questioning from the Singapore government.

Representatives from Facebook, Twitter and Google arrived at Singapore's national parliament expecting to field questions about fake news and argue against government regulation.

Instead, Facebook found itself repeatedly apologising for not informing its users earlier about data leaks stretching back to 2015.

This is the first government committee that Facebook has faced since the scandal involving Cambridge Analytica broke over the weekend.

Simon Milner, Facebook's head of public policy for the UK, Middle East, Africa and the Asia Pacific (pictured right), sat through hours of tense exchanges with Singapore's law minister about their lack of action.

Mr Milner, who is responsible for issues around privacy, safety and advertising policy, admitted Facebook still doesn't know the full extent of the breach and if it includes users in overseas markets like Singapore.

SFO 'to recover £4.4m from corrupt diplomats'

The Serious Fraud Office is set to recover £4.4m of funds in a corruption case which saw an oil firm alleged bribe Chadian diplomats in the US and Canada.

"Securing exclusive contracts with corrupt deals, Griffiths Energy bribed Chadian diplomats with discounted shares deals and 'consultancy fees' using a front company 'Chad Oil' – which was set up just five days before agreements were signed," the SFO said in a statement.

"'Chad Oil' was a vehicle used by senior diplomats at the Chadian Embassy to the United States to facilitate a deal which saw the wife of the former Deputy Chief, Mrs Ikram Saleh, purchase 800,000 shares at less than 0.001$CAD each, later selling them for significant profit.

"Following the takeover by Griffiths Energy by a UK corporation and share sale via a UK broker, the corrupt proceeds entered the UK's jurisdiction and the SFO began civil recovery proceedings to secure the £4.4m share sale profits from Ikram Saleh.

The £4.4m, which is held in an RBS account under the name Computershare Investor Services, is set to be used "to help the people of Chad", the Department for International Development said.

WTO 'a disaster for the US'

Donald Trump has said the trade action against China could be about $60bn in tariffs.

However, the US is in trade negotiations with China, and it wants reciprocal trade arrangements with trading partners.

Trump added that the World Trade Organisation has been "a disaster" for the US.

Breaking

Trump to impose $50bn tariffs on Chinese imports

President Donald Trump will impose tariffs on about $50bn in Chinese goods imports to retaliate against the alleged theft of American intellectual property, White House officials have said.

The new import duties will target industrial sectors where "China has sought to acquire an advantage through the unfair acquisition or forced technology transfer from US companies," senior White House economic advisor Everett Eissenstat said.

Carbon dioxide emissions rise

Joe Miller

Business reporter

After flatlining for three years in a row, global energy-related CO2 emissions grew by 1.4% in 2017, according to a new report by the International Energy Agency.

The Paris-based IEA blamed "global economic growth of 3.7%, lower fossil-fuel prices and weaker energy efficiency efforts" for the rise, but emphasised that there were declines in individual countries, particularly in the US, where emissions declined by 0.5% last year, thanks to a renewable energy boom.

Citigroup announces gun sales policy

Citigroup global public affairs chief Ed Skyler has said the bank will not do business with US firms unless they stick to these best practices:

"(1) they don't sell firearms to someone who hasn't passed a background check, (2) they restrict the sale of firearms for individuals under 21 years of age, and (3) they don't sell bump stocks or high-capacity magazines."

The announcement comes after protests about the Florida school shooting at Marjory Stoneman Douglas High.

'Some countries should get out' of US steel tariff hike

US President Donald Trump will not apply new steel and aluminium tariffs to the European Union and other trading partners which are currently negotiating exemptions, US Trade Representative Robert Lighthizer said on Thursday.

"The idea that the president has is that, based on a certain set of criteria, that some countries should get out," he told a Senate committee hearing.

"There are countries with whom we're negotiating and the question becomes the obvious one that you think, as a matter of business, how does this work.

"So what he has decided to do is to pause the imposition of the tariffs with respect to those countries."

He then listed these as Canada and Mexico, "Europe ... Australia ... Argentina ... Brazil and ... (South) Korea".

This is an interesting list. In 2017, the top importing countries and areas to the US were Canada, the EU, Brazil, and South Korea, according to US Census Bureau data.

Trump's lead lawyer for federal Russia probe 'resigns'

US President Donald Trump's lead lawyer for the federal special counsel probe of Russian meddling in the 2016 presidential election has resigned, the New York Times reports, citing two people familiar with the matter.

John Dowd stepped down after concluding Trump was increasingly ignoring his advice, one of the people said, the newspaper said.