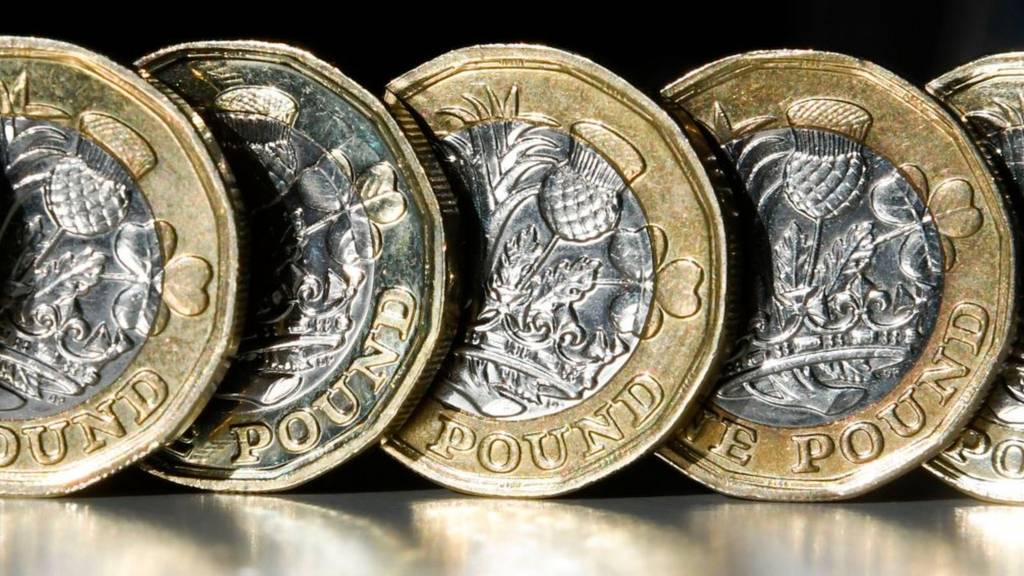 Business Live: Stock rally hits new highs
Market data: FTSE 100, Pound/Dollar, Pound/Euro, US markets, Oil price
That's all from Business Live. Thanks for tuning in. We'll be back at 6am on Monday.

US stocks close on fresh highs

US stocks closed at record highs on Friday following positive earnings reports from several big banks.

The Dow Jones Industrial Average index gained 0.9% at the closing bell to 25,801.95, while the S&P 500 jumped 0.7% to 2,786.13.

The tech-rich Nasdaq Composite Index rose 0.7% to 7,261.06.

It followed strong quarterly results from JPMorgan Chase and Wells Fargo, as well as the asset manager BlackRock.

Trump refrains from re-imposing Iran sanctions

President Trump has again refrained from re-imposing sanctions on Iran - keeping in tact the deal under which Tehran curbed its nuclear programme.

But Mr Trump said this was the last time he would issue a sanctions waiver.

Mr Trump has long railed against the deal, and talked of wanting to rip it up.

But other parties to the agreement - including Britain, France and Germany - believe it's working, and they've strongly urged Mr Trump not to pull out.

Iran's foreign minister has hit back at the US president's latest comments:

Facebook in Europol talks

Facebook has taken part in key talks with European police agencies on how to deal with Islamic terror-related posts, according to police officials.

Representatives from the US social network travelled to The Hague for Thursday's unprecedented talks at Europol's headquarters in the city.

They were also joined by Instagram officials and police from the UK, France and Belgium, aiming "to identify and secure the swift removal of terrorist and violent extremism content uploaded" on both platforms, Europol said in a statement.

'Slap in the face' for the dollar

The pound has hit its highest level against the dollar since the Brexit - passing $1.37.

But it's not only a reflection of a strengthening pound. The dollar has fallen against other major currencies today as well, hitting a three-year low against the euro.

Connor Campbell at Spreadex attributes the dollar's fall to positive political news in the UK and Germany, as well as US Christmas retail sales and inflation data coming in lower than expected.

"Even on a normal afternoon the dollar likely would have been unimpressed by these numbers – on a day when it was already in trouble they must have felt like a slap in the face," he said.

It's the stuff of dreams, or nightmares, depending on your driving skills.

General Motors is seeking approval from US regulators for a self-driving car with no steering wheel or pedals (see the space-age photo above).

The carmaker says the vehicle - which could be on the road by 2019 - is "the first production-ready vehicle built from the start to operate safely on its own, with no driver, steering wheel, pedals or manual controls".

Goldman Sachs boss 'trolls' Trump

Lloyd Blankfein, the chief executive of Goldman Sachs, has extolled American values and made an apparent reference to President Donald Trump's crude language about foreign countries.

Blankfein's own colourful language in his tweet is a reference to a word the president is reported to have used about African countries (sorry if it causes any offence).

Why does it matter if Carillion collapses?

Dan Thomas

Business reporter

Troubled construction firm Carillion is such a big supplier to the public sector that some fear it would cause major disruption if it can't resolve its financial difficulties.

Thousands of jobs hang in the balance. Unions have said workers do not deserve to be caught in the crossfire and have urged the government to safeguard their jobs and bring Carillion's contracts back in house.

The government has said that "contingency plans are in place" and it is closely monitoring the situation.

The big question is who would pick up the firm's loss-making public contracts if it went under - another outsourced services provider or the government itself?

Or would the government - which says Carillion continues to do good work on projects like Crossrail - be prepared to provide emergency financial support until it gets its house in order?

Breaking

Sterling pushes higher

The pound has broken above $1.37 for the first time since the Brexit vote.

Sterling is up almost 2 cents against the dollar at $1.37210, the highest it's been since the EU referendum on 24 June 2016.

Analysts said it was given a big boost by a report that the Netherlands and Spain were open to a deal for Britain to remain as close as possible to the EU.

Both countries have denied they reached such an agreement, but that hasn't put the brakes on the pound's gains.

Also helping is that the dollar has fallen against other major currencies on the back of disappointing economic data.

Wall Street scales new heights

US stock markets are set to end the week at record highs, after the UK's FTSE 100 also pushed to new levels.

Heading into the final couple of hours of trading, the Dow Jones is up nearly 200 points at 25,773.

The S&P 500 is 0.6% higher at 2,783 points, and the Nasdaq is up 0.8% at 6,754.

PwC advising Cabinet Office - Sky News

Another update on the Carillion story. Sky's City editor says a 50-strong team from PwC is advising the Cabinet Office on what it means for government contracts.

PwC declined to comment when contacted earlier by the BBC.

Ministers monitor Carillion's problems

Tensions around Carillion - a 200-year-old company which can trace its roots back to Tar Mac - have been ratcheting up for weeks.

On Thursday ministers overseeing everything from justice to transport, health and education met to discuss how they should respond to the possible demise of a key UK contractor.

"Ministers did meet yesterday, there are ongoing meetings," a spokesman for Prime Minister Theresa May said. "We are monitoring this situation closely and will continue to do so."

Carillion shareholders to take a hit

Carillion - whose projects include schools, prisons and HS2 - has said shareholders are likely to suffer losses from the rescue plan it is seeking to agree with creditors.

A proposed debt-for-equity swap "would result in significant dilution to existing shareholders", the company said.

"As part of its engagement with stakeholders, Carillion is in constructive dialogue in relation to additional short term financing while the longer term discussions are continuing," it added.

Breaking

Carillion denies rescue plan doubts

Troubled construction firm Carillion - which is a major government contractor - has denied reports that its creditors have rejected a rescue plan.

Carillion shares dropped 29% on the back of a report that its lenders knocked back a restructuring plan for the business put forward in behind-closed-door talks on Wednesday.

The company said: "Suggestions that Carillion's business plan has been rejected by stakeholders are incorrect."

It said talks were ongoing and that any agreement with creditors was likely to involve swapping Carillion's debt for shares in the company.

Ministers look to take over jail contracts

We've been reporting all this week on the major financial difficulties facing key UK contractor Carillion, which has debts of £1.5bn and a market value of only £65m.

The firm, which manages hundreds of prisons, schools and government homes, has been locked in talks with its creditors and government officials.

The BBC understands that ministers are preparing to take over £200m of prison contracts from Carillion as a safeguard, as Home Affairs correspondent Danny Shaw reports.

More Jamie's Italian restaurants to close?

Some Jamie's Italian restaurants are likely to close in the UK if a restructuring of the business goes ahead, according to Times business reporter Dominic Walsh.

It would come after six Jamie's Italian sites were shut last year, with Brexit and "tough" competition blamed for the closures.

The Jamie Oliver Restaurant group said no final decisions had been taken yet.

Jamie's Italian looks at restructuring

Jamie Oliver's Italian restaurant chain is exploring plans to restructure its UK business after reporting a £10m loss and closing six sites last year.

It comes after reports in November that the firm had hired a company to draw up turnaround plans after the Jamie Oliver Group had to inject more cash into the business.

The TV chef's holding company said it was talking to stakeholders as it looks to ensure the "business is in good shape for the future".

"No final decisions or proposals have been made at this stage," the company said.

The review does not affect Jamie's Italian international franchises or Jamie Oliver's media and licensing businesses, according to the company.

Snapchat refresh gets thumbs down

The BBC tech team is reporting that Snapchat's redesign, which was rolled out at the end of last year, has not gone down well with users.

The refreshed look for the vanishing messaging app has proved unpopular, with up to 83% of reviews on the App Store being negative.

Many have complained that feeds are no longer chronological and are confusing, according to this report.

Key UK contractor's 90% fall

There's a chance you won't have heard of Carillion, but the company is crucial for hundreds of homes, schools, prisons, and major infrastructure projects across the UK.

And it's in trouble. The heavily indebted company - which employs nearly 20,000 people in the UK - is trying to persuade lenders to back a rescue plan.

It comes after shares in Carillion have lost 90% of their value in the last six months following two profit warnings and the exposure of a £1.5bn debt pile.

The chart below shows the scale of the share price fall. Carillion dropped another 29% today, leaving it worth about £65m.

FTSE ends the week on a high

The UK's 100 share index has finished at yet another record high despite tailing off towards the end of trading.

The FTSE 100 rose 0.2% to 7,778.64, after earlier coming close to passing 7,800 points.

It appears the British index is "following in the footsteps of the American markets" - which are also trading at record highs, said CMC Markets analyst David Madden.

"One notable difference between the FTSE and the US indices is the London market is making relatively small strides higher, which suggest a canned excitement," he added.