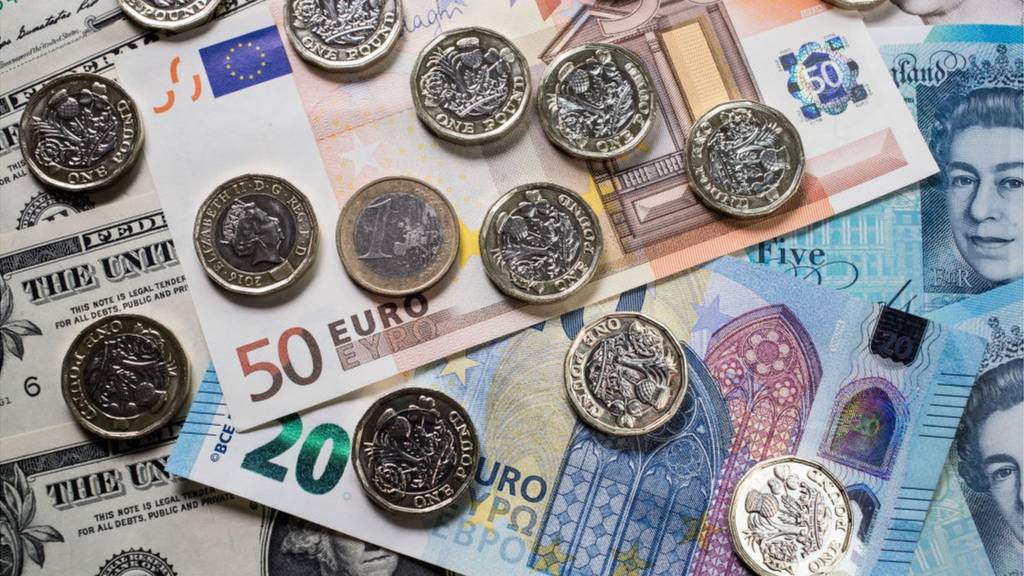 Summary
Get in touch: bizlivepage@bbc.co.uk
Sterling falls against dollar, FTSE 100 flat
Card Factory shares slump on cautious outlook
BHP forecasts boom for Chinese steelmakers
Thomas Cook says prices will rise for UK tourists
That's all from the Business Live page for tonight. Please join us again tomorrow from 06:00.

Wall Street closes higher

US stocks have managed to close higher after technology shares bounced back from sharp losses in the previous session and comments from Fed Chair Janet Yellen boosted expectations of a December rate hike.

The Dow Jones Industrial Average fell 10.05 points, or 0.05%, to 22,286.04, the S&P 500 gained 0.23 points, or 0.01%, to 2,496.89 and the Nasdaq Composite added 9.57 points, or 0.15%, to 6,380.16.

Uber 'looking for UK chair'

Uber is on the hunt for a UK chair, reports suggest.

The Inzito Partnership has been picked to identify an independent chairman, Sky reports.

The chair's main job is likely to be to persuade Transport for London to change its mind on its refusal to issue Uber a new licence to operate in London.

However, the search is reported to have begun before TFL's decision.

Second largest diamond sold

Lloyds responds to Unite 'betrayal' comment

Lloyds Banking Group has responded to a Unite statement earlier in which the union accuse the bank of "betrayal" over the "sale" of Scottish Widows and Clerical Medical staff to Diligenta, a unit of India's Tata Consultancy Services.

Lloyds said it had used Diligenta for a new digital platform for "heritage" products.

"To provide a seamless handover of service, Lloyds Banking Group (LBG) will transfer some of its operational processes and IT applications, along with c.1,000 employees servicing heritage life, pensions and investment customers, who are expected join Diligenta at existing LBG sites," a spokeswoman said.

The employees will join under a transfer of undertakings arrangement, she added.

Saudi Arabia 'allows women to drive'

BA probes crew member's anti-Nigerian Snapchat rant

British Airways has launched an investigation after a staff member posted an offensive rant on the social app Snapchat.

The flight attendant filmed herself before working on a flight to Nigeria. She mocked Nigerian accents and made lewd remarks about body parts.

A concerned member of staff who saw the video shared it with the Daily Mail.

BA said: "We expect the utmost professionalism from our staff when they are representing British Airways.

Essilor and Luxottica to co-operate with EU on planned merger

Image caption: The international chain Sunglass Hut is part of the Luxottica group

Essilor and Luxottica, two of the world's biggest spectacles firms, have said they will co-operate with the European Commission to ensure a planned merger goes ahead after EU anti-trust regulators said they would investigate the proposed 46bn euro deal.

"The companies reaffirm the objective to close the transaction around the end of the year, in co-operation with the relevant authorities," Essilor and Luxottica said.

US prosecutors allege basketball fraud

US authorities have announced fraud charges against ten people, including four coaches and an Adidas executive, associated with university basketball, following a corruption probe.

Prosecutors said they uncovered many instances in which clothing firm executives, financial advisers and others bribed assistant college coaches to steer elite players to them, with some money going to athletes' families.

James Gatto, director for global sports marketing for basketball at Adidas and former NBA star Chuck Person, now an associate head coach at Auburn University, are among the people who have been charged.

Uber 'looks for UK chairman'

Ride hailing firm Uber has hired headhunters to recruit a UK chairman as it fights to prevent the loss of its London licence, Sky News reports, citing sources.

That Dyson electric car - an artist's impression?

Dyson car 'born in the 80s'

Richard Westcott

Transport correspondent

It was a slightly unusual launch, but then, Sir James Dyson likes to be different.

In a small room above his swanky London shop he told us about his vision for a clean car.

First up, we were treated to an old clip of Blue Peter, from the 90s, where Anthea Turner interviewed him about his new device to clean soot from the exhaust of diesel vehicles.... it was the cyclone from his vacuum cleaner, put to a different use.

That's how long I've wanted to do this, he told us... in fact he first hatched the idea in the late 1980s.

Since then, he's developed motors and batteries and now he's able to bring all that expertise together in a new, electric car.

He promised that it will be radical and different, because, as he put it, what's the point of making it like any other car.

And he promised that it won't be cheap.

I did ask how much it would be to put down a deposit....he told me he'd have to think about it.

Yellen says gradual US rate hikes should continue

The Federal Reserve needs to continue gradual rate hikes despite broad uncertainty about the path of inflation, Fed Chair Janet Yellen has said.

Speaking at the National Association for Business Economics, she said it is possiblethat the Fed may have "misspecified" its models for inflation, and "misjudged" key facts like the underlying strength of the labor market and whether inflation expectations are as stable as they seem.

While there is not enough evidence of a major shift in inflation dynamics for the Fed to yet pull back from its plan to gradually raise rates, she said the central bank needed to remain open to that possibility.

Does the NFL have a Trump problem?

Russia tells Facebook to localise user data or be blocked

Russia will block access to Facebook next year unless it complies with a law that requires foreign websites to store Russian personal data on Russian servers, Russian news agencies reports.

The threat was made by Russia's communications watchdog Roskomnadzor, agencies said, the organisation which blocked access to LinkedIn's website last November after it failed to comply with the same law.

Foreign buyers in US draw scrutiny

Natalie Sherman

New York business reporter

Image caption: SEC Chair Jay Clayton

Several US senators have urged Securities and Exchange Commission Chair Jay Clayton to block a Chinese-led takeover of the Chicago Stock Exchange.

Mr Clayton is testifying before the US Senate's Banking, Housing and Urban Affairs Committee.

SEC staff recommended last month that the sale go through, but politicians have argued against it. Now commissioners are reviewing the deal, which concerns an exchange that handles a small portion of daily trading.

Mr Clayton was appointed by US President Donald Trump, who has adopted a more protectionist approach to business, especially related to China.

The deal, led by Chongqing Casin Enterprise Groupwas announced in 2016.

In an email to staff, James Dyson said his firm has begun work on a battery electric vehicle, due to be launched by 2020.

"We've started building an exceptional team that combines top Dyson engineers with talented individuals from the automotive industry.

"The team is already over 400 strong, and we are recruiting aggressively. I'm committed to investing £2bn on this endeavour.

"The project will grow quickly from here but at this stage we will not release any information.

"Competition for new technology in the automotive industry is fierce and we must do everything we can to keep the specifics of our vehicle confidential."

Breaking

Dyson plans to build electric car by 2020

James Dyson has said his company is building a "radical" all-electric car for launch in 2020, with a commitment to spend £2bn on solid-state battery technology and vehicle design.

Wall Street higher as tech stocks rise

Wall Street indexes are higher as technology stocks recover.

Apple is 1.1% up after bouncing back after a report that the company had told suppliers to scale back shipments of parts for its upcoming iPhone X.

Nvidia is 1.5% higher following a launch of an artificial intelligence-related software product.

The Dow Jones Industrial Average is up 0.07% at 22,312.48, the S&P 500 is up 0.07%, at 2,498.20 and the Nasdaq Composite is up 0.06% at 6,375.10.

Chris Johnston

Business reporter, BBC News

More bad news for Uber: it will stop operating in the Canadian province of Quebec next month in the wake of tough new regulations announced last week.

The decision to pull out of Canada's second-most populous province comes as the ride-hailing company battles to retain its licence in London.

Uber's Quebec general manager, Jean-Nicolas Guillemette, said the company would cease operations there on 14 October.

It has 50 office workers in the province and has had some 10,000 drivers.