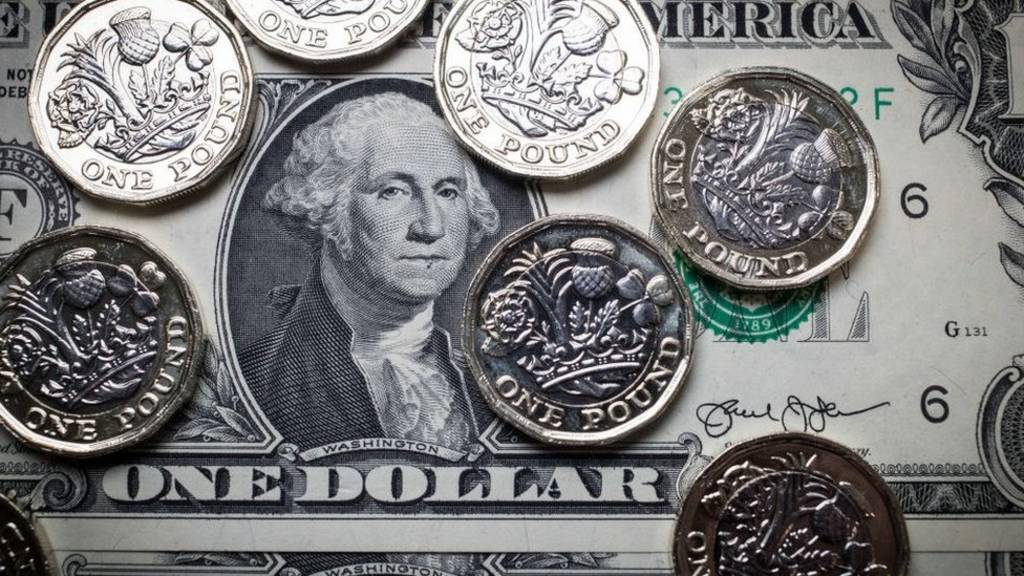 Summary
Get in touch: bizlivepage@bbc.co.uk
Sterling has best month since September
US posts weak quarterly growth
FTSE 100 closes lower
RBS posts first quarterly profit since 2015
Nationwide house prices fall for second month
That's it for another week of Business Live. We'll be back on Tuesday from 6am. Enjoy the long weekend! 
Wall Street shares closed lower on Friday after data showing the US economy grew at its weakest pace in three years left investors feeling nervous. 
The Dow Jones Industrial Average fell 0.19% to 20,940.51 while the S&P 500 also dropped 0.19% to 2,384.20.
The tech-heavy Nasdaq Composite dropped 0.02% to 6,047.61.
Apple urges changes to California self-driving policies
Apple has publicly asked the state of California to make changes to its proposed self-driving car policies, in the latest sign the firm is pursuing driverless car technology. 
In an open letter, it called on the state to revise how companies report self-driving system "disengagements".
It also suggested changes to a proposal "that may restrict both the design and equipment that can be used in test vehicles to further develop autonomous technologies".
Others to suggest changes included Tesla - which warned against limits on the size of test vehicles - and Uber, which said California should allow paying members of the public to ride in autonomous vehicles with drivers. 
Tech Tent - Fake news and flying cars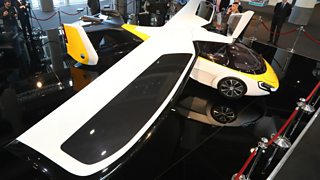 On Tech Tent this week, we seek answers to two questions obsessing the technology world: can we stem the tide of fake news, and perhaps less seriously, how soon can I go to work in a flying car?  
Shares in Carvana bomb in market debut
Shares in US firm Carvana - which uses vending machine-like towers to sell used cars - dived in their market debut on Friday. 
Shares were priced at $15, but opened at $13.50 before slumping to $12.50. 
The firm sells cars through its website and allows customers to pick them up from automated "vending machine" towers located in US cities such as Austin and Dallas.
Commenting on the float, Carvana boss Ernie Garcia said: "We're going to stay focused on what we can control, which is our business and the huge opportunity ahead."
Wall Street stocks are in negative territory after official data showed the US economy expanded at 0.7% in the first quarter - its slowest rate in three years. 
The Dow Jones and S&P 500 indexes are both down 0.21%, while the tech focused Nasdaq is 0.08% lower.
Shareholders protest against Bayer bid for Monsanto

When Bayer announced it was bidding to buy Monsanto, the American agricultural corporation, last year it surprised many shareholders and prompted protests by environmental campaigners. 
Bayer's Annual General Meeting took place in Bonn on Friday - and shareholders and green campaigners voiced their opposition to the $66bn deal. World Business Report takes a closer look. 
Shares in Google parent hit all time high
Shares in Google parent Alphabet have hit an all-time high after a strong earnings report on Thursday. 
The firm's shares are currently up 3.81% at $907.5 having jumped during overnight trading. Earlier they touched $916.76.
First quarter profits at the firm increased 28% year-on-year to $5.4bn (£4.2bn), boosted by advertising on mobile phones and the popular YouTube video service.
Royal Caribbean shares cruise higher
With an 8% surge, shares in Royal Caribbean are the biggest winners on the S&P 500.
It follows the publication of the company's first quarter results, which were better than expected.
Royal Caribbean reported a $217m net income for the quarter.
It also raised its profit forecast for the whole of the financial year.
Legless North sea oil platform
The first major decommissioning project in the North Sea has been completed with the removal of the Brent Delta platform from its legs.
It has been lifted on to a huge purpose-built ship which will transport it to the north east of England to be scrapped. The legs will stay in place.
The 24,000 tonne Brent Delta platform topsides sat on a three-legged gravity-based structure in 140 metres of water.
The Shell platform lies 115 miles north east of Shetland.
Future of driving electric, says VW boss
VW's chief executive has said the world's biggest car maker will triple its budget for electric vehicles over the next five years.
Speaking at the Vienna Auto Show, Matthias Müller said most VW cars would still be run by diesel or petrol engines by 2025, but that "the future of driving is electric".
As such, the VW Group will spend €20bn by 2022 on cleaner engines, while also spending €9bn on electric vehicles - up from €3bn 2012-2017.
Royal Mail faces union backlash over pensions
Royal Mail is mulling ways to replace the final salary pension scheme it plans to scrap next year following a backlash from unions.
The postal service said it was one of only a few major companies to still have staff in a defined benefit scheme.
But the Communications Workers Union said closure of the plan would result in employees losing up to a third of their future pensions. Around 90,000 Royal Mail workers are in the scheme, which stopped taking on new members in 2008.
The company is continuing to hold talks with the CWU as well as unions Unite/CMA.
Unite said: "If we don't achieve a satisfactory outcome, we can't rule out an industrial action ballot."
FTSE 100 closes lower as pound climbs
The FTSE 100 has closed 0.46% lower at 7,203.94 as the pound continued to rise against the dollar. 
Among the worst performers was Barclays - down 5.22% due to concerns raised in an otherwise strong earnings report. 
Royal Mail fell 3.92% after the postal group released an update on the future of its pension plan, prompting strike threats from one union. 
The pound climbed 0.25% against the dollar to $1.29370, around its highest level for seven months. 
This has put pressure on big firms which lose money when their global profits are converted back to into sterling. 
Oil firm profits jump on price rebound
Major energy firms have reported their highest profits in a year thanks to a rebound in oil prices. 
Exxon Mobil made $4bn profit in the first quarter - more than double what it posted a year ago - while Chevron made $2.7bn versus a loss last year. 
It came a day after French producer Total SA reported a 77% rise in profit.
Peers BP and Royal Dutch Shell are set to report quarterly results next week. 
Trump seeks to expand offshore oil drilling
US President Donald Trump has signed an executive designed to expand drilling in the Arctic and Atlantic oceans.
Mr Trump ordered his interior secretary to review Obama-era rules that restrict where oil firms can drill - the aim being to boost US energy reserves and reduce reliance on foreign oil.
Environmental activists have criticised the move, with Greenpeace saying it would lock the US "into decades of harmful pollution" and devastating spills like the Deepwater Horizon tragedy.
US Interior Secretary Ryan Zinke  said it woudl foster energy security "without removing any of the stringent environmental safeguards that are currently in place".
'Empty streets in Sao Paulo'
Daniel Gallas
BBC South America business correspondent
Polls suggest Brazilian President Michel Temer is very unpopular but up until today he had not yet faced a mass demonstration like Friday's general strike.
Many private and public schools are closed across the country. In Sao Paulo - the country's biggest city - most bus, metro and train services are not operating. There are few people on the streets here and it feels like a holiday.
The government says the current pension system is unsustainable and is dragging down the economy. Unions say the president wants Brazil's poor and unassisted to pay the price for the country's economic woes.
Whatever the turnout is for the protest, Mr Temer still looks fairly strong in Congress. Earlier this week he won a vote for his labour reforms with a wider margin than needed.
This has been the hallmark of his administration: a president who is very unpopular in the streets, but is able to get things done in Congress.
Brazil hit by first general strike in two decades
Brazilian cities went into partial shutdown on Friday as the country observed its first general strike in more than two decades.
Millions of workers, including public transport staff, bankers and teachers, have been urged to take part by trade unions and social groups.
Protesters are taking a stand against the president's proposed pension reforms.
President Michel Temer says the changes are needed to overcome a recession.
RBS 'sorry' for app issues
Earlier we reported that the RBS/ NatWest app failed for nearly an hour this morning, sparking complaints from customers.
RBS - which owns NatWest - now says it has fixed the issue and has apologised. 
"Our mobile apps and online banking are now running as normal and delayed payments are starting to credit customer accounts. We apologise for the inconvenience caused."
It also clarified that the issue with payments only affected NatWest, not RBS or Ulster Bank.
And it said the payments issue only affected some payments made from NatWest accounts - people's incoming salary payments were unaffected.
FTSE 100's disappointing month
Michael Hewson, chief market analyst at CMC Markets UK, says the FTSE 100 has not only had a disappointing week, it's also had a disappointing month.
"It has given up all of its March gains in the process, as a rebound in the pound, weak basic resources, and some weakness in the banks weigh on the index," he says.
However, he notes that FTSE 250 is set to close higher for the fifth month in succession, despite an over 5% rise in the value of the pound from its March lows.
"It suggests the sterling effect is a little overstated. Let's not forget the pound is only 7% away from 30 year lows against the US dollar, not exactly a big amount."
RBS and NatWest fix app issue
BBC personal finance correspondent tweets...
Eurozone growth 'could outplace UK and US'
With the eurozone expected to post quarterly growth of 0.5% next week, the bloc could now be outpacing the US and the UK, says Kathleen Brooks, an analyst at City Index.
"The eurozone has had a surge in better than expected growth recently," she says.
She said Citi's own economic sentiment surveys suggest the US and UK economies are starting to hit the skids at the same time as Europe's economy is putting its foot on the gas".
Mixed start for US stocks
US stocks have started mostly flat after the weak GDP figures published earlier, but the tech-focused Nasdaq continues to rise.
Shortly after the bell the Dow Jones index was down 0.1% at 20,961.53, while the broader based S&P 500 was flat at 2,389.03.
But the Nasdaq - which hit a fresh closing high yesterday - had climbed 0.26% to 6,064.55. 
Qualcomm issues profit warning as Apple withholds royalties
Qualcomm has slashed its revenue forecasts following a decision by Apple to withhold royalty payments owed to the chip maker.
The company said it would not receive any royalties from Apple for sales until a legal dispute was resolved. 
It comes after Apple sued Qualcomm in January, accusing it of overcharging for chips and refusing to pay some $1 billion in promised rebates. 
On Friday an Apple spokesperson said: "Without an agreed-upon rate to determine how much is owed, we have suspended payments until the correct amount can be determined by the court." 
Qualcomm, the largest maker of chips used in smartphones, said it now expects sales of $4.8bn-$5.6bn for its third quarter, down from the $5.3bn-$6.1bn it had previously expected.
It said its contract terms with Apple had not changed in a decade.
The pound has also dipped following weak GDP figures from the US, although it's still above $1.29 - its best level for seven months.
It's currently trading 0.03% higher against the dollar at $1.29090.  
US sees slow start to 2017
BBC business presenter tweets...
US GDP 'not as bad as it looks'
Nancy Curtin, chief investment officer at Close Brothers Asset Management, says US GDP figures for the first quarter aren't as bad as they look.
"US GDP figures are typically weaker in Q1 so this reading is in line with the seasonal trend. We haven't yet had the expected fiscal stimulus from Trump, the effects of which may not be seen until the end of this year or the start of 2018.
"While investors might be disappointed with the reading, it has been a steady start to the year with inflation looking benign, a resilient jobs market and positive PMI data, all likely to boost returns for investors."  
The greenback hasn't taken well to the latest quarterly US growth figures. 
It's down 0.37% against the euro at 0.91620 euros. 
US grows at weakest pace in three years
US economic growth in the first three months of Donald Trump's presidency has slowed to the weakest rate since the first quarter of 2014.
In the first of three readings of GDP, the US economy fell below expectations of 1% growth because of shrinking business inventories and reduced public spending. 
Mr Trump had promised to lift US economic growth to 4%. Treasury Secretary Steven Mnuchin has said the administration can achieve 3% growth by the end of 2018, helped by tax cuts and deregulation.
Breaking
US GDP growth slows
The US economy grew at 0.7% in the first quarter, compared to 2.1% in the final three months of 2016.
BMW workers target 'posh' showroom
What will the neighbors say?
BMW workers are set to stage a protest outside the German car-maker's upmarket showroom on London's Park Lane on Saturday as part of a dispute over pensions.
Members of the Unite union will take part in the demonstration ahead of a further six days of industrial action at BMW plants around the country.
BMW angered workers when it announced plans to close its final salary pension scheme.
Unite national officer Fred Hanna, said: "We will be highlighting this 'pension robbery' and the refusal of BMW to talk about affordable options to keep the scheme open when we protest outside the car maker's posh Park Lane showroom."
Big demand drives GM profits
When it comes to transport, America likes its vehicles big.
For General Motors (GM), demand for trucks and "crossovers" - otherwise known as SUVs - powered a sharp rise in first quarter profit to $2.6bn (£2bn)  from $1.95bn.
Revenue rose 10.6% to $41.2bn.
In Europe, earnings before interest and tax shrank by 0.2% in the three months to March. GM also revealed that its European market share fell to 5.9% from 6.2%.
GM agreed to sell its European Opel and Vauxhall business to France's PSA Group.
Jeff Bezos is Loadsamoney
Good news for Amazon founder Jeff Bezos.
BBC business editor Simon Jack tweets:
The old stock market adage - "sell in May and go away and come on back on St Leger's Day" - suggests divesting shares then buying them again in September. But what if it's an election year?
Before the last poll in May 2015, investors withdrew £2.7bn from UK equity funds according to the Investment Association.
But Laith Khalaf at Hargreaves Lansdown does not expect this to be repeated: "In the forthcoming election the winner looks more certain, on paper at least, and there is less time for investors to fret about the outcome."
However there are a number of factors that could influence the markets, such as commodity prices.
"Selling ahead of the election is therefore no more than a bit of a punt. Worse still, it requires investors to take another random bet further down the line, on when to jump back into the market," Mr Khalaf said.
Southern strike hits house prices
House price growth has slowed to about a third of its previous levels in areas hit by the Southern train strikes, according to Zoopla.
The growth rates for property prices in towns across the Southern network rose by 3% in the 12 months to April, compared with a 9.1% rise for the preceding 12 months.
The property website found 91% of towns served by Southern had suffered seen property value growth weaken over the past year.
House price growth has slowed in recent months, Zoopla said, with a 2.5% rise over the past year, compared with a 6.6% increase for the previous 12 months. 
Resolution Foundation chief economist Matt Whittaker tweets:
Telegraph retail editor Ashley Armstrong tweets:
Cybercrime takes its toll
New figures published today by the Office of National Statistics reveal the extent of cybercrime facing both individuals and businesses.
There were 11.5 million incidents of cybercrime last year according to the according to the ONS. It is the first time it has published an annual tally for these offences and means four in every 100 adults were affected.  
There were as many as 1.8 million cases of fraud related to bank cards in 2016 - a 22% rise on the previous year - according to the ONS.
Steve Snaith, head of technology risk assurance at RSM, said: 'We know that cyber criminals are becoming ever more sophisticated, and these figures clearly demonstrate how prevalent attacks  have become. Businesses must ensure that effective control systems are put in place to minimise the risks of a successful breach."
The RBS and NatWest banking app failed for nearly an hour this morning.
The RBS Group said both app and online banking were still running slowly.
Many customers have been complaining on social media that payments and money transfers have not been getting through.
An RBS spokesman said some but not most of its millions of customers were affected, adding no customers would be left out of pocket.
The bank has not yet issued an explanation for the problem.
Pension fund hits out at Akzo
One of Britain's biggest pension scheme investors has called on Dulux paint owner Akzo Nobel to hold talks with PPG Industries over a revised takeover bid, and criticised its handling of the issue.
The Universities Superannuation Scheme, which manages assets worth about £57bn on behalf of 375,000 savers, said a revised $29bn bid from PPG was high enough for "meaningful and constructive" dialogue to begin "in earnest". 
Daniel Summerfield of USS said Akzo's decision to refuse a request for an extraordinary shareholder meeting "not only undermines the credibility of the board but portrays Dutch governance in a very negative light".
USS has a 1.28% stake in Akzo, making it a top 10 investor, according to Thomson Reuters data. 
Sony expects to post its largest full-year operating profit for 20 years helped by its PlayStation console business.
Profit for the year to March 2018 is forecast to reach 500bn yen (£3.4bn), the best figure since 525.7bn yen in 1998, as the company emerges from a major restructure
As well as gaming, Sony has enjoyed strong sales of image sensors used in products such as smartphone cameras.
Yasuo Imanaka, an analyst at Rakuten Securities, says: "Its gaming sector remains a strong earnings driver, while the TV and camera businesses are steadily recovering too. One concern is the fate of its film division. It will take time to put it back on a recovery track."