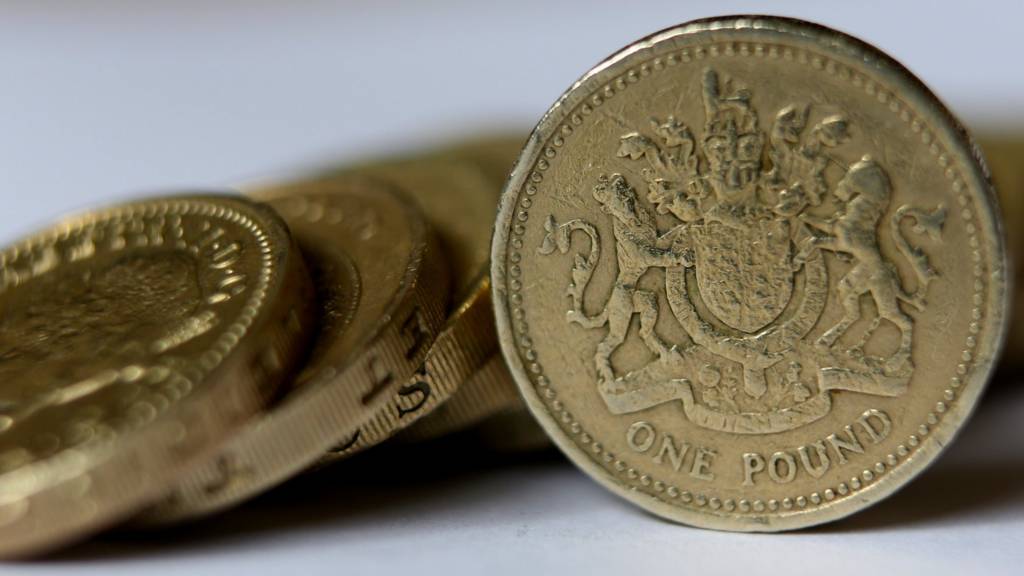 Business Live: Pound hits 31-year low
Summary
Pound slides to lowest level since 1985
FTSE 100 just misses all-time closing high
Ericsson to cut 3,000 jobs in Sweden
Google expected to launch new phones
Greggs helped by healthier options
That's all from the Business Live page for tonight. Join us again tomorrow from 06:00.

US regulators to review Wall Street 'living wills'

The Federal Reserve has received Wall Street plans for how to wind down big banks in the case of bankruptcy and regulators will begin reviewing that paperwork.

The 'living will' paperwork came from eight leading banks including Goldman Sachs, Bank of America and JPMorgan Chase.

The Fed and Federal Deposit Insurance Corp will decide whether the banks can feasibly be wound down in the case of a financial crisis or bankruptcy.

Any bank that does not meet the regulators' test may be forced to break itself into smaller lenders. 

Wall Street closes down after 'hard Brexit' concerns

US stocks fell as investors fretted about Britain's exit from the European Union and the prospect of a Federal Reserve interest rate hike in coming months. 

Sterling slid to its lowest in more than three decades after British Prime Minister Theresa May said the country's divorce from the EU will not be "plain sailing" and that there would be "bumps in the road."

The Dow Jones industrial average fell 0.47% to 18,168.45 points and the S&P 500 lost 0.50%, falling to 2,150.49. The Nasdaq Composite dropped 0.21% to 5,289.66.

Theresa May insists UK economy can withstand Brexit turbulence

Theresa May has said the UK economy remains strong despite Brexit concerns which have hit the pound and seen growth forecasts for 2017 reduced.

Sterling has fallen to a 31-year low against the dollar while the IMF cut its GDP forecast for next year to 1.1%.

But, as the FTSE 100 rose to an 18-month high, Mrs May said the outlook was "more positive" than many expected.

The PM told the BBC's Laura Kuenssberg that her job was to make the process of EU exit as "smooth as possible".

Fitch cuts outlook on Wells Fargo to 'negative'

Credit rating agency Fitch has cut its outlook on Wells Fargo to 'negative' from 'stable'.

Fitch said the cut reflected potential damage to the company's "earnings profile" following recent regulatory actions.

Wells Fargo staff opened as many as two million accounts in customers' names without their authorisation, according to a $190m settlement with regulators reached last month. 

The pound's performance since Brexit

Here's an interesting chart from the IMF. It shows how different currencies performed before and after the Brexit vote. The pound has plunged, while the Japanese yen has soared.

Google unveils new products for the home

Technology analyst Rupert Goodwins discusses Google's new products

Susannah Streeter speaks to technology analyst Rupert Goodwins about Google's launch of a 'Home' personal assistant today, and the competition between Google and Apple.  

Yahoo 'secretly scanned emails for US authorities'

Yahoo secretly scanned millions of its users' email accounts on behalf of the US government, according to a report.

Reuters news agency says the firm built special software last year to comply with a classified request.

"Yahoo is a law abiding company, and complies with the laws of the United States," the tech firm said in a statement provided to the BBC.

The allegation comes less than a fortnight after Yahoo said hackers had stolen data about many of its users.

Is Amazon about to be Googled?

Google Pixel phones and Home speaker take on Siri and Echo

Google has finally unveiled its new gadgets, placing a virtual assistant at the heart of its latest smartphones and offering us its first voice-activated speaker.

According to the BBC's tech desk, the two Pixel handsets are the first mobiles to trigger Google Assistant by pressing their home buttons, somewhat like Apple's Siri.

The Home speaker lets the same artificial intelligence tool be controlled without use of a touchscreen. It rivals Amazon's Echo speaker (and is somewhat cheaper).

Google also unveiled new virtual reality kit and a 4K media streamer.

Mastercard 'selfie pay' coming to UK

Mastercard is launching an app in the UK which will accept selfie photos to verify IDs for online payments.

The credit card firm trialled the Identity Check Mobile app, better known as "selfie pay", earlier this year in the US and Canada.

A spokesman said Mastercard still needs to announce the UK banks that will offer the service, so consumers can't use it just yet.

The app works by creating a digitised map of a user's face. The customer then take photos of themselves to prove their identity and authorise payments.  

IMF a 'failed racing horse tipster'

Economists for Brexit hits back at gloomy IMF predictions on UK growth issued today

Graeme Leach, a member of the campaign group, has said the IMF's previous negative forecasts hadn't "come close to materialising" in the UK. 

He added: "If you look at the behaviour of the broad money supply, the UK economy seems to be strengthening, not weakening. Just today, construction PMI was positive, ahead of many gloomy forecasts. 

"Consumer spending is strong, with retail sales up 6% and car sales also growing. Employment is rising (1% up on a year ago) and unemployment continues to fall, all of which was happening well before the [Bank of England's] latest package of a rate cut and more QE."

Earlier the IMF cut its growth forecast for the UK in 2017 to 1.1%, citing Brexit as an  influence. 

Row over 'discrimination' as airline weighs passengers

Yahoo 'secretly scanned customer emails for US intelligence agencies'

Yahoo last year secretly built custom software to search all of its customers' incoming emails for specific information provided by US intelligence officials, the Reuters news agency reports.

The company complied with a classified US government directive, scanning hundreds of millions of Yahoo Mail accounts at the behest of the National Security Agency or FBI, Reuters says.

Google unveils 'chatty' Pixel

Ruining the FTSE party...

Howard Mustoe

business reporter

Just to ruin the FTSE party, my chart here compares the FTSE 100 over the past year in its native sterling (the white line), in dollars, which gives a flavour of the pound's devaluation (in orange) and also the performance of the FTSE Local index in sterling (in yellow). This includes only firms which make 70% or more of sales in the UK. Both the dollar FTSE and the local FTSE are much sadder stories.    

FTSE 100 denied record - but FTSE 250 hits closing high

Laith Khalaf, a senior analyst at Hargreaves Lansdown, says of today's FTSE 100 and 250 performances:

"The FTSE 100 almost closed at a record high today. In fact, when the closing bell rang at 4.30pm it stood above its previous highest close of 7,104. However, in closing auctions it lost around 50 points to end the day at 7,074. Still, not a bad day's work for the blue chip index, having gained 1.3% across the day.

"The FTSE 250 did make history by hitting a record closing level of 18,342, significantly beating its previous high of 18,263."    

Artificial intelligence 'core to Google's future'

Rory Cellan-Jones

Technology correspondent

What do you want to know about globalisation?

We asked you to send in questions about trade and globalisation for BBC Economics correspondent Andrew Walker to investigate.

We picked four questions. Tell us which one you would most like Andrew to answer.

Theresa May: 'Currencies go up and down'

Prime Minister Theresa May has said of the fall in sterling that currencies "of course go up and down".

Sterling slid to its lowest in more than three decades on Tuesday after concerns a "hard Brexit" from the European Union and its single market  could hurt the economy.

"Currencies of course go up and down," Mrs May told the BBC. "If you stand back and look at the fundamentals of our economy, which are strong, if you look at the other economic data that has been around in recent weeks, if you look indeed at the most recent forecasts now coming out for growth in our economy this year, all of that is more positive than people had expected it to be and predicted it to be."