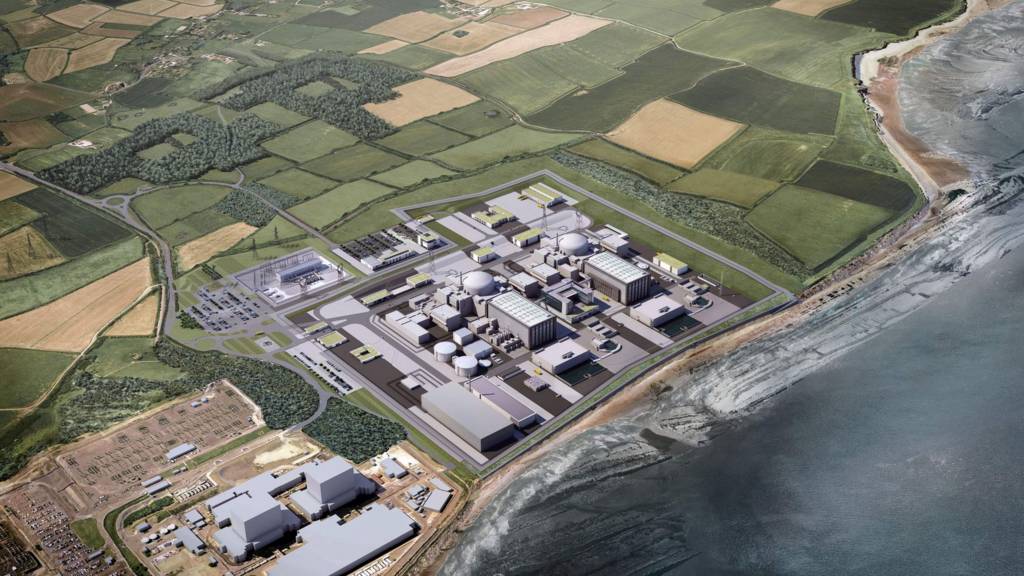 Business Live: Reaction to Hinkley Point deal
Summary
Hinkley Point nuclear project in southern England approved
China and France will finance the new power station
UK government will take 'special stake' in nuclear plants
France's EDF and China's CGN welcome new deal
Unions back decision, but Labour and climate groups are critical
Bank of England upgrades UK growth
That's it from the Live page today. Set your alarms so you can tune in again from 06:00 tomorrow.
US stock markets buoyed by Apple
Wall Street ended sharply higher, buoyed by Apple's best four-day run since 2014, higher oil prices, and mixed economic data that further dimmed expectations for an interest rate rise next week. 
At the closing bell the Dow Jones was up 178.47 points, or 0.99%, to 18,213.24 points, the S&P 500 had gained 21.52 points, or 1.01%, to 2,147.29, and the Nasdaq had added 75.92 points, or 1.47% to 5,249.69. 
Apple shares rose 3.8% and are up 12% this week.
Fiat Chrysler recalls 1.9m cars
Fiat Chrysler is recalling 1.9 million cars for a problem that could prevent the airbags from deploying, a defect tied to at least three deaths.
The cars comprise 1.4 million in the US, 143,000 in Canada, and the rest in other countries. Models involved include the Chrysler Sebring, Chrysler 200, Dodge Caliber and Avenger, and Jeep Patriot and Compass from varying model years between 2010 and 2014.
The recall also includes models marketed in other countries as the Chrysler Cirrus and Lancia Flavia. The company said a fault in the "occupant restraint-control module and a front impact sensor" could cause the airbags to not deploy and seat-belt tensioners to malfunction in an accident.
US banking industry warns of Brexit's 'far-reaching consequences'

Rob Young
Business presenter
The US banking industry has written to US Treasury Secretary Jacob Lew asking him to talk to the UK and EU Brexit negotiators before substantial talks begin.
The letter says: "US policymakers have a legitimate stake in how the process is managed and the outcome to which it leads."
It adds that Brexit's "consequences are likely to be significant and far-reaching". The letter is signed by the American Bankers Association, Financial Services Forum SIFMA, and Financial Services Roundtable.
It says: "The relationship between the EU and the UK therefore is of critical importance to the US which has a strong interest in how the future relationship is redefined and in the certainty, stability and transition components of the path to implement the new trade and investment relationship."
The signatories call for "a transition period that will provide firms with ample time to navigate and adapt to any institutional or legal changes underpinning well- established inter-EU/UK trade and investment relationships".
Blackrock joins legal action against VW for damages
Investment giant Blackrock has joined a lawsuit of Volkswagen shareholders demanding €2bn over the German carmaker's diesel emissions scandal.
Some 80 investors are expected to file a case against VW in the company's home state, Lower Saxony. 
It was revealed last year that diesel engines had software that could lower emissions data during tests.
Blackrock, one of VW's top ten biggest shareholders, said in a statement: "On behalf of their investors, a number of BlackRock-managed collective investment schemes are pursuing, alongside other institutional investors, legal action against Volkswagen AG in connection with Volkswagen's failure to disclose to investors its use of "defeat devices" that manipulated emission tests.
"In light of the ongoing legal proceedings we cannot comment further on the matter at this point."
Appealing to our better nature
'Any bank, but not that one...'
It's the battle of the bureaucrats. 
European Commission President Jean-Claude Juncker has hit out at his predecessor Jose Manuel Barroso's (above) decision to work for Goldman Sachs because of the firm's role in the global financial crisis.
Barroso's appointment in July as a non-executive chairman at the US investment bank caused a furore in the EU. French President Francois Hollande deemed it "morally unacceptable", and 140,000 people have signed a petition.
Juncker said in an interview on a YouTube channel that he had "no problem for him to take a job in a private bank, but not that one".
"Goldman Sachs," he said "was one of these outfits which contributed, wittingly or unwittingly, to the emergence of this enormous financial and economic crisis during the years 2007, 2008 and 2009."
According to the AFP news agency, Barroso has written to Juncker accusing Brussels of discrimination and deplored claims that "the mere fact of working with Goldman Sachs raises questions of integrity".
A good deal after all?
With apologies to Jan (see previous post)
A Live page reader, Peter Brooks, argues that Hinkley C may be a good financial deal.
"It is interesting how many people latch on to the tariff of £92 per MWh agreed between the government and EDF yet do not mention the current tariff of £100 + "system price" given to offshore wind farms."  
"This week with long periods of hot weather the "system price" exceeded £200 per MWh due in part to the inability of wind generation to supply the grid.  
"In this context the price for nuclear power (which is not affected by weather) seems a bargain," he says. 
Another satisified customer
A disgruntled reader called Jan fires the Live page a quick email: "For goodness sake give Hinkley a rest! The business pages today have been rubbish because of it!"
We apologise most humbly and deeply.
Guardian to cut 30% of US jobs
The Guardian newspaper is reportedly cutting 30% of its news jobs in the US, amounting to about 50 staff at its online operation there.
According to the Politico website the cuts are due to low advertising sales and the fact that income would not be enough to cover current costs.
In Canada, a public row between the giant supermarket chain Walmart and the Visa credit card company has escalated.
Walmart Canada says it will stop accepting payments via Visa credit cards at its 16 stores in the province of Manitoba, starting from 24 October.
The two sides have been in dispute for some months about the fees that Visa charges to Walmart for using its cards.
Donald Trump has decided to take part in the financial world's most tedious guessing game: when will the US central bank (the Federal Reserve) raise interest rates?
The Republican presidential nominee told the New York Economic Club that "I think you're going to have low interest rates until the end of the year, maybe no increase at all." 
"And the market will stay artificially high and we'll have to see what happens," he added.
Now we know.
'Buckingham Palace lookalike' flats snapped up
A block of flats in Poundbury village in Dorset, the architectural project of Prince Charles, is attracting attention.
The block of luxury flats is called Strathmore House and some locals and newspapers have compared it to Buckingham Palace.
So what? Well, the eight flats in the block sold out soon after the building was completed.
'Obsolete within a decade of opening'
Some academics at University College London suggest that building Hinkley C will probably be a waste of money.
They say that it will be be "outpaced by cheaper, lower-carbon energy sources that will render it largely obsolete within a decade of opening".
Why, exactly?
"The analysis, based on National Grid's own energy scenarios, shows that by 2030 wind and solar energy sources will, for increasing periods of the year, be meeting all the UK's electricity needs," they say. 
"With Hinkley not expected to being operating until well into the 2020s, the plant is likely to be directly competing with more environmentally-friendly, and often much cheaper, energy sources," they add.    
Unpicking the Hinkley delay

Laura Kuenssberg
BBC political editor
What was the delay to Hinkley really all about? Those close to the deal that was originally agreed say you can hardly tell the difference between the two. 
Trump calls for national goal of 4% US economic growth
Donald Trump says he would set a national goal to achieve 4% annual economic growth if he wins the US presidential election in November, Reuters reports. Trump said in a speech in New York that his economic team believes his plans to cut taxes and regulations would allow the economy to grow at a rate of 3.5% and create 25 million new jobs over a decade.
He also proposed cutting non-defense spending each year by 1% of the previous year's total. He said the plan would not touch programs like social security and medicare. 
Supermarkets lead FTSE 100 rise
It's been a good day for Morrison's shares, with the supermarket's turnaround continuing to boost profits and sales. The share price, up 7.49%, was the FTSE 100's main riser. It also boosted Tesco, which finished 4.9% up.
The FTSE 100 closed up 56.99 points, or 0.85%, at 6,730.3. Next fell 4.86% after reporting a profits dip. That hit Marks & Spencer, down 2.6%.
Don't worry about China - EDF is the real risk, says Lord Howell
Government approves Hinkley Point deal
Former energy minister Lord Howell says worries about whether China will be a good nuclear partner are overdone. It's France's EDF we should worry about, he tells the BBC.
"Chinese technology is going to be a part of our life, Chinese ownership and assets are already present in this country in quite a large way. That's the future, we can't escape that. 
"The real risks are that EDF's financial affairs are wobbly, its supplier's affairs are wobbly, the design has never yet worked anywhere, it's a design that's unproven. And we are going to be really in unknown territory as we build this thing."
The price of power
BBC business presenter tweets:
Some of our readers take a very dim view of the approval for the Hinkley project in Somerset. 
"£6,000 per kW is a ridiculous amount of money to spend building a power station", says Bill Bullen from energy firm Utilita Energy.
Derek Ruskin calls it a "gob-smackingly, short-sighted, incompetent decision".
Jim Rosser, from Witham Friary in Somerset (too close for comfort, he says), is "very sad at this terrible decision which will cost every taxpayer dearly for 50 years and more".
John Bailey foresees four possible outcomes: "The project will go so over budget and late both EDF and the Chinese will pull out and it will not be completed. EDF could go broke before it is completed. 
"The reactor will not pass safety standards (as in France), so will not go into operation. If it works the British public have been sold the worst possible deal by George Osborne and will be paying over the odds for years."
And Alex Beer, who lives in the South West, says: "This project is a complete waste of money, which could have been better spent on renewable energy projects. By the time this is built Theresa May will be happily spending her retirement. Our children will be footing the bill and our grand children clearing up the mess."
US retail sales fell more than expected in August amid weak purchases of cars and a range of other goods, pointing to cooling domestic demand that further reduces expectations of a Federal Reserve interest rate increase next week.
The Commerce Department said retail sales fell 0.3% after edging up 0.1% in July. Sales were up 1.9% from a year ago. Excluding cars, gasoline, building materials and food services, retail sales slipped 0.1% last month after a similar drop in July.
Ex-adviser still has security concerns on Hinkley

The World at One
BBC Radio 4
A former government advisor is warning there are still security concerns with the construction deal agreed to build a nuclear power station at Hinkley Point. Dr Paul Dorfman, from University College London, says there are still "very clear problems" with the Chinese companies involved. 
They included accusations from the US that one of them has been involved in nuclear spying, he added. 
More than 60% of Crown Post Offices open
BBC personal finance correspondent tweets:
Osborne 'vetoed' Hinkley safeguard

The World at One
BBC Radio 4
George Osborne "vetoed" some of the safeguards now being imposed on the Hinkley Point nuclear deal, says a former cabinet minister.Ed Davey, the former energy secretary, told the World at One that "George Osborne was so keen to send positive signals to the Chinese that he was prepared not to go the extra mile for national security".
Wall Street edges ahead at the open
US stocks opened slightly higher, helped by Apple's jump on reports that some of its newest iPhones have sold out even before they are due to arrive at stores. Apple shares rose 2.3%, its fourth straight increase, as reports continue to point to strong demand for the new iPhone 7, which are due to arrive in stores Friday.
US data was mixed, with August retail sales falling 0.3% from the July level. The producer price index was unchanged from July. About 15 minutes into trading the Dow Jones stood at 18,059.56, up 0.1%. The S&P 500 rose 0.1% to 2,127.57, and the tech-rich Nasdaq advanced 0.3% to 5,187.63. 
Safeguards are 'window dressing'
Hinkley Point statement

House of Commons
Parliament
Shadow energy minister Barry Gardiner says that his party supports "this important project" which "must now go forward without any interruption or delay".
The prime minister's decision to review the contract to build the Somerset reactor in July -  amid concerns about the costs and the potential security impact of Chinese involvement - not only risked the £18bn project's future but "rocked confidence in investors".
He calls the new safeguards are "just window dressing to make it appear that the government intervention achieved something".
The government "already has such powers prevent the sale of any element of the UK's critical infrastructure", he tells MPs.
'Two important changes' to nuclear deal
Hinkley Point statement

House of Commons
Parliament
Business Minister Greg Clark announces that following the review of Hinkley Point the government have "made two important changes".
Under the first, the government will be able to prevent the sale of EDF's controlling stake in Hinkley point prior to the completion of construction.
The government have also set up a "new legal framework for future foreign investment in British critical infrastructure".
After Hinkley, the British government will take a special share in all future nuclear new build projects which "will ensure that significant stakes cannot be sold without the government's knowledge or consent".
The Office for Nuclear Regulation will be directed to require notice from developers or operators of nuclear sites of any change of ownership or part-ownership. 
This will "allow the government to advise or direct the ONR to take action to protect national security as a result of a change in ownership".
These changes bring the UK into "line with other major economies" and will ensure that "future foreign investment always works in the UK's best interest".
US industrial output falls
US factory production fell last month amid cutbacks in appliances, home electronics and machinery. The Federal Reserve says factory production dropped 0.4% in August, following two months of gains. 
A broader measure of industrial output, which includes mines and utilities, also dropped 0.4%. Manufacturers have struggled for the past 18 months with sluggish global growth, the strong dollar, and reluctance among US businesses to spend more on large machinery and equipment.

Chris Johnston
Business reporter
Another day, another IPO on the London stock exchange. After Pure Gym yesterday, rubbish merchants - sorry, the UK's second-largest "waste management services provider" - Biffa says it will do the same to raise a hefty £270m.
Chief executive Ian Wakelin says these are "exciting times" for Biffa: "The group has a 100-year history at the forefront of the industry providing collection, processing and disposal of waste and recyclables. We believe there are multiple levers for continued organic growth."
Most expensive energy in history?
Hinkley Point statement

House of Commons
Parliament
Former Conservative candidate for London mayor, Zac Goldsmith, asks if Hinkley will have "generated the most expensive energy in the history of energy generation?"
Business secrerary Greg Clark replies that securing a reliable source of energy for 60 years is a "good investment in the stability of our energy supply". 
He then quotes Sir Winston Churchill that "diversity and diversity alone is the key".

BBC Monitoring
News from around the globe
The French financial daily La Tribune is running a piece headlined "Hinkley Point: the British government says yes, but…"
The paper quotes the French Secretary of State for Industry, Christophe Sirugue, as saying "We are very pleased. Of course, this affirms French excellence in the field of nuclear energy... This validates the French government's commitment to the overhaul of nuclear power and gives credibility both to our expertise and to our excellent relations with the British. And, ultimately, it's about 4,500 jobs [in France]".
Hinkley 'just the first' step
Tom Greatrex, who's the chief executive of the Nuclear Industry Association, says the new government was right to mull over the Hinkley project. 
Its approval will make the five other nuclear plants being planned in the UK cheaper and easier to develop.
"What is important is that they have taken the opportunity to check, because there were members of the government - new prime minister, a new chancellor, a new energy secretary - who weren't as involved in this previously," Mr Greatrex tells the BBC.
"This is just the first. There needs to be more than this in the future, if we're going to be, ensure that we have that supply."
On the markets, the FTSE 100 is trading slightly higher at 6,692 points as shares in supermarkets boost the blue chip index. 
Morrisons shares are up 8% after it said profits and sales grew in the first half of the year. Like a chain of shopping trolleys, it's pulled Tesco and Sainsbury shares higher too.
Next shares are down 5% after warning the High Street is "challenging", which sent M&S shares falling too.
Meanwhile, the pound was little moved after the Bank of England kept interest rates at 0.25%. Sterling is down slightly against the dollar and euro at $1.32 and €1.17.
Bank admits economy is looking better
Kamal Ahmed writes after the Bank of England predicted better economic growth

Kamal Ahmed
Economics editor
In one sentence the Bank has revealed it is ready to upgrade its growth forecasts for the UK economy.  
Those who predicted the possibility of a recession following a vote to leave the European Union - which included the governor of the Bank of England - are having to revise their positions.
The UK economy has performed more robustly than many expected.
Consumer confidence has bounced back, and today's strong retail sales figures reveal that the positive figures of July were largely repeated in August.
Second, inflation has remained subdued, although upward price pressure in the economy is increasing as import costs rise due to the fall in the value of sterling.
The housing market is "less negative than expected" according to the Monetary Policy Committee of Bank economists, and business surveys of activity from organisations such as the CBI have also "picked up a little".
Employment rates remain at record levels.
And the Bank's own interest rate cut has added to economic confidence.
'A rotten deal'
Hinkley Point statement

House of Commons
Parliament
SNP energy spokesman Callum McCaig says he is disappointed that the government has taken the "gamble with Hinkley". 
The deal "remains a rotten one" as it will cost the tax payer £30bn, for an £18bn project.
While the "risk of building remains with the investor", the project will "still make a profit at the expense of the bill payer" despite being 25% over budget and four years late, he argues.
Clark: Labour supported review
Hinkley Point statement

House of Commons
Parliament
We're into some back-and-forth now between the government and Labour. 
Business secretary Greg Clark points out that "despite his intervention" Labour's Barry Gardiner had publicly supported the Prime Minister's review on Hinkley.
When the announcement was made on 29 July, Mr Gardiner told the BBC: "I'm hoping what they'll do is take two to three months to seriously review it", Mr Clark tells MPs.
"So much for the suggestion he wouldn't support the review in the first place."
'Face saving' and 'window dressing'
Labour has strongly criticised the government for the delay to the Hinkley decision and for the new safeguards it claims to have agreed.
The nuclear project must now go forward "without any further interruption", Labour's shadow energy minister Barry Gardiner told MPs.
"The government created a commercial crisis, sent shockwaves through the industry and unions alike, a diplomatic dispute with one of our key trading partners and in the end all they've done is pretend to give themselves powers which they already possessed," he said. 
"This statement is window dressing. It is face saving from a government that talked big and eventually backed down with a whimper."
Clark: Hinkley deal has new safeguards
Business Secretary Greg Clark is in parliament telling MPs about the new deal for Hinkley Point. He says it enables the government to intervene if it has any concerns about the safety of any part of the reactor and its construction. 
"It was right the new government should take time to consider all components of the deal," he says, referring to Prime Minister Theresa May's delay in July. 
The new deal strikes the "right balance between foreign investment and national interest", he adds.
Bank of England upgrades UK growth
Away from Hinkley, the Bank of England has reassessed the health of the UK economy and believes it will grow more than previously thought.
The Bank "now expects less of a slowing in UK GDP growth in the second half of 2016", it said.
Governor Mark Carney and his team now expect growth in the third quarter, July to September, to be between 0.2% and 0.3%. They've also left interest rates unchanged at 0.25%.
BBC economics correspondent Andrew Verity tweets...
Trouble ahead?
BBC business reporter Theo Leggett tweets...
China General Nuclear Power Company (CGN) is backing the Hinkley Point project and plans to build its own nuclear power stations in Bradwell in Essex and Sizewell in Suffolk.